Page 4 - ELITE PLUS MAGAZINE VOL10
P. 4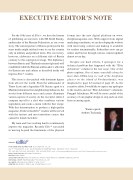 EXECUTIVE EDITOR'S NOTE
For the 10th issue of Elite+, we have the honour of publishing an interview with HE Kirill Barsky, ambassador of the Russian Federation, as our cover story. The current picture of Russia portrayed in the mass media might mislead some to see the country only in military and political terms. The cover story, however, elaborates on a different side of Russia contrary to this superpower image. The diplomacy between Russia and Thailand remains tight and well established while the Russian ambassador's affection for Eastern arts and culture as described inside will impress Elite+ readers.
This issue is also packed with dominant figures from all over the world. From the ambassador of Timor Leste and a legendary UK literary agent to a Muslim fashionista from neighbouring Indonesia, the stories from different races and careers illuminate various aspects of society. As the executive editor, I compare myself to a chef who combines various ingredients and cooks a menu with the best recipe. With this determination to produce a high-quality magazine, I believe that Elite+ readers will be served with the tastiest and most nutritious course that cannot be found elsewhere.
My team and I are working hard to continuously improve the magazine. Recently Elite+ succeeded in moving beyond the limitations of the physical
IMPRINT:
format into the new digital platform on www. eliteplusmagazine.com. With support from digital marketing consultants, we are developing the website with interesting content and making it available for readers internationally. Subscribers now can go online and browse through various content updated almost every day.
Despite our hard efforts, I apologize for a technical problem that happened with the "Elite Adventure" column in the last issue. One of the photo captions, One of many waterfalls along the more-than-100km-long ice wall of the Austfonna glacier on the island of Nordaustlandet, was misplaced to page 42 instead of page 40. As the executive editor, I would like to express my apologies to the readers and our "Elite Adventure" columnist, Pongpol Adireksarn. We will be more careful of the accuracy of our graphic design to stop such an error from occurring again.
Warm regards, Arthorn Techatada
PUBLISHER AND DISTRIBUTOR: ELITE CREATIVE CO.,LTD.
222 BUDDHAMONTOL 2 RD. SALADHAMMASOP TAWEEWATTANA BANGKOK 10170, THAILAND.
TEL. 662 448 0312, 662 448 0658-9 FAX: 662 448 0393 E-mail: elitemagazine@praphansarn.com http://www.praphansarnasia.com EXECUTIVE EDITOR: ARTHORN TECHATADA
EDITOR: EZRA ERKER
ASSISTANT EDITOR: PIMSUDA NATEDAO, PHNOM TIENSUWAN, NUCHANARD KRENGSILLATHUM
EDITORIAL STAFF: PRAPHANSARN PUBLISHING CO.,LTD.
ALLIANCE: MAISON FILM & PRODUCTION CO.,LTD.
PRINTED BY: PERFECT PRINTS AND ADVERTISING CO.,LTD.