Page 4 - ELITE PLUS MAGAZINE VOL5
P. 4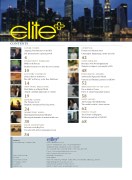 CONTENTS
COVER STORY:
Adapting Your Business to the AEC ICC International's regional growth
LIFESTYLE:
Portrait of a National Artist
Chamaiporn Sangkrajang, author and critic
4 42
INVESTMENT FORECAST:
ELITE HEALTH:
SMEs to the Rescue
Smaller businesses to drive the new economy
Revitalize with Food Supplements Nutrients to improve your quality of life
10
COUNTRY PORTRAIT
China's Shift to Soft Power
The AEC will be key to the New Silk Road
48
DIPLOMATIC AFFAIRS: Ambassador Nguyen Tat Thanh
14
NEW WAVE EXECUTIVE:
Print Media in a Digital World
Amarin's multiple approaches to content
Vietnam and Thailand, partners in ASEAN
19
LEISURE GUIDE:
52
REFLECTIONS OF MY LIFE: On an Aimless Course
Part 2 of a harrowing jungle journey
The Virtuous Cycle
Bangkok's unexpected bicycling boom
58
ELITE MUSIC:
An Evening with Tabitha King
The soulful vocalist's career on tour
24
MARKETING MIND:
Bumrungrad International Hospital Meeting the demands of modern health care
62
PHOTO ESSAY:
The Colours of Singapore Merlion-hearted hub of ASEAN
30
ELITE ADVENTURE:
In Search of the Big Five
On safari with Africa's photogenic beasts
68
34
IMPRINT:
PUBLISHER AND DISTRIBUTOR:
EXECUTIVE EDITOR: EDITOR:
ASSISTANT EDITOR: EDITORIAL STAFF: ALLIANCE:
PRINTED BY:
ELITE CREATIVE CO.,LTD.
222 BUDDHAMONTOL 2 RD. SALADHAMMASOP
TAWEEWATTANA BANGKOK 10170, THAILAND.
TEL. 662 448 0312, 662 448 0658-9 FAX: 662 448 0393
E-mail: elitemagazine@praphansarn.com http://www.praphansarnasia.com
ARTHORN TECHATADA
EZRA ERKER
PIMSUDA NATEDAO, PHNOM TIENSUWAN, NUCHANARD KRENGSILLATHUM PRAPHANSARN PUBLISHING CO.,LTD.
MAISON FILM & PRODUCTION CO.,LTD.
PERFECT PRINTS AND ADVERTISING CO.,LTD.