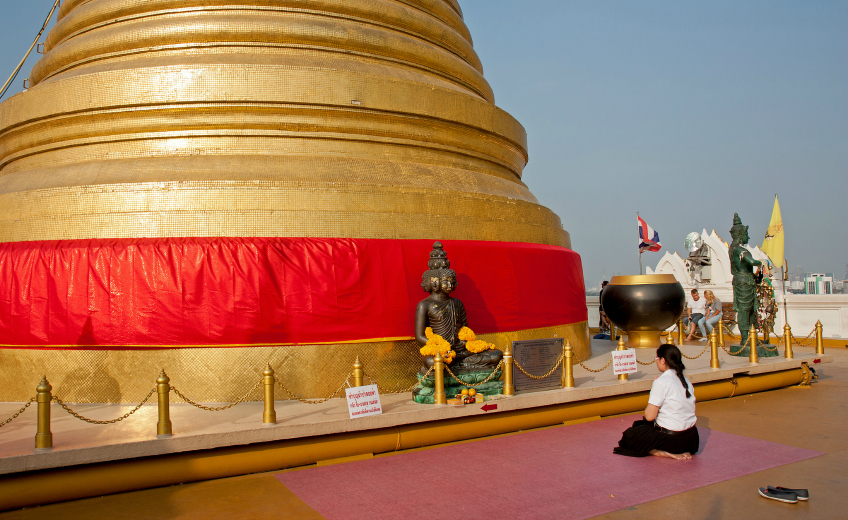 Police are investigating after a 26-year-old man fell to his death from Bangkok's Golden Mount temple, according to reports.
Narawut Puangkesorn was discovered by a monk on cleaning duties at around 6.30am on 21 August, according to Khaosod, after having apparently fallen some hours beforehand. The victim was apparently still breathing at the time, but was later pronounced dead in hospital.
Khaosod reports that the man climbed to the top of the temple – known more widely as Wat Saket, and a popular tourist destination located in the Thai capital's old-town area of Rattanakosin Island – in the early hours in order to meditate. CCTV footage apparently showed him circling the temple, though curiously the area in which the victim was found was apparently out of reach of the cameras.
Reports indicated that a nun with responsibility for taking care of the temple overnight had heard a scream and the ringing of a bell around an hour before the man's body was discovered, but had apparently not investigated the disturbance out of fear. Authorities reportedly found traces of blood on two separate elevated levels of the temple complex from where the man is believed to have fallen.
Police apparently have yet to establish whether they are dealing with a murder or suicide, but Narawut's mother pointed to her son's recent strong performance at university, his work commitments in the family business, and travel plans that he cancelled at the last minute. Narawut had reportedly also recently posted an update on social media in which he talked about 'the last day of our life.
By Chris Wotton. Photo by Andrea Schaffer.