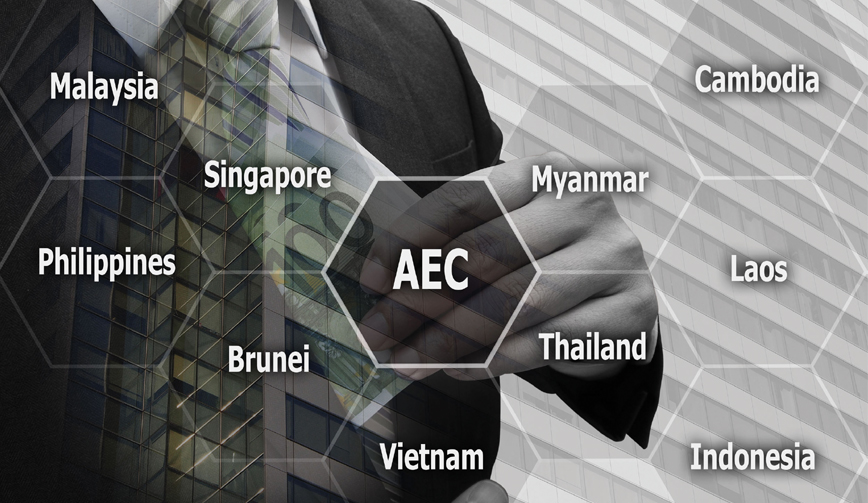 International Agenda by Phnom Tiensuwan
50 YEARS OF REGIONAL BONDING
On the ingenuity of Thanat Khoman, architect behind the formation and success of ASEAN
On August 8, the Association of Southeast Asian Nations (ASEAN) will have the party it deserves for its golden jubilee. In 1967, as the Vietnam War erupted and Cold War peaked, five foreign ministers from small and relatively backward countries in Southeast Asia decided to band together. Thanat Khoman from Thailand, Adam Malik of Indonesia, Narciso R. Ramos of the Philippines, Tun Abdul Razak of Malaysia and S.Rajaratnam of Singapore signed the ASEAN Declaration at Saranrom Palace, then Thailand's Ministry of Foreign Affairs. It was known as the Bangkok Declaration.
It was a humble start for these countries, which except for Thailand were emerging from Western colonization. It was the seasoned diplomat Thanat who initiated the idea of regional cooperation. His vision was simple: "If those small nations can learn and find ways and means to band together and cooperate with one another, they may eventually be able to shape and implement a positive and concerted policy without being squeezed or crushed by the weight and pressure of larger countries."
At the time, there was an existing policy of regional cooperation, although the Southeast Asia Treaty Organization (SEATO), formed to fight against communism in 1954, rarely worked. The association had big countries such as the US, UK, France, New Zealand, Australia and Pakistan involved, and the only Southeast Asian countries were Thailand and the Philippines. SEATO disbanded in 1977.
Thanat reportedly believed that Southeast Asia regional cooperation should truly represent countries in the region, otherwise it would be a pretext for outside intervention. He shared his ideas with foreign ministers and invited them to form a regional bond.
"Dr Thanant had a good rapport with the other four ministers," recounted Sompong Sucharitkul, former diplomatmat the Foreign Ministry who worked with Thanat. Mr Sompong,man Oxford University graduate, helped draft the ASEAN treaty."He was confident, highly able, and most of all genuine and sincere, so he won trust. It was a casual atmosphere at the time. Meetings on the formation of ASEAN were a casual and helpful experience. These ministers could talk and share ideas, they helped one another."
Mr Sompong was among many luminaries of diplomacy who attended the book launch of The Wit and Wisdom of the Lead Asean Founder. Other guests were former diplomats from Thailand's Ministry of Foreign Affairs, dignitaries and politicians such as former prime minister Chuan Leekpai, and former prime minister and former secretary-general Surin Pitsuwan.
The book launch took place at Bangkok's Hyatt Erawan Hotel in July. The 161-page hardback was an anthology of Thanat's quotes and interviews, speeches and statements from available public records. The book was the initiative of Amarin Khoman, Thanat's nephew, who led a team of editors and researchers to make this homage to Thanat, who passed away last year at the age of 101. The other four ministers had already passed away.
Mr Amarin spoke fondly of his uncle. "Thanat was a nationalist who always thought that the benefit of Thailand must come first."
He recounted the close friendship among foreign ministers, such as the comradeship between his uncle and Tun Abdul Razak of Malaysia, who came to visit and stayed at the family bungalow by the seaside. "They were very close, and would casually chat and drink together. It was genuine friendship between leaders who wished well of other countries, and I think this was very important [for sincere diplomacy and the formation of ASEAN]," Mr Amarin said on a panel discussion on ASEAN at 50, held at the book launch.
Surin Pitsuwan, former foreign minister and former secretary-general of ASEAN, praised Thanat as a diplomat with a vision.
"The ingenuity of Dr Thanat was that he could see through what Southeast Asia needed and what it could become," said Mr Surin. "At the time, those small nations just emerged from colonization and needed a platform to show their roles as independent states. These states needed to form their own identity. The ASEAN platform gave them that stage."
Thanat wanted ASEAN nations to speak with one voice and have a diplomatic policy that worked towards non-conflict.
Despite criticism, especially of the non-interference policy that lets member states violate human rights or foster authoritarian rule, ASEAN has gone from strength to strength. ASEAN has enabled mediation of internal rows, such as in the case of the Cambodia, or rows between states such as between Malaysia and Indonesia, or more recently Thailand and Cambodia. ASEAN can also play a role in easing frictions between member countries and outsiders, such as over the South China Sea.
The bloc has become an economic juggernaut. New nation state Singapore rose to become a developed nation and financial hub, while poorer countries such as Myanmar, Laos and Cambodia have become new manufacturing hubs. The ASEAN Economic Community (AEC), a single market which became effective in 2015, has turned the region into an emerging market with over 600 million consumers, a growing middle class and young labour force. ASEAN is touted as a showcase of regional association, one that emerging nations in Africa and elsewhere can study. As the world grows more divided and nationalism returns, ASEAN is a beacon of multilateralism.
Mr Surin believes ASEAN is not a copy of the European Union, although the bloc was inspired by the EU. "The EU's origin came when superpowers Germany, France and Italy formed the bloc and then invited smaller nations to join. ASEAN comes from small nations that wanted to band together in an equal manner, and somehow it grew and other big nations joined."
ASEAN became a trade bloc that encourages other countries to form new trade agreements with it, such as with East Asian nations Japan, South Korea and China under ASEAN+3, before Australia, New Zealand and India joined a trade partnership called ASEAN+6
It is hard to fathom how those five founding ministers would react if alive now, or if they had dreamed of what ASEAN would become. Known as humble and realistic, Thanat always acknowledged ASEAN's limitations. "We prefer to be among equals and, of course, we cannot be equal with bigger nations," he once said.
The 50th year of ASEAN, through the bloc's achievements and problems, confirms the power of multilateralism. ASEAN at 50 reflects the determination of small countries, and those ministers who dared to determine the fates of their nations, to speak to the big powers as more of an equal.
In an interview with the New York Times published in February 1967, months before the birth of ASEAN, Thanat said, "Do not underestimate us. We can move much faster than many people think."
He added, "Even in our smallness, let our staunch stand for freedom and liberty shine as a beacon of great entities."