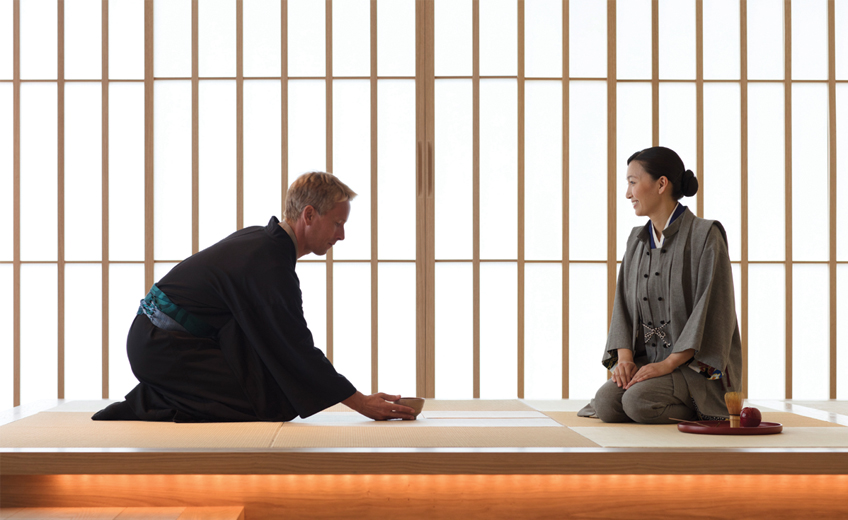 HOSHINOYA, a tower guest house in the heart of Tokyo, offers traditional Japanese luxury with modern flair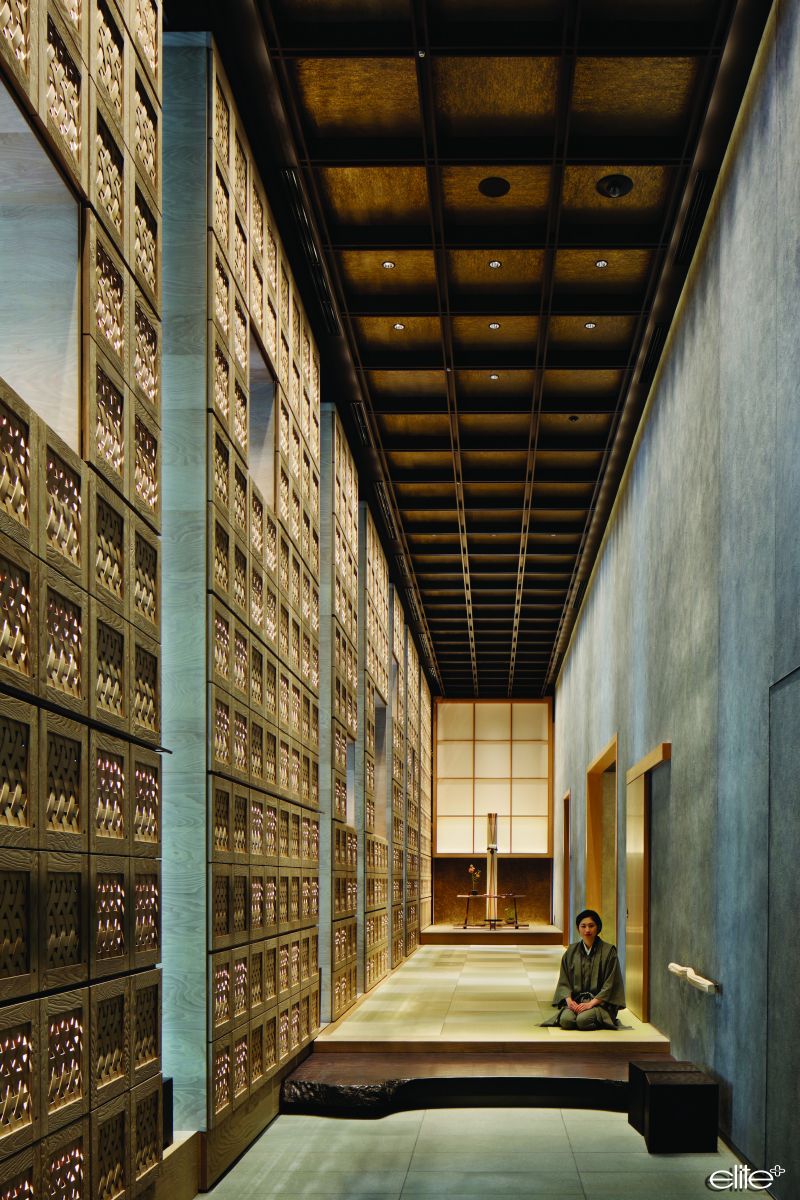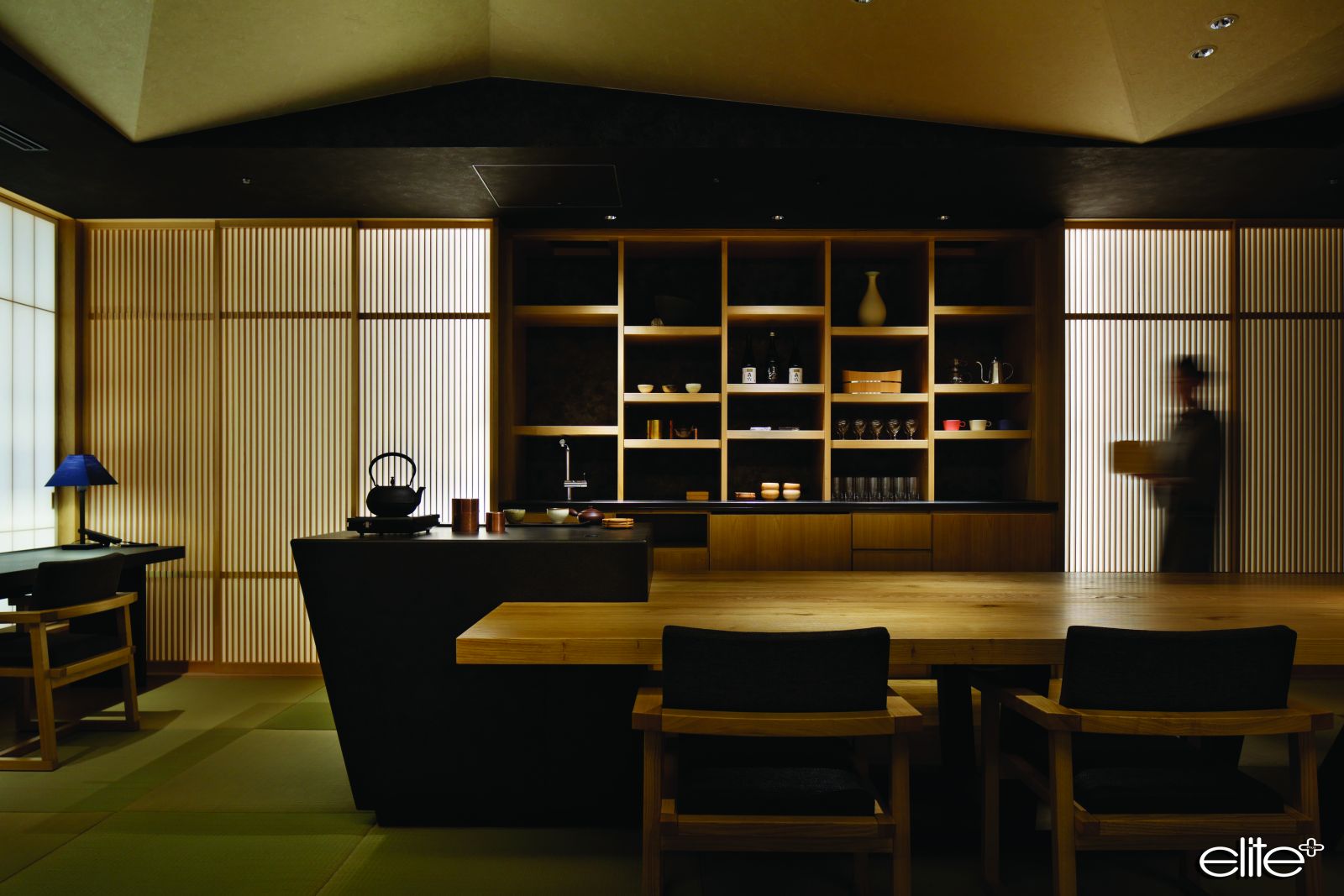 Finding a traditional ryokan in Tokyo can be difficult, as the capital is densely populated with glittering high-rise office buildings and hotels. But you can experience authentic Japan in the heart of cosmopolitan Tokyo at HOSHINOYA, the city's first luxury "tower ryokan". Located in Otemachi, the economic centre of Tokyo, and close to Tokyo Station and the Imperial Palace, this boutique ryokan-style hotel offers the full experience of Japanese culture in elegance, style and comfort.
HOSHINOYA Tokyo is operated by Hoshino Resorts, one of Japan's biggest hotel chains, owned by Yoshiharu Hoshino, which operates 35 properties around the country. The brand is famous for top-notch hospitality and contemporary design in beautiful surroundings, such as at the properties in Karuizawa, Fuji and Kyoto.
The exterior of the building is already stunning, shrouded by a metal lattice of patterns traditionally featured on kimonos. Surrounded by office buildings, the 17-story HOSHINOYA Tokyo offers a Zen-like ambience and a sense of intimacy where you can leave the hustle-bustle world behind and enter a world of serenity and peace.
Upon arrival, you are asked to remove your shoes and walk barefoot on the soft tatami mats to your room. The charms of a traditional Japanese home become more apparent when kneeling on the floor. To allow guests to comfortably enjoy this perspective, architect Rie Azuma has furnished many rooms with floor-level tatami chairs created by the Hinoki Kogei furniture craftsmen collective. In the room, lighting also plays a strictly supporting role, offering warmth and comfort without ruining the effects created by shadows. Masanobu Takeishi, an award-winning lighting designer, produces artisanal light fixtures that gently illuminate a room and create a warm cosy feeling.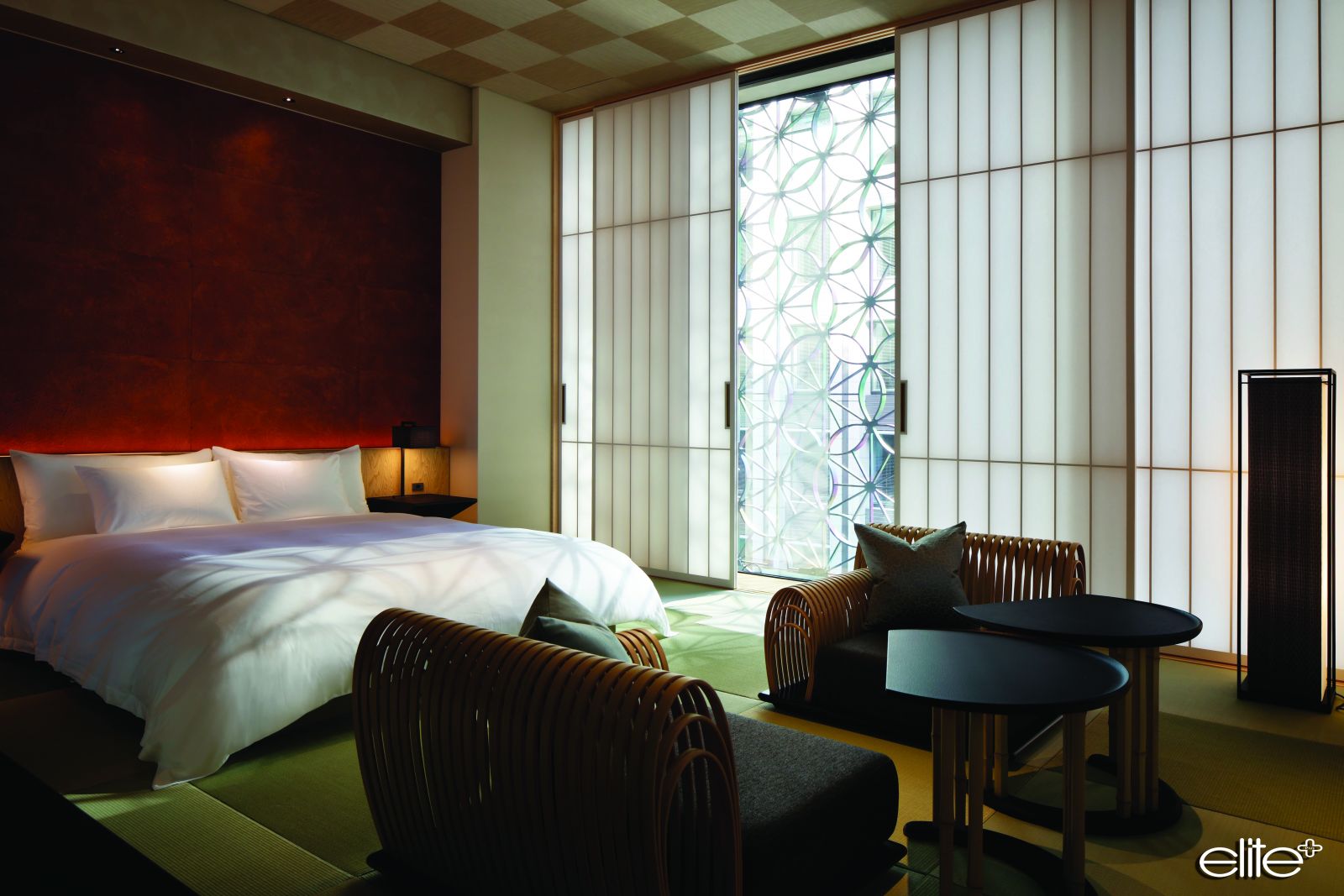 All rooms feature tatami matting, bamboo closets, shoji paper sliding doors, a futon bed, and all of the interiors are designed to encourage guests to spend their time in the room and on the floor for full relaxation. Every floor features an ochanoma lounge, or central lounge exclusive to guests staying on that floor. It connects directly to every room via a tatami-covered hallway, inviting guests to come and go as they please, to simply relax or enjoy the seasonal refreshments and drinks that are served throughout the day. Breakfast in either traditional or contemporary style – consisting of multiple dishes and featuring local and seasonal specialties – is served in your room, where you can sit in the tatami chair and enjoy a healthy, balanced meal right when you wake up.
Don't forget to take a dip in the ryokan's famous hot bath on the 17th floor. The baths, supplied with curative waters, are in rooms with open roofs, providing guests with a full view of the sky. Relax in the onsen while gazing at the sky and listening to the sound of the waves.
After a hot bath, wear a refined kimono offered to every guest to experience the ryokan's signature Nippon cuisine – where traditional Japanese meets classic French – prepared by award-winning executive chef Noriyuki Hamada. Foodies will be surprised by the chef's creativity and talent, as the dinner course is designed to create an indulgent experience. Hamada's focus is on fish – commonly served at the traditional Japanese ryokan. He travels around the country collecting the finest fish, raised with technology and care that enhances their flavour. He visits nearby farms for vegetables that best complement them. Guests can enjoy distinctive flavours produced by the sea, rivers and soil of the ryokan's locality and across Japan.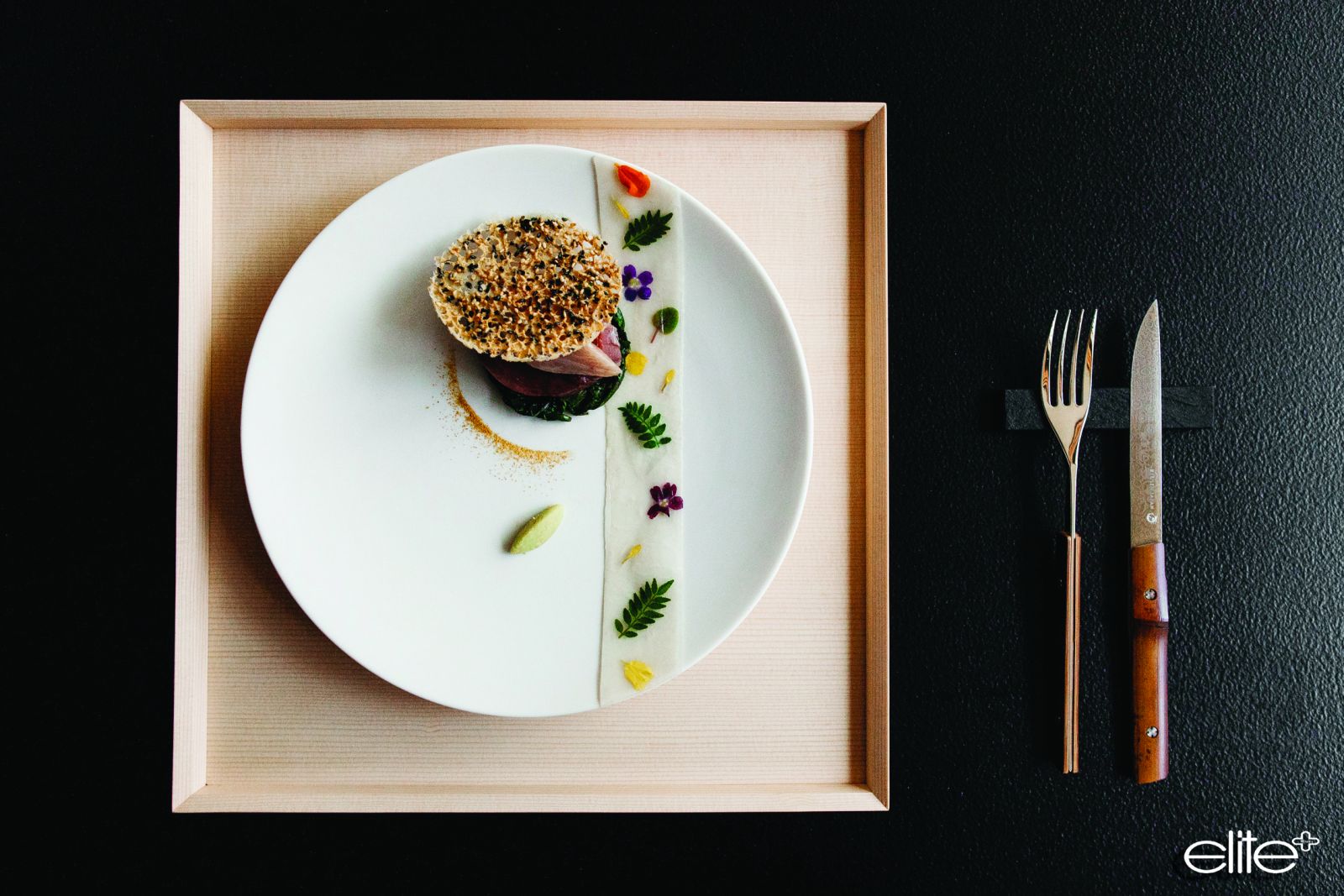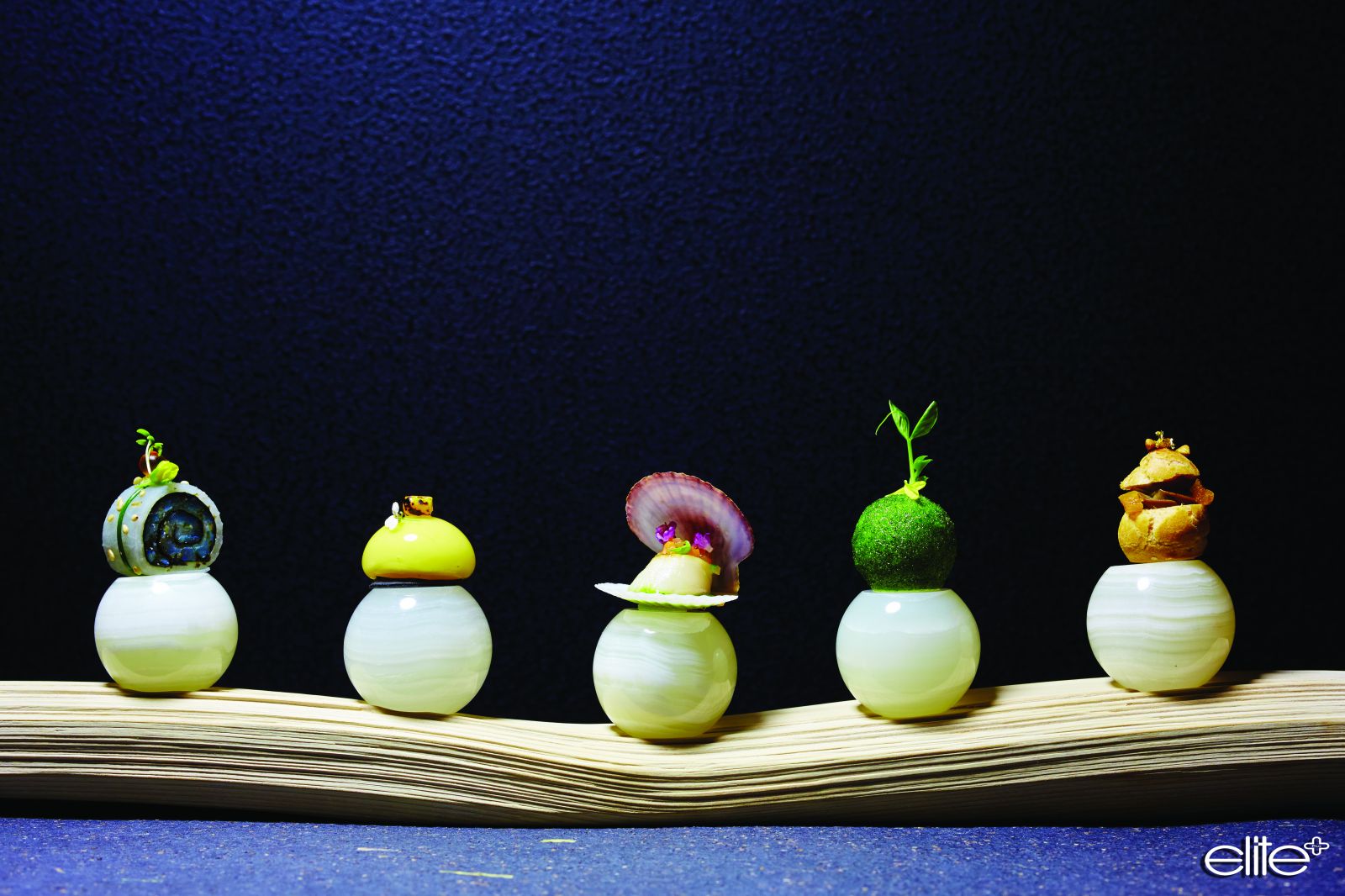 Hamada prepares each dish as a work of art. Each meal showcases fish as well as fish parts such as bones and broth dregs rarely found on the dining table, prepared with visual flair. Take "five flavours of delight", five meticulously designed items representing the five flavours (sour, sweet, bitter, salty and umami), placed on individually heated stones to ideal serving temperatures, giving you distinct taste sensations. Several dishes provide terrific umami for your taste buds, such as monkfish soup and red tilefish and turnips prepared with ancient Japanese culinary wisdom and techniques you won't find elsewhere in Japan.
More than just a place to sleep, HOSHINOYA Tokyo offers guests an opportunity to experience traditional Japanese lifestyle and hospitality. The unique pleasant scent of tatami mats will linger long in the memory.
HOSHINOYA Tokyo
9-1 Otemachi 1-chome, Chiyoda-ku, Tokyo
Tel: +81-50-3786-1144 (Japan time: 9am-8pm)
www.hoshinoresorts.com/en/resortsandhotels/hoshinoya/tokyo.html