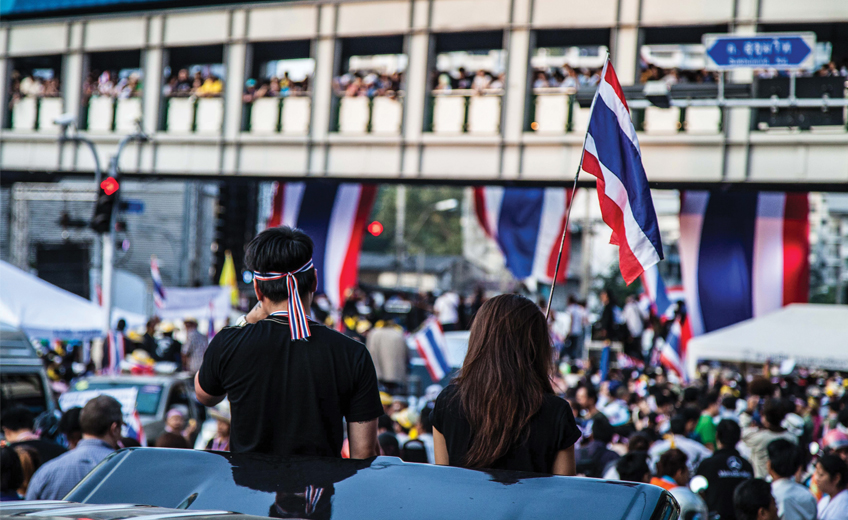 THE STEADY CREEP OF AUTHORITARIANISM
In Southeast Asia and around the world, political checks and balances, civil liberties and the rule of law are increasingly imperilled by autocratic governments
Leaders are engaging in increasingly autocratic behaviour in many parts of the world, jailing journalists, persecuting political rivals, undermining judiciaries and eroding the freedoms of their citizens. And more progressive democracies that once objected to such abuses elsewhere are growing largely silent, preoccupied with internal or regional power plays. Two newly released international measures show that rights are being uprooted and democracy eroded in many parts of the world.
The Rule of Law Index and the Economist Intelligence Unit's Democracy Index, both unveiled at the start of February, annually rank the performance of countries according to a range of statistics and criteria. They make for pessimistic reading, with the lowest collective international scores in many years.
Published by the World Justice Project, the Rule of Law index gathered data from over 110,000 households and 3,000 experts around the world to compare legal systems and calculate scores across 44 indicators in eight main categories: constraints on government powers, absence of corruption, open government, fundamental rights, order and security, regulatory enforcement, civil justice, and criminal justice. An erosion of fundamental human rights was reported in 71 out of the 113 countries studied.
Even more grim is the fact that less than half of the world's population now lives in a democracy, and less than 5% live in a "full democracy". The Democracy Index, whose previous instalment was covered in Elite+ last year, records the worst decline in global democracy in many years; only 19 countries are "fully democratic", and none of those are in Asia. The index is based on 60 indicators within five categories: electoral process and pluralism, civil liberties, the functioning of government, political participation, and political culture. Scores are then used to classify each country as a full democracy, flawed democracy, hybrid regime or authoritarian regime.
Thailand under military government (107 out of 167 countries) is classified as a hybrid regime. Timor Leste (43), Malaysia, Indonesia and the Philippines have the highest rankings in ASEAN, though the latter two have fallen considerably. Laos (151), Vietnam, Cambodia and Myanmar sank deeper into authoritarianism. The UN and rights groups have accused Myanmar of ethnic cleansing, Cambodia of strong-arm tactics against political opposition, the Philippines of thousands of extra-judicial assassinations and Thailand's ruling military of delaying elections in order to consolidate its power and interests. Abuses common to the region include increasing attacks on freedom of expression and press.
Southeast Asia is no outlier, however. Asia as a whole no longer has a top-13 performer in either index, reflecting a decline in civil liberties across much of the continent. Japan (14 out of 113 countries) was the lone bright spot for adherence to the rule of law, while South Korea (20 out of 167) took top regional spot in the Democracy Index. China (139) is growing in global influence but is one of the world's most authoritarian states.
Venezuela, in economic free fall with the rule of law nearly abandoned, is the world's worst performer in the Rule of Law Index (113), while North Korea lies at the bottom of the Democracy Index (167). The US has also fallen in the two measures, with President Trump recently ignoring Senate-mandated sanctions of Russia. His administration has repeatedly attacked free press and political opposition and sought to erode checks and balances and the rule of law.
It may be more helpful to summarize the findings by region.
Europe
First, the positives. Scandinavian countries were ranked 1 through 4 in the world in most of the subcategories across both indexes, with few constraints to freedom of press or expression, with judicial independence, viable political checks and balances, and few impediments to seeking justice through the courts. Denmark topped of the Rule of Law Index, followed by Norway, Sweden and Finland, while Norway won out in the Democracy Index, followed by Iceland, Sweden, New Zealand and Denmark, the Oceanic country edging in among the northern European states. Other European countries, such as the Netherlands, Switzerland and Germany, performed well, as did the UK, despite internal confusion over its plan to leave the European Union next year. The UK dropped out of the top 10 in the Democracy Index, but it's 11th place slot is still quite respectable.
Poland in East Europe, on the other hand, has fallen the fastest in the Rule of Law Index (to 25), due to the ruling party's increasing control of once-independent institutions such as the judiciary. Poland is currently seeking to pass a law outlawing claims that Poland colluded in any way with Nazi Germany on the Holocaust – an example of the whitewashing of history common in authoritarian states.
In central Eurasia, Turkey (101), Uzbekistan (91) and Russia (89) sit at the bottom. Russian president Vladimir Putin has barred the main opposition challenger in the March elections and due to a lack of viable opponents is more or less assured of winning a fourth term.
Europe has fared generally well in the two studies, but with increasing internal and external pressures – such as domestic populism, Brexit, authoritarianism in Eastern states and the refugee crisis – it remains to be seen how long such stability can be maintained.
Latin America and Africa
These regions performed poorly, though many countries, especially from Africa, had insufficient data to be included in the Rule of Law Index. Venezuela, racked by hyperinflation, homicide and a breakdown of the rule of law, lies at the bottom of that index (just below Cambodia), and its capital, Caracas, was named the most violent city in the world. According to Transparency International, it is also the most corrupt country in Latin America, as state and military jobs are used for personal enrichment and those who don't vote in the government's favour are barred from public posts.
In Honduras, President Juan Orlando Hernandez just commenced a second term in government despite accusations of having rigged the vote. Calls for new elections from the Organization of American States have largely been ignored by the US and Europe.
Sub-Saharan Africa is the second-worst performing region after South Asia, although many countries had insufficient data to make the Rule of Law Index. A slight positive was that corruption measures decreased slightly or held steady across the continent. Senegal was a bright point on the Democracy Index, at 49 the world's best performing low-income country. Three of the worst five (after North Korea and Syria), however, were Chad (165), Central African Republic and the Democratic Republic of Congo.
In North Africa, Egypt is notable for its political autocracy. Potential rivals to President Abdel Fattah el-Sisi in the March elections have been jailed or intimidated to stop them from running. US President Trump has called President Sisi a "fantastic guy", however, and most of the world remains silent. Like many leaders in North Africa and the Middle East, he seems to be free to consolidate power with little fear of international consequences.
North America
Canada does very well in the two measures (6 in democracy and 9 in rule of law), while the US (21 and 19) is being consumed by partisan erosion of its once solid political checks and balances. Currently the president is being investigated for collusion with a foreign government, resulting in his party seeking to undermine the independence of the FBI, CIA and Department of Justice. The US no longer releases its State Department's annual report of global human rights, emboldening autocrats elsewhere, as foreign aid is dwindling and now less contingent on human rights and transparency and more than ever on political interests.
The US performed particularly poorly in due process of law, meaning Americans are often treated unfairly when crimes happen, with the rights of the accused poorly protected. Unequal treatment and discrimination are particular problems, while the biggest fall was in integrity of the electoral process. Constraints on government powers are showing a steep downward trend.
Asia and Oceania
Australia and New Zealand were top-10 performers in both indexes, while data was insufficient for many Pacific states.
Asia, however, was left without a "full democracy" in the Democracy Index for the first time in years. South Korea (20) is the region's best performer, and North Korea its most authoritarian. Japan has slipped to a "flawed democracy" due to poor political participation and stale political culture. India (42) also slid down the rankings. China (139) is one of the world's most authoritarian states while also rapidly expanding its influence around the region.
Through its sponsorship of international finance and infrastructure initiatives such as the Asian Infrastructure Investment Bank, New Silk Road, Belt and Road, Greater Mekong Sub-Region and others, China is undoubtedly the region's superpower. However, it is showing greater signs of losses of individual freedom. Publishers, journalists and rights activists are being detained without charge. The Foreign Correspondents' Club of China recently surveyed 117 foreign journalists, with the consensus that their reporting conditions had deteriorated in the past year. Many complained that Chinese sources increasingly refused to speak on record, afraid that simply holding an opinion on anything might be deemed suspicious. According to Freedom House, internet freedom is already the worst in the world. Private companies such as Alibaba and WeChat are forced to hand over all data on individuals to the government, which can then track anyone it deems of interest.
Taking this even further is China's attempt to perfect a system of algorithmic surveillance. Using facial recognition programs, artificial intelligence and data mining to keep detailed profiles on all citizens, it is developing a "citizen score" to incentivize what it perceives to be good behaviour and deter crime and political opposition. If other countries follow suit, we are set for an Orwellian future with little freedom of thought.
World Happiness Report
As former world No 1 chess player turned author and political activist Garry Kasparov recently lamented, "Democracy may die in darkness, but it can be crippled in plain sight by attacks on democratic institutions for short-term political gain."
For long-term stability, it may make more sense for ASEAN nations to seek to emulate the Scandinavian model of strong independent institutions, political balances, proportional representation and respectful debate, rather than the Chinese paradigm of one-party autocracy, steady erosion of individual freedoms and stifling of dissent. After all, Scandinavia is also top of the most recent World Happiness Report, with the top three slots going to Norway, Denmark and Iceland, with Finland in 5th after Switzerland. The Netherlands, Canada, New Zealand, Australia and Sweden round out the top 10. China lies in the bottom half, at 79 out of 155, reporting no increase in happiness in the past 25 years despite a five-fold GDP growth in that period.
The World Happiness Report, commissioned by the United Nations Sustainable Development Solutions Network, collates poll data on topics such as business, citizen engagement, communications and technology, social issues, education, emotional well-being, environment and energy, food and shelter, government and politics, law and order, health, religion and ethics, transportation and work. It is interesting that most countries at the top of the rule of law and democracy indexes also lead the happiness index. One notable exception is Thailand, which is ranked 32 out of 155 in happiness, a respectable score considering its poor showing in the other two indexes. A new report will be released in April, and it will be interesting to see if Thailand's ranking can be maintained through a fourth year of military government.
A closer look at rule of law and democracy in ASEAN countries will follow in the next issue.
International Agenda by Ezra Kyrill Erker