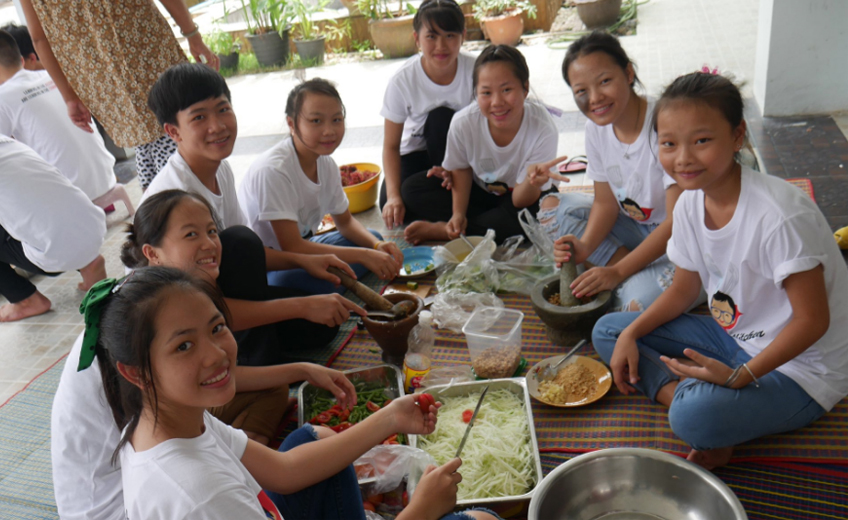 A local charity initiative established by an expat entrepreneur and philanthropist, which seeks to teach children life skills by way of the kitchen, is making a real difference to disadvantaged groups in Bangkok.
Under the slogan 'leaders in the kitchen are leaders in the community', the Courageous Kitchen has been targeting youngsters at risk of poverty, malnutrition, poor education and exploitation – in particular from families seeking refugee status in Thailand – since it was founded nine years ago by American former English teacher Dwight Turner under the name In Search of Sanuk. The charity initially began providing emergency assistance to vulnerable families but, as the focus turned more and more to food, a rebrand was in order, ushering in the new Courageous Kitchen in 2015.
Turner believes that the cooking skills and experiences taught in the Courageous Kitchen can equip his disadvantaged students for their future lives, having previously told the Bangkok Post that 'the kitchen is a microcosm of the world', somewhere you can pick up 'skills [that] are applicable no matter what your profession'. As well as cooking with young people themselves – something he says is as much about teaching self-confidence and resilience as it is about the actual food – the Courageous Kitchen now also runs a series of food-related tours and experiences for locals and visitors alike, contributing to the fundraising efforts that allow the initiative to continue its vital work.
The Courageous Kitchen's Airbnb experience became the first in Bangkok to benefit a social enterprise in the second half of 2017, being listed as part of the accommodation booking web site's new foray into tours some eight months after the charity first began welcoming foodie guests. The small-group experience takes visitors on a walk around a typical local market in the Udomsuk neighbourhood in Bangkok's eastern suburbs, before retreating to the nearby Courageous Kitchen itself for a lesson in Thai cookery that involves making a handful of authentic dishes. There's an emphasis on cooking less well-known recipes – 'you can cook pad thai in any class', reads a post on one of their social media channels – so that participants leave with a deeper understanding of Thai cuisine than most.
Other fundraisers put on by the Courageous Kitchen have included a popup Thai food festival in Austin, Texas, taking the best of Southeast Asia's diverse cuisines all the way to the USA. Courageous Kitchen will also shortly begin collaborating with Udomsuk's newly opened La Mesa Coffee Co. to put on rooftop cooking classes complete with views of the Bangkok skyline. Like the Courageous Kitchen's conventional tours, the first of these experiences on Saturday 14 July will include a walk through the local fresh market followed by a cooking class and lunch on the rooftop at La Mesa, including drinks and coffee.
Story by Chris Wotton. Photo by the Courageous Kitchen.