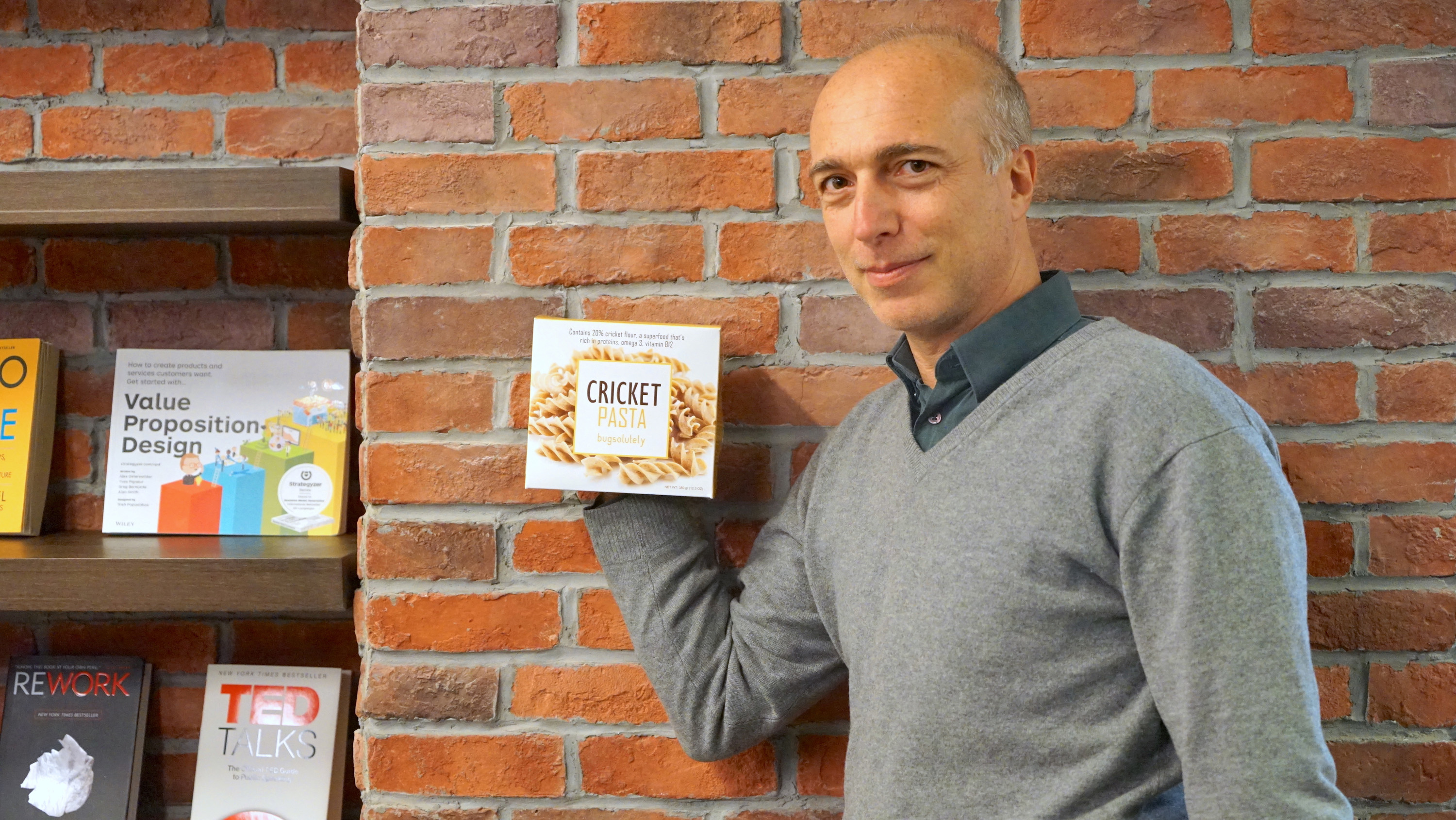 A Thai company is leading the charge as environmentally sustainable insect-based foods become more mainstream – and its signature product is a pasta made of crickets.
Bugsolutely, founded in 2015 by Italian former marketing agency owner Massimo Reverberi, aims to capitalise on the growing appetite for insect-based foods around the world by tapping into the existing cricket-farming industry in Thailand. The company's flagship Bugsolutely Cricket Pasta contains 20% cricket flour alongside wheat flour and durum semolina flour, and has now been exhibited around the world, including in London, Milan, Singapore, Shanghai, and Detroit.
Both healthy and sustainable
The cricket flour gives the pasta a brown colour and a nutty taste and, according to Bugsolutely, it is both healthy and environmentally sustainable. The company claims that its pasta product boasts 'exceptional' nutritional properties, including being a strong source of protein, minerals, vitamin B12, fibres, omegas 3 and 6, and nine amino fatty acids. It also apparently has a low environmental impact, since crickets need as much as 1,000 times less food and water than cows, and they grow far more quickly.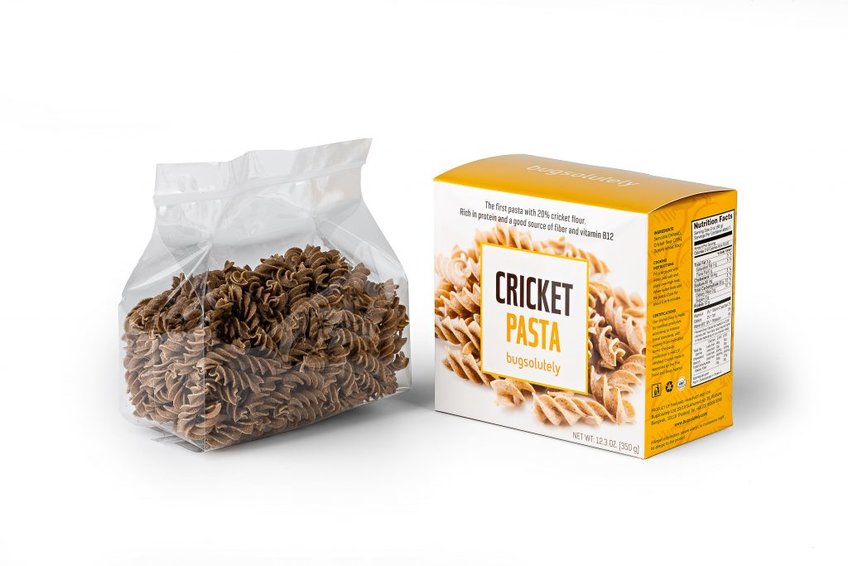 Bugsolutely says crickets are more effective at converting food into protein than those farm animals conventionally used for human food, citing the need for only two kilograms of feed in order for crickets to produce one kilogram of protein, compared to the 10kg of feed required for a cow to do the same.
The question of green house gas emissions is also high on the agenda, since livestock farming is said to produce 18% of global emissions, making it the largest contributor overall, while emissions from insect farming are reported to be much lower.
A growing segment
The edible-insect-based consumer packaged goods industry is a market on the rise. According to Reverberi, the European Union has started its approval process for the sale of foods containing insect protein, while the United States and Canada have already given the green light for manufacturers to use insects in packaged foods, and Thailand-based Bugsolutely's cricket pasta has been approved by the country's Food and Drug Administration.
Media discussion around insects as a possible 'food of the future' has become more pronounced in recent years, too – Bugsolutely says this is a conversation it wants to move from focussing on insects just as a protein source, to one in which they are also considered as a kitchen ingredient. And edible insects are increasingly making an appearance in supermarkets, especially in Europe – Bugsolutely cites other products occupying this niche market as including energy and snack bars from brands such as SENS, Kriket, and Crobar, each containing cricket flour like Bugsolutely's pasta.
Market studies have produced wildly different estimates as to the future value of insects as food, although they all seem to agree on the direction in which things are headed. Meticulous Research claims that the edible insect industry will be worth almost one billion euros by 2023, while GMI puts the figure in excess of 522 million US Dollars by the same year, and Arcluster goes even further, predicting sales of 1.5 billion US Dollars by as soon as 2021. Other firms working in the bug space have attracted millions of dollars worth of funding, says Bugsolutely, while governments including those of the European Union, South Korea and Switzerland are increasing the level of support they offer to compares developing products in this area. The firm also points to the support of the United Nations and other international organisations for the promotion of edible insects as a sustainable food source in western countries, and says that in 2015 alone hundreds of new edible-insect-based companies entered the market.
Overcoming the 'yuck' factor
It has been widely reported that experts agree insects are the protein of the future – composed themselves as they are of as much as 70% protein – and Bugsolutely says surveys indicate between 30% and 50% of the population would like to try edible insect products. However, neither Bugsolutely nor Reverberi seem in any doubt as to the scale of the challenge they face in attempting to convince western consumers to abandon long-held preconceptions about eating insects such as crickets.
The company boasts that its pasta product is unique in allowing it to incorporate edible insects into a staple food suitable for the mass market, by removing from consumers' minds the physical shape of the cricket – widely considered by westerners as off-putting – in the process of milling the insects into flour and then turning it into an existing everyday product like pasta. Bugsolutely's cricket pasta is already available in fusilli form, and this commitment to overcoming the insect-eating stigma is underlined by previous innovations and collaborations like a cricket pasta dish with cricket Bolognese sauce, produced in conjunction with Canadian firm One Hop Kitchen.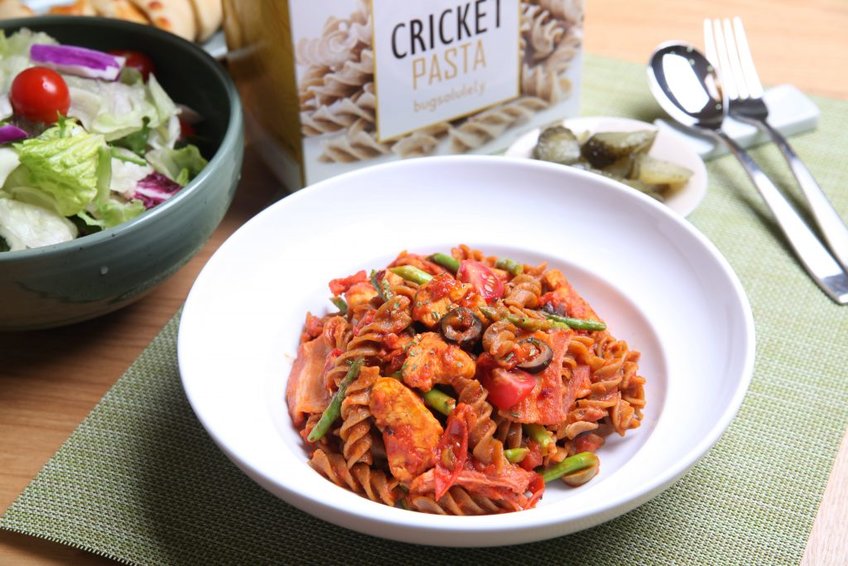 In 2016, Cesar Pereira, founder and CEO of Gama – the business information provider in whose innovation awards Bugsolutely was shortlisted as a finalist – said: "Bugsolutely Cricket Pasta highlights the potential for insect ingredients – especially cricket flour – to make an impression within the mainstream food industry. Bugsolutely's cricket flour formulation helps make insect foods more accessible, overcoming the 'yuck' factor that is likely to prove an obstacle to insect-based formulations, especially in western markets."
Most westerners' exposure to edible insects in Bugsolutely's Thai homeland is limited to trying overpriced scorpions on sticks in backpacker enclaves like Khaosan Road, where those not daredevil enough to have a taste are still gouged for a nominal fee by vendors just for the privilege of taking a photo. But Reverberi is also keen to remind us that westerners 'already eat some pretty frightening dishes like oysters, pork guts, and snails', reasoning that crickets aren't all that different really.
A global product with Thai roots
As it happens, it is difficult to separate Bugsolutely's global aims – predominantly targeting consumers in the United States, Europe, New Zealand, Australia, Japan, and Korea – from its Thai roots. As elsewhere in Asia, South America, and Africa, insects are already part of the traditional human diet in Thailand, and it is not uncommon to find fried silkworms, crickets and more for sale at local markets around Bangkok and beyond.
According to Bugsolutely, its location in Thailand means it is able to capitalise on the quality of farmed crickets available here at a low cost – it says there are already more than 20,000 cricket farmers in the country – in order to provide the western market with high-grade but reasonably priced insect products. And Reverberi sees the benefits as mutual, believing that cricket farming offers rural Thais an alternative to the often precarious nature of the rice crop.
Dr. Korsak Towantakavanit, Policy Specialist of Innovation for the Industry Department at the Thai National Science Technology and Innovation Policy Office, agrees. In 2016, he said: "I am not surprised Bugsolutely's product was designed in Thailand. Our country is the kitchen of the world, and cricket pasta is a great example of food research and development."
From cricket pasta to silkworm crisps
The growth in popularity of edible insects as a more sustainable food choice also brings to mind recent surges in western interest in other foods long popular in Thailand and Southeast Asia, such as jackfruit, in Europe now seen as a trendy vegan alternative to meat in dishes such as pulled pork.
Indeed, Reverberi's journey in the realm of unconventional foods does not end with cricket pasta. Since 2017, he has also had a team in China working on silkworm-powder-based products, and Bugsolutely China's new Bella Pupa salt-and-vinegar-flavoured silkworm crisp-like snacks are about to go into production.
The company describes silkworms as a 'wonder food' with twice as many essential amino acids as pork or chicken, and the product has already bagged the Food and Beverage Innovation Forum's Most Innovative Food prize for 2017 – so it doesn't look as though Reverberi, or his quest to make us comprehensively challenge our own eating habits, will be dropping off our radar any time soon.
Story by Chris Wotton. Photos by Bugsolutely.