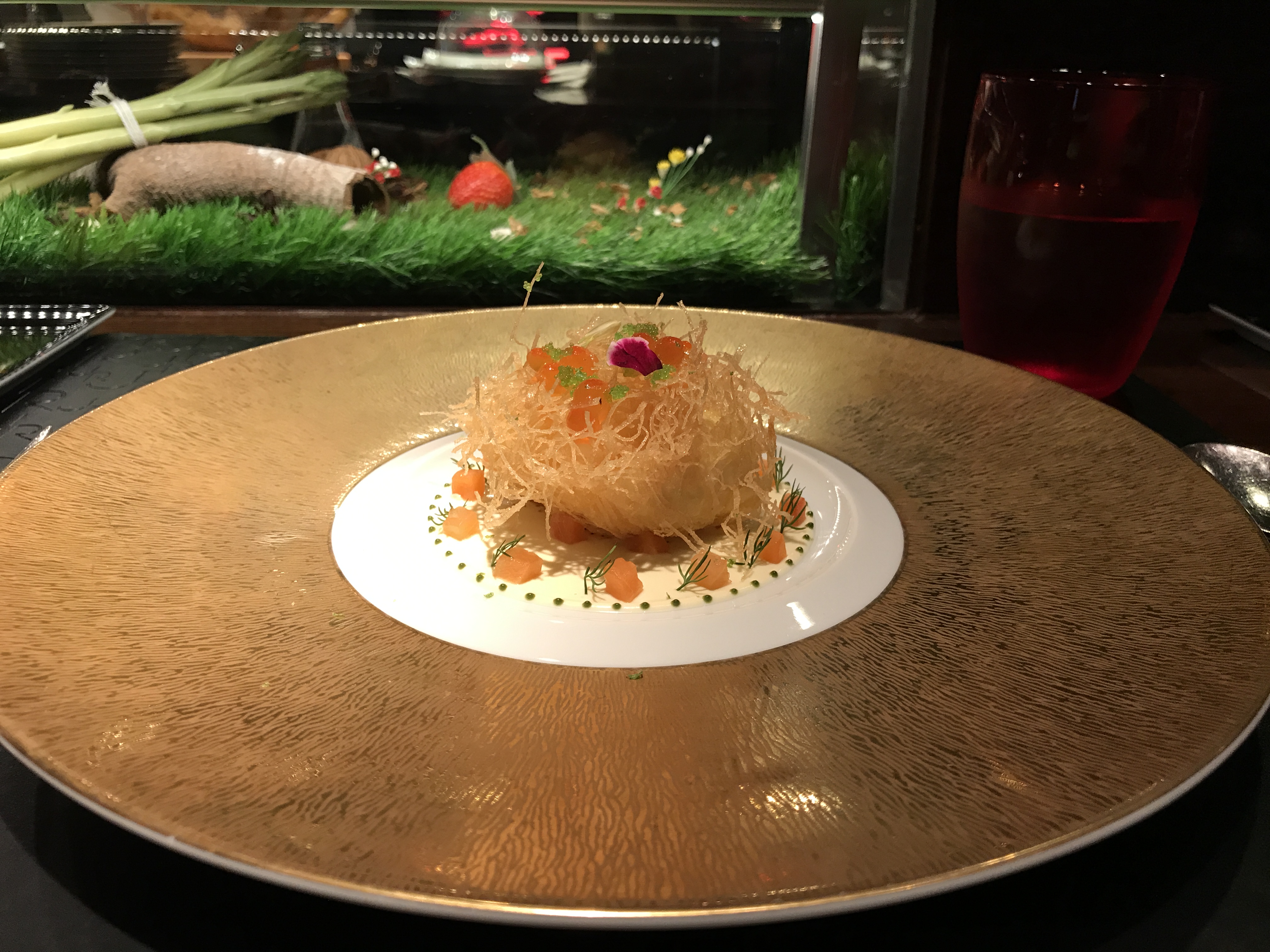 Bangkok's famous Michelin-starred French fine dining restaurant L'Atelier de Joël Robuchon is marking the change in seasons and welcoming the arrival of summer with the launch of an exciting new three-course menu that celebrates fresh local produce from northern Thailand's organic Royal Project farms alongside 'extravagant imported products' of the highest quality from diverse regions of France and as far apart as Spain, Japan, and Alaska.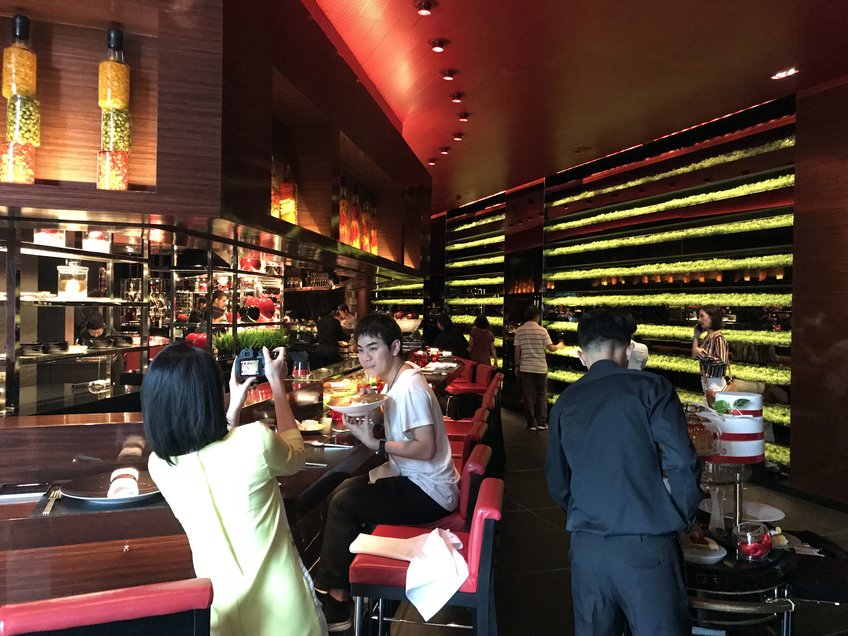 The summer menu (THB 2,950++ per person), which launched on 22 June, has been curated by executive chef Olivier Limousin (formerly of L'Atelier's two-Michelin-starred London restaurant). This culinary journey opens with warm, fluffy house-made breads, and an amuse-bouche of royale de foie gras ensconced beneath layers of aged port reduction and emulsified parmesan (all three components are intended to be eaten together for a trio of flavours). This comes alongside a crispy deep-fried quinoa ball, the latter comparatively austere by design (save for the addition of a dainty, terracotta-coloured cap of chilli mouse) to offer for some welcome balance to the foie gras.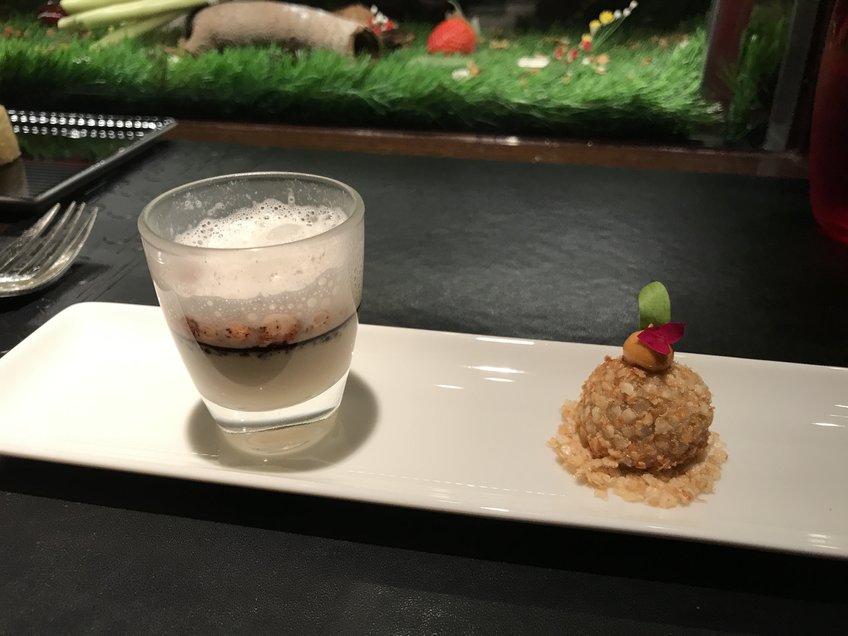 To follow is a choice between two entrées, salmon-adorned crispy poached egg or meunière-style white asparagus, and then again between two main dishes, parsley-crusted French-Pyrenean lamb filet with green pea mousse and mashed potatoes, or seared Hokkaido scallop on cauliflower faux risotto with a sauce of lobster juices.
Friendly fine dining in a stylish setting
Open since late-2014, L'Atielier de Joël Robuchon sits five floors up the restaurant-filled MahaNakhon CUBE lifestyle centre beside Sathorn's unmistakable and unconventionally pixelated-style-designed, 77-storey MahaNakhon tower itself. Entering for the first time past the plush and contemporary reception lounge, the restaurant itself feels somewhat smaller than expected, what with the chain's signature glossy red and black decor and dim lighting closing things in somewhat. In fact, it's bigger than it seems –length rather than width is what it boasts – and there's little denying that the ultra-sexy colour scheme pays off in the style stakes.
This might well be fine dining, but there's a decidedly relaxed, intimate and playful vibe to the place – part of a conscious break away from traditional, formal French fine dining settings, and something on which the chain prides itself. Undoubtedly helping the restaurant along in pursuit of that kind of vibe is the 30-seat tall bar that takes up the majority of the dining room, facing the open kitchen in such a way as to encourage naturally jovial conversation between guests, chefs, and the front-of-house team (if a little more privacy is called for, a smaller amount of table seating is hidden around the back).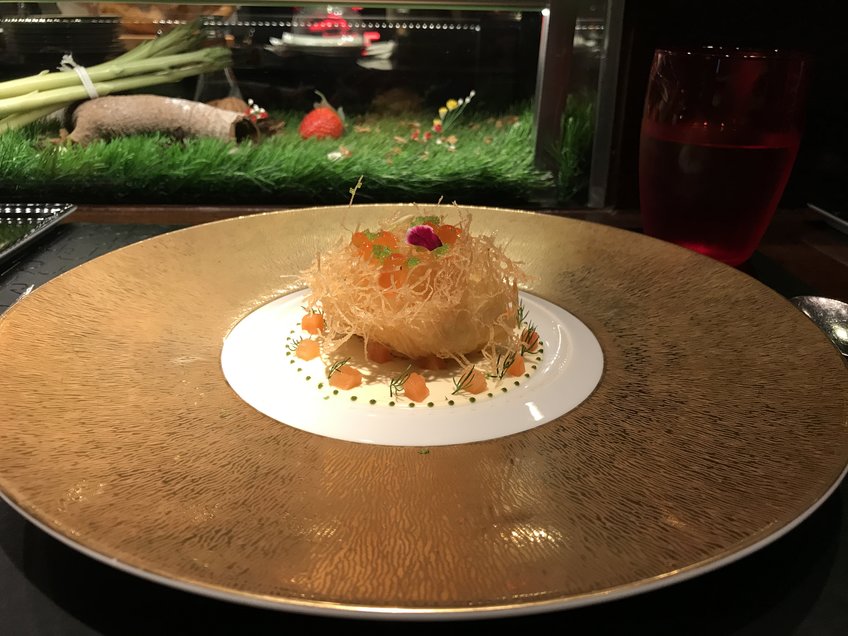 One Michelin star in Bangkok, and 31 more worldwide
Pleasingly, it all works without feeling forced – the strong rapport between regular guests and restaurant staff is plain to see as they chat like good friends – and it serves as great testament both to Robuchon's own aim for a setting that 'immerses guests in a dining experience where [they] are part of the action', and to the desire spoken of by Limousin to '[give] pleasure not just to my customers but to my team members as well, in the hope that they will give their best for the customer.' Indeed, he seems to have a winning formula, because service is good across the board, even if the knowledgeable, articulate and approachable maître d'hôte impresses most of all, while Limousin himself is fun, friendly, and laudably visible interacting with guests on the restaurant floor, even serving the occasional course to customers himself.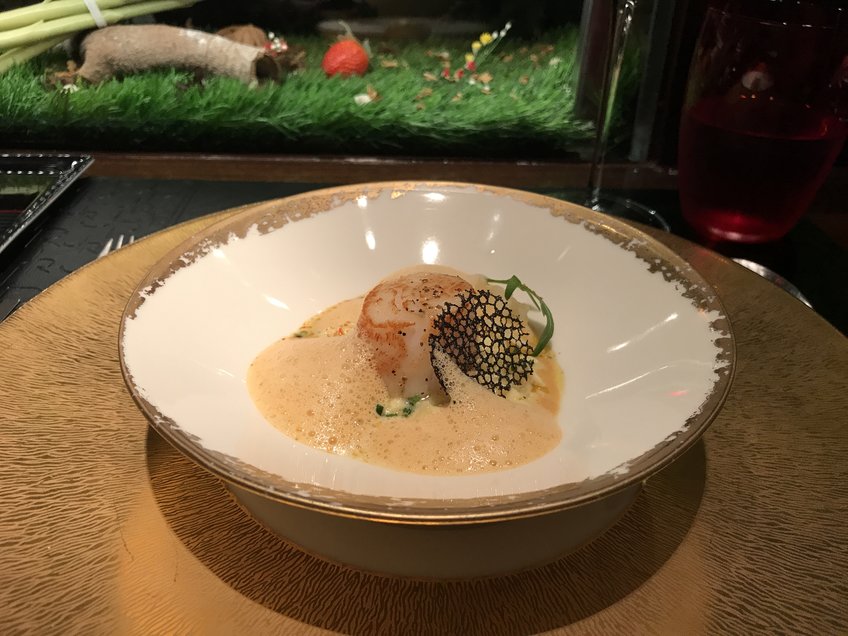 L'Atelier de Joël Robuchon's Bangkok location was awarded one star in the Michelin Guide Bangkok's inaugural 2018 edition. The Bangkok restaurant also came third in BK Magazine's Top Tables 2018 awards, and was listed at number 40 in the Asia's 50 Best Restaurants 2017 awards. Together with the 11 other L'Atelier de Joël Robuchon restaurants – in Paris, London, New York City, Hong Kong, Las Vegas, Taipei, Tokyo, Montreal, Monaco, Macao, and Shanghai – the brand commands a staggering 32 Michelin stars, more than are attributed to the restaurants of any other chef worldwide.
Sublime contrasts across summery courses
Of the surprisingly generously plated summer menu, stand-out dishes include a salmon entrée that delivers sublime contrast between the striking, chef-skill-envy-inducing, crispy strands of deep-fried egg and the silky softness of a perfectly poached yolk concealed underneath. Together with a cream base speckled with delicate cubes of smoked Scottish salmon, and the added sensation of a salty hit from the roe up on top, it's all show-stoppingly served on an eye-catching, thick-golden-rimmed gong-like plate.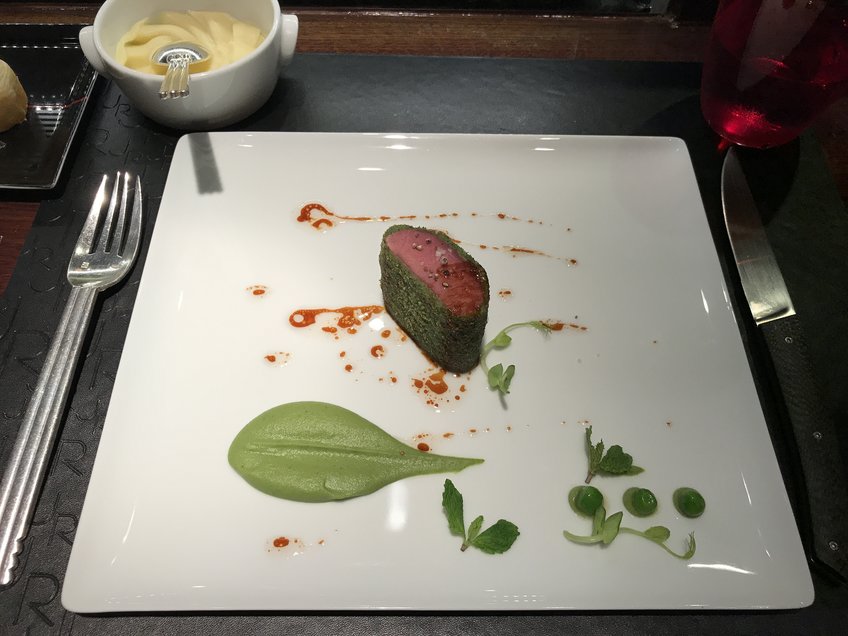 Equally as memorable is the lamb main that follows, a tender filet in a just slightly over-salted but otherwise clean-tasting and perfectly thin parsley crust. There's a fine green pea mousse, three meticulously positioned and breathtakingly fresh green peas, and a serving of possibly the creamiest and most comforting mashed potato ever known to humankind – a side dish for which it appears Limousin already has a loyal army of fans.
Other dishes on the menu certainly hit the mark in terms of impressive flavour pairings, high-quality produce, and deftly innovative preparation and presentation techniques, but at times fall just short in consistently balancing different combinations of textures. The seared Hokkaido scallop is right on point, and the thick, foamy sauce of lobster juices poured over at the table is rich and packed with deeply infused flavour, but the bed of risotto-style cauliflower it's all resting on is just a touch too toothsome for its own good.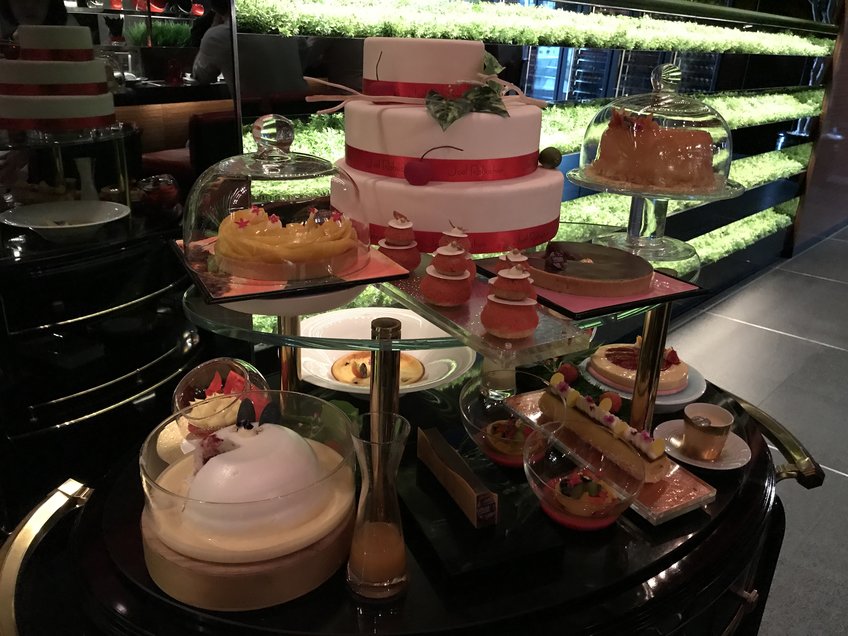 Likewise, the hunky spear of delicately sweet and earthy white asparagus from southern France, pan-fried in the charmingly rustic French meunière style, is lightly dredged with thin strips of fabulously savoury Spanish Iberico ham and generous lashings of shaved parmesan, before being finished with a pearled veal jus. It's no accident that the asparagus has been cooked with a view to retaining some bite, but it could nevertheless use just a few seconds longer on the heat to soften up what ends up as a slightly stringy, overly tough exterior.
The desserts (and wines) that dreams are made of
Food of this calibre needs good wine to stand alongside it, and that's not in short supply here. An impressively exhaustive list of wines by the glass (from THB 400++) and bottle is presented on an electronic tablet screen – countless new- and old-world vintages across a wide price spectrum join sparkling, sweet and fortified wines, a solid selection of aperitifs and sprits, and a short list of cocktails, beers, and soft drinks – or guests can bring their own preferred wine for a corkage fee of THB 1,500.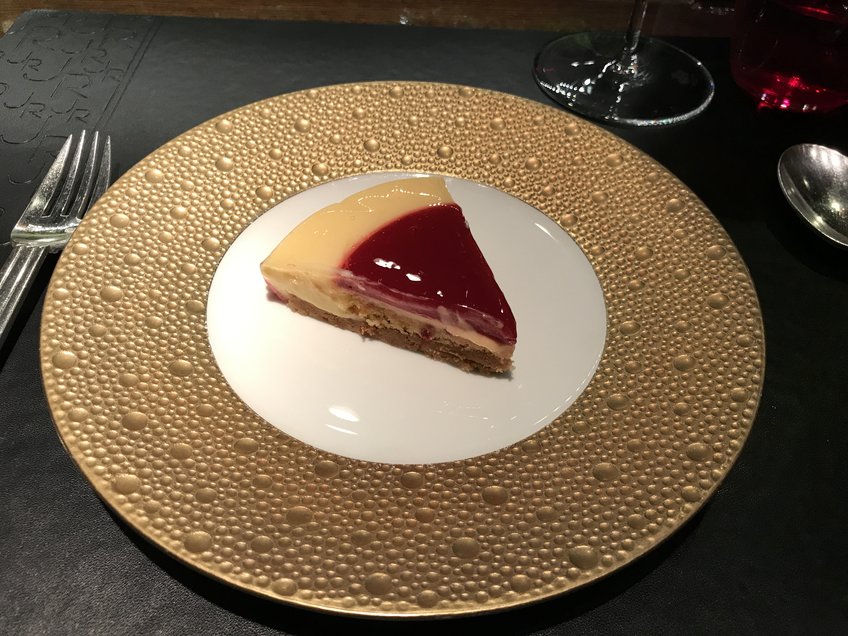 The meal ends in awesome style with a pick of ridiculously tempting patisseries from what's undeniable the dessert trolley of dreams – it's natural to want everything. Sweets on the cart – each one without a doubt both as beautiful and delectable as the last – include a lemon and raspberry tart, salted caramel, chocolate and macadamia nut tart, floating island meringue dessert, chocolate mousse, mango tart, fresh, fruit, and numerous others besides. Finally, bite-sized madeleine cakes and melt-in the-mouth chocolates are served as petits fours that complement a selection of tea and coffee to wrap things up. L'Atelier might well serve a more contemporary take on French food than many, but it's always done without losing sight of the cuisine's traditions – and nothing says this restaurant is still in touch with its roots more than those madeleines.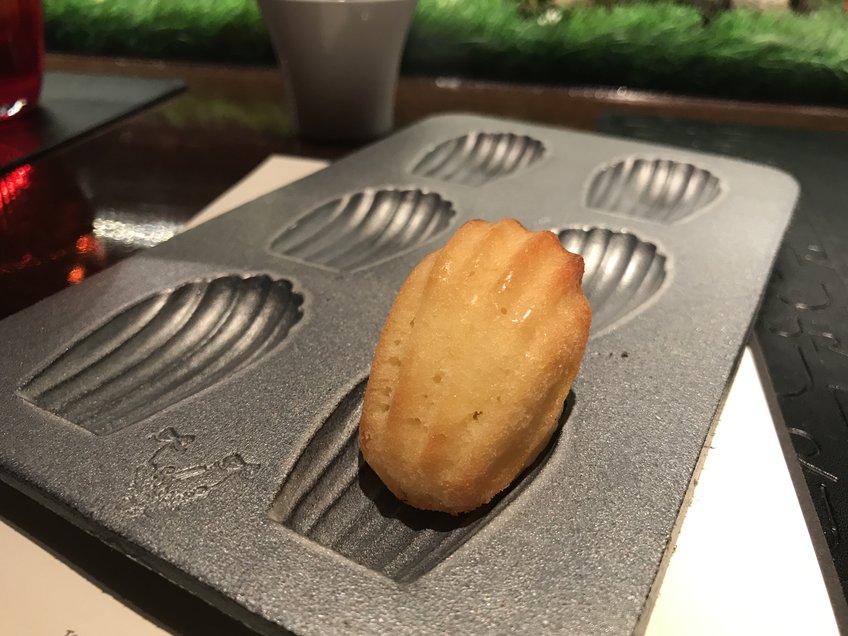 Available alongside the new summer menu is L'Atelier's refreshingly succinct à la carte selection of signature favourites (entrées THB 850++ to THB 2,800++; mains THB 1,350++ to THB 3,200+). Of the eight fish and meat mains, the whole Dover sole meunière from Brittany being served to a nearby table looked particularly heavenly. The two- to four-course set lunch (THB 950++ to THB 1,950++) offers particularly good value, while a number of dishes on the five- or seven-course for-the-table seasonal degustation menu (THB 4,950++ to THB 6,950++) offer alternative takes on similar produce to the summer menu, including Hokkaido scallop with sea lettuce coulis, Chanterelle mushrooms with poached egg and Iberico-ham-pearled-risotto, and Asian-influenced miso-glazed black cod. Finally, there's also a commendable, mildly more vegetarian-friendly à-la-carte-style menu of small tasting plates (THB 360++ to THB 2,800++) that runs the gamut from sea bream carpaccio to roasted Thai crayfish, steak tartare, Imperial caviar, and fois-gras-stuffed quail.
Daily, 11.30am-2pm and 6.30-10pm; 5th Floor, MahaNakhon CUBE, 96 Narathiwat Road, Silom (BTS Chong Nonsi); smart casual dress code applies
Review by Chris Wotton