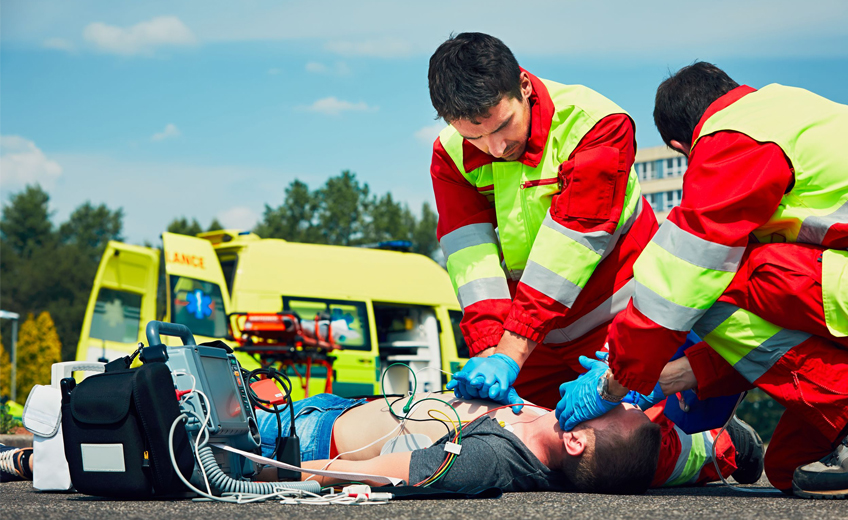 EQUIPMENT AND METHODS TO SAVE LIVES
Emergency care and resuscitation units have been streamlined, modernized and made more portable to increase survival rates
by Manta Klangboonkrong
Taking good care of our health is surely the best preventive measure for a long, happy life, but emergency cases – illness-related or accidents – do happen, and often are life-threatening. In these critical moments, accessibility for an emergency medical unit and its readiness are crucial.
According to the most recent statistics from the National 
Institute for Emergency Medicine, there are approximately 1.7 million emergency cases in Thailand every year, 7% of which are cases of cardiac arrest. More than 16% of these cases need advanced life support from a defibrillator. Timely support and proper handling at the scene are needed to ensure better survival rates. Back at the hospital, where a medical team awaits, proper information and specific details are needed so the patient can get the treatment they require to be able to live a normal life again.
What if the ambulance is too big to access the scene? Or the emergency physicians do not have the right equipment to properly handle the medical urgency in front of them? How long can patients in critical condition wait? The answer is, probably only a few minutes.
"Emergency medicine is a specialized subject and to maintain a high survival rate, there are a lot of factors involved," said Dr Ekkit Surakarn, senior medical director of the Emergency Department, Bangkok Hospital. "Apart from accessibility and time taken to reach the scene, the team needs information of the conditions to evaluate and come up with the best treatment plan. Also, it takes a lot of equipment, most importantly the defibrillator and monitor to stimulate the heart and keep watch on a patient's vital signs."
To equip the medical team with better tools to save lives, Philips, a world leader in health technology, came up with Tempus ALS, a unique modular monitor and defibrillator that provides a powerful, reliable system that can be flexibly deployed across emergency response vehicles of any size, as it weighs only 5 kilograms and can fit in a backpack.
Tempus ALS combines high-performing vital sign monitor and defibrillator into one, with various added features such as SroCTM and ReachBakTM technology which can transmit and share data to optimize patient care, with optional integrated secure real-time communication. It also features
an ultrasound transducer for point-of-injury line placement and vascular examinations. This means increased effectiveness during transportation and throughout the chain of treatment. It comes with military-grade robustness that can endure extremely harsh conditions.
Viroj Vithayaveroj, chairman and managing director of Philips (Thailand) Ltd., said, "Philips,
a global leader in health technology, commits to deliver medical innovation which not only supports medics at the hospital but also directly benefits patients. Slated to launch in Thailand later this year, Philips Tempus ALS will deliver efficient support for doctors and health-care staff. We strongly believe that if we have the right procedures with quality devices, the chances of survival will increase 40%."
While it's comforting to have the latest technology on hand for medical emergencies, Dr Ekkit suggested we "be prepared for the worst".
"Anything could happen, even for the healthiest of us," the doctor said. "And it's best that we are prepared. One simple thing you can do is have a little note in your wallet. It should say what medical conditions you have, what medications you are taking and which hospital you receive treatment from. If you're perfectly healthy, you can just write down the blood type. Don't forget to include a phone number of your family members. This small thing can save a lot of time for the emergency medical unit, and possibly your life.
"If you happen to come across someone that is not breathing, do CPR right away," the doctor continued. "Most people are afraid to perform CPR because they were not sure if they do it correctly, and if their performance would do more harm than good, so they just stand by and wait for help to arrive. Well, the patient has a better chance of survival with the wrong CPR than doing nothing at all. Or, you can dial the emergency hotline 1669, turn on the speaker on your phone and follow instructions from an emergency medical expert, who will also call an ambulance for the patient. Remember that every minute matters, and it can make the difference between life and death."