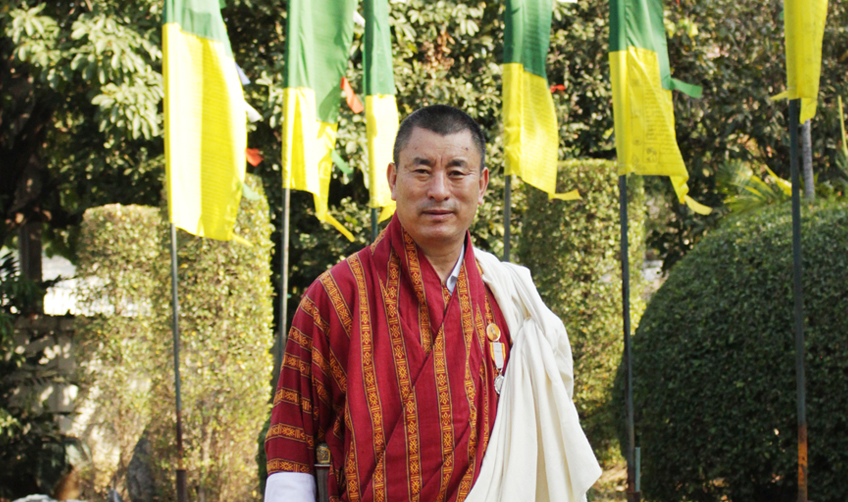 Strengthening Bhutan-Thailand Relations
Story by Kathleen Pokrud (Honorary Columnist)
HE Kinzang Dorji, Bhutan's ambassador to the Kingdom of Thailand, was posted to Thailand in September 2021 with concurrent accreditation to Myanmar, Singapore and as the permanent representative to the Economic and Social Commission for Asia and the Pacific (ESCAP). Even with his busy schedule as he settles in, the ambassador was kind enough to sit down with Elite+ to discuss Bhutan – Thailand relations.
As we began the interview, Ambassador Dorji explained that he considers himself a civil servant first and a diplomat second. He started his career in the civil service in 1993 as a tax officer working on the introduction of a Personal Income Tax system in Bhutan after which he served as chief of policy and planning in the Ministry of Finance. Joining the Foreign Ministry in 2007 as the head of the International Organization division, he next served as deputy head of mission at the Royal Bhutanese Embassy in Delhi from 2011 to 2016 after which he was appointed as a governor of a province in western Bhutan in 2016.
Ambassador Dorji is proud to say that he is a product of free education, from pre-primary in Bhutan to post graduate studies at the University of London. Both his parents are farmers, but he was enrolled in school after paying just one Ngultrum (Bhutanese currency that roughly equals a quarter of a Thai baht) as a token fee. This nominal payment was actually intended to collect information on the number of students in the country and instil a sense of responsibility when paying for their own education. Students were provided with uniforms, room and board as well as personal amenities and all required learning materials from day one by the Royal government of Bhutan.
Could you provide some background on the diplomatic relations between Bhutan and Thailand?
Bhutan and Thailand have always enjoyed close bonds of friendship even before the establishment of diplomatic relations in 1989. We have a common heritage in the teachings of the Lord Buddha and strong ties between the Royal families of our two countries. Today, relations between Bhutan and Thailand are vibrant and continue to grow with increasing interaction and cooperation being initiated at various levels and in diverse fields, including human resource development, tourism, education, health and agriculture, trade and people to people contact.
When it comes to trade, Bhutan and Thailand have worked to boost trade and investment in each country. Could you talk about the trade relationship between Bhutan and Thailand?
Business relations started developing between the two countries, beginning with the introduction of Drukair flight services in 1988. After the signing of the Comprehensive Framework Agreement for Cooperation between the Royal Government of Bhutan and Kingdom of Thailand in July 2004, several high-level meetings were initiated to establish a bilateral Trade Agreement between the two countries and subsequently, a Trade and Economic Cooperation Agreement (TECA) was signed in November 2013. Though Thailand's exports to Bhutan account for only 2% of our overall imports, Thailand is an important trading partner that has proven to be a dependable source of imports for the Bhutanese economy, regardless of the trade volume.
Going forward, we envisage collaboration in a wide range of areas, including trade, investment, tourism, construction, health and medical care, education, energy, logistics and development of small and medium-sized enterprises. The Joint Trade Committee (JTC) that was formed to implement the TECA has already had three rounds of meetings since 2016 and deliberated on numerous areas of cooperation to facilitate and promote trade, tourism and investment between our two countries. Given the two government's commitment to further deepen our relations in trade and economic cooperation, successive JTC meetings are expected to open up new avenues of trade and help to further strengthen bilateral ties in other areas as well.
What advice would you give Thai entrepreneurs interested in trading with Bhutan?
There are a host of opportunities in agricultural production, education, health, IT, R&D and other areas in manufacturing as well as service sectors. We offer good investment opportunities in terms of attractive incentives and favourable tax returns. Anyone interested in investing in Bhutan is most welcome to contact or visit the embassy for assistance. There will be even more opportunities once the Asian Highway and Trilateral Highway projects between India, Myanmar and Thailand become operational. Once, Covid-19 related travel restrictions are lifted, our embassy in Bangkok will be happy to facilitate visits to Bhutan by business delegations from Thailand.
How big would you say the Bhutanese community is in Thailand and what businesses are they involved in?
The Bhutanese in Thailand are mostly students. Some have come privately and some through scholarships. Bhutanese choose to study in Thailand because of the good international schools and universities and also because of our cultural affinity. We have Bhutanese teaching English language in various vocational schools in Thailand. Many Bhutanese also come to Thailand for medical treatment because of the excellent healthcare services here. Before the Covid-19 pandemic, many Bhutanese would also visit Thailand in winter to enjoy the warm weather, family vacations and shopping.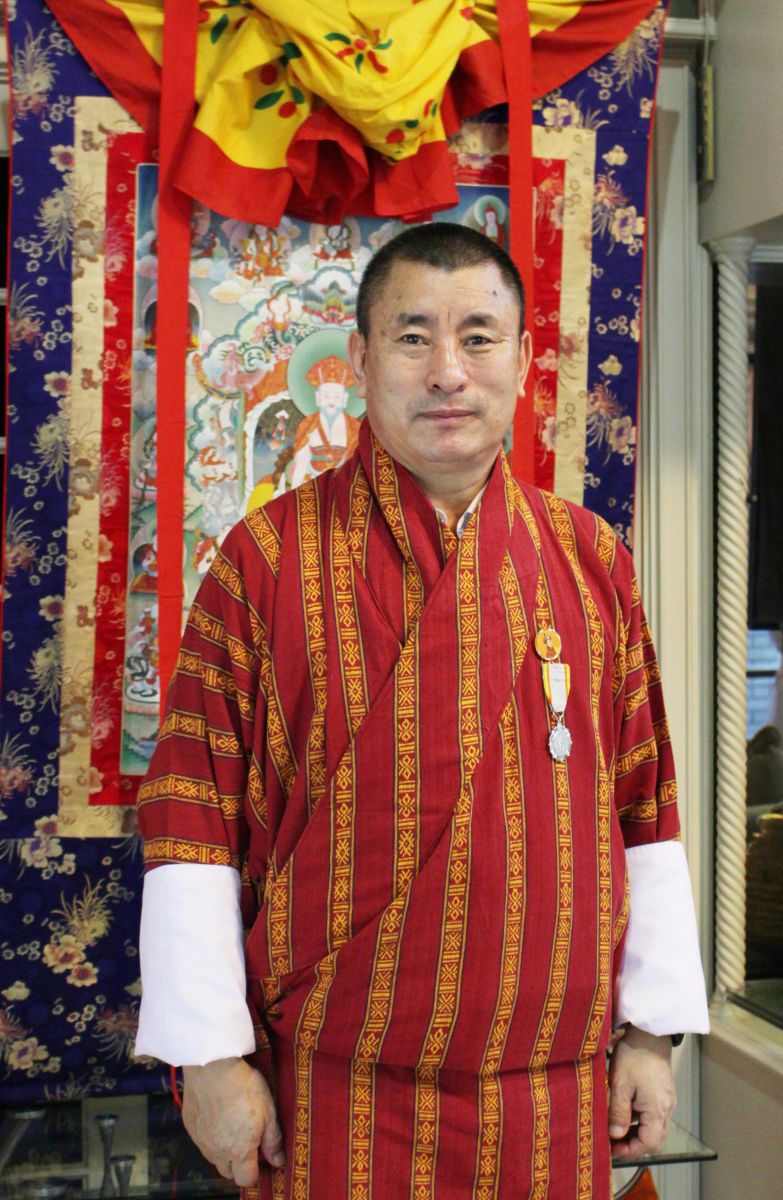 Bhutan is known as "The Birthplace of the Gross National Happiness Index", can you tell us more about this system please?
In 1972, HM the Third King of Bhutan passed away prematurely and the responsibility to lead the nation fell on HM the Fourth King of Bhutan, who was just 16 years of age at that time. On his way to a conference abroad, he was asked by a journalist what is Bhutan's GNP. He replied that, for Bhutan, "GNH is more important that Gross National Product," thus giving birth to the term, "Gross National Happiness", or simply GNH.
GNH today, in the words of HM King Jigme Khesar Namgyel Wangchuck, simply means "development with values ……fundamental values of kindness, equality and humanity and the necessary pursuit of economic growth." As a public policy, the GNH development framework is based on its four pillars: 1) good governance, 2) sustainable economic growth, 3) cultural promotion and 4) environmental conservation. We govern and formulate all our policies and plans based on these four pillars. Our modest economic success, an intact environment and our smooth and successful transition to a democracy are the result of the development approach based on GNH.
A common misconception many people have about Bhutan's pursuit of GNH as a development philosophy is that we have achieved happiness, or GNH. Bhutan has never claimed to achieve GNH or to be the happiest country in the world. I have no doubt that GNH offers a more rational and humane approach to development. Even on a multilateral note, the GNH development framework is in complete agreement with the UN's 2030 Agenda for Sustainable Development Goals (SDGs) that advocates a holistic approach to development and poverty eradication.
How has the coronavirus pandemic affected Bhutan and relations between Bhutan and Thailand as well as ASEAN states?
The Covid-19 pandemic is one of the most critical global health crises of our time that has had a major impact on health and economics around the world, and Bhutan is no exception. However, Bhutan has been fortunate because even as the entire world struggled to contain the spread of the virus and minimize the impact of Covid-19, Bhutan has managed the pandemic well. This has been possible due to the guidance and leadership of His Majesty the King, who personally oversaw all containment and response efforts since day one. His Majesty has been at the forefront of our preparedness and response plan, providing extraordinary guidance and vision to keep Bhutan and its people safe. The World Health Organization (WHO) has applauded Bhutan's response to the pandemic. The WHO representative to Bhutan, Dr Rui Paulo de Jesus, said that the uniqueness of Bhutan's fight against the pandemic was its 'whole-of-the-society' and 'whole-of-government' approach under the leadership of His Majesty the King.
Upon the command of His Majesty, the National Resilience Fund (NRF) was set up in April 2020 to provide economic relief to people through the Druk Gyalpo's Relief Kidu, established to rescue those who lost their livelihoods due to the pandemic and provide support in terms of interest payments for outstanding loans. Food and essentials were directly delivered to those in need during the nationwide lockdowns, cushioning the impact brought about by the pandemic. I, myself, served in the field as an Incident Commander to fight the pandemic and witnessed not only the leadership but also felt the presence of His Majesty everywhere.
While the pandemic has made it challenging to conduct trade and movement of people, it has not affected Bhutan's relations with Thailand and the ASEAN states.
Now, as restrictions have been lifted as conditions have improved concerning the Covid-19 pandemic, what types of activities are you planning to promote?
As ambassador of Bhutan to Thailand, I look forward to working closely with the government of Thailand to further strengthen cooperation between Bhutan and Thailand. In particular, I want to work towards enhancing trade between our two countries, increasing people-to-people contacts and encouraging Thai entrepreneurs and businesses to invest in Bhutan.
Since coming to Thailand, what has impressed you most about the country and its culture?
I am most impressed by Thailand's rich culture and heritage and its friendly people.
As it has been only a few months since I arrived in Thailand, I am yet to have the opportunity to travel around this beautiful country.
To conclude, do you have any final thoughts you would like to share with our readers?
My family and I are delighted to be in this beautiful country and among friendly people. It has been just a few months since I arrived here, but I can already feel the warmth and love the Thai people have for the people of Bhutan. I am looking forward to my tenure here.