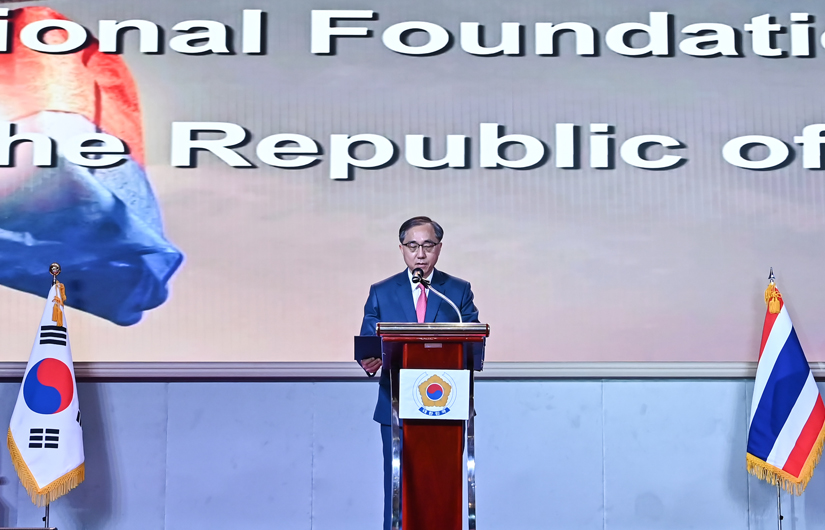 2022 National Day Congratulatory Remarks by
HE Mr Moon Seoung-hyun
Ambassador of the Republic of Korea to the Kingdom of Thailand
Ladies and gentlemen,
Thailand has been a long-standing ally and friend to Korea. The Koreans never forget, and are forever grateful that Thailand nobly sent its troops during the Korean War in the early 1950s to protect our new-born republic. Over more than 60 years since then, our relations have only grown in every aspect, and this year marks the 10th anniversary of the 'Strategic Partnership' between our two countries while next year we will celebrate 65 years of diplomatic relations.
The trade volume between Korea and Thailand reached a historic level last year, with a total of USD 15.5 billion. Given the effects of the pandemic, the record clearly stands out, and we expect the record to be broken again this year. In terms of tourism, in 2019, prior to COVID, Koreans accounted for the fourth largest visitors to Thailand, and they are anxious to return. Moreover, Thailand is home to around 18,000 overseas Koreans who have been serving as a bridge connecting our two countries and deepening our mutual understanding.
I would be remiss of me if I didn't mention the Korean Wave here. We are very grateful that Korean culture, from K-pop to K-drama, is much shared and loved by Thais. There might be many reasons for this success, yet I believe the key element, among others, is "freedom" as this indeed is the solid basis for creative activities.
In May, President Yoon Suk-yeol took office in Seoul. He has emphasized many times, including in a recent speech at the UN General Assembly, that promoting and treasuring freedom will be the guiding principle of our foreign policy. Under this vision, Korea will play its full part in maintaining peace and stability and addressing global issues by working together with all stakeholders.
Against this backdrop, Korea is striving to host the 2030 World EXPO in Busan, and we strongly believe it will be an excellent opportunity to present transformative solutions to the global community for a better future as well as further share Korea's development experience and innovative technologies.
Before concluding, I wish to reiterate that Korea could not have evolved into the thriving nation it is today without the help and support of the international community.
In this vein, I would like to thank you all for your friendship to my beloved country, the Republic of Korea. I am confident that the strong ties between the Republic of Korea and the Kingdom of Thailand will continue to reach new heights.
Thank you.
Note: Congratulatory Remarks were extracts from full speech on National Day reception