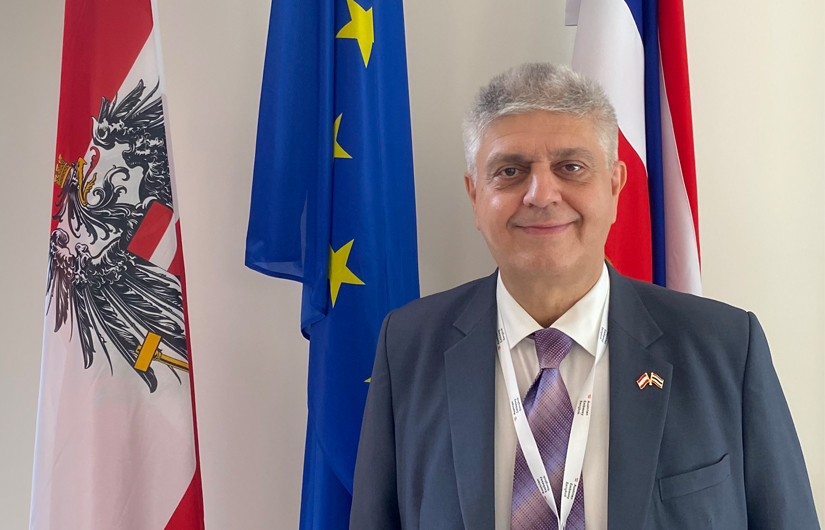 National Day of Austria
Message by HE Mr Wilhelm M Donko
Austrian Ambassador to the Kingdom of Thailand
As Ambassador of the Republic of Austria to the Kingdom of Thailand, it is my pleasure to say a few words on the occasion of the Austrian National Day 2022.
I am very glad that it is possible to hold again national day receptions after the long pause caused by the pandemic. It is my first Austria National Day in Bangkok. I am still a newcomer. Therefore, please allow me to introduce myself very briefly. I arrived in Thailand in April this year, together with my wife Yan, who is originally from Shanghai. We came directly from our last posting, Oslo in Norway, where we spent nearly five years, and we are now very happy to serve in this wonderful country.
The Austrian National Day goes back to the year 1955, to a resolution of the Austrian Parliament of 26 October on Austria's "permanent neutrality", which is a determining factor in our security and defence policy to this day. This declaration was a key element for the so called "Staatsvertrag", or "State Treaty", signed earlier in 1955, which ended a ten-year occupation of Austria by the four major victorious powers of World War Two, i.e. the USSR, USA, England and France. But our neutrality was definitely never understood as staying out of international affairs, not even in the Cold War. On the contrary, since joining the EU in 1995, Austria has participated in the EU's common foreign and security policies in a spirit of solidarity. We have been demonstrating this European solidarity every day because Austria is militarily neutral, but we are certainly not - and never were - politically neutral, for example, in the event of the massive breach of the UN Charter and international law as we have seen since February, with the unprovoked aggression by a nuclear armed state against its sovereign neighbour. The shockwaves of this war are felt around the world, also in Asia.
Austria has always supported effective multilateralism and the respect for the rule of law, core values of our foreign policy for decades, symbolized also in the successful establishment of the third Headquarters of the United Nations in Vienna, after New York and Geneva. As further proof of our willingness to take on further responsibility in the international arena, I would like to mention our candidacy for the UN Security Council at the elections in 2026.
The bilateral relations between Austria and Thailand - respectively Siam - started in 1869 with the treaty on "Friendship, Trade and Navigation" and continue to be excellent, very friendly and basically free of problems. I am fully aware that ambassadors love to speak about "excellent" bilateral relations, but I am not able to find a better expression that could come closer to reality. At first glance, we are geographically far apart and very different, but we still have many important similarities, including our well-developed service industries. Tourism is an important source of revenue for both countries and accounts for a high amount of both our GDPs, which means that the sense for hospitality is important for both of us.
Thailand is traditionally one of Austria's most important partners in Asia and we have a long tradition of working closely together with Thailand, also in multilateral institutions such as the United Nations, not only between our capitals, Vienna and Bangkok, but also in various formats between the EU and ASEAN.
I also would like to take this opportunity to thank all the Austrians living in Thailand for their important contribution to our very excellent bilateral state of affairs.
Please allow me to propose a virtual toast on our bilateral relations and friendship between the Republic of Austria and Kingdom of Thailand on the occasion of the Austrian National Day 2022!