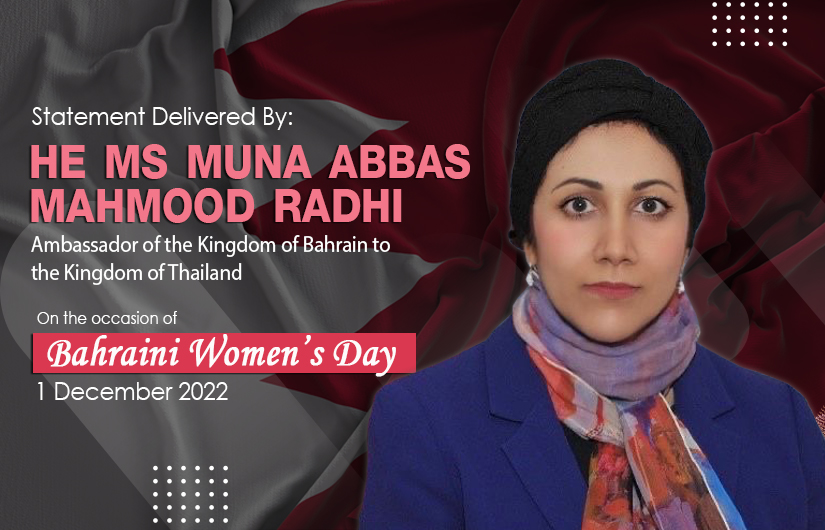 Statement Delivered By:
HE Ms Muna Abbas Mahmood Radhi
Ambassador of the Kingdom of Bahrain to the Kingdom of Thailand
On the occasion of Bahraini Women's Day
1 December 2022
Bahraini Women's Day is celebrated every year on the 1st of December to commemorate and highlight significant achievements and creative contributions of Bahraini women to national development and advancement in all fields.
This generous initiative to dedicate a national day for Bahraini women was first adopted fourteen years ago by Her Royal Highness Princess Sabeeka Bint Ibrahim Al Khalifa, Wife of His Majesty the King and President of the Supreme Council for Women, coinciding with the 80th anniversary of formal education for women.
The progressive reforms of His Majesty King Hamad bin Isa Al Khalifa, and the great and continuous support offered by His Royal Highness Prince Salman bin Hamad Al Khalifa, Crown Prince and Prime Minister, aided by Her Royal Highness Princess Sabeeka Bint Ibrahim Al Khalifa, Wife of His Majesty the King and President of the Supreme Council for Women, have helped Bahraini women reach a distinguished level of progress, empowerment and prosperity to record qualitative and remarkable achievements at various local, regional and international levels, leaving behind a legacy of notable marks and achievements.
Indeed, significant strides have been made in Bahrain over the last two decades in accelerating the progression of the status of women and the extent of their participation in all fields of public life. The very establishment of the Supreme Council for Women as a national mechanism, with legal status reporting to His Majesty the King, mandated with an oversight and advisory role on all matters relating to the status of women in public life is considered a pivotal moment in the history of our country, demonstrating the political will of its leaders to reinforce the multiple roles that women play in national development.
Since its inception, the Supreme Council for Women works to fulfill its mission through its mandate to develop a comprehensive National Plan for the Advancement of Bahraini Women. The Plan's strategic implementation phases and initiatives have been outlined with an evidence-based and target-oriented methodology that undergoes a continuous monitoring and evaluation process. This ensures the alignment of the Plan with the National Economic Vision 2030, the Sustainable Development Agenda, and most importantly the aspirations of Bahraini women and the significant accomplishments they have achieved.
Furthermore, the remarkable achievements of Bahraini women can be witnessed in the recent nomination of five Bahraini capable women as Minister of Health, Minister of Housing and Urban Planning, Minister of Sustainable Development, Minister of Tourism and Minister of Sports Affairs. Bahraini women are appointed to leadership positions as judges, managers in civil and military sectors, speakers and members of parliament, and presidents of governmental and non-governmental organizations. And as a female Ambassador of Bahrain, I'm very proud today of what Bahraini women have achieved in the diplomatic field as ambassadors and diplomats. For example, in 2006, Shaikha Haya bint Rashed Al Khalifa was Bahrain's and Arab's first-ever female ambassador to serve as President of the UN General Assembly.
Speaking of numbers, in Bahrain, 43 percent of the work force are women. They constitute 47 percent of the executive positions in the government sector and 36 percent of the executive positions in the private sector while 42 percent of businesses in Bahrain are owned by women. Moreover, females constitute 17 percent of ambassadors, and over 30 percent of all diplomats working at the Ministry of Foreign Affairs.
In Higher Education, females constitute 63 percent of the students enrolled in bachelor's level programs and 70 percent enrolled in master's level programs and 64 percent enrolled in doctoral level programs.
I take this opportunity also to shed light and acknowledge on some of the success stories on the international level. The Supreme Council for Women has launched HRH Princess Sabeeka Bint Ibrahim Al Khalifa Global Award for Women's Empowerment at the UN headquarters in New York, reflecting Bahrain's national expertise in the field of women's empowerment. On another scale, the first elected Bahraini female Speaker of the Council of Representatives has been elected as President of the session of the Arab Inter-Parliamentary Union (AIPU) during the 32nd conference of AIPU, held in Cairo, Egypt. This reflects the role of Bahraini women in supporting cooperation and coordination among Arab parliaments, to serve the region and achieve the aspirations of its people. "It is fortunate that the Kingdom will be represented at the Arab Inter-Parliamentary Union presidency by one of Bahrain's honourable women, which we consider an addition to the series of success stories recorded by Bahraini women," as said our first lady HRH Princess Sabeeka.
In conclusion and on Bahraini Women's Day, I strongly believe in the change women's power can create, and the significance of women's roles in the development of societies. I also express my utmost pride to be part of the diplomatic corps working at the Ministry of Foreign Affairs, which is one of the vital and influential domains in the development and progress of any country and through which I have been able to contribute to women's advancement.
Happy Bahraini Women's Day to all and thank you for your kind attention.
………