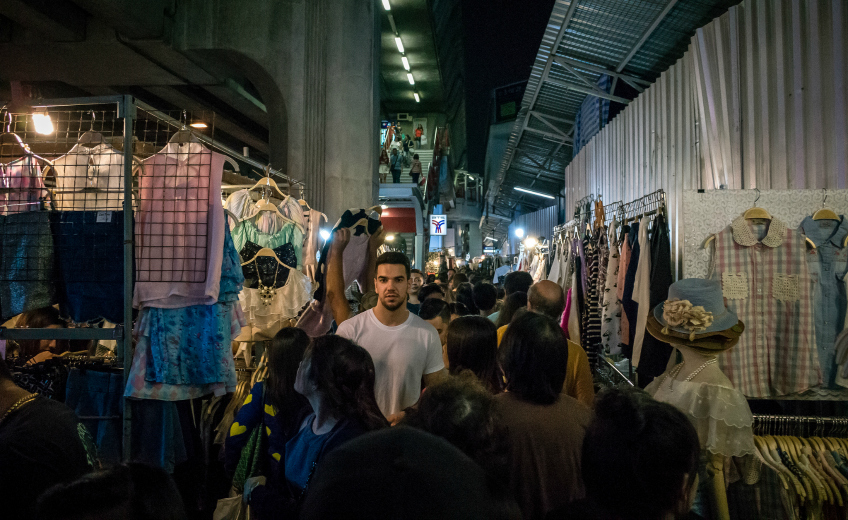 Street vendors in and around the Siam Square and Ratchadamri areas of Bangkok have been ordered to relocate by 01 August by the Bangkok Metropolitan Administration (BMA).
The order comes as part of ongoing plans by the city's authorities to 'reclaim' public spaces that the BMA claims have been illegally occupied by vendors and others to the detriment of pedestrians. The campaign, led by the BMA and Thailand's military-led government in an apparent effort to 'maintain order' in society, has already pushed enforced closure on vendors at spots including the long-running flower market Pak Khlong Talat.
Now 554 vendors in the Siam Square and Ratchadamri areas have been told to move to the new site beneath the Phong Phra Ram expressway, based on an announcement by Pathumwan district office assistant director Witchapong Suwannamai and reported by the Bangkok Post.
The BMA is apparently seeking to put an end to all evening trading in the area, outside of designated commercial areas, and will at the same time be moving along those vendors operating outside CentralWorld and Big C Ratchadamri, at Ratchaprasong intersection, and on Phloen Chit Road. These traders will apparently be relocated alongside the city's Airport Rail Link line.
But questions remain over the viability of trading in the newly proposed areas, particularly in terms of customer footfall. The Siam Square area in which the vendors currently operate is at the heart of the city and enjoys steady trade from both local commuters and tourists.
The numerous previous announcements about street clean-ups, which the BMA claims is in response to complaints from members of the public about footpath access infringements, has been met with ridicule from netizens. Previously 'improved' markets have been described as having 'lost their charm', and users have questioned how far efforts to 'reclaim' footpaths should be taken.
Many have repeatedly queried whether Thai authorities appreciate – at a time when the country's economy continues to flag – that Bangkok's outdoor markets and street food are among the city' major selling points to inbound tourists, and suggested that a sanitised version of Bangkok will eventually resemble Singapore.
By Chris Wotton. Photo by Anton Strogonoff.