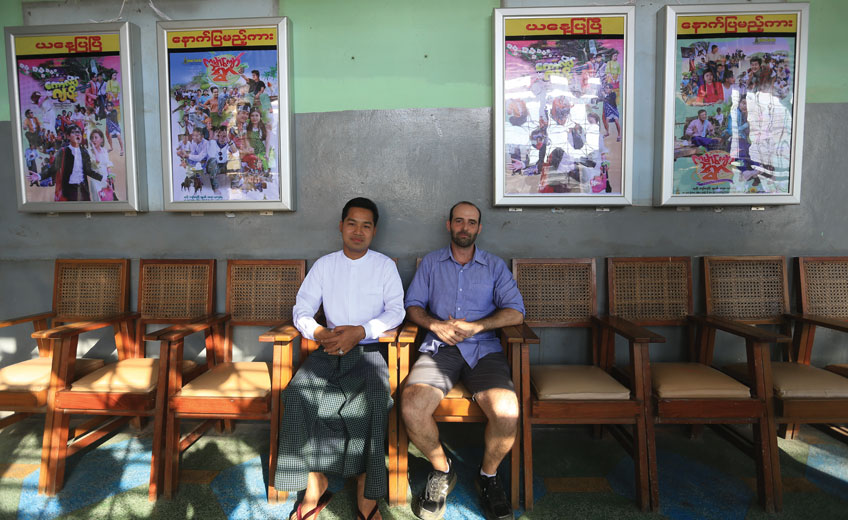 "There are a few theatres in Chonburi that I know of, and a few in the south of Thailand I haven't been to. I would love to go everywhere, really. It's a matter of time and money," says Philip Jablon, the architect of one of the region's most fascinating works of photographic documentation and cultural preservation, the Southeast Asia Movie Theater Project. Since 2009, Jablon has set off on meandering journeys across Thailand, Myanmar and Laos with a singular focus on documenting standalone cinemas before they disappear – both from the collective consciousness and the ground on which they were built. He might be racing against the clock.
Until the late 20th century, up to 700 standalone theatres existed in Thailand alone. Now, only the Scala and Lido cinemas in Bangkok and three standalone theatres in small Isaan towns are still in operation. And while Jablon posits that '[Scala] might be the last functioning movie palace in all of Southeast Asia', the theatre's future looks uncertain: the landlord, Chulalongkorn University, has increasingly considered redeveloping the property, located in the central Siam shopping district.
The rapid disappearance of these independent cinemas stems from a perfect storm of societal factors. For one, heritage protection efforts have largely overlooked these buildings. Outside of big cities, in particular, preservation has been limited to pre-modern sites that have a more traditional kind of cultural value. More than anything, though, the evolution of modern society has often favoured progress at the expense of the past. It's an unfortunate connection, as 'the cinema has always been a critical component and driver of modernity', according to Jablon.
"The cinema is where globalisation got kick-started, when you think about it. Film was the great medium of communication. You could have the same movie, with the same story and the same scenes, showing around the world at the same time."
While some standalone theatres offer rare examples of heritage architecture – tropical Art Deco or colonial architecture, for example – Jablon believes their cultural capital lies less in their design than in their placement and utility. "In 1975, the theatre was right in the middle of the city or in a residential area, where most people could walk to it. Today, the movie theatre is in a shopping mall on a junction road. It has no connection to the city itself," he says.
"That's the key for me: how people interact with the buildings, and how the buildings interact with the city. Movie theatres were built for pedestrian populations. They were part of the street-scape, not part of the highway-scape like they are now. And in Bangkok, they're in shopping malls, where they have no connection to the street whatsoever."
To date, Jablon estimates he has documented more than 300 theatres. Some he has found in excellent shape, others crumbling, desolate, or downright dangerous to step inside, and a significant number in provincial capitals and once-prosperous towns on old transport routes. "My research usually starts with me poring over a map," says the former scholar, who first started his project as a graduate student at Chiang Mai University through the Regional Center for Social Science and Sustainable Development (RCSD). "I try to look for towns that are on railroads or rivers, because that usually means they're older and may have had a movie theatre if their economy was being supported by those [transport routes] in the middle of the twentieth century."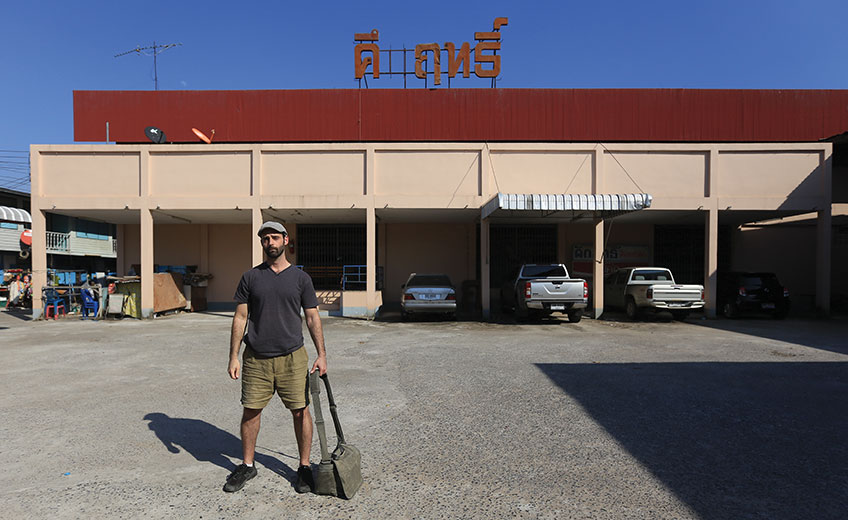 Then, when he goes into the field, he says he relies on word of mouth. "I talk to people and try to identify those who I call 'key informants' – people who maybe worked in the cinema business or were movie enthusiasts when they were young, and so have a good working memory of where theatres might have been. They usually put me on the track. And then I sort of bounce around."
It's a lonely road, however. Jablon has been doing this for a decade, almost entirely on his own, with little in the way of outside support or funding. Weeks alone in far-flung towns, bone-jarring rides on buses and trains, navigating life in rural Myanmar, where he doesn't speak the language, and the seeming futility of fighting against the flow of development in Southeast Asia, have all led him to question his purpose, he admits. "You do this for 10 years. You're still kind of limping along, and you go from being a young man full of energy to now being in the twilight of youth. It makes you wonder, 'Why don't I just do something normal?'", he says with a laugh.
Despite any lingering self-doubt, he has pressed on, spending his summers working in Philadelphia to help fund his research trips around Southeast Asia. The public reaction to his work has clearly given him a boost. When he talks about Scala, the unhurried cadence in his voice gathers speed. He vividly recalls going to a vintage film screening, where an audience of cinephiles filled Scala to capacity, and attending the launch of indie hit Freelance, where he found himself surrounded by young Thai movie buffs, who seemed to understand that seeing a movie at the theatre was a special experience that today's cineplexes could never match. He remains rosy on the conversation happening around the theatre, too, believing there will be a resolution that keeps Scala in place and functioning, to a certain capacity at least.
"[When I started the project], I didn't necessarily think it was super important beyond the documentary merit of it. The importance has come from how people have perceived my work in Thailand, especially Thais. I guess they see now that these buildings hold some historical value, if they're not assets in themselves," he says.
Although the majority of Jablon's finds have come in Thailand, recent journeys into Myanmar have also proved especially fruitful. "[Myanmar] is less developed than Thailand now, but it wasn't 60 years ago. It was the leading economy in the region. They have theatres all over the place - ancient ones - so many more than I initially thought," he says. That includes hidden gems like Aung Tha Pyay Cinema in Yemethin in the Mandalay region – 'interesting architecture, great proscenium, hand-painted signage' – and the Diamond Peacock Cinema in Pyawbwe, a theatre where Jablon's attention was caught by the striking terracotta peacock spreading its tail fathers on the cornice of the building itself.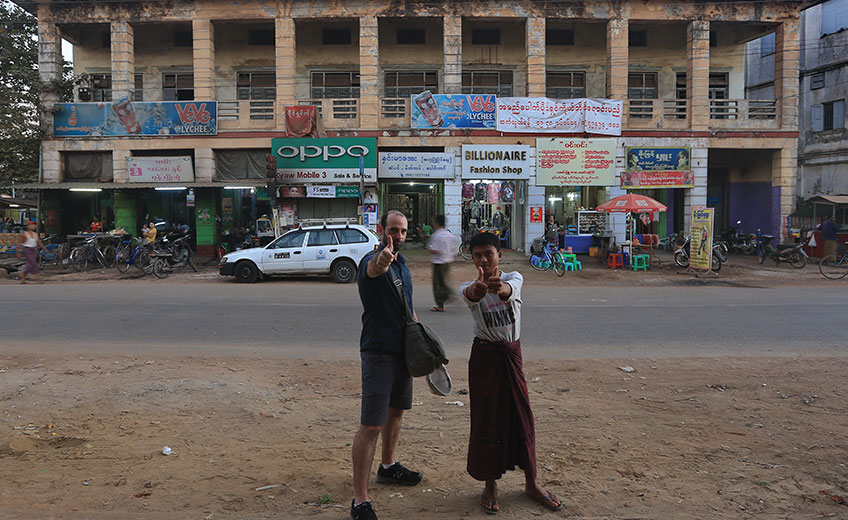 Even more unique is the work of Mingalar Cinemas, the country's largest theatre chain. Unlike Thai cinema companies, which have only invested in new megaplexes, Mingalar has begun to repurpose old cinemas. In the last four years, the company has purchased and renovated standalone theatres that had fallen out of use, installing state-of-the-art sound systems, digital projection, and new seating, all the while retaining as much of the original architecture as possible.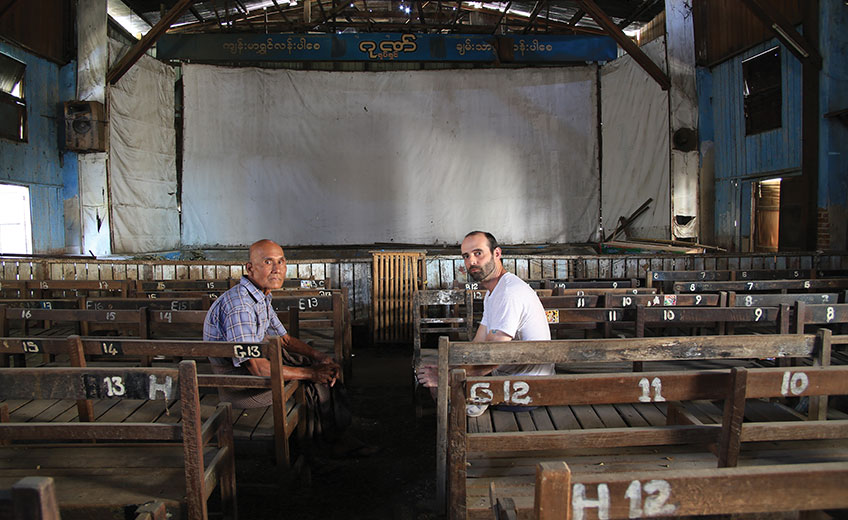 "They have a two-prong strategy," says Jablon. "They appreciate these old buildings and see Burmese cinema-goers as a loyal bunch. People go to one cinema exclusively so they know that, if they invest money in these cinemas, they'll keep their fan base happy. In markets where there aren't old theatres, they open modern cineplexes, possibly with shopping functions as well.
"Instead of trying to rearrange everything with a new shopping mall, I think bringing out the historical assets, improving them and making them viable for a new generation is, at least in their mind, good business. There are not a lot of companies doing that. Mingalar is definitely the only company in Southeast Asia doing that actively, and one of only a few in the world."
It seems unlikely Mingalar Cinemas will provide a template for Thai companies to follow, but signs of change in the public and private way of thinking have nevertheless also emerged in Bangkok. The Prince Theatre was recently renovated into an upscale hostel, the Prince Theatre Heritage Stay. "They kept the screen, the proscenium, and the stage in front of it. All things considered, they did a really nice job," says Jablon. Talks continue of the Crown Property Bureau reopening the Sala Chalerm Thani Theatre in the Nang Loeng community. And Chulalongkorn University has created a board to study the feasibility of turning Scala into a viable cultural institution.
Meanwhile, Jablon, who has evolved from anonymous documentarian to perhaps the most trusted voice on standalone theatres in Southeast Asia and their preservation, is set to release his first book, Thai Movie Theatres: Relics, ruins and the romance of escape, later this year. He is also hosting an exhibition of his work at the Maison Close Gallery in Talat Noi this November, while raising funds to produce a film documentary on his endeavours.
"In the grander scheme, I don't know where this all leads me," he admits. "[But] I've had nothing but positive responses. No one has ever told me it's a waste of time."
On the contrary, he has shown there is no time to waste in preserving these heritage buildings before they disappear.
Story by
Web editing by Chris Wotton