To neutral observers, Dr Mano Laohavanich is a former high-ranking monk and whistleblower, an insider who revealed dark secrets about Wat Phra Dhammakaya and its controversial abbot, Phra Dhammajayo. For the temple's disciples, he is an ungrateful son who bit the hand that fed him well, while Dr Mano considers himself a son who was exploited by his parents.
"I will always look at the abbot Phra Dhammajayo and Phra Dattajevo [another monk] as my parents in terms of my life in Buddhism," he told Elite+ exclusively. "But as a son, I felt I was exploited by Phra Dhammajayo. How would you react when parents mistreat their children? As a child, should you just become quiet to show your gratitude and let the wrong doing and mistreatment continue? I think children have a right to speak up against exploitation they face."
The exclusive interview is focused on "Politics and Dhammakaya Temple" because Dr Mano was the centre of the discussion and questions, as well as of criticisms from many others who might have been devotees of the temple.
The relationship between the temple and Dr Mano has grown bitter. A host of online comments aim to discredit Dr Mano, the temple's defendants painting him as an arrogant, highly ambitious, ungrateful and bad-tempered attention-seeker with a grudge.
Wat Phra Dhammakaya has been back in the media limelight since June. Dr Mano's mentor is wanted by police on an arrest warrant issued by the Criminal Court on charges relating to alleged money laundering and allegedly receiving stolen property worth 1.2 billion baht in connection with the 12- billion-baht Klongchan Credit Union Cooperative embezzlement case. The abbot has cited illness as his reason for not answering to the Department of Special Investigation. Thousands of the abbot's supporters have turned up at the temple, with some entrances barricaded, fences topped with barbed wire and security cameras installed, making an arrest difficult.
Wat Phra Dhammakaya had long looked like it would become the most powerful and popular temple in the history of Thai Buddhism. Currently it is probably the largest, wealthiest and best run monastic institution in the country, with 6,968 local temples and meditation centres and 233 overseas branches in 208 countries, according to the Department of Special Investigation.
One certainty is that the temple is the most controversial in Thai history, linked to claims of ill-gotten wealth and land issues. Phra Dhammajayo has previously been charged with other financial irregularities. A charismatic personality, the abbot rose to fame for his teachings. One criticism has been his way of encouraging followers to donate money in order to claim a better tier in heaven or to enjoy a better rebirth in the next life. The temple has influential followers including rich businessmen and politicians. The temple has also become known for its media-savvy and talented monks, many of whom have university degrees from well known universities.
Dr Mano was once one of those brilliant monks,known as Phra Mettanando, a rising star groomed to become Phra Dhammajayo's successor. Before he became a monk, Dr Mano was a medical student with a promising future. His father was a medical doctor and he himself went to Assumption College, a prestigious all-boys school, and later studied at Triam Udom Suksa.
As a young man, Mano, like many fellow babyboomers, embarked on a soul-searching mission, one that led him to a then simple, spartan monastery where serious Buddhist practitioners gathered. It did not take long for Dr Mano to become well versed in Buddhism. In April 1982 he gave up his medical career to become a monk. Phra Dhammajayo ordained him and served as his mentor.
"After a few years, Phra Dhammajayo publicly said that I would be his successor. I was a rising star envied by other followers."
And it was Phra Dhammajayo who encouraged him to pursue his studies overseas. The temple financed his tuition and expenses for studying Sanskrit, Pali and Indian Buddhist literature at Oxford University, and theology at Harvard University.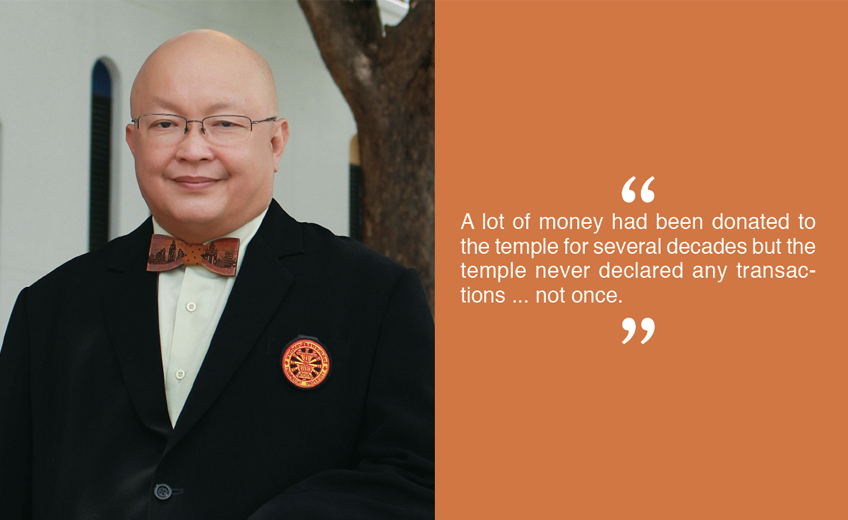 But the close relationship with his mentor began to falter in the mid-'80s when he returned to Thailand. Friends and clerics showed him documents listing companies of which his mentor was a shareholder.
"One of these companies sold arms, machine guns. I warned him but he told me to mind my own business."
Despite his doubts, Dr Mano helped refashion the temple into a corporate-like work structure, with divisions such as a bursar office, public relations unit, civil works unit and education unit. The temple developed a systematic chain of command and work flow. It also had a charter law and back-up action guidelines. The temple grew more famous and received more donations.
It was on track to become one of the most popular Buddhist temples ever. Dr Mano observed a few irregularities, however, such as families broken by excessive merit-making and donations. Although the temple had a good work system, he found that it lacked transparency in terms of donation management.
"A lot of money had been donated to the temple for several decades but the temple never declared any transactions ... not once."
Dr Mano said he once proposed that they change the donation policy and make it more transparent. He realised then how little he knew about his mentor. "Phra Dhammajayo coldly looked at me and answered, 'If you think I am just an abbot, you are wrong.' Phra Dhammajayo thinks he is a primordial Buddha, a saint-like figure that descended to the world to fight against the Lord of Darkness and evil. He wants Wat Phra Dhammakaya to be a Vatican for Buddhism."
It remains to be seen how the abbot will respond to charges that could throw the temple's future in doubt. A day after the charter draft referendum passed on August 7, the Department of Special Investigation summoned five monks, close aides to Phra Dhammajayo, for questioning, and forwarded their answers to prosecutors.
The summons related to the charges against Phra Dhammajayo for money laundering and receiving stolen property in connection with the Klongchan Credit Union Cooperative embezzlement case.
Meanwhile the temple has tried to demonstrate its flexibility. Its World Peace Valley Meditation Centre in Khao Yai, in Nakhon Ratchasima's Pak Chong district, has agreed to return 140 rai of the almost 500 rai it occupies to the state-run Lam Takong self-help settlement project. This came after it failed to show legal land ownership documents amid accusations of encroachment on Sor Por Kor agricultural reform land, which is allocated to poor and landless farmers for agricultural purposes.
Dr Mano thinks the NCPO has a big challenge ahead and needs to tread carefully. The junta needs to have a soft stance to avoid bloodshed, which would reflect badly on its already tarnished human rights reputation. Yet the abbot needs to be arrested and stand trial, he says.
"If the NCPO cannot arrest the abbot, the temple will grow stronger and become an independent state." That would pose major political problems to the government in the long term, said Dr Mano, who has linked the temple with the red-shirt political movement.
But what would happen if the abbot was arrested? Lengthy court procedures might ensue, and Phra Dhammajayo has health problems. "Inside the temple are conflicts and infighting among factions. It survives just because of its charismatic leaders; it is not sustainable by itself."
Dr Mano said Wat Phra Dhammakaya is just the tip of the iceberg regarding donation money in Thai temples. The clergy law allows all temples, around 44,000 across the country, to issue "merit papers", a receipt issued by the temple for donors, who can then use it to reclaim tax.
"This temple is not the only one that has problems with money laundering," he said. "In reality, it is hard to prove whether the donation amount is correct because temples do not need to reveal donation figures, nor is there a system to audit temples on donation money." The loophole makes temples a good haven for money laundering and false tax claims.
One solution is to revise the Sangha Act 1962, governing the administration of monks and temples in Thailand. The law centralises administrative power and decision-making to a small band of senior monks known as the Sangha Association.
The centralisation of power creates a feudal style hierarchy, says Dr Mano. "Junior monks need to be obsequious to senior and influential monks. They need to provide a lot of money to buy positions and get promoted. An abbot is king of the temple and has absolute power to run it."
A solution is to encourage temples to become more transparent, smaller, with less of a hierarchy, he said. This might best be achieved through laws requiring temples to declare assets and let donations be audited.