This is the third of a series of articles written by Communication Management students of the Faculty of Communication Arts, Chulalongkorn University, this one by Jitsupang Aunkasith, Karnpitcha Prayotamornkul, Celine Athikarngumjorn and Elliot Goodyer, on university efforts to contribute to community sustainable development and environmental protection.
Bangkok – Pah Noi's father started crafting piggy banks from recycled paper, and made a business of it, before she was born. Now, she insists on sustaining the business her father started until her last breath.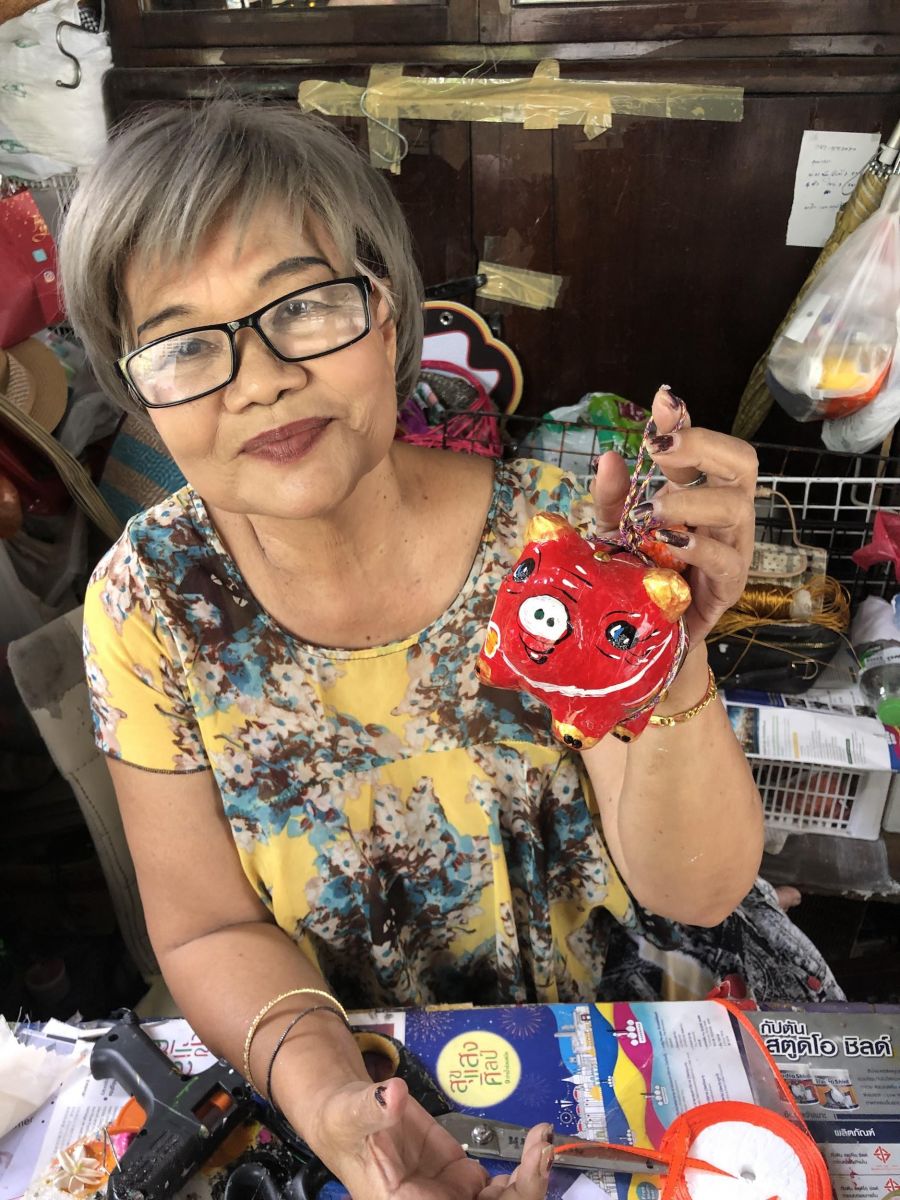 Muu Kradat, a piggy bank crafted from recycled paper, has passed from one generation to the next and now has wide support in Bangkok's riverside Kudeejeen community, including from the head abbot of Wat Prayun.
Pah Noi calls the piggy banks a great tool for saving money. It helps people save money faster because once you put money in the piggy bank, you cannot take little bits out. Instead you have to break it and take it all out, so instead of spending little bits, you want to fill the piggy bank until you have a good amount of money.
"Muu Kradat has only one way in, and no way out. That's what makes Muu Kradat special," Pah Noi said in Thai.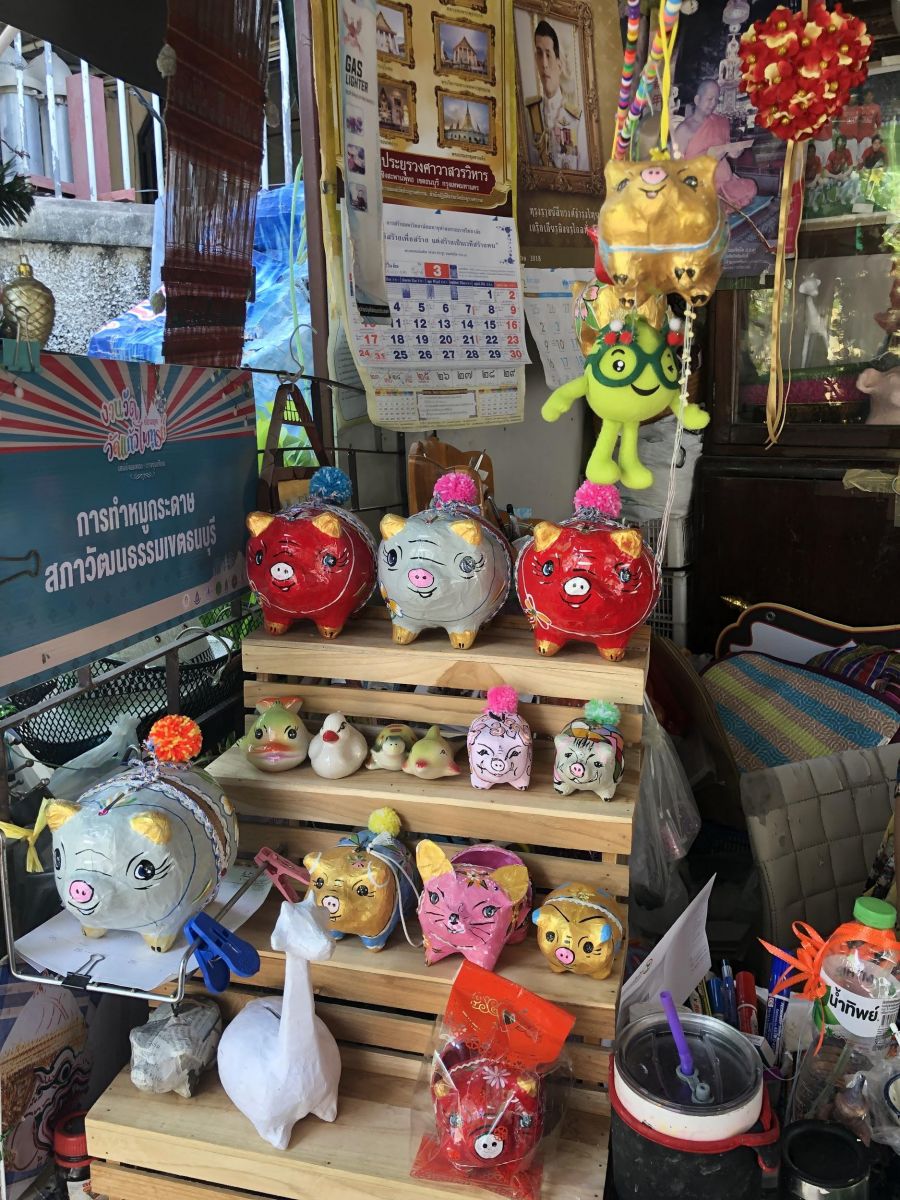 Pah Noi said her father was inspired to make Muu Kradat after watching the release of animals such as turtles, fish and birds at Wat Prayun. Often, they were later caught for food. He came up with the idea of donating "fake animals" rather than releasing live ones. Piggy banks have been part of Pah Noi's life since she was born and it's a tradition she is keeping alive. "I want to preserve homemade traditional Thai crafts, as well as encourage the idea of saving," she said.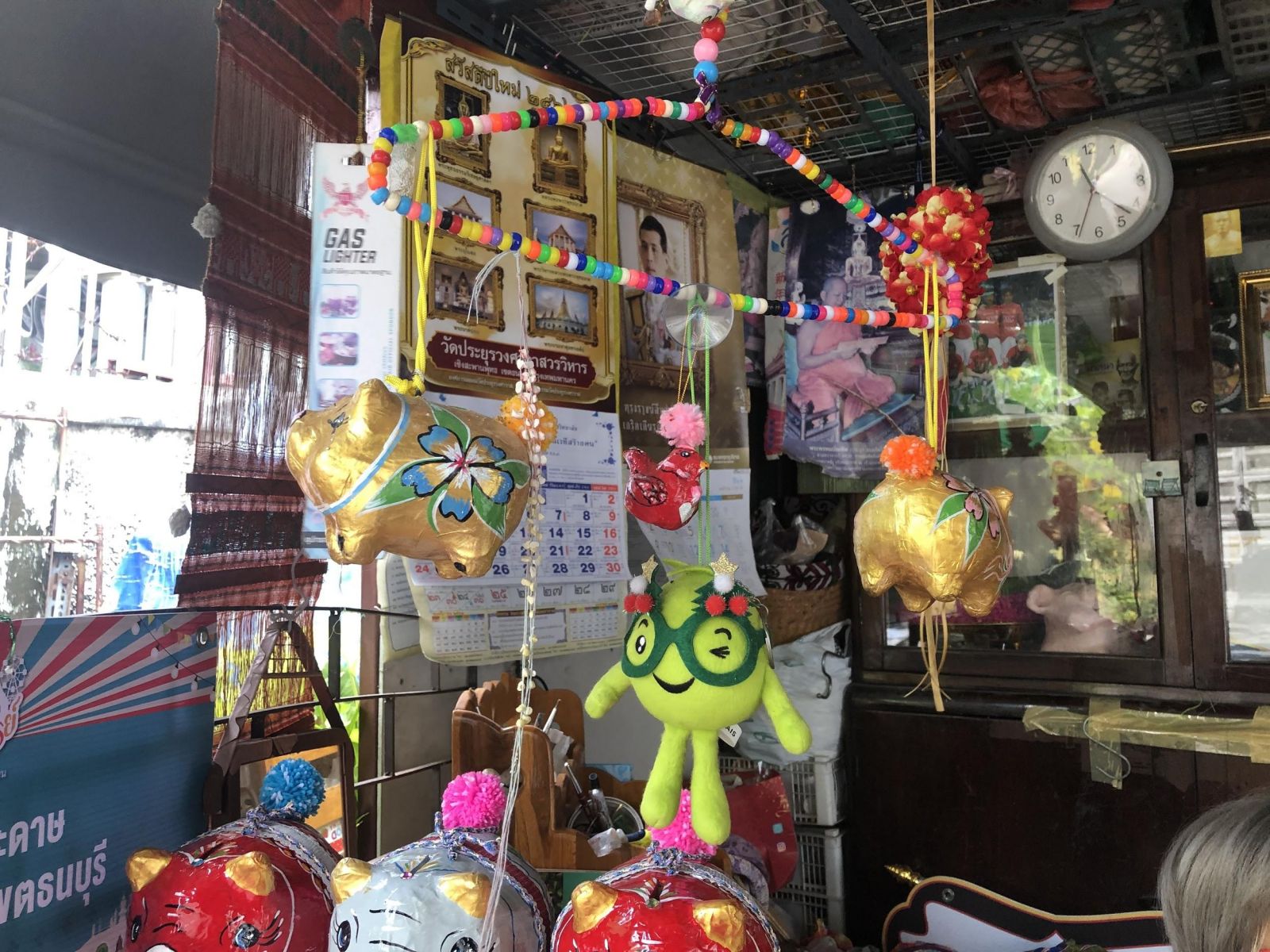 Another benefit is Muu Kradat is that it is made from recycled paper so making them reduces the massive amount of paper trash in the community. And in a small way, it helps reduce global warming. Crafting the used paper into Muu Kradat adds value to the wastepaper that might instead be recycled for a little bit of money, or pollute the area or river. But, they do not look like trash, Pah Noi emphasized. They are neatly painted so no one even notices that they were trash before.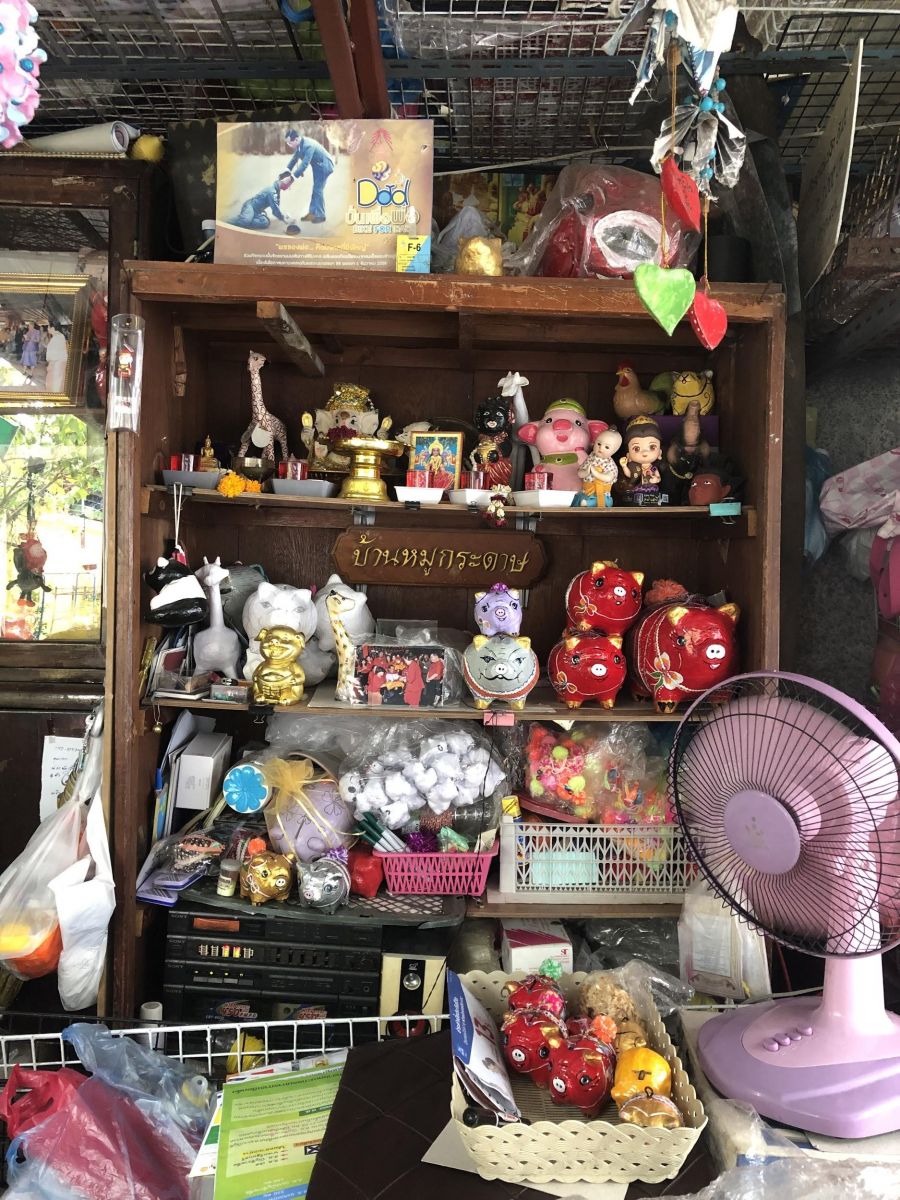 Chulalongkorn University Ajarn Naruemol, or Daeng to her friends, learned of Pah Noi and her Muu Kradat business and decided to help. Now many Chula students have worked with Pah Noi, who said she appreciates their encouragement and efforts to make her piggy banks better known.
Students have taken her to exhibitions and marketplaces to sell the piggy banks, and they have sold out faster than other products. The Muu Kradat became so well-known, in fact, she was swamped with orders and could not handle them all. She asked the Kudeejeen community for help and they gladly helped her with the orders. With this generosity from the community, Pah Noi gave them each two hundred baht.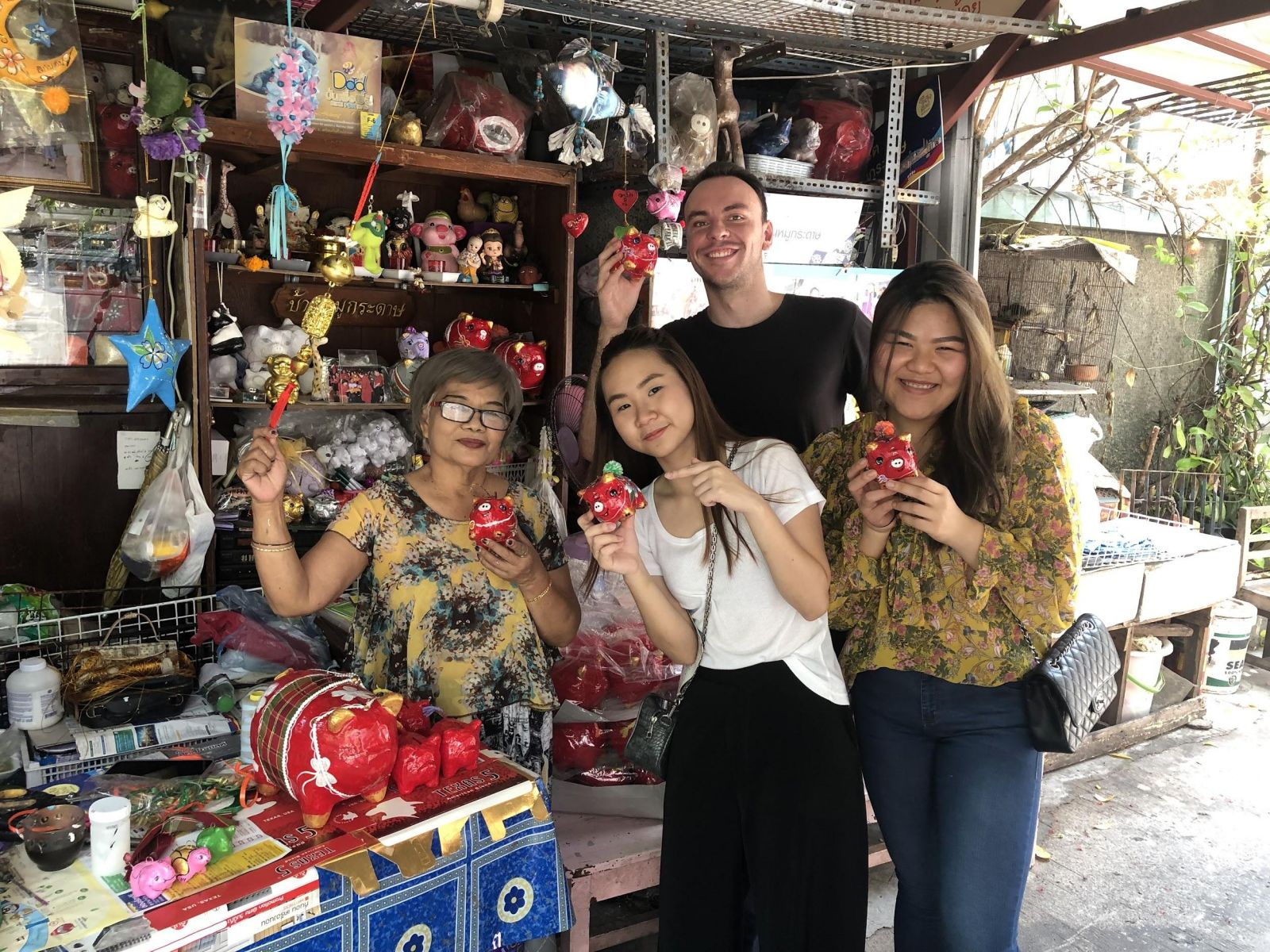 The Students the In Free Enterprise (SIFE) club have been working on this project in the Kudeejeen community since 2018. They have focused on a few things, Bachelor of Business Administration (BBA) student, Pimpitcha Charoenchitwattana, said, adding that, "our goal is to pass on Muu Kradat to the next generations and preserve this tradition."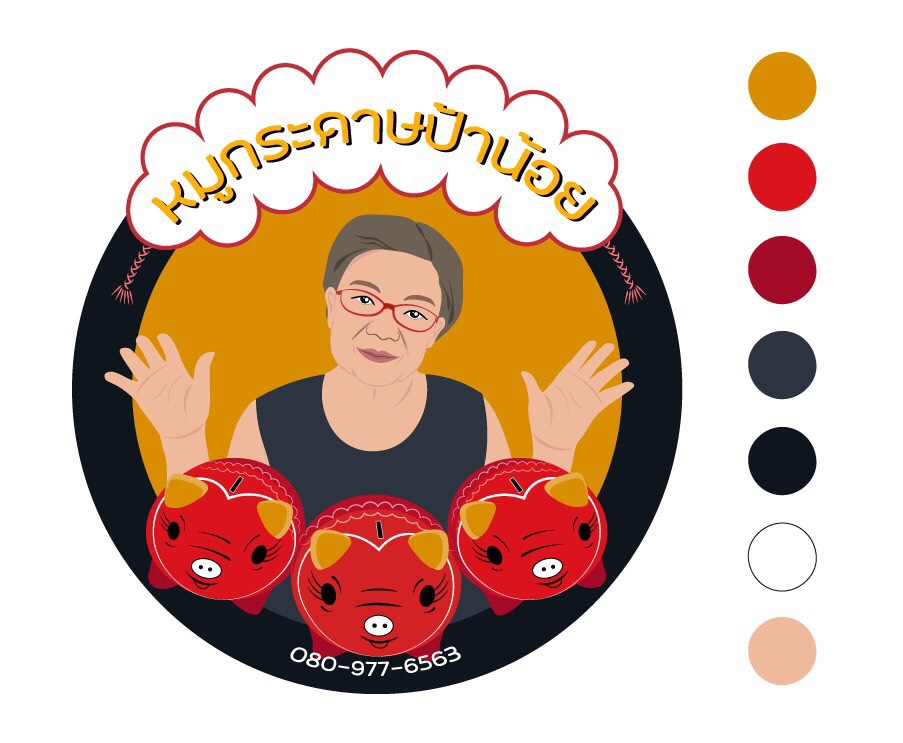 Specifically, the students created a logo and brochure to promote the business, which is waiting to be published. They also developed a Chinese language template to increase the number of Chinese customers. "We are trying to make the product more attractive to tourists. As we promote the product, it will promote the community itself," Pimpitcha said.
When Pah Noi had an opportunity to meet HRH Princess Maha Chakri Sirindhorn, she knew the princess liked the Chinese language. So Pah Noi tried to write Chinese letters, but not knowing Chinese, she was afraid she might get it wrong. Here, the Chula students helped her write the Chinese letters correctly on the Muu Kradat to give to the princess.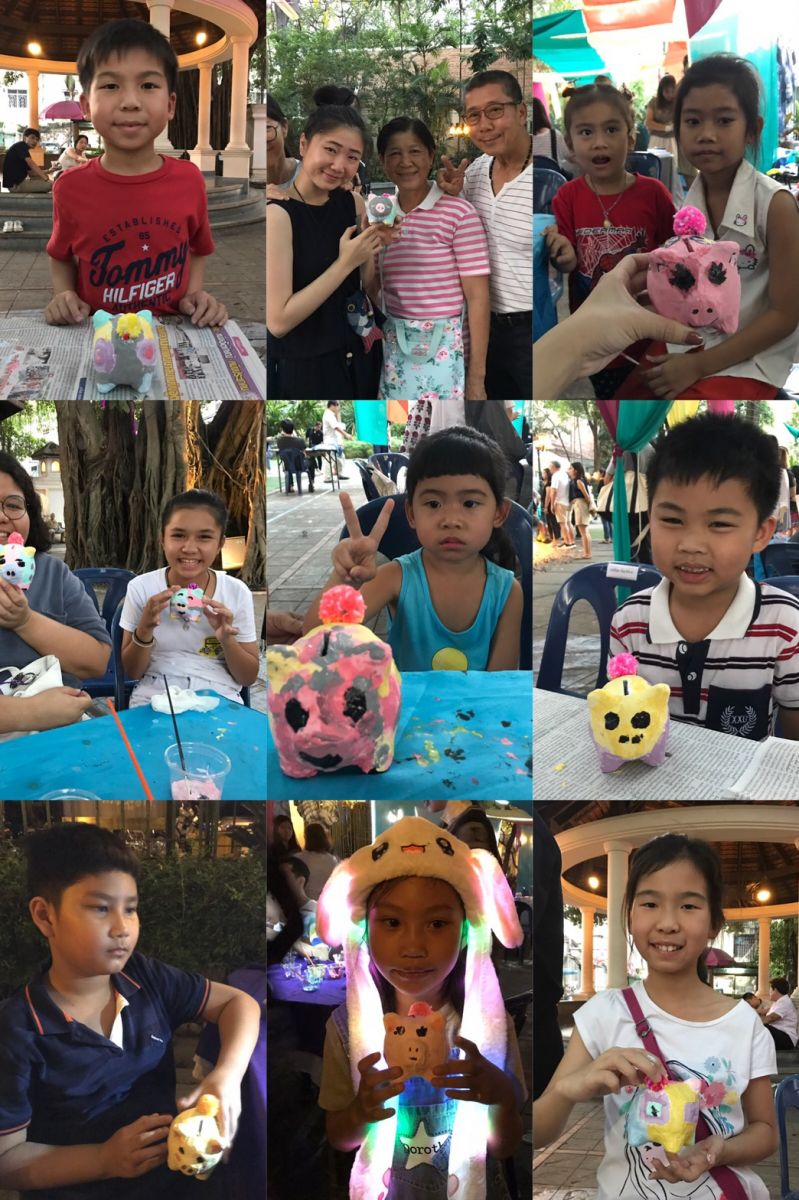 Pah Noi has advised students to keep Thai traditions alive and has emphasized that handmade Thai products are as good as any imported products.