Thailand's third-wave coffee sector has received an additional boost with the appointment of Bangkok-based CoffeeWORKS as high-end US espresso machine manufacturer Synesso's official distributor, described by the US Ambassador as the 'marriage of American technology and…business know-how with Thai talent'.
Third-wave coffee – which CoffeeWORKS co-founder Dale Lee says is loosely defined as coffee 'delivered through barista-driven espresso machines…whereby the barista has a very deep control and influence over the resulting in-the-cup quality' – currently accounts for just seven per cent of Thailand's 3,000 coffee shops, according to the company. However, they say that the growth of this 'nascent' segment has already doubled annually for the past three years, and that they expect it to continue to do so for at least another two years.
Harnessing the growth of third-wave coffee
Lee believes that embracing Synesso's products is the way to harness the sector's ongoing success, predicting that the high-end third-wave segment will see the coffee market's fastest growth as it becomes 'more important and more recognised.' Espresso machines from Seattle-based Synesso stand out from the competition in terms of the level of control that they give a barista over the final cup of coffee they produce.
Lee described as 'revolutionary', for example, the fact that Synesso machines allow baristas to set individual pressure profiles – precise adjustments of the temperature and pressure of the water that hits the roasted, ground 'coffee cake' in the machine's basket as the espresso is extracted – to suit a particular bean type and roast, its specific characteristics, and the conditions that are needed to match a coffee's 'extraction needs' and produce the highest-quality espresso output it can deliver.
"If you go to third-wave coffee shops in parts of the US, or for example in Melbourne, baristas are deeply knowledgeable about their coffees", Lee told Elite+, demonstrating a clear passion for the product around which he has centred his career since starting out as a coffee brewer technician in Cleveland, Ohio, in 1986.
"They know the farm that grows the coffee that they are using, they will probably have visited it, they know about the post-harvesting method used on the coffee beans, and they want to be able to set their espresso machine to match the extraction needs of that coffee."
CoffeeWORKS 'represents a certain American attitude'
At an event held to announce the new partnership, US Ambassador to Thailand Glyn T. Davies explained that he felt a particular connection to CoffeeWORKS, it having been one of the first American-led companies he visited upon taking up his posting in Bangkok some two and a half years ago.
"What CoffeeWorks represents is a certain American attitude towards economic collaboration and cooperation with the Kingdom of Thailand," said Davies. "When they came here, they were not coming here to just buy a few things and take them back to America, they were coming here to invest in [Thailand] and…in the people of Thailand.
"They are a terrific example of this marriage of American technology and…business know-how with Thai talent, and…23 years later we can see the results in this very successful company here in Thailand.
"This year we celebrate two centuries…of friendship between the people of Thailand and the people of the United States. When the USA was very small and experimental…Thailand reached out to America to start a friendship back in 1818, and today it is remarkable, despite all of the changes over 200 years, to see that at its core this…relationship stays so strong and keeps growing in a positive direction", he added.
"In the beginning the relationship began with…a ship that came up the Chaophraya with a ship-captain who was here to buy one of Thailand's finest products, sugar. 200 years later…we are celebrating something in the commercial sector…and the fact that CoffeeWORKS continues to grow, continues to bring American technology to…Thailand.
"Every day I get up in [the US Ambassador's Residence] and I'm reminded that this thread through the [US-Thailand] relationship…has always been the trading relationship, which is a people-to-people relationship. It's all about trying to make people's lives better."
According to Davies, today Thailand remains an attractive location for American startups. "You have a lot of hoteliers and restaurateurs who come here, and some are starting to come and do digital stuff. Business is still booming. Thailand is still viewed as a preferred place to do business, for a lot of reasons, but a lot of it has to do with the human capital. Thais are talented, and they have a [good] work ethic, and…[Thailand] is a congenial and positive place to work."
From economic storm to business success
Since being established in 1995, CoffeeWORKS has been roasting coffee, selling equipment, and providing coffee training services for both leading coffee chains and small independent coffee shops throughout Thailand. Lee told Elite+ how weathering the 1997 Asian economic crisis helped to strengthen the company's resolve and turn it into the success that it is today.
"Our early years were dreadfully difficult. For a six-month period during the economic crisis, right after we started CoffeeWORKS, we lived in our garage start-up, because our revenue disappeared. There was no coffee shop business in Thailand, so we were focussed on restaurants and offices, and when the crisis hit everybody stopped spending on things like coffee."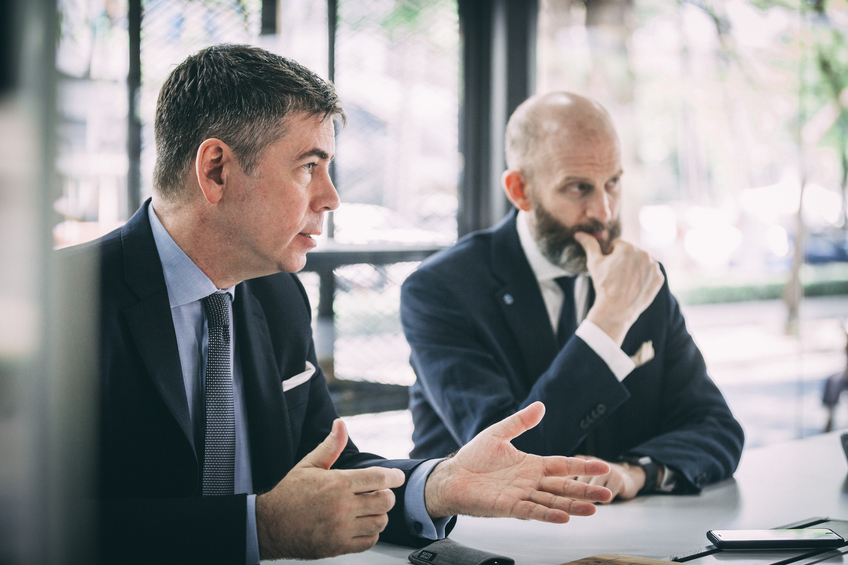 "When you start a company and it's not successful, it's an extremely painful experience, it's really emotional", added fellow co-founder Dr Andrew Stotz, stressing that the pair's business background enables them to identify with others considering embarking on the journey of opening a coffee shop.
"Everybody that opens a coffee shops thinks that it's going to be profitable," Stotz told Elite+, "but if they come [to us] they are going to save themselves so many mistakes. We have the experience of supplying so many coffee shops, [and] Dale and I have worked on a lot of different…ways to help a coffee shop to understand how many cups they need to sell, what their profit level is, what type and level of machine they should buy, and how to make sure their coffee shop is profitable."
'If coffee shops are successful, we're successful'
Synesso machines don't come cheap. Lee says that, including the newly launched S200 compact machine, the brand's products range in price from around 275,000 baht to approximately 700,000 baht. He adds that, while Synesso is certainly a premium product with a corresponding target market that primarily comprises independent third-wave coffee shops as well as top-end hotels, the more keenly priced S200 will 'open the door to others who always wanted a Synesso but felt that they couldn't afford it…and that's going to open up a lot more sales for us.'
Lee and Stotz were keen to stress that CoffeeWORKS – which has recently opened a new experience centre in Pattaya to complement its existing site in Bangkok's Phrom Phong neighbourhood, and which plans to launch a third outlet in Phuket by the end of 2018 – exists to 'make the coffee shops…successful in delivering the right coffee experience to their customers.' The founders added that CoffeeWORKS' interests are 'mutually aligned' with those of its customers and that 'if [coffee shops] are not selling coffee, we're not selling coffee'.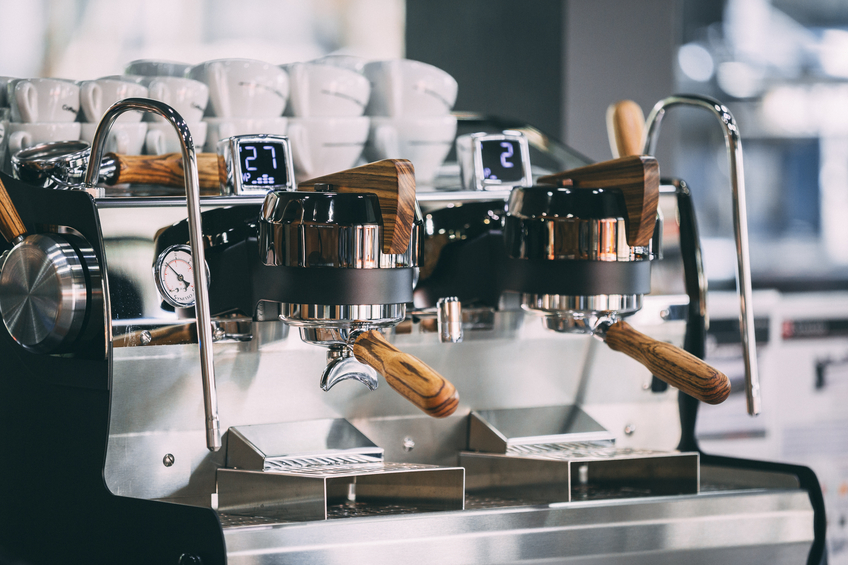 "Over [the past 23] years, we've been driven by one thing, and that is the passion to bring great coffee to our customers", said Stotz. Doing so, he and Lee and emphasised, involves everything from supplying espresso machines and coffee beans to providing coffee shop owners with the right tools and advice to make a success of their businesses.
Finding suitably qualified staff is among the greatest challenges facing Thailand's third-wave coffee shops. "They're dying to find barista staff; it's a cut-throat, competitive market. If they work with us, when they are overwhelmed with training new barista staff, they can offload that on us", said Lee, adding that the company's training capabilities encompass everything from espresso machine familiarisation to coffee-palate-calibration courses run by their Coffee Quality Institute Q-Grader-certified trainers.
Keeping sight of in-the-cup quality
The training CoffeeWORKS offers its clients even covers the financial side of business operations. That includes equipping newly opening coffee shops with the understanding to avoid what Lee described as the false economy of stocking lower-grade, less expensive coffee in order to keep costs down – a trap he said entrepreneurs around the world, not just in Thailand, fall into.
Faced with the choice of economy-grade and more expensive premium blends, Dale acknowledged that 'it's good to look at the cost', but stressed that 'when your customer comes in, they don't drink that bag of coffee, they drink a cup', explaining that the per-cup difference in cost between economy and premium coffee may only be a matter of a few baht.
"With the more expensive coffee, you only have to sell perhaps two more cups per day to make more daily gross profit. Well, you're going to sell more cups per day by having the absolute best flavour and taste – [that way] not only will you sell two more cups per day, you'll sell 10 more, 100 more. If you really want true enduring success, it's about in-the-cup quality, which is another reason we're really excited to embrace Synesso."
Diversification is the key to survival
The fact that CoffeeWORKS operates across all three of the major segments of the business-to-business coffee market – supplying offices, hotels, and coffee shops – is, said Lee, something that differentiates the company from its competitors, which by and large focus on just one segment.
Lee and Stotz see this as a strength and, hinting again at the influence of the company's early struggles during the Asian economic crisis on its later business strategy, Lee analogised that 'if you have a stock market portfolio, diversification is a good thing, so we like to diversify our revenue'.
Building a scalable, enduring business
Looking forward, Lee and Stotz said they aim to 'significantly grow the market' as a whole, as well as their own business. Lee acknowledged that some of their larger competitors, having 'started over 50 years ago…have a little bit of a head start', but the duo agreed that their aim over the coming decade is to drive even greater success in the business and ensure that it is 'scalable' and 'enduring…when some day we are not involved anymore'.
Stotz accepted that CoffeeWORKS had been 'slower than some other businesses to roll out the sales boom', but Lee added that some of the firm's competitors were unable to sustain their growth, and said he had seen some that had 'petered out because the operational aspect' was unable to keep up.
"The other operational aspects [of the business] also have to have excellence if the whole thing is going to be excellent", he added, citing inspiration from other successful companies with which CoffeeWORKS has connections in the coffee industry and which he admires.
The entrepreneurial pair's complementary skill set has helped them in their pursuit of success. "[Andrew]'s skill set and my skill set are very different, which is perfect", said Lee. "He has an amazing excellence in finance, and also a [good] reputation, so we get access to a level of financial acumen that other SMEs can't get, and then of course I have the coffee background, so it's the right kind of skill set."
The challenge of protectionist taxes, and the impact on quality
When asked what challenges CoffeeWORKS faces in achieving its goals in the coming years, Lee was quick to cite regulatory hurdles that the company comes up against while operating in Thailand. "There's a 90% import tax for coffee", he said with a certain degree of frustration, adding: "Thailand isn't a major coffee-growing country…but [coffee] gets protection…as if it were rice. Sometimes that restricts us – and not just us, the whole market – from developing more."
He also said that, just as CoffeeWORKS' 'coffee shop customers [struggle] to find baristas', so too his own company can 'struggle to find technicians' to employ. "Right now we have a team country-side of about 20 technicians, and we want to hire probably another five – and that was true three months ago and…six months ago", he added.
As for the future of Thai-grown coffee – an industry that from a consumer perspective seems to have been on the rise for some years now, with domestically grown beans increasingly prominent in the country's speciality coffee shops – Lee said he would feel more upbeat about it 'if this 90% tax [were to go] away and competition [created] better quality.' He spoke passionately about work his company has done with coffee-growing NGO the Integrated Tribal Development Program (ITDP), through which CoffeeWORKS has for a number of years been buying green, or unroasted, coffee beans from a network of over 200 ethnic minority hill tribes in northern Thai provinces including Mae Hong Son, Chiang Mai, and Chiang Rai.
In an attempt to prompt an improvement in quality, Lee told Elite+, CoffeeWORKS funded the ITDP's development of Thailand's first honey-process coffee, the production level of which has now reached approximately 14 tonnes per year.
"[Farmers] end up getting a 70% to 90% higher price for their honey-process coffee…compared to the global commodity price that they get for other kinds of coffee", said Lee. The aim was that farmers 'would see that better quality gets a higher price', and Lee said he believed that this has already 'raised the quality of Thai coffee across the whole industry, and we were an early part of that'.
He added that CoffeeWORKS now carries a range of coffees from neighbouring Myanmar, nurtured by way of similar projects that have enjoyed considerable success there. "My recommendation to the wider world, and certainly to policymakers in Thailand is this," he concludes. "Reduce the barriers, and you'll see this [industry] grow exponentially."