Rompaeng: A Time Travelling Novelist
When Buppesannivas (Love Destiny) was aired by Channel 3 in 2018, it became the highest-rated soap opera in Thailand's digital-TV era and gained popularity across Asia. The show is based on the novel of the same name written by Aui - Chanyawee Sompreeda, better known by her penname, Rompaeng. Born in the southern province, Nakhon Si Thammarat, Chanyawee earned a Bachelor's degree in Archaeology from Silapakorn University, majoring in Art History and minoring in Thai language. A passionate writer who turned writing into a career in 2006, Chanyawee has a unique voice and writing style, focusing on Thai historical romantic comedies. Recently, Chanyawee sat down with Elite+ to talk about her two best known novels, Buppesannivas (Love Destiny) and Promlikit (Destiny).
How did you start writing?
It all started by playing online games. There were chat rooms where I conversed with friends who said my jokes and stories were funny and I should try writing them up. I wrote plays and short novels that were published in school journals, and I've kept a diary after it was a class assignment in which I wrote about my. In fact, my first novel, Miti Rak Kham Duang Dao (Love Among Stars) was based on a dream.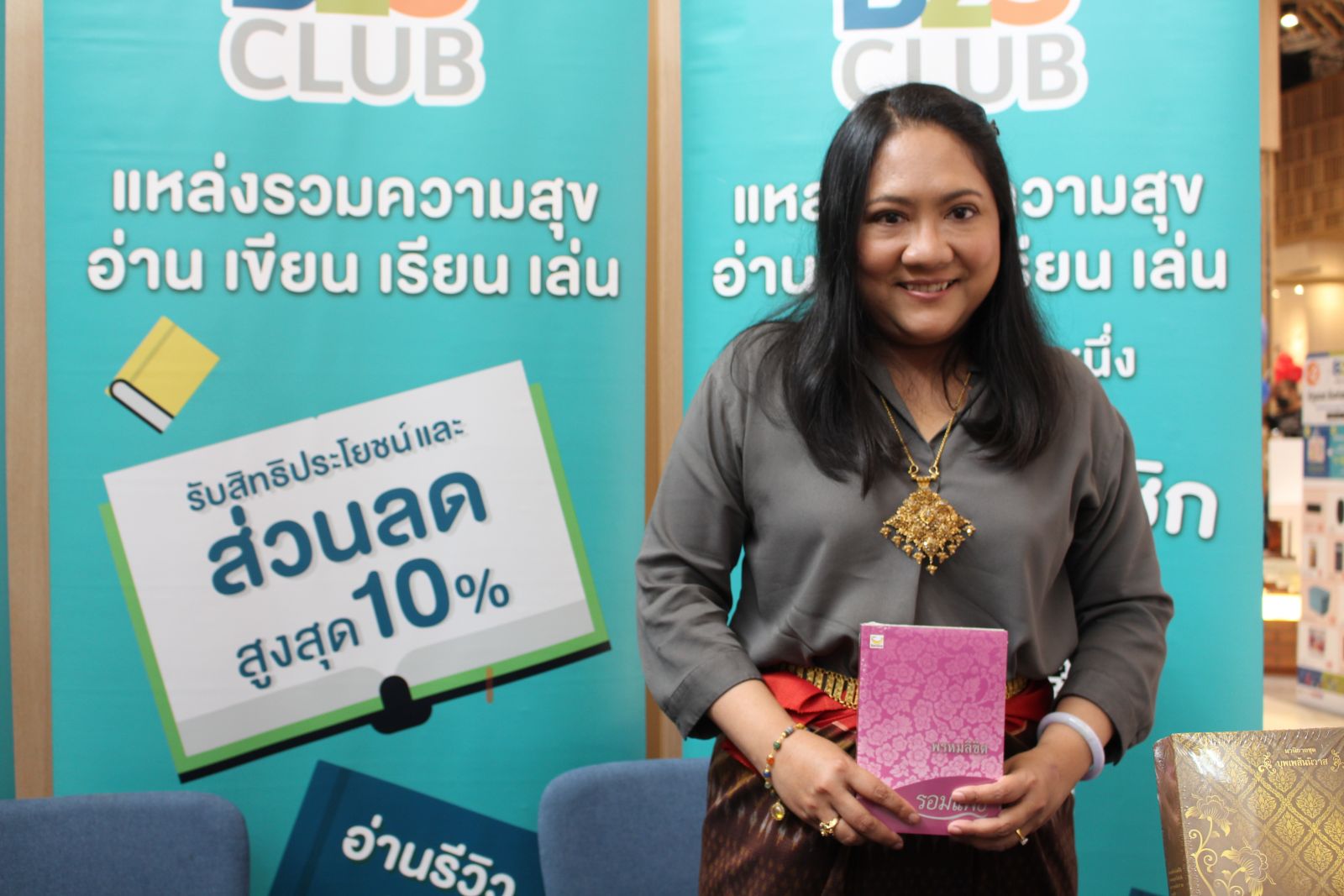 Before you began writing professionally, what did you do?
I had several jobs, and each gave me material for my stories. I was a college administrator; I sold cosmetics in shopping malls; I was a proof-reader and a purchasing agent for an interior design company. I even worked in a call centre for 1150 - KFC and Pizza Hut. My last job before becoming a full-time writer was selling pre-fabricated homes.
When I graduated from university, I thought I wanted to be a Thai language teacher, but when I tried it, I didn't like it. On the other hand, I love writing. I think I was born to write. Still, I made a mistake quitting my last job before selling any stories. So, I struggled financially for the first couple of years. I only started earning real money after Buppesannivas (Love Destiny) was published in 2010.
Love Destiny went international after its success as a TV drama. What is it about?
As Thais are familiar with its historical and cultural elements, they can enjoy the story 100%. Foreigners seem to be fascinated by Asian culture and even if they don't understand the cultural context, they still enjoy the romantic comedy as well as characters and settings.
They are also interested in the concepts of parallel universes and time travel. The time travel element in Love Destiny involves reincarnation, a belief found in Buddhism and Hinduism, and my story includes Christians and Muslims as well, which depicts Thai tolerance.
The story is based on historical events. After research, when I found conflicting facts and theories, I would chose the one that supported the plot. The protagonist, Ketsurang, is a college student studying Thai art history, but when she joins an excavation, her findings dispute what she learned in class. History can be subjective. There can be many angles to one truth. This thought appears throughout the story.
Love Destiny was written 12 years ago. So, some historical facts in the story might not be valid today because of more recent research findings. I would say it is a story with historical elements rather than based on historical events.
I am not a historian, but I am curious. To create a character who is a real historical figure, I have to read several sources. This is how I can create multi-dimensional characters. Constantine Phaulkon is an important historical figure. He was an advisor to King Narai of Ayutthaya. Some historians say he was a good person, others say bad. Reading accounts by different historians helped me create what I feel is a true likeness.
What you also must remember is this is a romantic comedy, not a drama. I did not want the tone to be too serious or create controversies. My research did reveal controversial facts, but I avoided including these controversies.
As Promlikit (Destiny) is the sequel of Buppesannivas (Love Destiny), did you actually plan to write Destiny while still writing Love Destiny?
Yes, I did. Love Destiny is set in King Narai's reign, 1656 – 1688, while Destiny takes place during King Thaisa's reign, about 50 years later. When I finished Love Destiny, I realised I didn't have enough information about King Thaisa's reign, so I didn't start writing the sequel immediately. I actually went back to university and studied for my Master's in history to access more information about King Narai, but it did not work out as I planned, so I dropped out.
Anyway, I already had the plot for Destiny, and after Love Destiny was so successful as a TV series, I went back to research King Narai's reign. Then, at the end of Love Destiny's airing, Channel 3 told their viewers to stay tuned for the sequel even though I hadn't yet started writing Destiny.
Channel 3 was so confident in me that they offered me a contract even before I began. While writing Destiny, the plot, of course, evolved. Sub plots emerged as I accessed more material. As very little history of that era has been written, I focused on local ways of life. Destiny is about common people, but not slaves, and the setting and locations are different than in Love Destiny. As it's a sequel, the characters are descendants of Love Destiny.
When you were writing Destiny, were you aware the producer was going to use the same cast?
No, I was not. They only told me later, and while the cast is the same, the costumes are very different so the audience won't get confused. I did need to revise the story, to make sure each character is distinct enough. This time the love story in Destiny is more sophisticated, and I think entertaining. Like Love Destiny, it's a romantic comedy.
What do you think has made these stories so popular?
If you are talking about the books, I think people like them because they are original. No one had ever used history of that era as the setting for a romantic comedy with reincarnation.
Where do you find your inspiration?
My imagination. When I look at people, I observe them closely. My imagination enables me to create convincing characters. I have also drawn inspiration from other books and TV series. I like watching TV series adapted from novels to see how they are visualized. Still, I like reading even more because the texts spur my imagination.
Where does your penname, Rompaeng, come from?
Rompaeng is a protagonist in the novel Viangkoomkaam by Thommayanti. The first time I met her, I asked her permission to use the name Rompaeng. I consider it a blessing. I have read her novels since I was eight. She is my muse. I have learned a lot reading her work.
What are you working on now?
I am writing Pipop Moranang, a story about life after death. The protagonist is 84 years old. She dies and is reborn in an after-death universe. It deals with experience after death, heaven and hell. I have published the first three episodes on Dek-D.com. After New Year, the novel will be completed and published.
Any words of encouragement for new writers?
You must be passionate about writing, and you have to love to read. The more you read, the more material you get for writing. Be original. Write what you are passionate about. The outcome is always rewarding if you are true to your heart.