Beginning of "Mueang Chuchai Buri, Sri Amphawa", a great project of the diamond merchant "Chuchai Chairitthilert" that has become a talk of the town about the chaos that has occurred since the beginning of the land purchase. until this multi-billion dollar rich diamond trader almost gave up But in the end, because he wanted to create a legend for himself. Chuchai Buri Si Amphawa was born with an investment of more than 600 million and has not yet been completed. which is expected to escalate to the billions.
With the feeling of "falling in love" with Amphawa at first sight Because this city is full of impressive way of life, temples, waterfront houses, as well as being a city of artists and music teachers, that was the beginning of Khun Chuchai's strong determination to have a home here. But that was the beginning of various problems. unexpected that will happen.
In the end, with the intention of preserving the original Continuing careers for everyone in Amphawa to eat full and have a comfortable stomach by wanting Amphawa people to be able to sell products throughout the 7 days, not only trading on Saturdays and Sundays. It also hopes that Chuchai Buri, Si Amphawa will become a new new destination that when everyone arrives in Amphawa, they must come here.
The splendor of this city of Chuchai Buri was caused by the need for the main buildings and structures to be close to the Bang Pa-In era. But when it was actually built, it turned out to be as beautiful as the Vimanmek Throne Hall.
Chuchaiburi with 7 must-see wonders.
1. Chinnabanchorn Building the architecture is a four-storey octagonal building in Victorian style, influenced by European architecture mixed with applied Thai, all bricks and mortar are painted in a light cream color with a red roof. and the roof is Thai style applied There are patterns on the windows and air vents that are perforated in beautiful patterns. The building is divided into various suites. Adorned with specially designed furniture decorated with blue, green, pink, ivory and peach (orange pink). The dome of the building has a Sky Light Dome, a natural light channel. The atmosphere of this building is majestic and unique. The 1-2 floors are characterized by carved staircases. Interior decoration in East Meet West style.
2. Chuchai C-Bed Sky it is said that this is Khun Chuchai's second "home". Because it's part of the Chinnabanchorn Building, 3rd floor, in the middle, a hole is drilled so that you can look down and see below. There is a private pool inside. The ceiling area is decorated with a world map. can see the sky, it can be called Niramit like a castle which will be open to interested parties to be able to organize private parties.
3. ChoChada Hall, a large banquet hall decorated to make you feel like you are in a European-style palace. especially if the wedding is already The bride and groom will be as elegant as a princess and prince.
4. Chai Nakara Building Clock tower on the waterfront of Amphawa Canal in this area every 1 hour will appear the identity of the show that tells the story through the Jintalela model with musical instruments.
Chai Nakara Building Clock tower on the waterfront of Amphawa Canal
5. Lord Shiva Lingam, gold, decorated with diamonds It is enshrined in a wonderfully rare ancient jade lingam throughout the entire body. Adorned with real diamonds and precious jewels of pure gold through the most beautiful and largest sacred rituals in the world.
Lord Shiva Lingam, gold, decorated with diamonds
6. Thai house, 200 years old or Thai house, Chai Natraj The architectural style is a Thai house in the Rattanakosin era that was established in 1782. inherited the culture of building a house from the Ayutthaya Kingdom It looks like a Thai-style house in the central region with 3 rooms, raised on a high basement, with stairs leading down to the pier. After bringing the Thai house to build here, it needs to be renovated again with resolution. Using a total of more than 50 technicians and took over 3 years to improve.
Thai house, 200 years old or Thai house, Chai Natraj The architectural style is a Thai house in the Rattanakosin
7. Faith courtyard There is a building on the outside decorated with old wood which is a valuable collection of Mr. Chuchai. Inside is enshrined Lord Shiva, a golden jade lingam decorated with diamonds surrounding it. Room decorated with hand-painted murals On the ceiling is spectacular with images of 12 zodiac signs designed to allow the moonlight and the sun to shine down on the Lord Shiva Lingam preciously.
Faith courtyard There is a building on the outside decorated with old wood
And the latest that has just been launched not very long with Amphawasri Cafe It is a cafe that was inspired by the decorative arts of Mr. Chuchai Chairitthilert, therefore began to renovate the waterfront area with a budget of over 30 million to come out in the concept of Good Life at Rim Krong Amphawa. It is decorated in a style called Siam Venaissance (Siam+Venic+ Renaissance), where every area in the restaurant is arranged beautifully and beautifully every corner will come out beautiful, and the signature dishes at Amphawasri Cafe have to be tried.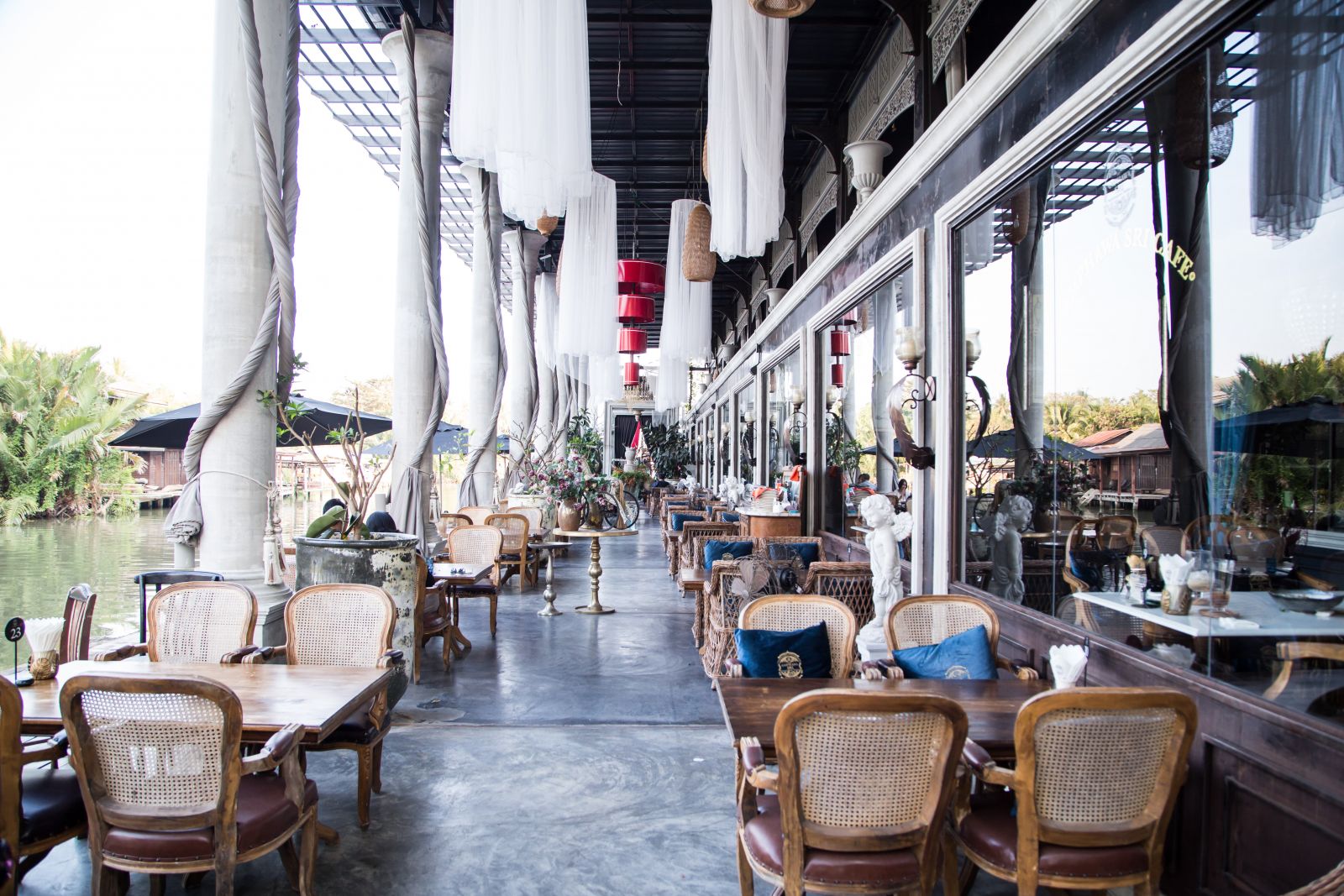 Amphawasri Cafe
All menu items in the restaurant have been seasoned and created by Chef Ness. Chef Ness wants to combine local ingredients while presenting food in a modern and beautiful way. Therefore, they have invented many menus where most of the ingredients are locally sourced while at the same time representing Chef Ness' personality. In addition, Chef Ness has experience in the food industry. Used to be a chef at famous restaurants The Davis Bangkok hotel and The Twin Towers hotel.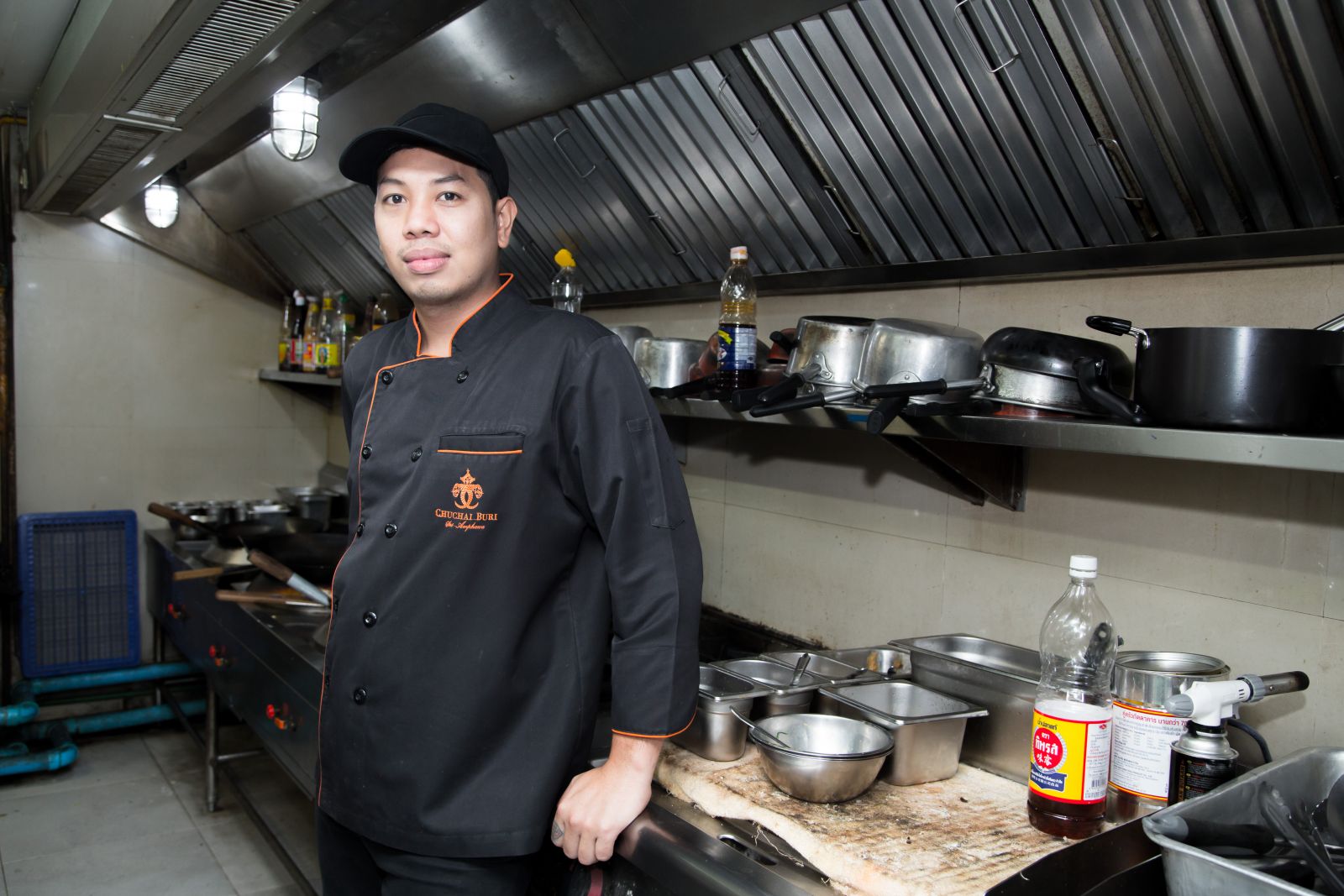 Mr.Anuphap autaya (Chef Ness)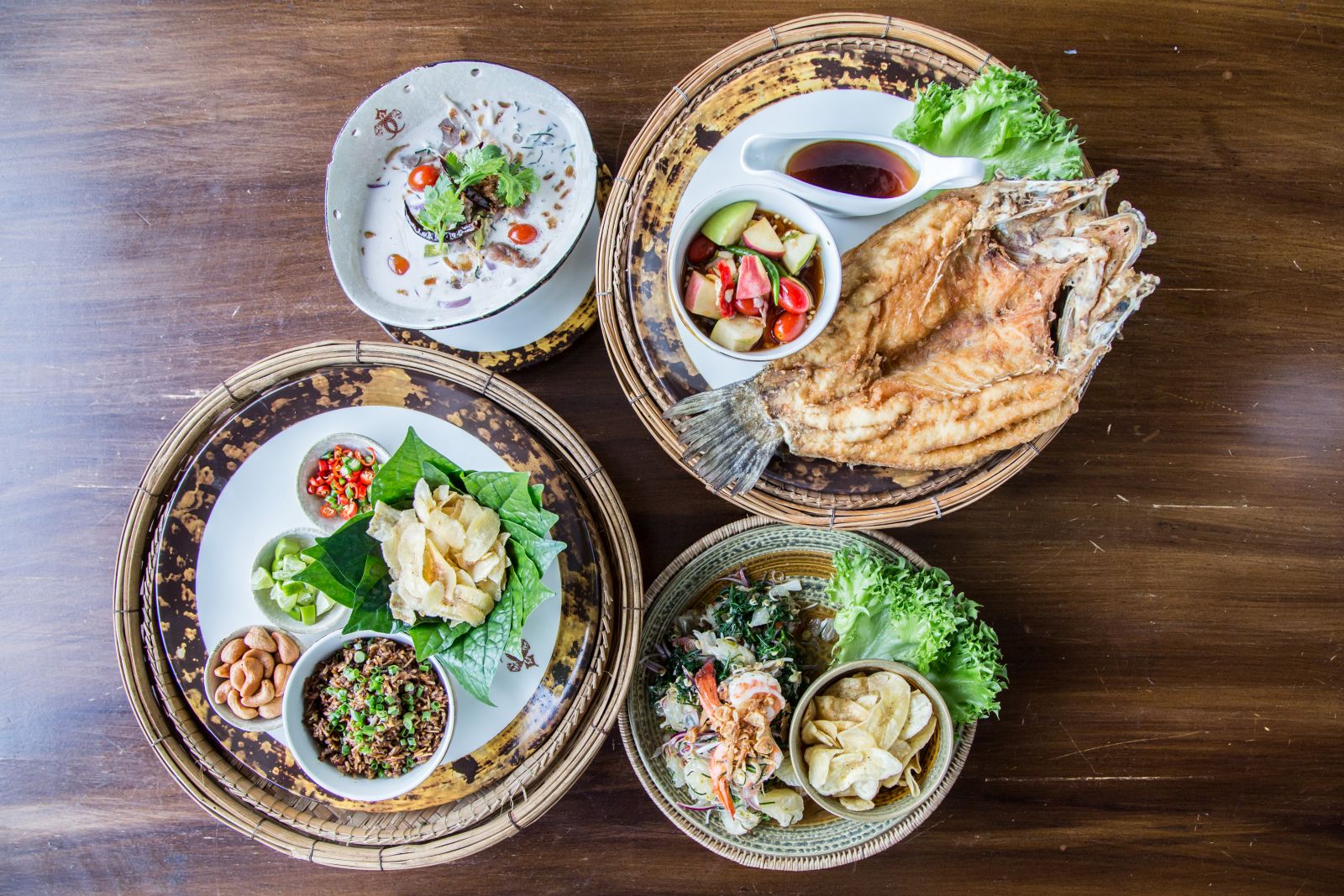 Yum Som-O Kung Sod Bai Cha Kram (Spicy Thai Pomelo with Shimps and Seabite leaves Salad),
Moo Khem Tom Kati Bai Cha Kram (Seabite leaves with Coconut Soup Salted Pork),
Miang Pla Tu Amphawa (Miang Mackerel), Pla Kapong Tod Nam Pla (Fried Snapper/Sea Bass with Fish Sauce)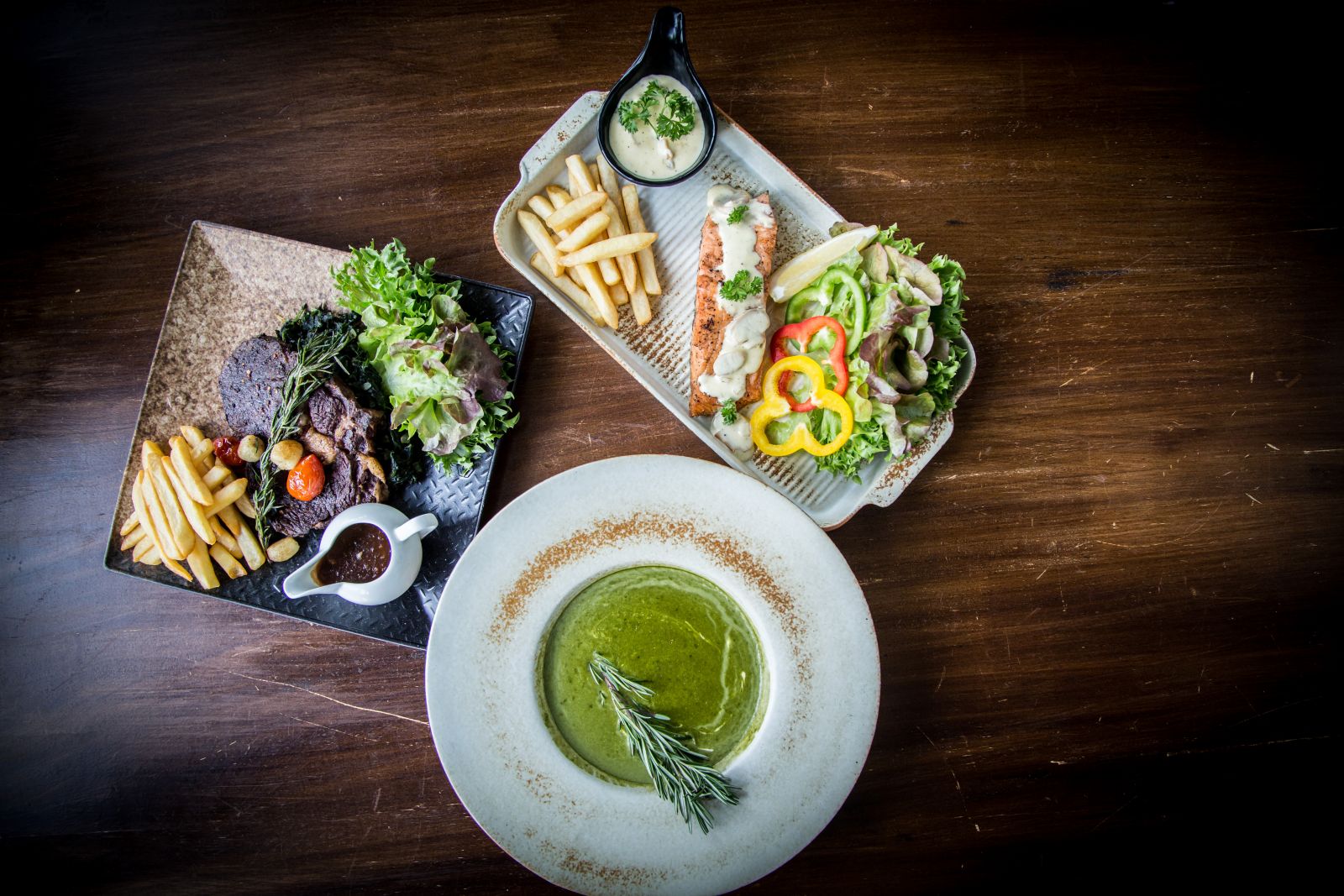 Salmon Steak, Ribeye Steak, Spinach Soup
Mr.Kasiwat Laosasiwatthanapong (Baitong)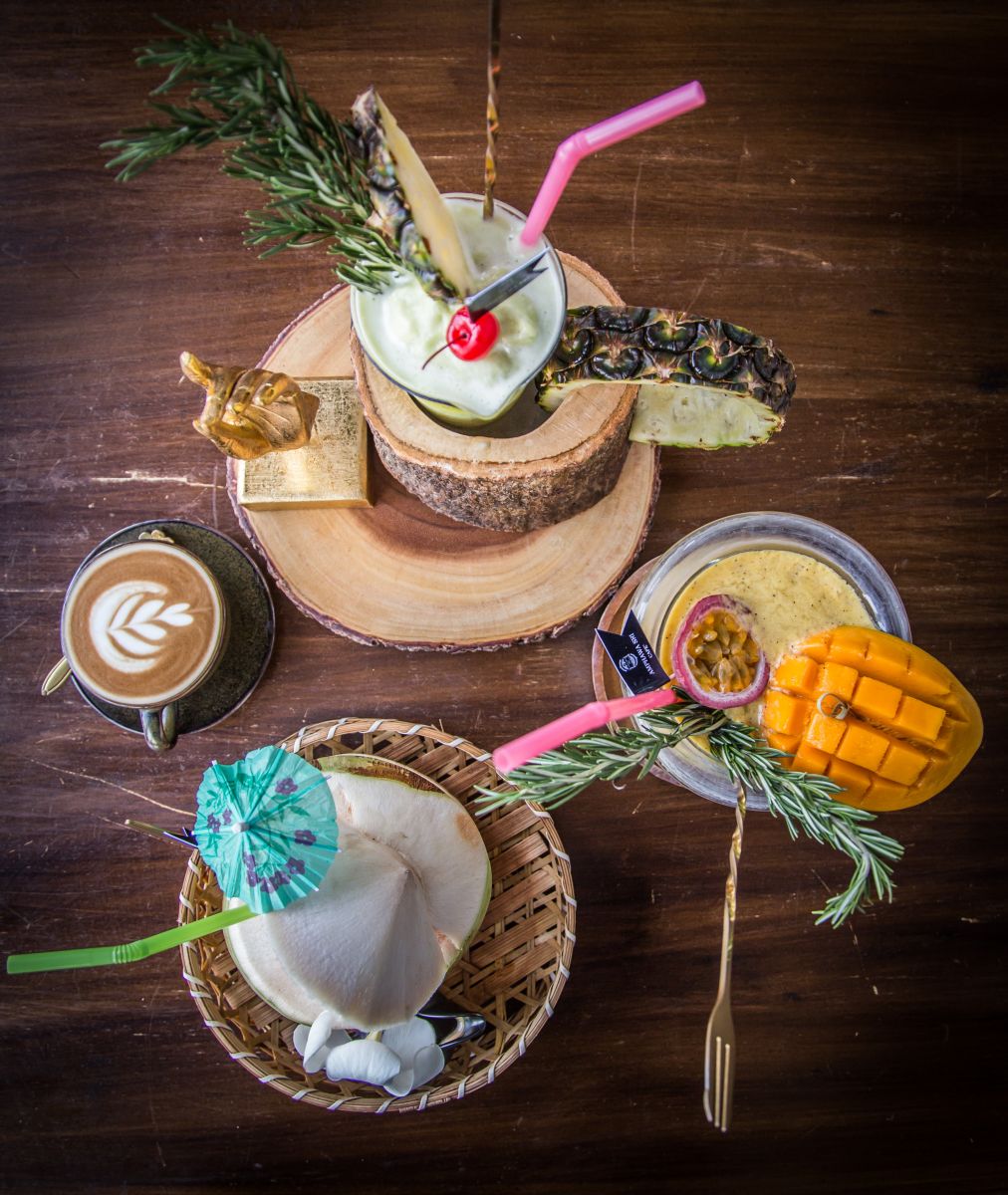 Amphawa Espresso Frappe, Hot Latte, Pineapple Herb, Mango and Passionfruit Frappe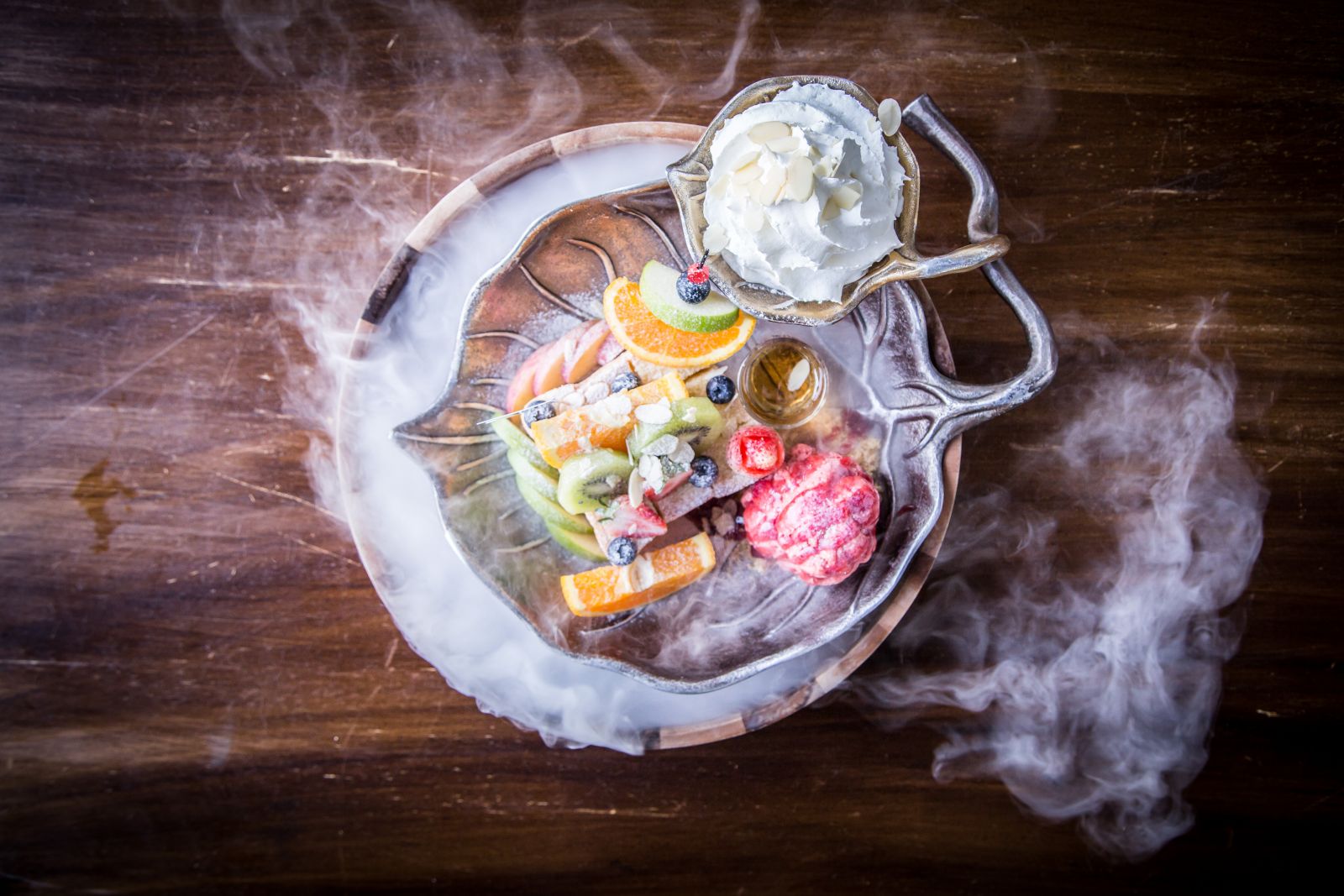 Fruits Honey Toast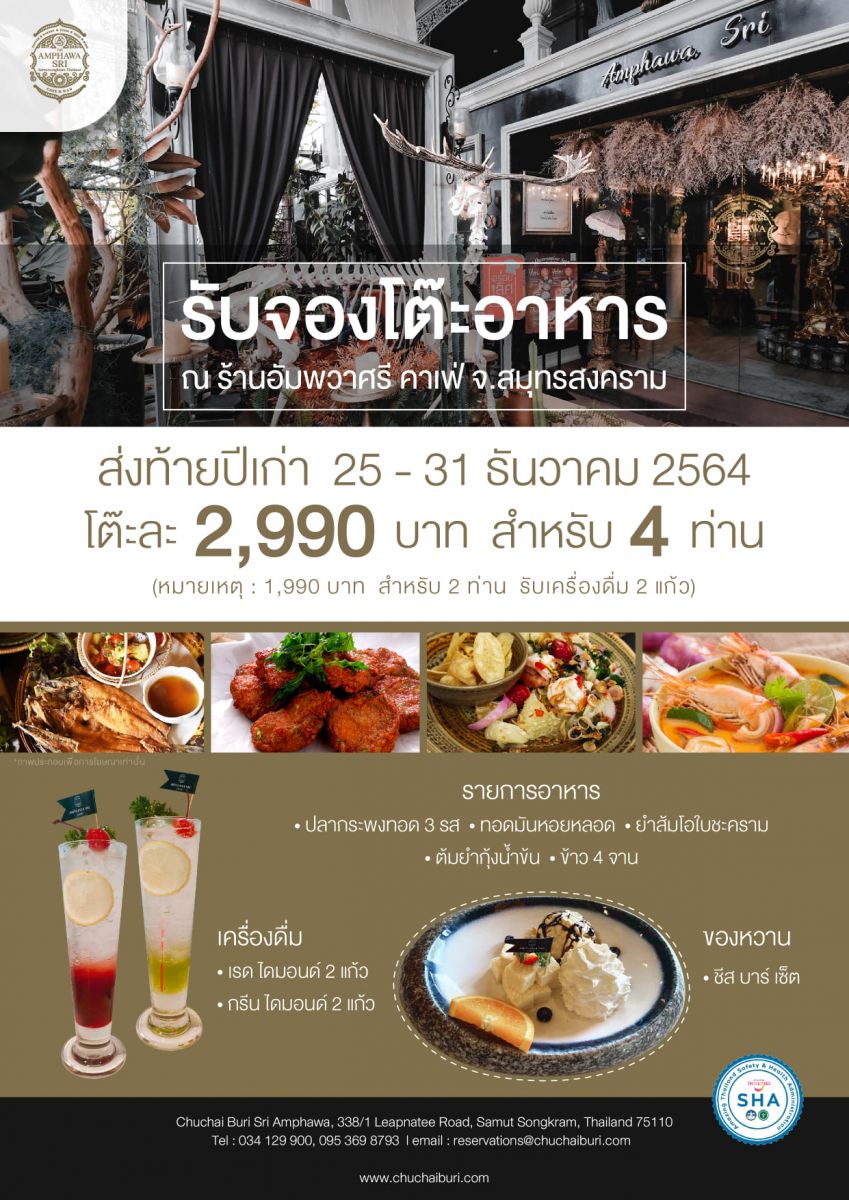 There is also an 18-room hotel with restaurants, bakeries, souvenir shops from the local people.
It's like taking Cristal Park and putting the temple in there and named it The. Legacy of Siam.