A breakwater of concrete pillars has eased erosion problems in the coastal area south of Bangkok, but challenges remain
This is the first of a series of articles written by Communication Management students, Naragamol Voothisiri, Sarita Ukoskit, Natchaya Muangdaengdee, Ben Stevenson and Thanaporn Nitisahakul, of the Faculty of Communication Arts, Chulalongkorn University on university efforts to contribute to sustainable development and environmental protection.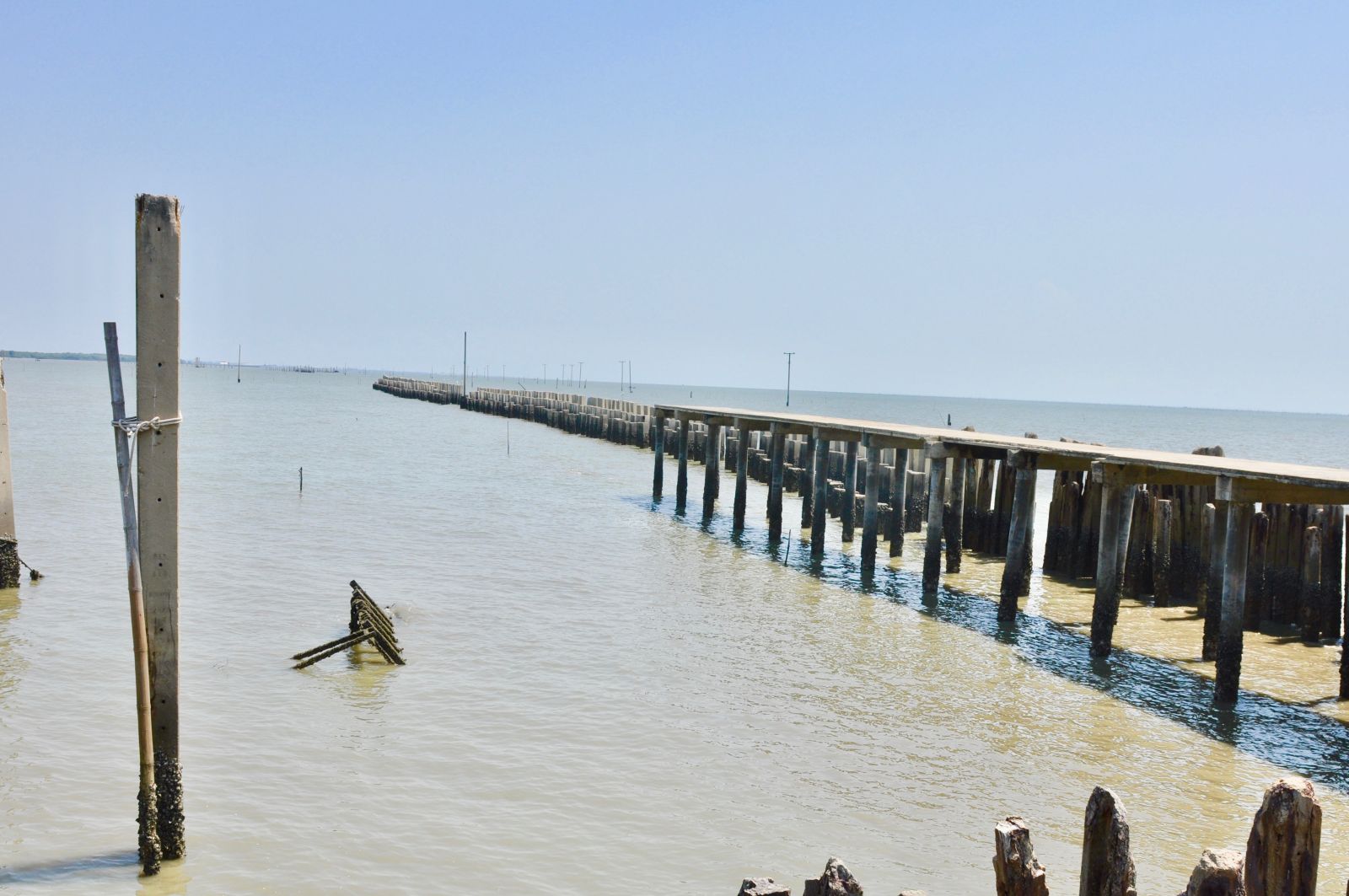 Chulalongkorn's concret pillar
Samut Prakan - "I've had to move my home three times," said Patpong Rakdaeng about the "miserable" impact coastal erosion has had on his life.
The area where the Chao Phraya River south of Bangkok spills into the Gulf of Thailand west to Bang Pakong district has experienced serious erosion since at least 1977.
The encroaching sea has damaged many communities along that coast such as Patpong's community.Many local villages have tried to raise awareness, but they say the government has turned a blind eye. The Khun Samut Chin community has made their living by the sea for decades, perhaps centuries.
The rich ecosystem makes it easy to be self-sufficient, but the ongoing erosion has been damaging that very ecosystem, making it more difficult to catch fish and crabs.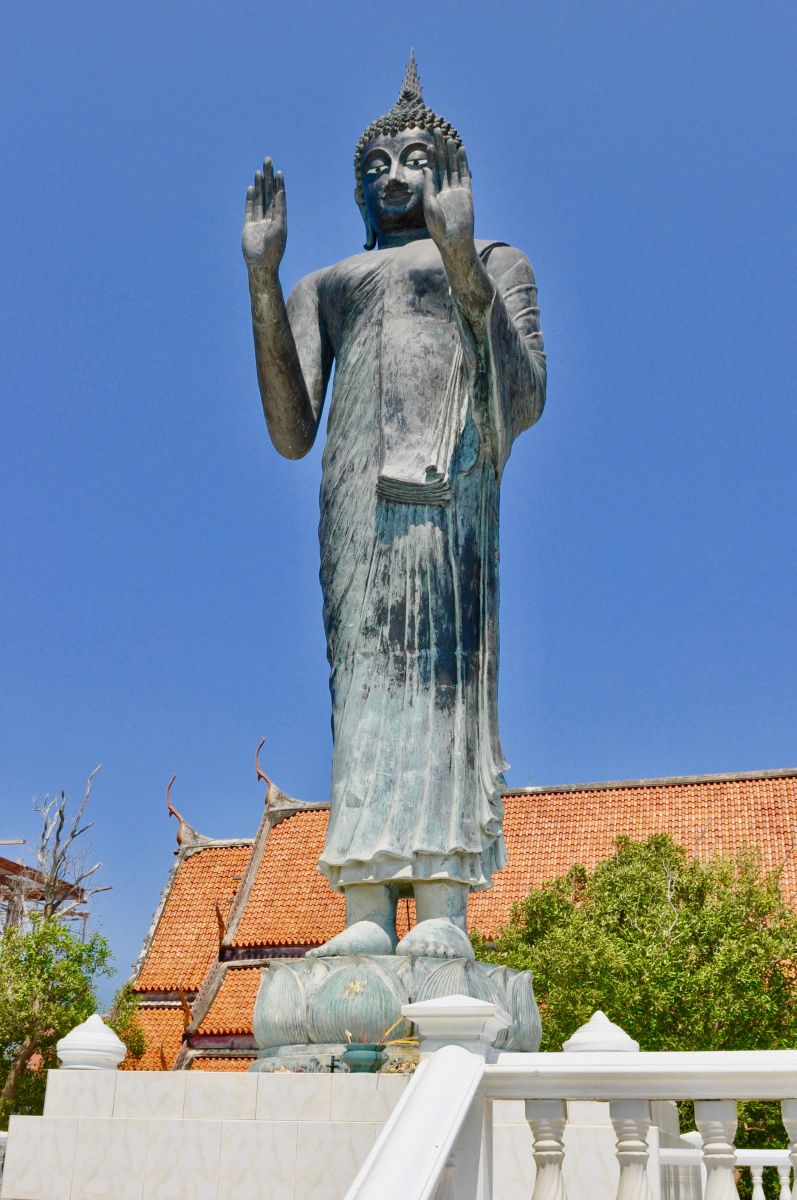 WatKhun Samut Chin
"Villagers are working and getting just enough to eat, so every time they have to move their house it is pricey for them. No one wants to move," Patpong said in Thai while standing next to a shrimp farm pool. Much of the mangrove forest that once lined the coast has almost all been cut down. Studies have shown that is a big reason for the encroaching sea. Dams on the Chao Phraya River that stop the flow of sediment that would otherwise rebuild the coastal areas is now seen as a bigger reason. Rising sea levels due to Climate Change will only make the situation worse.
For well overt 10 years, research teams have been studying the area, but not one project that can sustainably prevent the sea erosion has been achieved. One measure that locals have tried and has had some success slowing the erosion, however, are breakwaters. "These breakwaters are something we all want because this area is our home," said Patpong. The Khun Samut Chin community have tried their best to solve the problem themselves.
In the beginning, they piled rocks along the shore, but it failed as a long-term strategy. They found they too often had to pile the rocks over and over. A lot of money went into piling rocks, especially in the area in front of Wat Khun Samut Chin, much of which was destroyed by erosion. Some of it was saved and a new temple has been built, but if nothing new is done, it will soon be eroded as well. "There is an electricity pole in the middle of the ocean. That used to be the main electric pole in the whole village," said Patpong. "In the past, there was land everywhere. Now, the ocean reaches inward many kilometers," said Samorn Kaengsamut in Thai, ex-village chief of Moo 9, Laem Fah district.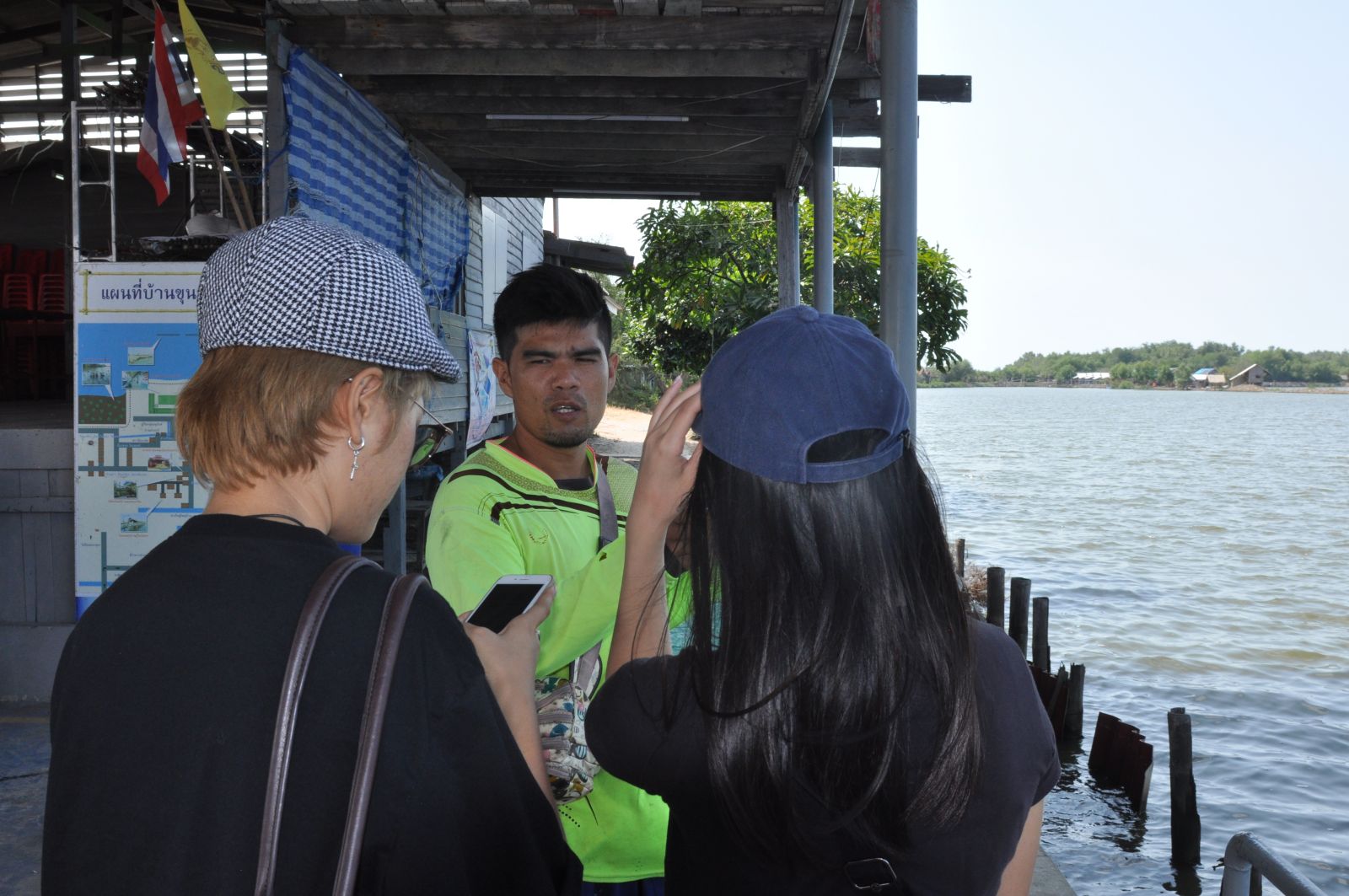 Patpong talks with Chulalongkorn students
Three years ago Khun Samut Chin villagers started testing a retaining wall made with bamboos poles. They found the land slowly increased behind the walls of bamboo. Now, they hope to expand those bamboos walls. But first they need funds to pay for it. The bamboo walls, however, cost less to build compared to previous efforts, including concrete pillars. Sunk into the coastal mud three deep those concrete pillars, including one test wall built by Chulalongkorn University, have done a good job. But they have proven prohibitively expensive for the coastal communities.
Using bamboo has the added advantage that no costly machines are needed, which would drive up the cost further. The current bamboo retaining wall is three kilometres long and five acres of mangrove forest have taken root behind it. Ideally villagers said they want to build a total of 14 kilometres of bamboo retaining wall.
"Since the concrete pillars were erected, the erosion around Khun Samut Chin area and the temple has stopped," said Patpong.
The concrete barrier provided by Chulalongkorn University stopped the waves from directly impacting the shore. The concrete breakwater is a great success, but it only covers a small area. "There was not enough budget from the higher ups to continue the project," said Dr. Thanawat Jarupangsakul, a professor in the Department of Geology at Chulalongkorn University.
The bamboo retaining barrier and planted mangrove behind this has had some success and looks like the best choice at this point, Patpong said. "It was helpful and it reached my house," said Patpong about that bamboo barrier, adding that it was not as strong or as efficient as the concrete breakwater that Chulalongkorn University built, but more affordable.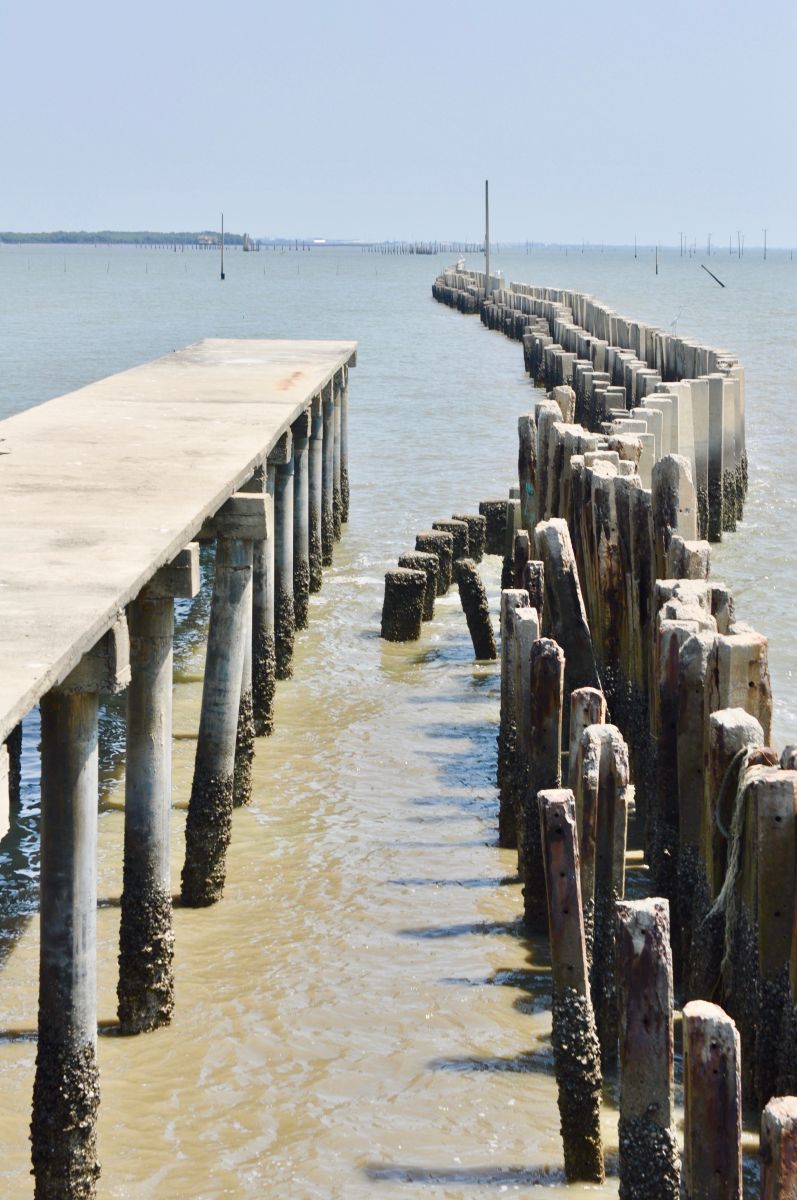 Chulalongkorn's concrete pillars seend from Wat Khun Samut Chin
The problem continues with no totally reliable solution found. Villagers will have to continue to learn to live with the changing situation themselves in hope the government or some organisation will help. Said Samorn, "No one can win against nature, we have to learn to adapt to nature."