The words 'We have to paint passionately!' resonated powerfully when uttered by renowned painter Kartika Affandi to Nunung WS's ears in the 1970s. Kartika Affandi is the daughter of Indonesian bold pioneer abstract painter and a maestro, Affandi. As Nunung remained on her artistic career after completing her studies at the Surabaya Academy of Fine Arts (Aksera), she knew that as a female artist, she would face unique challenges. Kartika believed that to fully embrace the role of a painter, women must overcome the obstacles of juggling responsibilities as wives and mothers. It is through unwavering dedication and artistic consistency that these women can emerge as true artists.
Unveiling a hidden gem in the Indonesian art scene, the exhibition of Nunung WS is set to ignite a creative explosion that will leave audiences astounded and art critics speechless. Amidst the vast landscape of artistic talents, Nunung's name has remained relatively unseen, overshadowed by more prominent figures. However, this long-awaited exhibition is poised to change that narrative, thrusting her into the spotlight and captivating audiences with her mesmerizing artistic prowess. Nunung WS found inspiration and guidance not only from Kartika Affandi but also from Indonesian abstract master, Nashar. During the 1970s, when Nunung first showcased her paintings at the esteemed Taman Ismail Marzuki (TIM) in Jakarta, a cultural center at the time, Nashar instilled in her the belief that painting and exhibiting were the keys to becoming a true artist.
Throughout the decades, Nunung WS has remained dedicated and productive as a painter, even as she enters her seventh decade of life. Her remarkable collection, spanning nearly six decades, is currently on display in the exhibition "The Spirit Within" organized by D'Gallerie at the Indonesian National Gallery until June 26, 2023.
Nunung's career as a painter began in the early 1970s and has witnessed the creation of numerous remarkable works. From her consistent artistic approach to the incorporation of various expressive styles, her artistic evolution is evident. The retrospective exhibition, "The Spirit Within," showcases not only her previous works but also her latest pieces created between 2020 and 2023, representing a crucial phase in Nunung's artistic journey.
During this period, Nunung embraced a spiritual expressive style, employing carefully selected layers of colors that evoke a sense of ambiance and ethereality. Her works, such as "White Folds on Amber" (2020), "July Moon Painting" (2021), and "Red Fold on Black" (2022), demonstrate her penchant for incorporating concrete objects, like paper, to create a transparent effect and explore the allure of folds.
Nunung also explored into the juxtaposition of colors commonly found in woven compositions, using them to create captivating contrasts in her paintings. Noteworthy works from this exploration include "Dimension of Weave #1" (2021), "Red Painting" (2020), and "Dimension of Weave #3" (2022).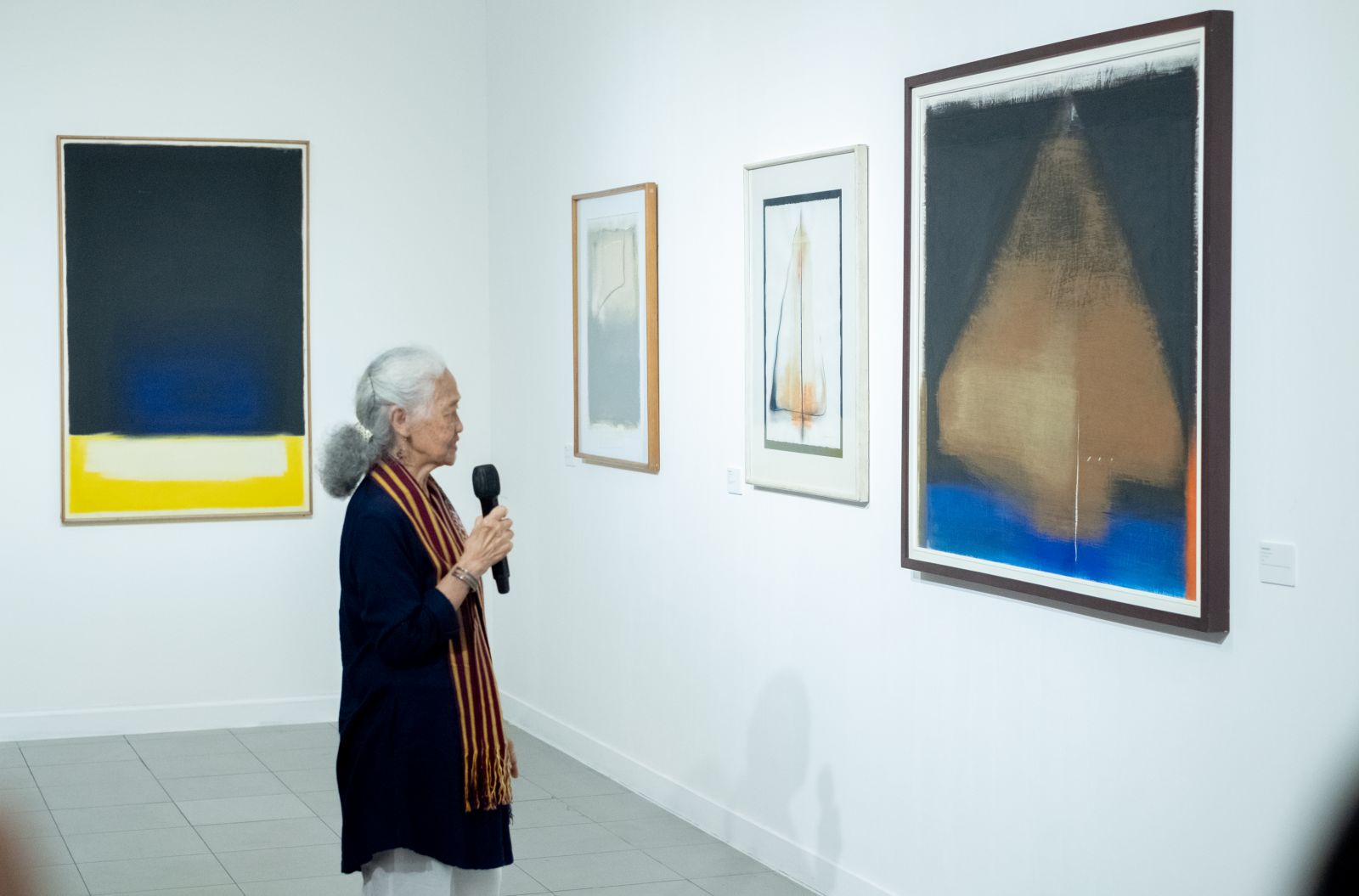 Nunung WS speaks about her works at the Opening of "The Spirit Within" exhibition, at the Indonesia National Gallery, Jakarta. © Rangga Kusuma
A Versatile Artistic Journey
Before embracing abstract art, Nunung explored various painting styles, each serving as a unique chapter in her artistic odyssey. Initially, she drew inspiration from the natural surroundings, simplifying objects and scenes in a free-spirited manner. Her foray into lyrical painting, characterized by expressive brushwork and efficient use of Chinese ink, charcoal, and watercolor or acrylic on paper, can be witnessed in notable works like "Beginning of the Journey" (1977) and "Flowers in the Garden" (1978).
Later in her career, Nunung deemed on a gestural expression phase, characterized by vibrant and expressive brushstrokes. She gradually distanced herself from figurative depictions, focusing instead on the exploration of color. Inspired by the distinctive styles of Arabic, Japanese, and Chinese calligraphy, her brushwork became increasingly expressive, vibrant, and serene.
Nunung WS boarded on the path of abstract art driven by a fascination with the simplicity of visualizing objects as references. Her satisfaction lies in the act of simplification itself, as it enables her to break free from the constraints of object-bound art. Instead, she strives to achieve total understanding and abstract forms, expressing her art solely through the medium of colors. For Nunung, abstract art represents an extraordinary and spiritual journey.
Exhibition curator Chabib Duta Hapsoro expressed that Nunung could be considered the only female artist in Indonesia who explores the field of colour in her artwork. "Nunung's expression or artwork contributes to the visual treasury of Indonesian abstract art," he stated.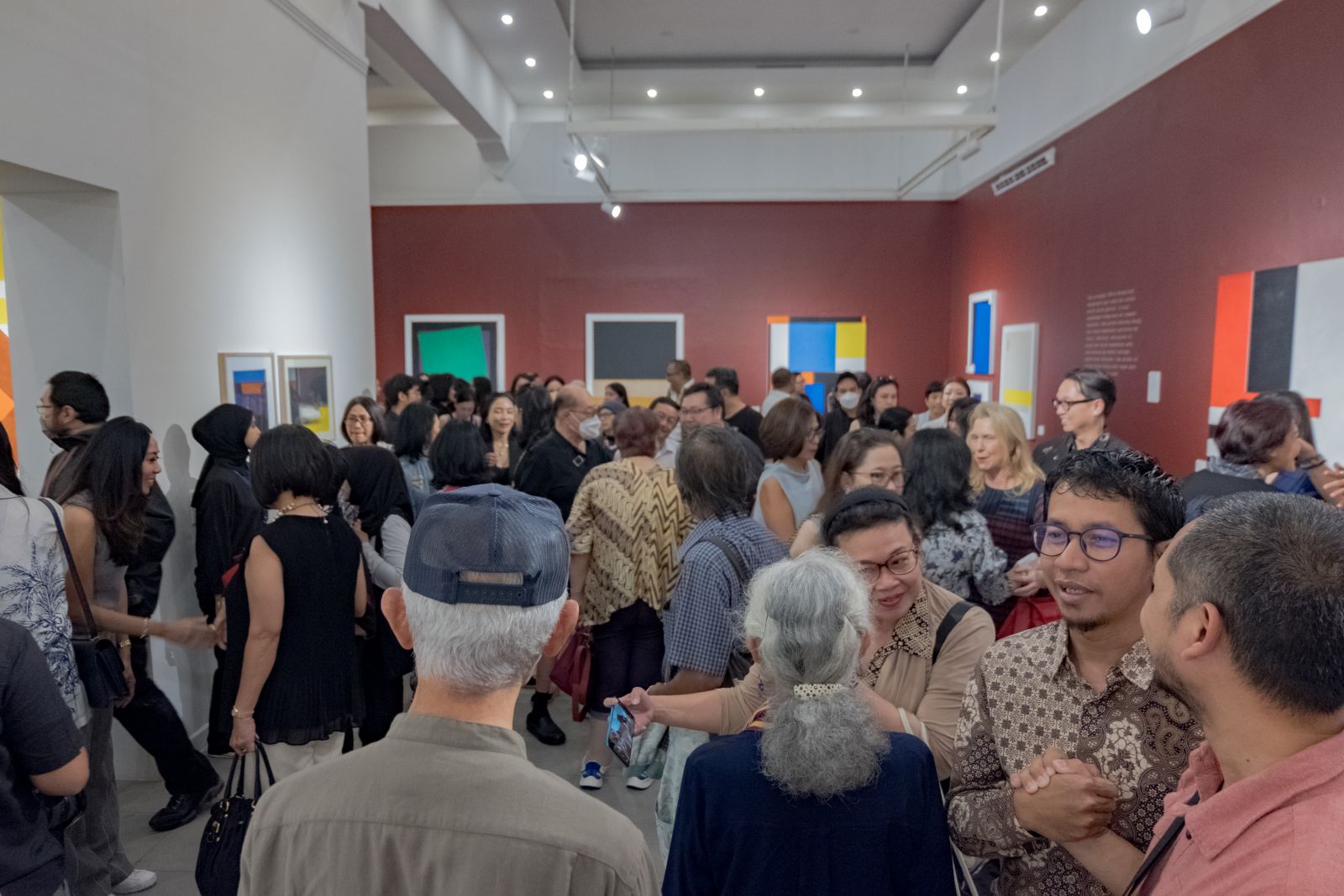 The crowds at the opening ceremony of "The Spirit Within". © Rangga Kusuma
One of the highlighted paintings is titled "Verzon." This painting is created using acrylic paint on canvas. The artwork, measuring 10.5 meters in length, is divided into seven panels, each measuring 150 centimeters by 150 centimeters. Nunung explained that she divided it into seven panels because it was not feasible to work on it all at once in her home. The painting, predominantly in black and white, depicts the Borobudur Temple. There are numerous horizontal lines resembling rectangular shapes in various colors such as gray, blue, green, and red. At first glance, the painting may seem far from the expected representation of Borobudur's form. Nunung also shares her affinity for the Borobudur Temple, a subject she has been studying since the 1980s. Through careful observation and contemplation, Nunung has discovered a transcendental space within the temple. This space is believed to be a result of the connection between the Creator and humanity, embodying divine elements.
Nunung's decision to focus on and explore abstract painting stems from her desire to engage the audience beyond mere visual appreciation. She wishes to offer insight into the process of creating her artworks, encouraging viewers to comprehend the essence behind each piece. Her long involvement with the abstract is a bystander to her unwavering dedication and passion for philosophy. From her early exploration of natural scenes to her captivating abstract works, Nunung's evolution as an artist is a true reflection of her artistic spirit. The exhibition "The Spirit Within" not only celebrates her past achievements but also presents her latest creations, inviting viewers to lodge on a remarkable artistic voyage filled with a bold statement as an Indonesian woman artist.[]
Enable GingerCannot connect to Ginger Check your internet connection
or reload the browserDisable in this text fieldRephraseRephrase current sentenceEdit in Ginger×
Enable GingerCannot connect to Ginger Check your internet connection
or reload the browserDisable in this text fieldRephraseRephrase current sentenceEdit in Ginger×