Fostering Bilateral Relations between Thailand and the Philippines Post Covid
HE Mrs Millicent Cruz Paredes, ambassador of the Republic of the Philippines to the Kingdom of Thailand and Permanent Representative to UNESCAP, arrived in Thailand in November 2020. Elite+ was recently given the opportunity to interview the ambassador to learn about ThaiPhilippine bilateral relations. Ambassador Paredes joined the Philippine Foreign Service in 1995. Primarily, her diplomatic career was spent serving in various offices of the Department of Foreign Affairs in Manila while her only other foreign posting before Bangkok was in New York.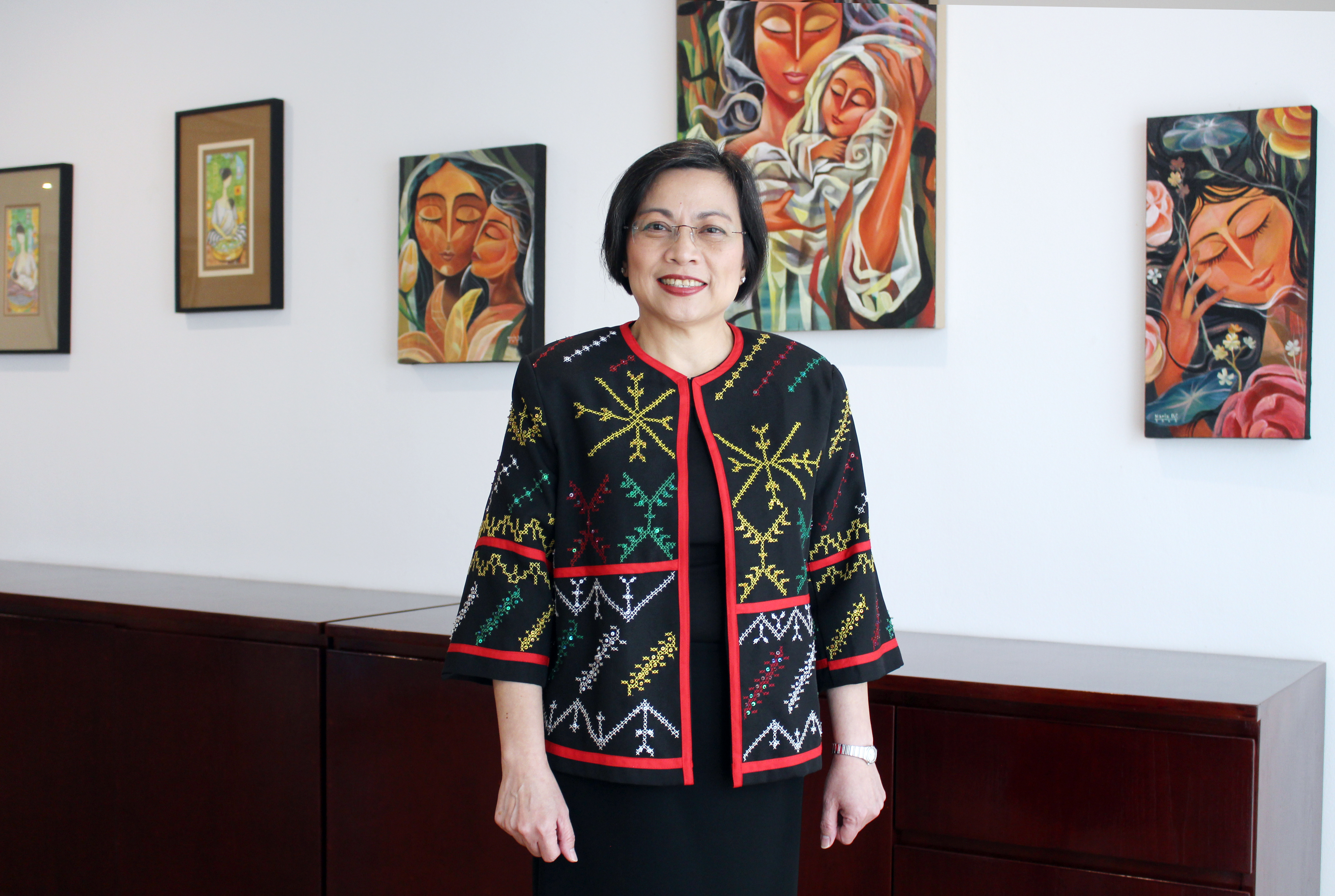 How would you say your 12 years working at the Department of Foreign Affairs as well as your 6-year posting to the Philippine Consulate General in New York prepared you for the ambassadorship to Thailand?
When I was recalled from New York, I saw my two very young children cry with their classmates, teachers and neighbours as they parted. So, my husband and I decided that we should not subject our young family to the pressure of constantly being uprooted. For the next 12 years, we stayed in Manila where I served in various capacities at the Home Office, with significant exposure to both substantive and administrative work. I was even pulled out of maternity leave following the birth of our third child to serve as the assistant secretary for fiscal management, which posed an enormous challenge, given my heavy workload and a new-born infant to care for.
Afterwards, I served as the deputy chair of the APEC Senior Officials' Meeting (SOM) during the year-long APEC chairmanship of the Philippines in 2015, and in 2016, as the APEC chair of the Budget and Management Committee. The insights I gained from these exposures have been quite useful since I became the ambassador to Thailand, particularly when Thailand assumed the chairmanship and hosted APEC in 2022. This helped me to prepare and support a successful Philippine participation, particular as President Ferdinand R Marcos, Jr had just assumed office in July of that year.
Just before being posted to Thailand, I served as the chief coordinator of the Secretary of Foreign Affairs. Prior to that, I was the assistant secretary for Asian and Pacific Affairs that encompassed a jurisdiction stretching from Kazakhstan in central Asia to the Pacific Island nation of Kiribati. The purview of the Office includes Thailand along with the rest of ASEAN and its important dialogue partners such as China, Japan and the Republic of Korea, India, Australia and New Zealand.
As you arrived in Thailand during the height of the Covid-19 pandemic, how difficult was it for you to perform your duties and what have you been doing since Thailand has removed virtually all restrictions?
Just to get to Bangkok from Manila was a major challenge. International flights were very limited, and the required RTPCR test was not so accessible then. Finally, on 4 November 2020, I arrived in Thailand's capital with my then 11-year-old daughter, and we were the lone passengers in the whole plane. Now, we maintain two households, with my husband staying in Manila with our older daughter and son, and myself in Bangkok with our youngest daughter.
What are your roles and responsibilities as your country's permanent representative to UNESCAP?
The Philippine Embassy in Bangkok is the de facto permanent mission to UNESCAP. As the permanent representative, I lead the Philippine representation in ESCAP meetings. Recently, I was head of the Philippine delegation to the main ESCAP meeting of the year. Together with my team, I work with our government colleagues to ensure a meaningful Philippine participation and membership in the organisation.
As the Philippine ambassador, how involved are you in ASEAN matters?
ASEAN policy and decision-making and engagement are led by the respective ASEAN capitals and permanent missions to ASEAN in Jakarta.
As a Philippine ambassador to an ASEAN member state, I support our ASEAN experts in the Philippine government as appropriate. I have a very good relationship with my fellow ASEAN ambassadors in Bangkok as well as the Thai Ministry of Foreign Affairs. Our strong network reinforces our ASEAN bonds, which is valuable to our bilateral and multilateral relations. ASEAN member states support each other even beyond ASEAN.
Next year, on 14 June, two days after your country's Independence Day, the Philippines and Thailand will celebrate the 75th anniversary of bilateral relations. What do you have planned to mark these two auspicious occasions?
Next year will be a very significant year for Philippines-Thailand diplomatic relations as 75 years marks a milestone anniversary. We are gearing up for a series of activities that will not only highlight the accomplishments and outcomes of our valued diplomatic ties, but also further open collaborative opportunities. We are hoping to implement joint projects and activities that serve to strengthen our cooperation.
Prior to next year's celebrations, the Philippines will commemorate the 125th Anniversary of the Declaration of Philippine Independence on 12 June 2023. So these are, as you said, auspicious occasions, and we are quite happy to now be able to hold celebratory activities again.
Could you now tell us about the bilateral trade relationship between the Philippines and Thailand?
The Philippines and Thailand share not only strong cultural and historical ties, but have also been important trade and business partners for years.
In 2022, Thailand was the Philippines' eighth major trading partner out of 231 countries, our sixth export market out of 213 and seventh import supplier out of 216. Last year, among ASEAN members, Thailand was the Philippine's third trading partner after Singapore and Indonesia. Major imports from Thailand are motor vehicles while top Philippine exports motor vehicles parts and components as well as electronics and semiconductors.
Aside from this robust bilateral trade, Thailand has been one of the Philippines' major investors for the past decades. In the same way, Philippine companies have also been investing in Thailand as well as regional markets.
Aside from agriculture and food, Thai companies are also investing in strategic areas such as logistics and packaging. We welcome these investments as they play an important role in developing Philippine industries, filling value chain gaps and diversifying Philippine exports
What advice would you give Thai entrepreneurs who may be interested in trading with or investing in the Philippines?
We welcome Thai businesses to the Philippines as a manufacturing base for domestic demand and as a market for their products and services. The Philippines is home to more than 100 million consumers, with a growing middle class, and the country remains a consumer-driven economy. The Philippines has a vast supply of young, well-trained, sophisticated and English speaking workforce, with a young median age at 24.5 years.
How big would you say the Filipino community is in Thailand, and what businesses are they involved in?
The number of Filipino nationals residing in Thailand is estimated to be around 28,000, most of whom are in the teaching profession as well as the hospitality and service industries.
Philippine companies in Thailand are engaged in the manufacture and production of food, snacks and confectionery, beverages and pharmaceutical products, catering not only to the domestic market, but also for global exports.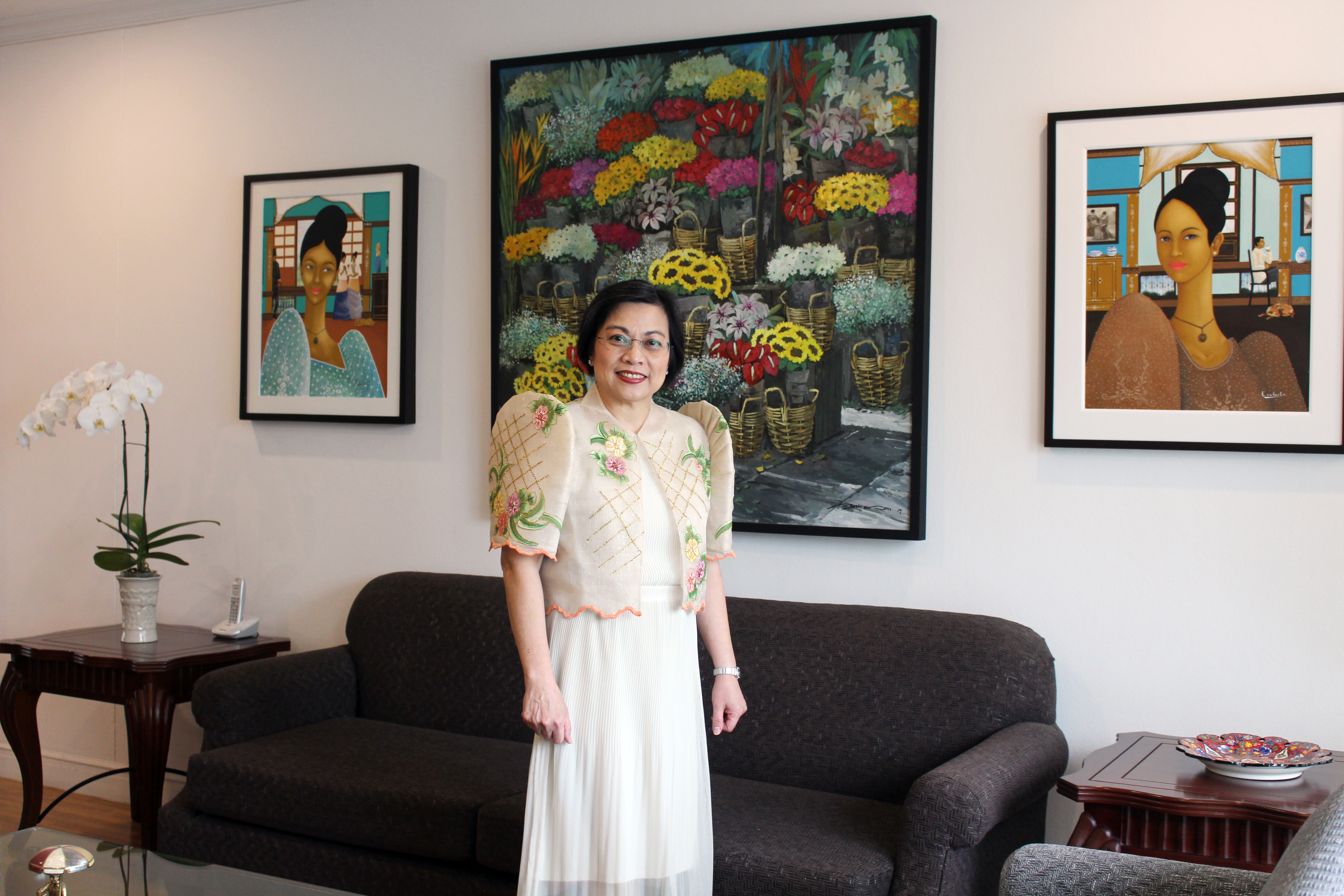 As you have now spent over two years in Thailand, what has impressed you most about the country and its culture?
Thailand is a delightful country that has a lot of similarities with the Philippines, including the warm, friendly and welcoming people, the rich culture, delectable food, beautiful beaches and other captivating sights and experiences. Even the weather is very similar, and Filipinos and Thais look alike. I have always felt welcomed in Thailand, from the time I was a junior diplomat attending meetings here until now that I am the ambassador of the Philippines.
I have travelled around the country, meeting and bringing services to Filipinos, meeting with Thai officials and receptive locals while learning about their vibrant communities. I always make it a point to thank Thai officials for taking care of the Filipino community, and I take pride in the Thai's appreciation of the valuable contributions Filipinos have made to the overall development of the Kingdom.
The places I have visited include Chiang Mai, Phuket, Khon Kaen, Surat Thani, Krabi, Phang Nga, Rayong, Udon Thani, Lop Buri, Ayutthaya, Hua Hin, Nongbua Lamphu, Pattani and Songkla. I always try to relish the local sights and offerings such as parasailing in Phuket, beach cleaning and releasing turtles in Phang Nga, a beach marathon in Krabi, firefly watching from a boat in Surat Thani, travelling back in time among the ruins of Ayutthaya, horseback riding along the beach of Hua Hin, scarf eco printing in Nong Bua Lamphu, cruising through the Red Lotus Lake in Udon Thani, exploring the mangroves of Songkla or simply walking the streets of Bangkok or, sometimes, zipping along on the back of a motorcycle taxi. Each is an experience I remember with fondness.
To conclude, do you have any final thoughts you would like to share with our readers?
When I was about eight years old, my father, who was a mechanical engineering professor at the University of the Philippines, introduced to the family his Thai student by the name of Mu. Along with my mother, who was a university medical doctor, my father accorded him special treatment, and he became like a member of our family. He did his bachelor's and master's degrees in mechanical engineering under my father's tutelage and after graduation, was briefly employed by my father in one of his renewable energy research projects. At the university, Mu met and fell in love with a female Thai student by the name of Su. He introduced Su to the family, and they both became very close to us. Mu and Su have since called my parents Nanay and Tatay, or in the Filipino language, mother and father. They went home after graduation to marry. As a young girl, I was fortunate to be part of a loving family relationship with Thai people. We have remained close, even now after Mu and Su have retired and I am the Philippine ambassador to Thailand.