The cuisine of Kazakhstan has been influenced by the nomadic lifestyle of the region as well as by the country's geography and climate. I sat down with Madame Assemgul Issetova, spouse of Ambassador of Kazakhstan to Thailand H.E. Mr.Arman Issetov, to learn about their food culture.
Madame Assemgul Issetova
Madame Assemgul began by saying, "Traditional Kazakh cuisine reflects our nomadic heritage. Throughout history, Kazakhs have predominantly led a pastoral lifestyle, tending horses, sheep, cows and camels. These animals served as vital resources for transportation, clothing and sustenance, thus, influencing the cooking techniques and preservation methods developed by the Kazakhs to accommodate their nomadic way of life. The ability to produce portable and long-lasting food held great significance for the Kazakhs. Their culinary practices needed to ensure that food could endure extended periods on the move, leading to the necessity of salting and drying meat. To enhance its shelf life, milk was intentionally soured while boiling emerged as the most practical and widely employed cooking method."
Given the challenges of cultivating crops in a nomadic environment, meat has always constituted a substantial portion of the Kazakh diet. Mutton and beef were commonly consumed as everyday sustenance while horse and meat were reserved for festive occasions. Horse and mutton stand out as the most favoured sources of protein in Kazakh cuisine and prominently feature in numerous dishes, including Beshbarmak, which is considered the national dish of Kazakhstan.
Kazakh cuisine is gaining popularity all over the world. Madame Assemgul proudly shared, "Many gourmets know Kazakh cuisine as it has earned international recognition. For example, in 2017, Astana, the capital of Kazakhstan, hosted Expo 2017, where the pavilion 'Food and Agriculture' was presented Kazakh cuisine and food products. Today, Kazakh cuisine is found in major cities around the world such as Kuala Lumpur, London, Moscow, New York and Paris as well as in Pattaya at Caravan restaurant. Although Kazakh cuisine may not be as widely known as other cuisines, it is gaining recognition and appreciation among culinary enthusiasts around the world."
Madame Assemgul Issetova
Madame Assemgul explained that food culture in Kazakhstan is centred around hospitality and sharing meals with family and friends. "Traditional Kazakh cuisine is simple and hearty, consisting mainly of meat, dairy products and grains. These foods have always been easily accessible to nomads who have relied on them for sustenance during their travels."
"Kazakh cuisine is heavily meat-centric, with beef, mutton, horse meat as the most popular ingredients. Well-known meat-based Kazakh dishes include 'beshbarmak', meat with addition of rolled dough, 'kazy', meat sausage with horse fat, and 'shuzhuk', dried sausage.
At the same time, they enjoy many dairy dishes, like 'kurt', dried salty cheese balls, kumys', fermented mare's milk, 'zhent', fried millet with cottage cheese and sugar, 'irmishik', a national sweet made with cottage cheese, 'ayran', a sour milk drink and 'shubat', camel milk. The nomads also drank fermented mare's milk, 'kumys', which remains popular today."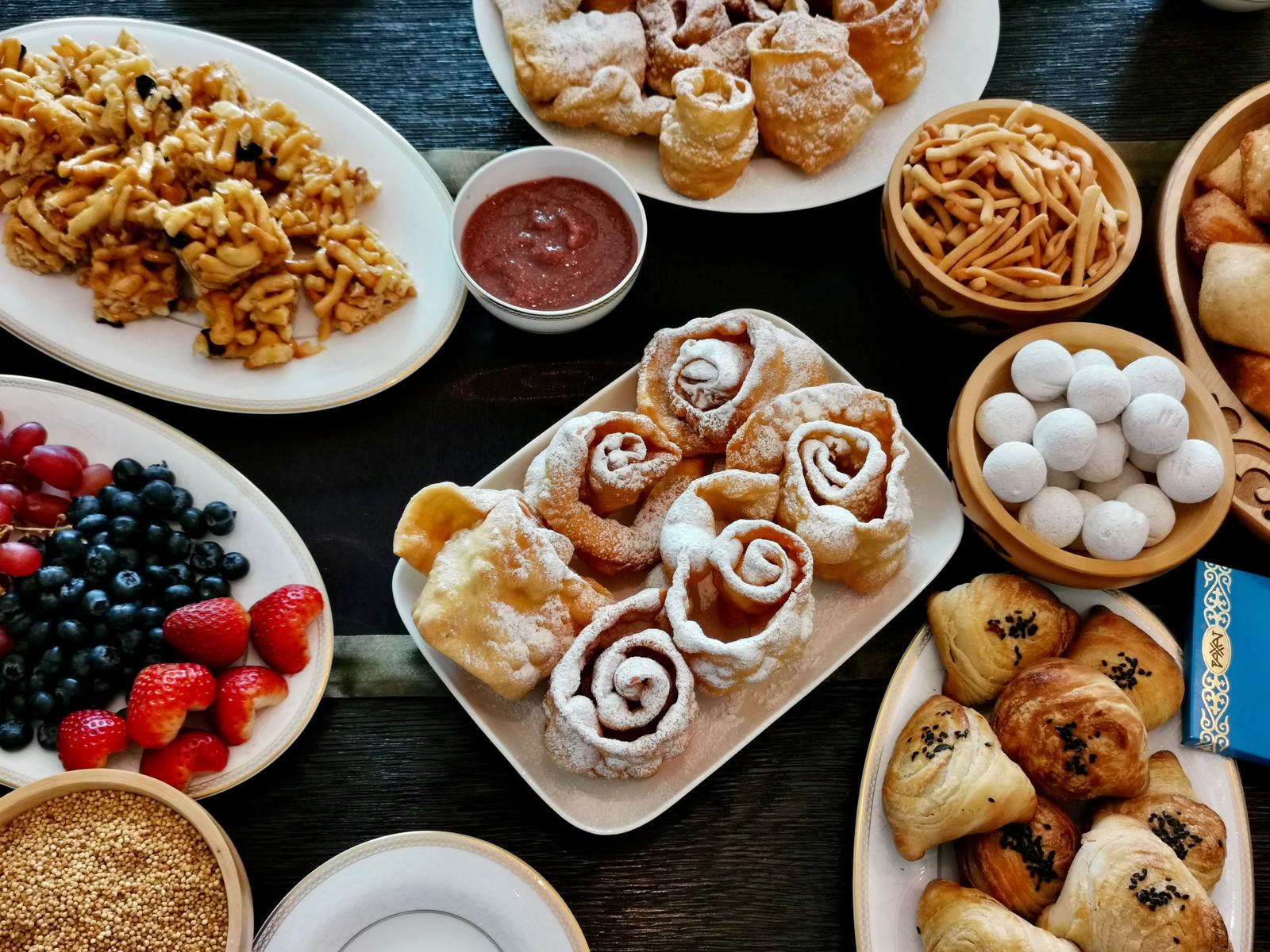 Key Representative dishes
'Beshbarmak' is the national dish of Kazakhstan, with different meats, typically made with lamb or beef, with addition of rolled dough and served with onion sauce.
Real Kazakh delicacies are 'Kazy', 'Qarta' and 'Shuzhuk. which are sausages made from horse fat and meat, usually served sliced and cold, and often accompanied by bread and cheese, or served with 'beshbarmak'.
'Kuyrdak' is roasted offal, most often lamb liver, lungs and kidneys, with potatoes and onions, usually prepared immediately after slaughtering sheep.
'Nauryz Kozhe', is traditional food for Nauryz holidays. This dish combines seven ingredients: smoked meat, milk, millet, wheat, corn, water and butter.
'Baursak' refers to a Kasakh, fluffy fried bread pieces. Essentially, they can be described as Central Asian-style donuts made from a mixture of flour, yeast, eggs, milk, water, sugar, salt and vegetable oil. Typically shaped into triangles or spheres, they are commonly served alongside tea and enjoyed as a dessert, often accompanied by sugar, honey or butter.
'Shelpek' is fried bread that is commonly consumed all around the region.
'Kymyz' is a traditional Kazakh drink made from fermented mare's milk. It has a slightly sour taste and is considered to have many health benefits.
'Talqan' is a unique Kazakh sweet made from roasted coarse wheat and served with butter or soar cream/milk and sugar. Another Kazakh sweet is 'zhent'.
'Shalap' is a fermented beverage crafted using water, salt and either 'qatiq', yogurt' or' kurt'. In the past, it was commonly prepared with regular water, but contemporary variations often use carbonated water instead.
As said earlier, Kazakhstan's cuisine is a reflection of its nomadic, religion and cultural history, which in addition to Kazakh includes neighbouring countries' cuisine.
In more recent years, Kazakhstan's cuisine has been influenced by other cultures due to globalization and increased migration. Madame Assemgul has witnessed a change, saying, "Visitors can now find a wide range of cuisine in Kazakhstan, including Russian, Chinese,Korean and Uzbek dishes. There has also been a growing trend towards healthier and more diverse diets, with emphasis on vegetables, fruits and grains.
Despite these changes, traditional Kazakh dishes still remain popular and are an important part of the country's cultural heritage. In recent years, there has been a renewed interest in preserving and promoting traditional Kazakh cuisine, and efforts are being made to document and promote traditional recipes and cooking techniques."
Enable Ginger
Cannot connect to Ginger Check your internet connection
or reload the browserDisable in this text fieldRephraseRephrase current sentenceEdit in Ginger×
Enable GingerCannot connect to Ginger Check your internet connection
or reload the browserDisable in this text fieldRephraseRephrase current sentenceEdit in Ginger×
Enable GingerCannot connect to Ginger Check your internet connection
or reload the browserDisable in this text fieldRephraseRephrase current sentenceEdit in Ginger×
Enable GingerCannot connect to Ginger Check your internet connection
or reload the browserDisable in this text fieldRephraseRephrase current sentenceEdit in Ginger×
Enable GingerCannot connect to Ginger Check your internet connection
or reload the browserDisable in this text fieldRephraseRephrase current sentenceEdit in Ginger×
Enable GingerCannot connect to Ginger Check your internet connection
or reload the browserDisable in this text fieldRephraseRephrase current sentenceEdit in Ginger×
Enable GingerCannot connect to Ginger Check your internet connection
or reload the browserDisable in this text fieldRephraseRephrase current sentenceEdit in Ginger×
Enable GingerCannot connect to Ginger Check your internet connection
or reload the browserDisable in this text fieldRephraseRephrase current sentenceEdit in Ginger×
Enable GingerCannot connect to Ginger Check your internet connection
or reload the browserDisable in this text fieldRephraseRephrase current sentenceEdit in Ginger×
Enable GingerCannot connect to Ginger Check your internet connection
or reload the browserDisable in this text fieldRephraseRephrase current sentenceEdit in Ginger×
Enable GingerCannot connect to Ginger Check your internet connection
or reload the browserDisable in this text fieldRephraseRephrase current sentenceEdit in Ginger×
Enable GingerCannot connect to Ginger Check your internet connection
or reload the browserDisable in this text fieldRephraseRephrase current sentenceEdit in Ginger×
Enable GingerCannot connect to Ginger Check your internet connection
or reload the browserDisable in this text fieldRephraseRephrase current sentenceEdit in Ginger×
Enable GingerCannot connect to Ginger Check your internet connection
or reload the browserDisable in this text fieldRephraseRephrase current sentenceEdit in Ginger×
Enable GingerCannot connect to Ginger Check your internet connection
or reload the browserDisable in this text fieldRephraseRephrase current sentenceEdit in Ginger×
Enable GingerCannot connect to Ginger Check your internet connection
or reload the browserDisable in this text fieldRephraseRephrase current sentenceEdit in Ginger×
Enable GingerCannot connect to Ginger Check your internet connection
or reload the browserDisable in this text fieldRephraseRephrase current sentenceEdit in Ginger×
Enable GingerCannot connect to Ginger Check your internet connection
or reload the browserDisable in this text fieldRephraseRephrase current sentenceEdit in Ginger×
Enable GingerCannot connect to Ginger Check your internet connection
or reload the browserDisable in this text fieldRephraseRephrase current sentenceEdit in Ginger×
Enable GingerCannot connect to Ginger Check your internet connection
or reload the browserDisable in this text fieldRephraseRephrase current sentenceEdit in Ginger×
Enable GingerCannot connect to Ginger Check your internet connection
or reload the browserDisable in this text fieldRephraseRephrase current sentenceEdit in Ginger×
Enable GingerCannot connect to Ginger Check your internet connection
or reload the browserDisable in this text fieldRephraseRephrase current sentenceEdit in Ginger×
Enable GingerCannot connect to Ginger Check your internet connection
or reload the browserDisable in this text fieldRephraseRephrase current sentenceEdit in Ginger×
Enable GingerCannot connect to Ginger Check your internet connection
or reload the browserDisable in this text fieldRephraseRephrase current sentenceEdit in Ginger×
Enable GingerCannot connect to Ginger Check your internet connection
or reload the browserDisable in this text fieldRephraseRephrase current sentenceEdit in Ginger×
Enable GingerCannot connect to Ginger Check your internet connection
or reload the browserDisable in this text fieldRephraseRephrase current sentenceEdit in Ginger×
Enable GingerCannot connect to Ginger Check your internet connection
or reload the browserDisable in this text fieldRephraseRephrase current sentenceEdit in Ginger×
Enable GingerCannot connect to Ginger Check your internet connection
or reload the browserDisable in this text fieldRephraseRephrase current sentenceEdit in Ginger×
Enable GingerCannot connect to Ginger Check your internet connection
or reload the browserDisable in this text fieldRephraseRephrase current sentenceEdit in Ginger×
Enable GingerCannot connect to Ginger Check your internet connection
or reload the browserDisable in this text fieldRephraseRephrase current sentenceEdit in Ginger×
Enable GingerCannot connect to Ginger Check your internet connection
or reload the browserDisable in this text fieldRephraseRephrase current sentenceEdit in Ginger×
Enable GingerCannot connect to Ginger Check your internet connection
or reload the browserDisable in this text fieldRephraseRephrase current sentenceEdit in Ginger×
Enable GingerCannot connect to Ginger Check your internet connection
or reload the browserDisable in this text fieldRephraseRephrase current sentenceEdit in Ginger×
Enable GingerCannot connect to Ginger Check your internet connection
or reload the browserDisable in this text fieldRephraseRephrase current sentenceEdit in Ginger×