A white colonial mansion from a bygone era appeared before us as we arrived at Sala Sudasiri Sobha. Walking through the building's ground floor, we entered the complex that houses the residence of Nat and Pawongduen (Sugar) Yontararak, and Nat Studio, their private piano school. We were asked to wait in a lovely lush green courtyard encompassed by a white corridor decorated with elaborate floral perforated wood designs, a place that felt far removed from the bustle of Bangkok beyond the wall. Nat, a renowned classical Thai pianist and composer, arrived with Sugar, a talented singer and dancer bearing the graceful movements of a former actress.
The couple run Sala Sudasiri Sobha, a small and intimate concert hall featuring Sunday evening performances by local and international musicians, under the concept "a concert hall where you can feel at home". They are also involved in several charity projects. In their courtyard they told us how the Sala started, the philosophy they lead their lives by and some of their stories of life en rose.
After the interview, Nat and Sugar gave us tour around the Sala, showing us the function rooms and the 250-person reception hall where audiences eat and socialize after concerts. In the concert hall, the couple and their three children performed songs including Longing for You sung by Sugar. The atmosphere in the 190-seat hall felt intimate, as today there was nobody but us and the musicians. We were entranced by Sugar's sweet voice, and carried away by Nat's melodic piano playing.
For those who don't know you, can you tell us where you're from and about your families?
Sugar: I come from Chiang Mai. My maiden name was Na Chiang Mai, belonging to the royal family who ruled the city. My father was a lawyer born in a Christian family. He founded one of the city's most prominent newspapers, A Voice of Chiang Mai.

Nat: Mine is a modest middleclass Christian family from Bangkok. My mother was among the earliest staff at BNH hospital. My father assumed several leading positions in Christian-related organizations. That is why we are the known faces of Bangkok's Christian community. My father played guitar and mouth organ. The Christian community, church and music have always been my environment.
How did you develop a passion for art and music?
Sugar: When I was young, I never thought of acting or singing as something I wanted to do seriously, let alone as a career. My father was a politician and there were hints of the career path he preferred for his girl. I even have a degree in law from Thammasat University. But singing and dancing have always been in my life. It brings me so much joy. When I was a child, my great-aunt gave me traditional Thai dance lessons. I would perform at parties and felt happy knowing the audience appreciated my shows and that I put smiles on their faces.
During the Thammasat years I stayed at a Christian dormitory which had a choir, and I joined. That was my entry to the world of classical music. Acting came along when I got a leading role in a university play, Matthanaphatha. Later I advanced my studies to become a judge but I realized that was not the path I wanted. I got a scholarship to study performing arts at Texas Christian University and took that opportunity. And somewhere in between I got leading roles in movies. I starred in First Wife and Son of the Slave. They were big hits back then.
Nat: I grew up in a house with the sounds of a piano. I asked my cousin to teach me and I learned fast. In school I played piano for the choir. By the age of 12 I started to play for the big congregation at church. At Chulalongkorn University where I got my architecture degree, I was a founding member of the CU Chorus set up in my freshmen year. I did my debut recital during my junior year.
Being a musician was not considered a profession 45 years ago, otherwise I would have studied music. But then, there was no music school in Thailand back then. Just before I graduated, I got to perform for HM Queen Sirikit. She even wanted a record of my songs. When she said I should further my education in music because Thailand needed its own good classical musician, I pursued a master's degree in performance at Goldsmiths, University of London.
Tell us about HRH Sudasiri Sobha, after whom you named the concert hall.
Nat: The princess was a granddaughter of King Rama V. I called her Than Mae, which means mother, because she was like another mother to me. She gave birth to my life as a musician and crafted my life to be the way it is. It started when I was asked to give her electone lessons in my second year at CU. I became very close to her since we saw each other every week. In England she would visit, stay at her residence, let me come over and cooked me delicious Thai food. A lone foreign student like me, I appreciated her company. She bought me a grand piano, a priceless gift. I could not afford one myself. When Sugar and I got married, she gave us her engagement ring. She built us this home and helped us establish Nat Studio. I am so fortunate to receive kindness and love from the royal family.
Back in the day, musicians and artists needed patrons. She was my patron. Without her I would not be here today. I always think of her kind words to me: "You have the talent other people don't. The way you play is very special." I felt so loved.
Sugar: Than Mae was an angel. She was graceful, gentle, kind and full of wisdom. She lived a simple modest lifestyle though she belonged to the royal family. She is always on our mind. Everything we do at the Sala reflects her. We do it because we think this is what she would do if she were here. She gave to and fed people, and so do we.
What are your compositions like?
Nat: My compositions are among the first generation of Thai fusion music: a mix of classical and contemporary or traditional Thai songs. I wanted to show that Thais also have something to offer classical music. I write lots of love songs. My first composition is Longing for You, which Sugar sings so well. Wild Chicken (Kaikaew) and Horse Movements (Asawaleela) were inspired by traditional Thai songs. When HM Queen Sirikit turned 60, I wrote her The Rose of Love, about how sweet and kind she is. I made a compilation of Chakri dynasty kings' compositions, which became the first Thai sonata and has been performed by me 66 times in 11 countries so far. Siam Sonata is fun, themed on traditional music of Thailand's four regions.
For example, when the song reaches the northeastern part, I make the piano sound like the local reed mouth organ. Thais, Awake Thais is patriotic. I composed that in light of the political uprising and protests. It is a 10-minute marching song.
A simple question but perhaps difficult to answer: how do you perceive music?
Sugar: Music is sharing life experiences and feelings through notes and tones. When people respond to what I perform, I know we have merged into one through the medium.
Nat: Music is communication. But to whom? That depends on the occasion. When I play in church, music is my words to God. The music helps people in the service speak to and worship God. Music carries us closer to Him. In a concert hall, I communicate with the audience. It takes another kind of preparation, discipline and concentration to perform. My hope then is to let the music touch people's souls. When it does, I feel accomplished.
What is the mission of Sala Sudasiri Sobha?
Nat: The mission of the Sala is aligned with our life mission, our mission as human beings. It is to give and help other people and we use music as a tool. Our lives are full of blessings. We have lived dreams that we could hardly imagine to be true. I was born in a normal middle-class family, but I have been given the opportunities and privileges of one born in a rich family. We have been given so much by the princess and other people. So we are now helping other people, sharing with them the happiness we have had. Music at Sala Sudasiri Sobha goes beyond itself because it carries the role of helping people.
Sugar: Everything we do here reflects two persons: God and Than Mae. Lives and our music talents are free gifts from God. And He wants us to use them to take care of other people. We are a channel for Him to send His blessings to others.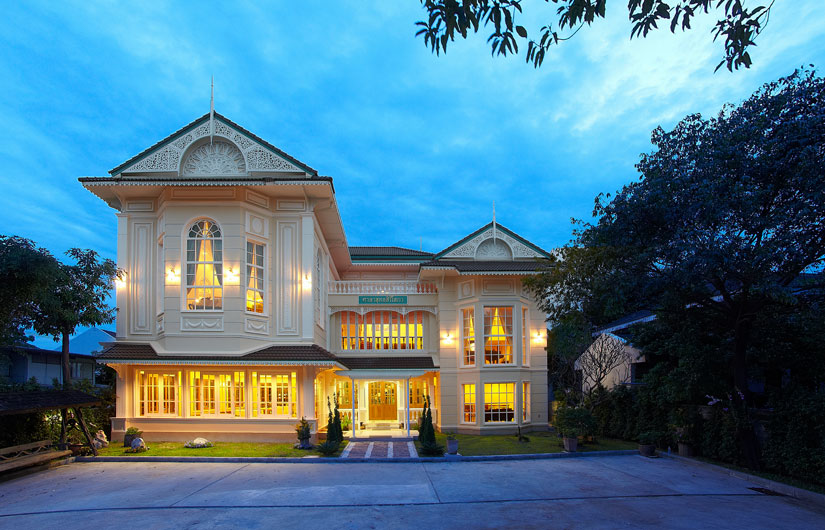 What are some of the charity projects you are involved in?
Nat: We founded the Fund for Young Thai Talents. This gives them chances to become professionals and create networks for them. The musicians stay and perform here.
Sugar: It has been 14 years that I am the chairman of The Gift of Life Foundation, which makes bone marrow and blood stem cell registries. We have saved so many lives in Thailand. I am involved in the Pan Rak Foundation, which partners the Thai Christian Foundation. They improve the lives of ethnic and underprivileged people in remote areas. They also give prostheses and treat cleft palate patients. At the Sala we sell handicrafts made by patients at the Kwai River Christian Hospital and themoney returns to them.
What are the other functions of the Sala?

Nat and Sugar: It serves as a recording studio, accommodation for musicians and a movie theatre with a 4x3 metre screen. Soon the reception hall will become an art gallery. We welcome ideas and are open to all possibilities for people to come, be blessed and pass the blessings to others.
Sala Sudasiri Sobha Concert Hall, 158/20 Lat Phrao 41 Yaek 7-2, Chatuchak, Bangkok; 02-541-8662;
www.salasudasirisobha.com