Pannaphan Yodmanee (b.1988) is currently one of the most well-known emerging Thai artists both domesticly and internationally. Although she's only 29 years old, she has a vast amount of experience displaying her work in international art exhibitions around the world. Pannaphan made her debut as a young Thai artist when her artwork repeatedly received awards from Bualuang Paintings Exhibition, which is considered as one of the most prominent and influential art competitions in Thailand.
She won bronze medals in 2010 as well as 2012, one gold medal in 2013, and another silver medal in 2014. In her recent work, Pannaphan used a technique borrowed from Thai traditional Buddhist murals to create large-scale installation art. Using found objects, concrete and painting to create what looked like ruins of murals, the artist illustrated the concept of change and uncontrollability of all things, including tradition, religion, and art. The series has been displayed at major art exhibitions, such as Thai Charisma at Bangkok Art and Cultural Center in 2014 and Thailand Eye at Saatchi Gallery in London in 2015.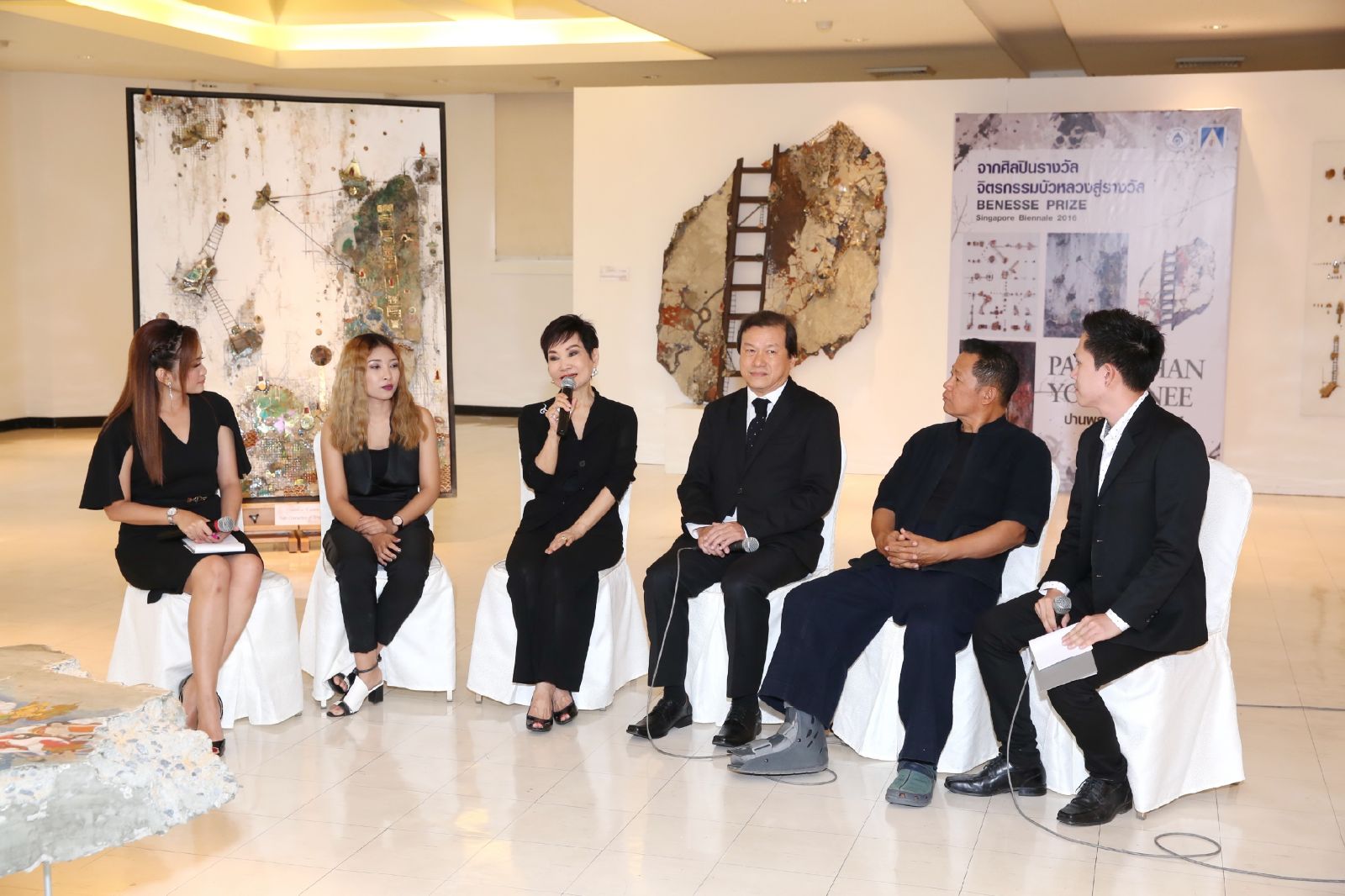 2016 proved to be the biggest year for Pannaphan as she was selected to participate in the Singapore Biennale 2016, one of the most distinguished international contemporary art exhibitions in all of Asia. The Biennale this year featured only 63 artists from 19 countries across Southeast, East, and South Asia. Two other artists from Thailand were featured: Araja Rasdjamrearnsook and Sakarin Krue-Onthere. Both have extensive experience and have also been in the limelight of the international art community for decades. Compared to other artists, Pannaphan was probably among the youngest in the group, however she should not be underestimated.
Pannaphan created a site-specific installation, titled "Aftermath". The installation gave audience members various ways to approach the hidden contents of her work because of how multi-layered and multi-faceted it was. It mixed the traditional with the contemporary. If featured the combination of two-dimensional paintings and three-dimensional objects. Though the installation was of gargantuan proportions, it also featured minute painstaking detail in specific parts. The artwork was characteristic of a young female artist who creates work on a massive scale with techniques which seem to require a great deal of physical labor. The work became very successful as it was awarded the 11th Benesse Prize. The panel of judges consisting of influential museum and institutional professionals gave this comment about Pannaphan's work:
By merging the traditional and the contemporary, Yodmanee creates a unified cartography that chronicles Southeast Asian history. The artist investigates the points of intersection between Buddhist cosmology and modern science, by exploring the concepts of change, loss, devastation and inevitable armageddon.
The Benesse Prize was established in 1995. In the beginning, the award was given at the Venice Biennale. Its past winners include many world famous contemporary artists, such as Chinese artist Cai Guo-Qian (1995), Thailand's Rirkrit Tiravanija (2003), French-Algerian Adel Abdessemed (2007), and Argentinian Adrian Villar Rojas (2011). After two decades since its initiation, this was the first time the prize announced its move to Asia through collaboration with the Singapore Biennale. As the winner, Pannaphan received a cash prize from Benesse as well as a commission to create a work which will be exhibited at the Benesse Art Site Naishima, located on the islands of Naoshima and Teshima in Kagawa Prefecture, Japan.
To congratulate Pannaphan on another step of her international achievement, The Bualuang Foundation has put together an exhibition featuring Pannaphan's work. The event also portrays her as a great example of Thai artists who skillfully weave the traditional and the contemporary, and who creates work that get recognized internationally. It will feature all of Pannaphan's artworks which have previously won Bualuang Paintings Exhibition prizes as well as some new work from her recent series. The exhibition is titled "From Bualuang Paintings Artist to Benesse Prize (Singapore Biennale 2016) by Pannaphan Yodmanee" and will be on view on the 4th floor of The Queen's Gallery on Ratchadamnoen Klang Road, Bangkok, from today until April 27, 2017.