Argentina: Famous for its "Asado" Barbecue and Delicious Cuisine
By Kathleen Pokrud
Photos by Jenny Chan and Teresa Biesty

Since its establishment, Argentina has been a multicultural country very open to immigration, to the extent that even today it continues to be the Latin American country with the greatest proportion of foreigners residing in its territory. Its culinary history has been influenced by the legacy of its indigenous peoples while immigration has expanded the contours of the country's cuisine, and not only European but also Latin American, Asian and African during the last half century. I sat down with HE Ambassador Gustavo A Martino to learn about Argentina's culinary story.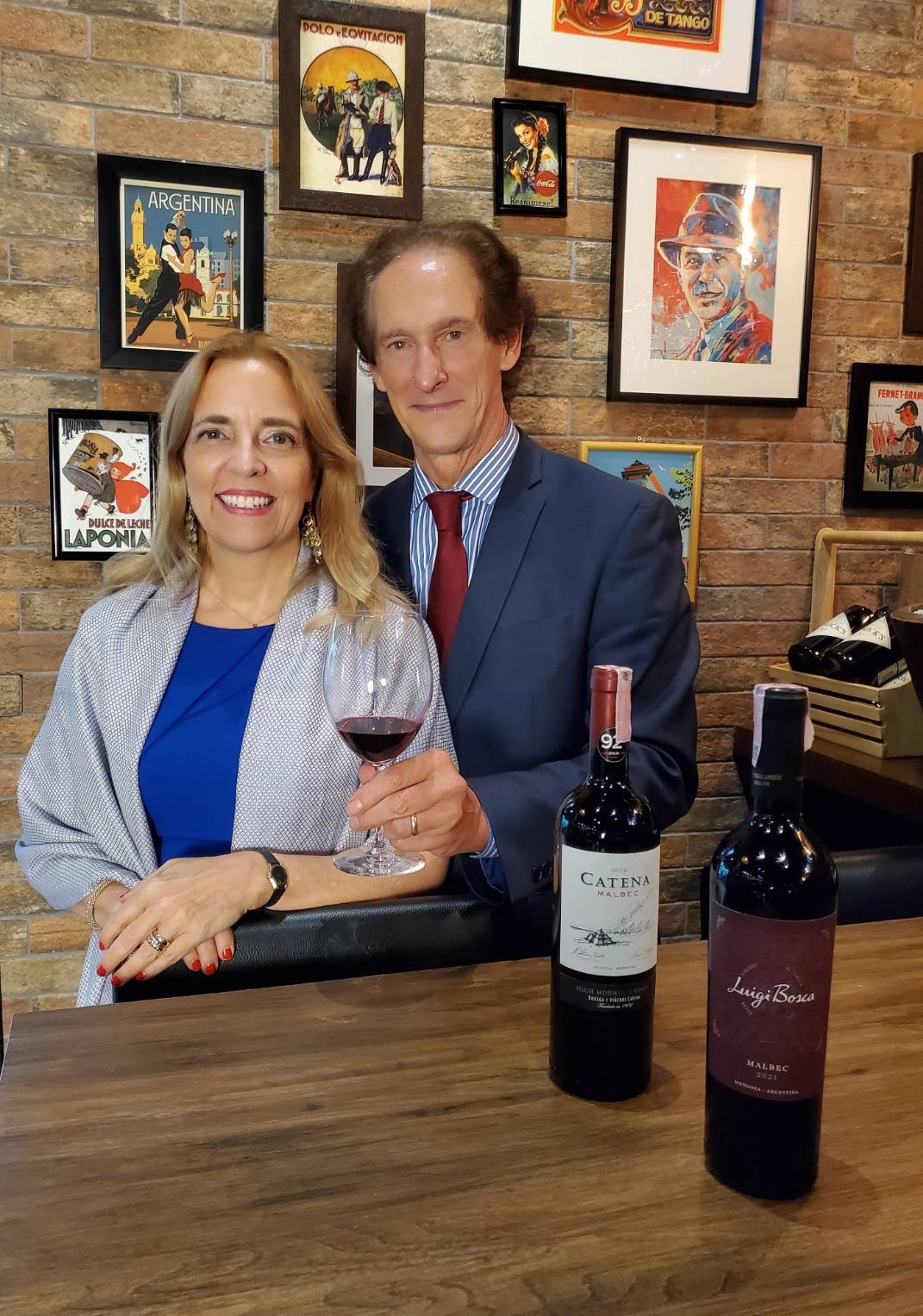 Ambassador Gustavo Martino with his wife, Jennifer Irwin

Ambassador Martino began, "Argentine cuisine is associated with the history of our country, which before the European conquest was initially inhabited by aboriginal peoples. Several of our basic ingredients found in Argentine gastronomy to this day -such as maize, potatoes, beans and yerba mate - come from this period.
"From the late 17th to the 19th century, Spanish colonization took place, when our so-called "criolla cuisine" emerged, comprising staples such as beef, wine and dulce de leche, which strongly shape modern Argentine cuisine.
"Several decades after Argentine independence in 1816, extensive waves of European immigrants, mainly Italians and Spanish, but also Germans, French and Polish, resulted in massive population growth. At the same time, European cuisine such as pasta, pizza and the potato omelette, our tortilla, were incorporated into the local cuisine."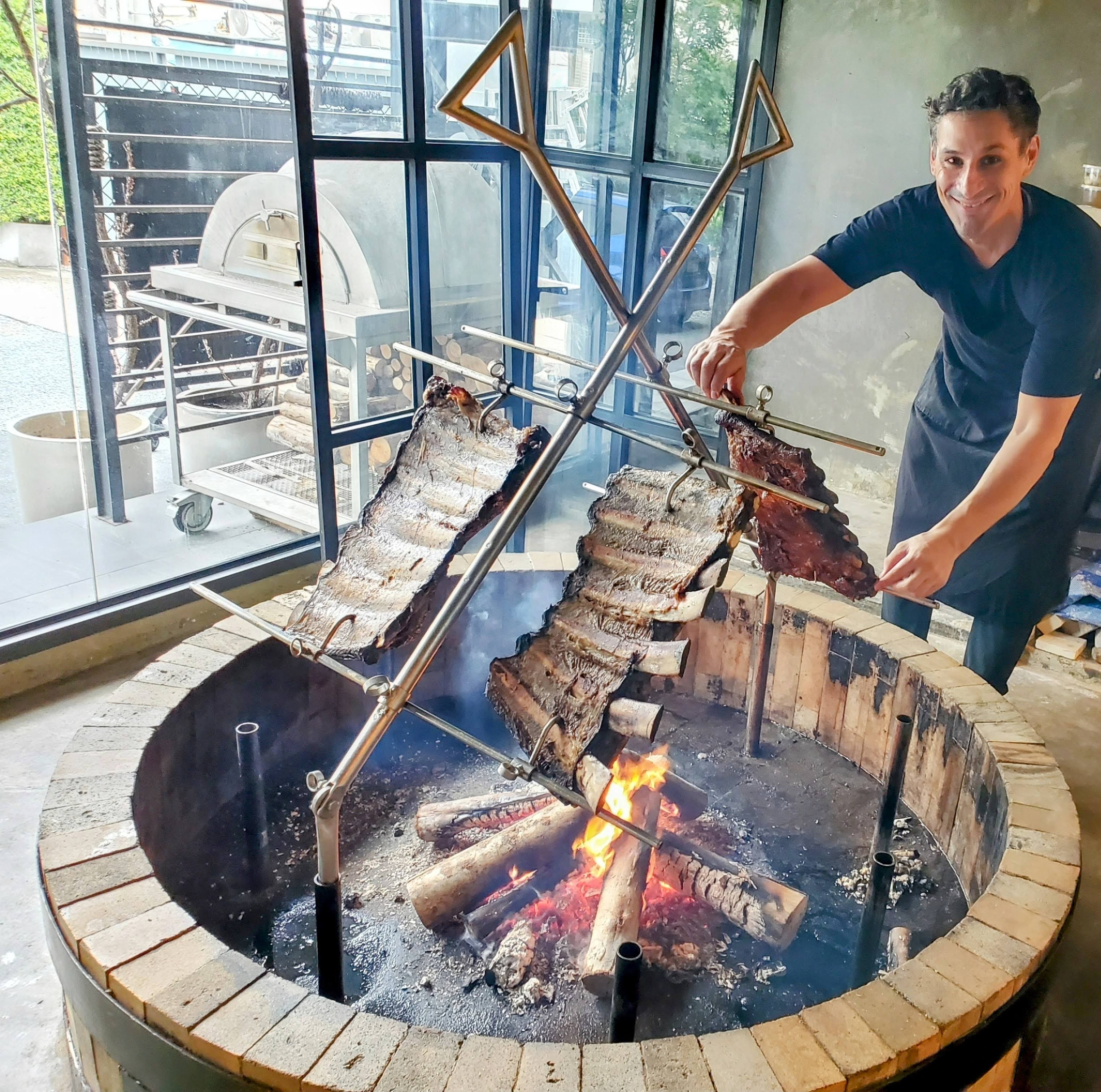 Argentine Chef Sergio Crubelli of Don Asado Restaurant in Bangkok, Thailand
The Ambassador proudly shared, "Argentine cuisine was recently featured as one of the best in the world by the prestigious National Geographic magazine, which placed it in seventh position on a list of the top nine cuisines. The magazine highlighted the 'asado' - the Argentine barbecue - as one of our country's best dishes."
By way of example, Don Julio restaurant, located in Buenos Aires, is now officially the "best steakhouse in the world", according to the "World's 101 Best Steak Restaurants", 2023 edition, where it was voted No. 1.
On the subject of regional dishes, Ambassador Martino elaborated, "Geography is another factor that plays a major role in shaping our gastronomy. Our central zone boasts some of the greatest extensions of fertile land, known as the"Pampas". This is why Argentina has been - and continues to be - well-known as an important agricultural and livestock producer. The most favourite and representative foods such as the asado, empanadas and milanesas can be found in all regions of Argentina. However, there are typical regional dishes or different methods of cooking the same dishes that vary from one region to another. This comes as no surprise in a country which is the eighth largest in the world and made up of 24 provinces with their own identity and diverse traditional recipes."
He enthusiastically continues, "Gastronomy is a part of our culture in which we attach enormous importance to family and friends. Friendship is so important that every 20th of July Argentines celebrate Friend's Day, a day in which we prioritize meeting up with friends to celebrate the value of friendship.

"In this context, let me talk about the culture of "asado" because this method of cooking tasty Argentine meat is also associated with a sort of ceremony that involves family and friends since an "asado" is a time of conversation and connection between people gathered around the BBQ area, savouring the aromas around the fire. Typically, this happens during Sunday lunch.
"The host is in charge of cooking the meat on the "parrilla" (grill), which is usually made of stainless steel and is placed inside an open oven built with bricks called an 'asador', often located in the backyard. Under the "parrilla" are the embers that cook the meat slowly, which leaves the meat juicy inside and out.

"While the host prepares the meat, the "asado ceremony" begins with a 'picada', an appetizer served on a tray or wooden cutting board with a variety of cheeses, sausages and empanadas, paired with a vermouth or wine that the guests enjoy around the 'asador'.

"Eating and enjoying the prepared barbecue is a good occasion for long conversation among all the guests, who then will later linger over desserts and coffee."

Like many Mediterranean countries, Argentines are accustomed to having a late dinner, between 9:00 and 11:00 pm. The European influence is also witnessed in the huge number of coffee shops that you can find on every corner. This 'coffee culture' consists of Argentines agreeing to go for a coffee, but not only with the purpose of drinking coffee but also for getting together to talk.
As our interview drew to a close, Ambassador Martino highlighted two Argentinian products available in Thailand. "Bon-O-Bon, produced by the Argentine candy and confectionary, multinational company, ARCOR, is very well-known here where it has been enjoyed for 10 years. This product is a delicious round candy featuring a creamy milk chocolate exterior filled with hazelnut cream, available in many 7-Eleven stores.
As for Argentine restaurants in Thailand, the most authentic one is Don Asado, in Bangkok, which grills up Argentina's tasty "asado", together with traditional side dishes and delectable desserts."

(A special thanks to Don Asado restaurant in Bangkok, Thailand and its Argentine Chef Sergio Crubelli for preparing all the authentic Argentine dishes pictured here.)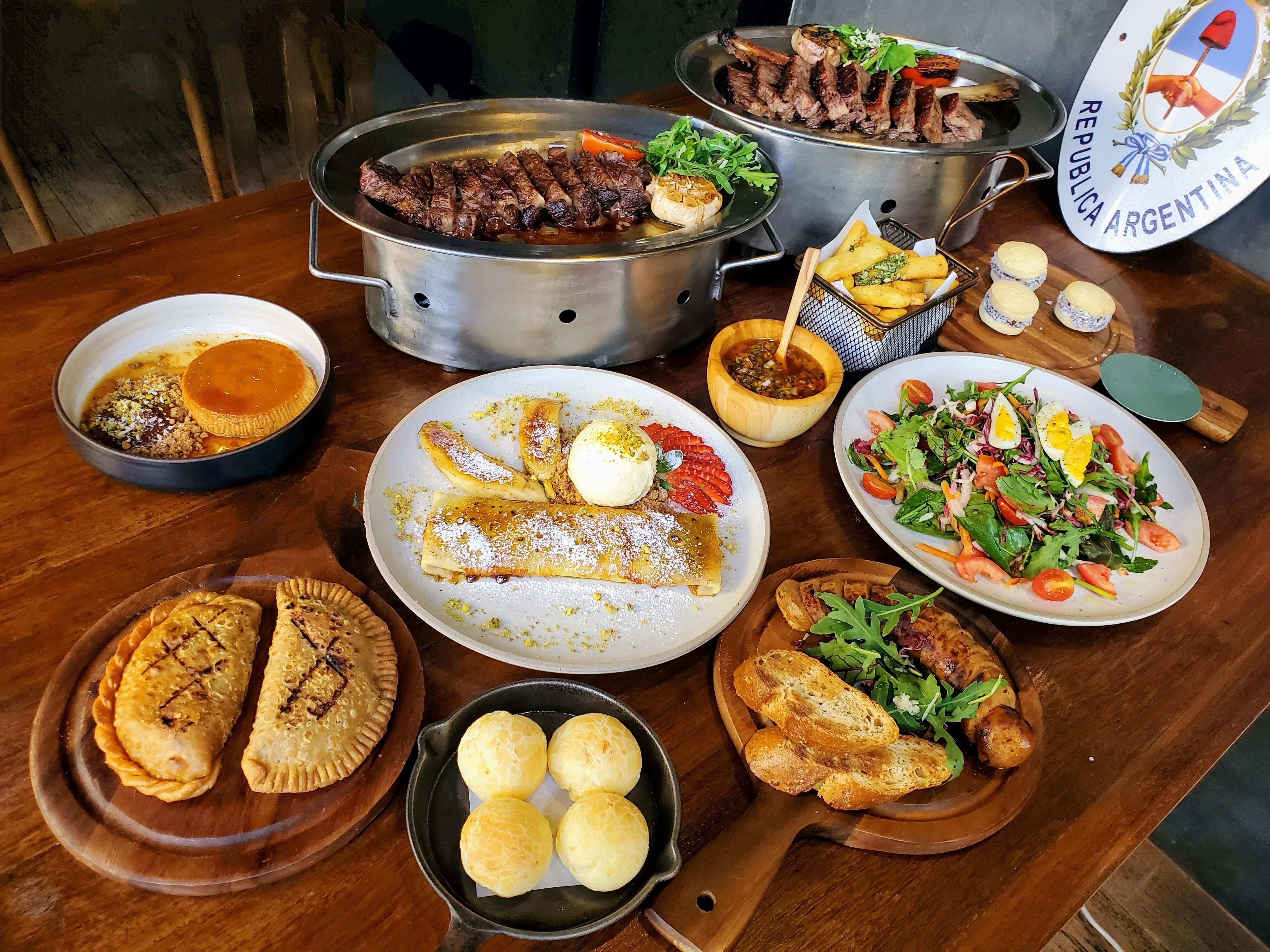 Traditional Argentine Dishes
Key Representative Dishes

The most representative and national dish of Argentine gastronomy is undoubtedly the "asado", or "parrillada", a barbecue of grilled beef and offal cooked on a cast-iron grill. This famous barbecue is a ritual that creates a sense of community in Argentine society. It originated from the need for nomadic horsemen, the "gauchos" to survive. They are a prominent figure in the country's national identity. Argentine beef has earned a reputation as some of the best in the world as it is widely known to be incomparably tender and rich in flavour.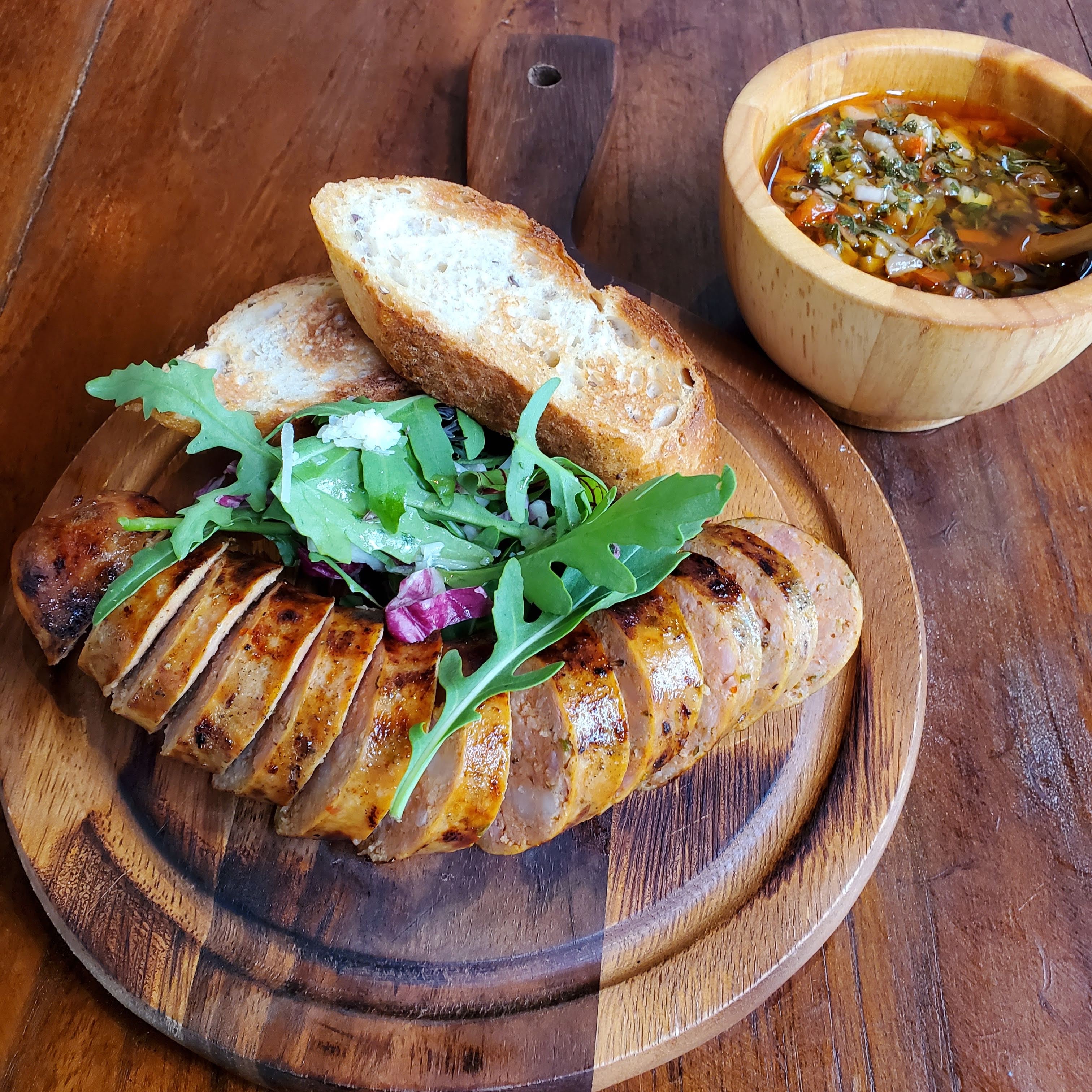 Argentine Chorizo Sausages
This is related to the breeds of cows, which are among the finest in the world, and their feeding, which is mostly natural. Cows in Argentina mostly graze on the plains eating grass and, thanks to this, they are much less likely to contract or spread infections; therefore, there is no need to use antibiotics nor growth hormones.

Often served with the steak is "Chimichurri", an Argentine uncooked herb sauce that comes in green and red varieties. Green chimichurri is made of finely chopped parsley, minced garlic, olive oil, oregano and red wine vinegar. Red chimichurri has additional ingredients of smoked paprika, dried red chili and pepper flakes.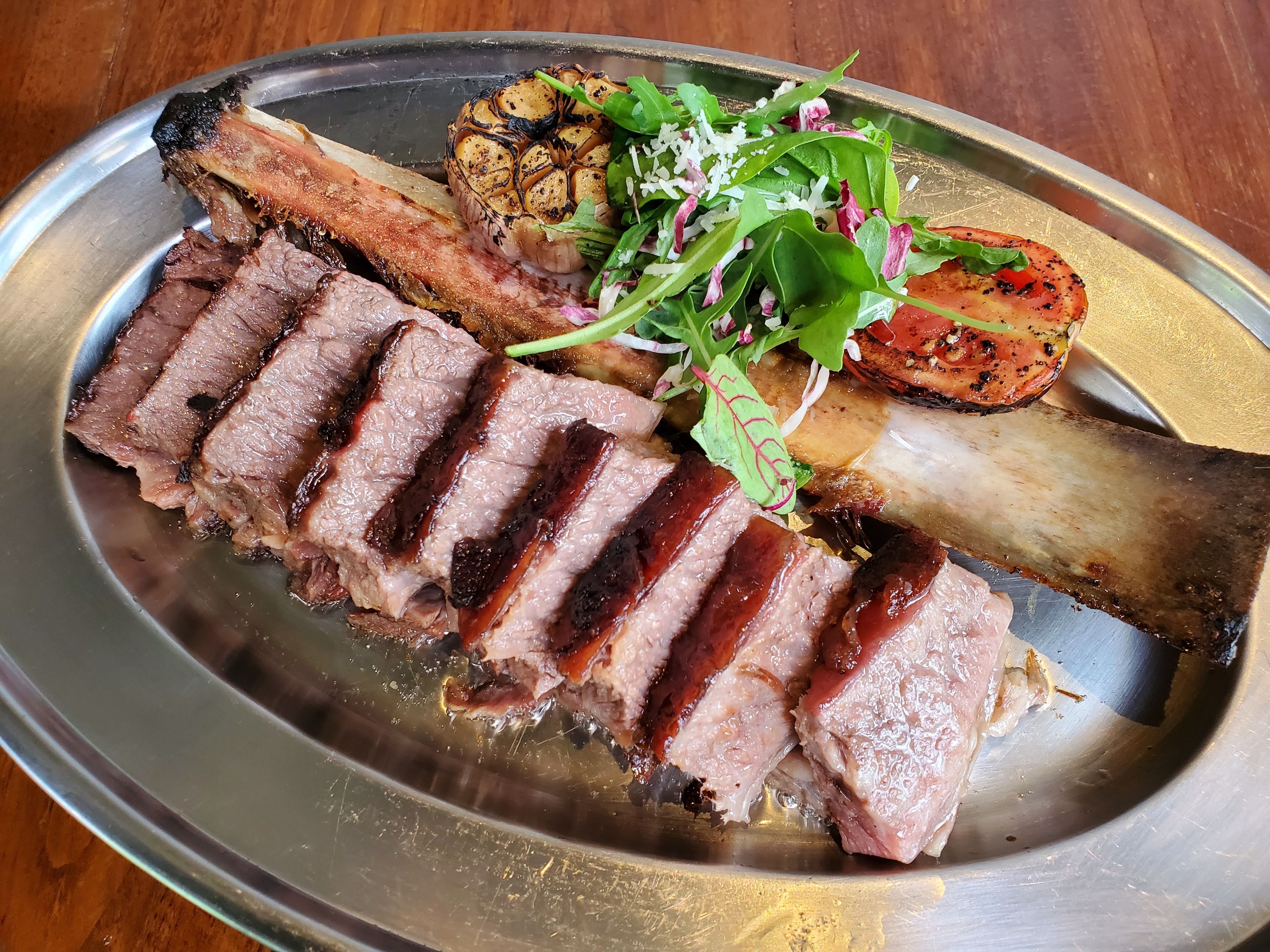 Argentine Asado
Another national dish is the "empanada", which is semi-circular in shape and consists of a flour-based pastry dough and specific filling. It can be baked or fried, with different ingredients inside.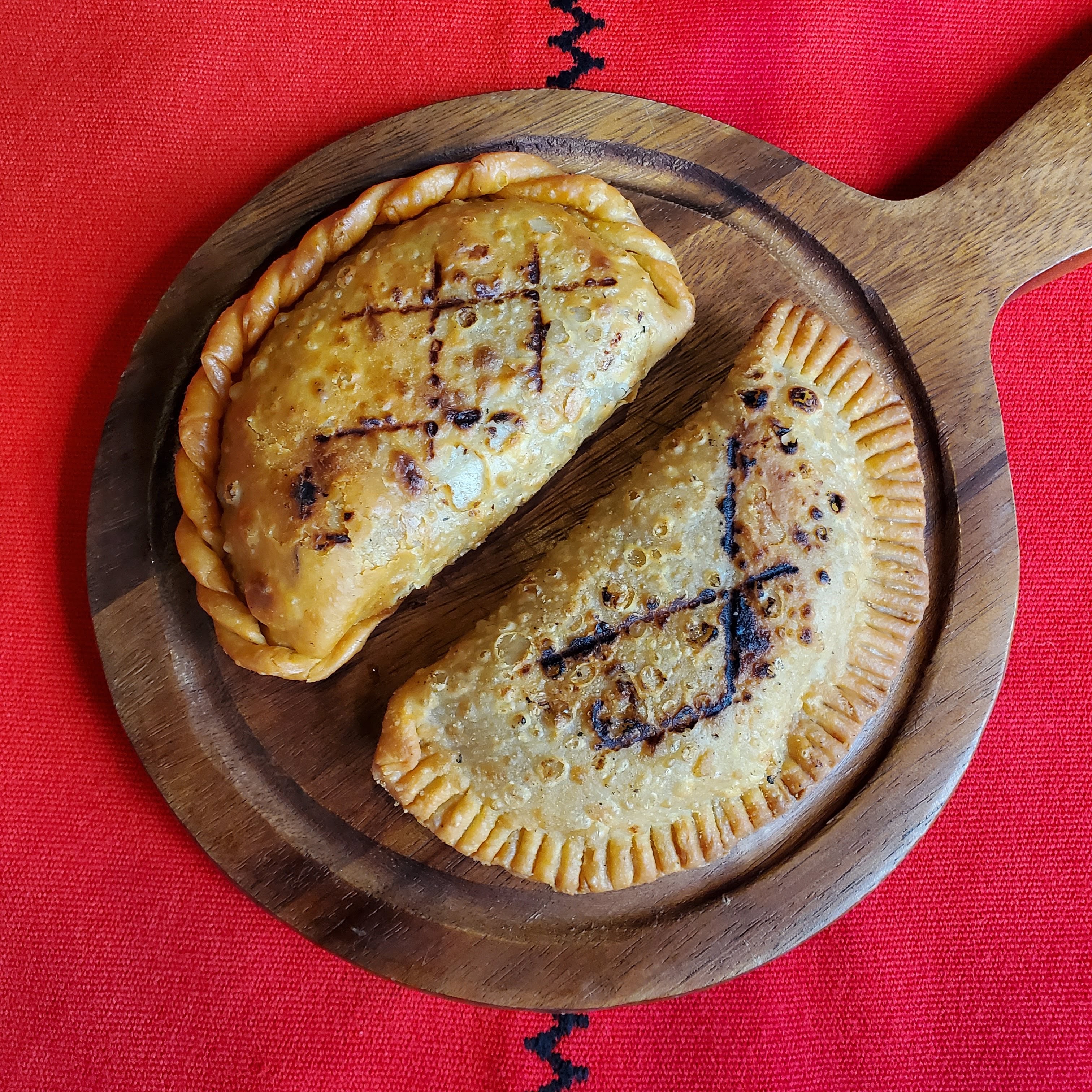 Argentine Empanadas
Most common types are ground beef, cubed beef, chicken, ham and cheese, ham and onion, spinach, and humita (sweet corn with white sauce). It is believed that the empanada is a derivative of the Indian samosa.
Argentines love "milanesas", which is a thinly sliced fillet, usually made of beef, dipped in beaten egg and breadcrumbs, then cooked fried or baked, and usually accompanied with French fries. Believed to have been an influence from Italy, they can be found at virtually any local restaurant.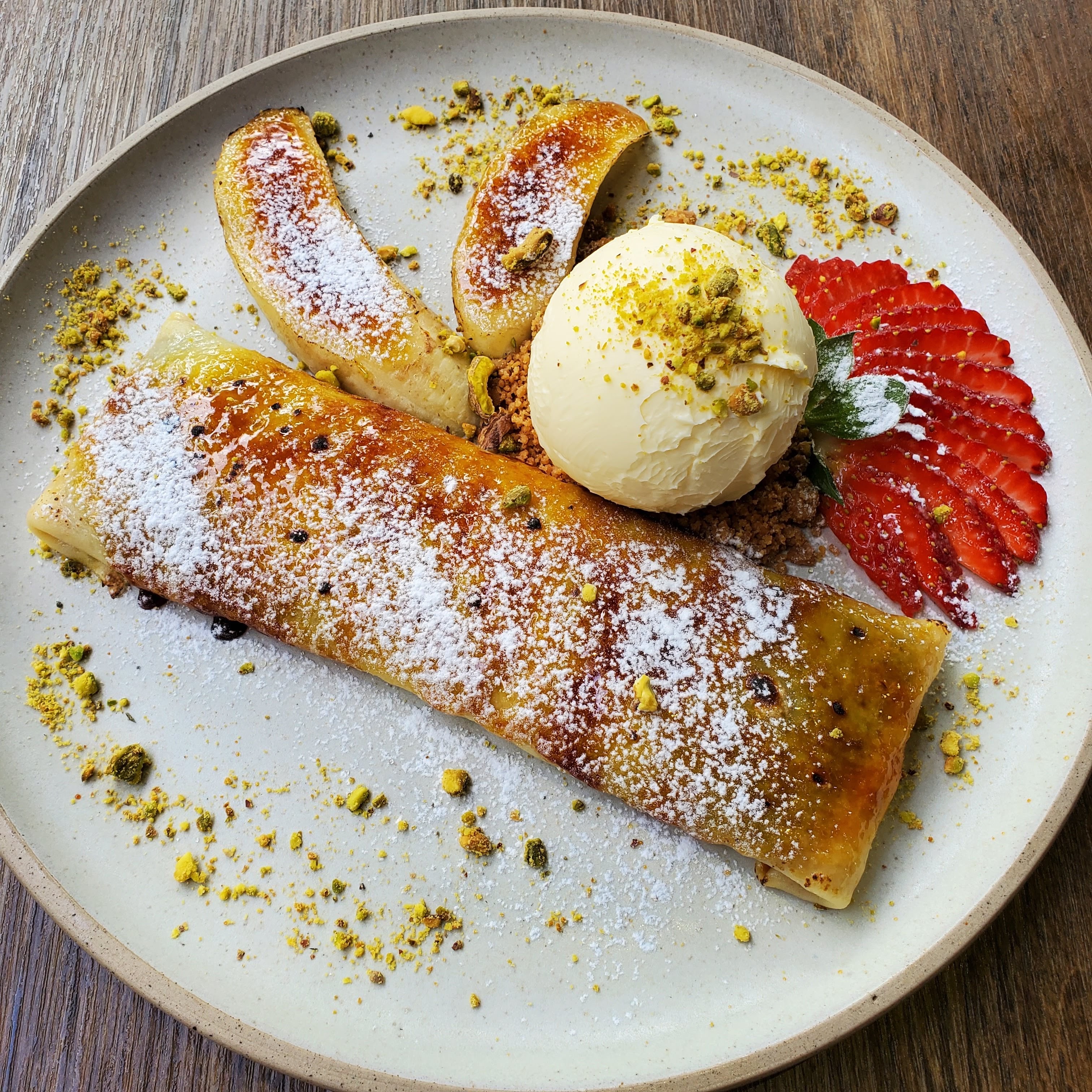 Dulce de Leche Pancake Dessert
One of the most popular sweet inventions in Argentina is "dulce de leche", translated from Spanish as "sweet from milk", a sort of caramel spread, traditionally cooked with milk, sugar, vanilla, and baking soda. It can be eaten by the spoonful with ice cream, spread over a piece of toast, as a topping or filling for crepes, or as an ingredient in a cake or in the famous "alfajor"cookie.
Alfajores de Maicena
Argentina's most representative drink is "mate", a hot tea infusion prepared with the leaves of a yerba mate tree that grows in the Paraná Jungle. The word "mate" refers to both the infusion and the container from which it is drunk, using various materials such as wood, metal and even a pumpkin gourd. The beverage is sipped through a metal straw called a "bombilla".
When it comes to alcoholic beverages, the fine wines of Argentina are world-renowned, especially Malbec, which has almost become synonymous with Argentine wine, as the country is the main producer and exporter of this variety.
Every 17th of April, Malbec World Day is celebrated, remembering the day in 1853 when this grape was first introduced in Argentina by a French agronomist. Speaking of Malbec, Catena Zapata, one of the most recognized wineries in Argentina, was recently voted the No. 1 winery in the world at the World's Best Vineyards Awards 2023.