The Reflexions, one of Bangkok's long-standing fine dining restaurants, has launched a solid revamp. Besides elegant renovations to its space at the Plaza Athenee hotel, the venue has also introduced a fresh menu of modern French gastronomy – created by the restaurant's first female chef de cuisine.
Roxanne Lange brings innovation to an affinity for technique and precision, with over a decade of experience working in haute cuisine across the Netherlands, including the two-Michelin-starred molecular gastronomy legend FG Restaurant in Rotterdam. Dutch chef Lange has most recently served as sous chef to another Michelin darling, Henk Savelberg, who closed his eponymous bistro in The Hague to open a new venture in Bangkok two years ago.
The Reflexions' dishes exemplify the chef's accession into a bold, unique style of French cuisine that's completely her own. She modernizes a well storied craft with Thai elements, from fresh seafood to regional vegetables and spices. Four-, six-, eight, and 10-course tasting menus journey through perfect blends of spicy, sweet, sour and salty, like Thai islands meeting up with the French Riviera. The majestic oyster is a wild amuse bouche of green curry gel, lime granite, green chilli and cucumber, all mingling inside a briny shell. Yellowfin tuna is ornamented with garlic chips, egg yolk, and crispy pancetta and finished with a minimalist Thai soy vinaigrette.
Perhaps the best examples of Thai flavour profiles merging with European finesse are in the dessert selections. Pomelo, a ubiquitous and delicious Thai fruit, becomes a tropical temptress dressed with brown sugar ice cream, caramelized peanuts, basil mousse and chilli meringue. It's a refreshing treatment that turns the simple pleasures of street food into an epicurean feat.
The Reflexions, with Chef Lange at its helm, has taken further progressive steps into French fine dining by offering four-, six- or nine-course vegetarian tasting menus. A hearty risotto filled with grilled green asparagus, hazelnuts and lush tomatoes and quinoa salad decorated in edamame and daikon radish are so scrumptiously plated that even steadfast carnivores will be intrigued.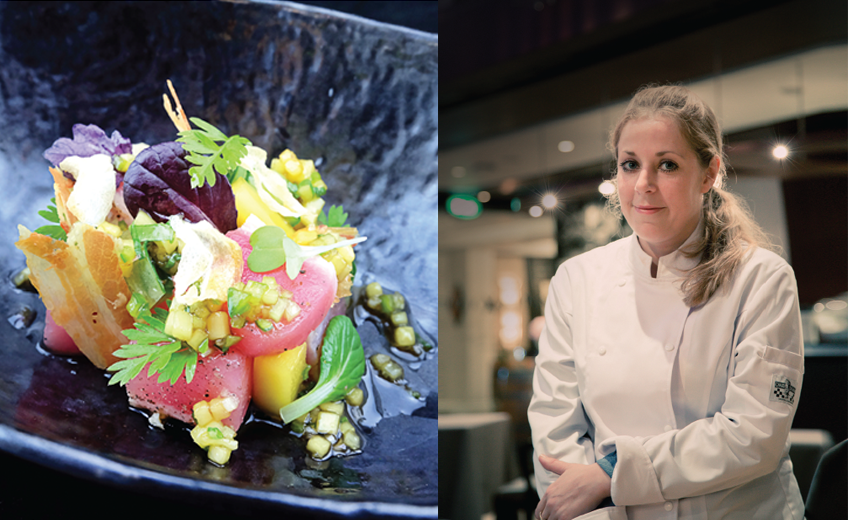 Plaza Athenee Bangkok, A Royal Meridien 61 Wireless Road, Lumpini, Pathumwan, Bangkok 10330