Story by Elite+ editorial team
Kollakit Thalerngnawachart is a first generation Sino-Thai whose father emigrated to Thailand from China. His father opened a small clothing shop to support his wife and seven children, who all pursued an education and then positions with large corporations.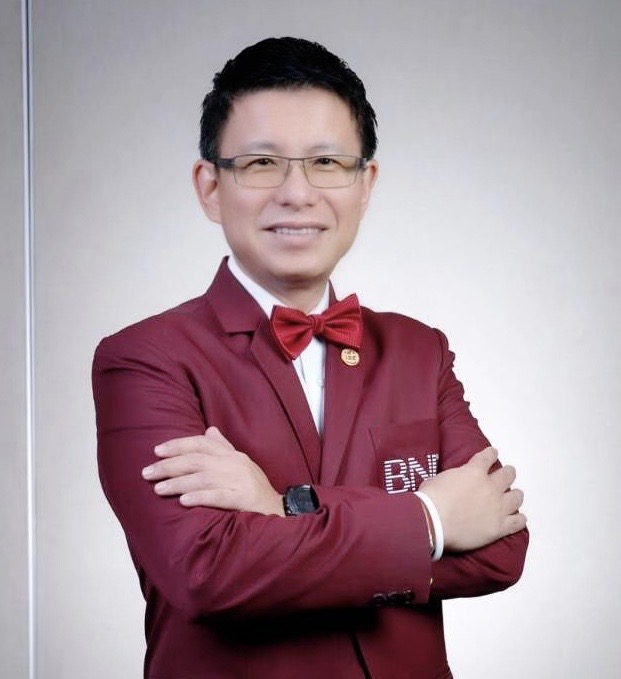 Kollakit joined such companies as Coca Cola where he worked as a Channel Development Director, followed by Trade Marketing Director at Johnny Walker Thailand and other consumer products companies, but his dream was to own his own company. At this same time, Thailand was hit by the Tom Yum Kung economic crisis which forced his father to close. So, he had even more incentive to start up a business, and he established a training and mindset development company.
Things were still hard, though, and he began thinking about returning to Canada, where he had once been an exchange student. So, he gathered his family and they made the move. While there, he heard about BNI, but didn't understand what it really was. However, he had the chance to meet people from BNI Malaysia and Singapore and saw how their members helped and supported each other with the idea of growing and prospering together.
What inspired you to bring BNI to Thailand?
I wanted to build this giving culture I just mentioned into the kingdom of Thailand. We never had this kind of organization or culture established here before. I then gave myself the goal to create a community where people give to each other. Believe it or not, when you give, you actually gain more.
A large number of companies here live in fear, fear of competitors, fear of uncertainty, and because of this fear, business owners close their mindset and never learn. When a company is established in a particular industry, the owner tends to only focus on that particular sector and can become blind to opportunities that open up. By introducing BNI in Thailand, my aim is to create a community where people never stop learning and can become aware of other opportunities. With good friends, who are willing to give more than they take, we can create a community in which friends teach one another and show how to adapt these ideas in their company to improve and grow.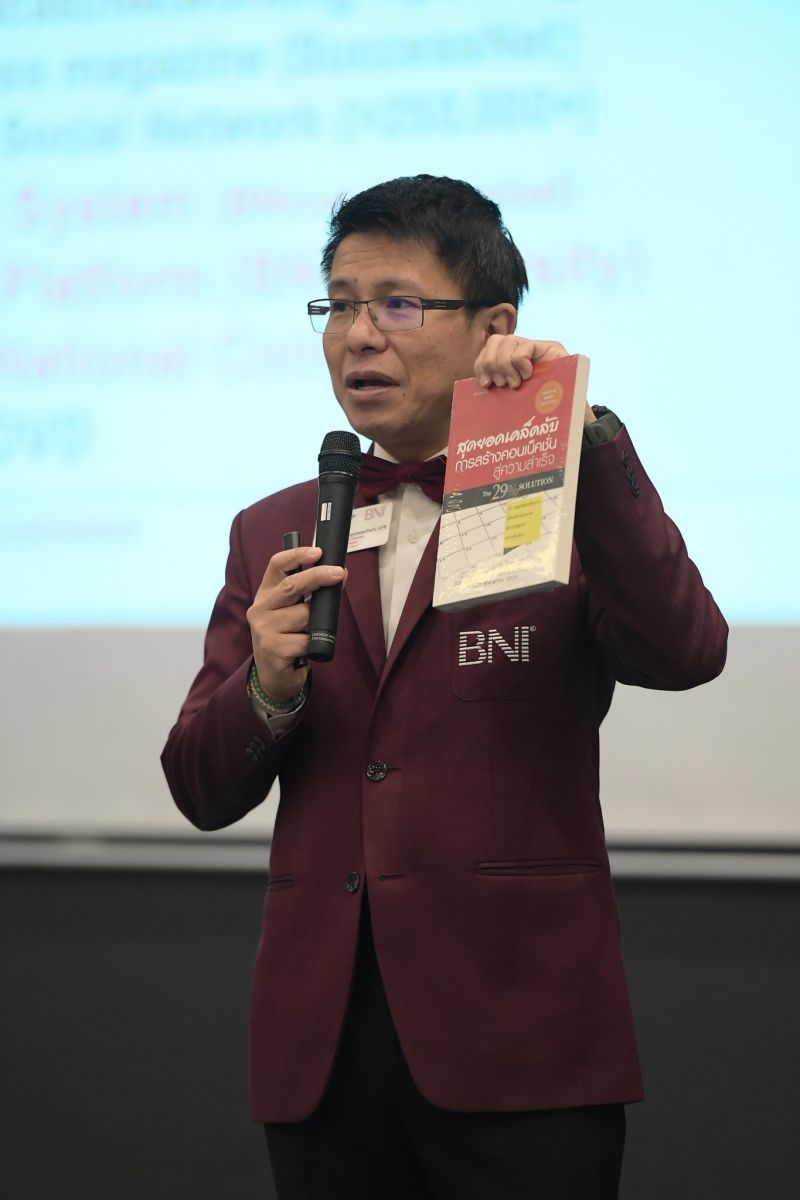 What exactly is BNI and when was it established in Thailand?
BNI establishes branch clubs, called chapters, in cities and countries around the world and now in Thailand as well. Today, we have as many as 48 chapters nationwide: 27 in Bangkok, 7 in Chiang Mai, four in Chonburi, three in Phuket, two in Nakhorn Ratchasrima and many more in Chiang Rai, Lampang, Sukhothai, Phitsanulok and Samutsakorn as well as planning to open a chapters in Udon Thani and Hatyai. We focus on three channels, weekly meetings, a mobile application and our online BNI University. A big part of the weekly meetings is sharing referrals as this can lower a company's marketing expenses by as much as 50% as word-of-mouth remains the most powerful marketing tactic.
Our BNI mobile application gives members access to businessowners worldwide. If one wants to export a product, they can search our database for a possible partner. What you must remember is BNI does not sell products. What we do is help members to network, to find a partner who can support their endeavors, introduce them to their local markets and provide valuable advice and assistance.
BNI University is an online learning platform designed to provide SME owners with hands-on-knowledge, experience and guidance in developing their business. They help owners to figure out their strengths, distinctiveness and how to communicate these points to their target market. We have modules on teamwork, business planning and how to socialize. Several courses are conducted by world-class speakers such as John C Maxwell, Verne Harnish, Brad Sugars and Robbie Kellman Baxter, as well as by successful SME owners in Thailand willing to be a mentor. It is much like offering an MBA curriculum especially designed for SMEs.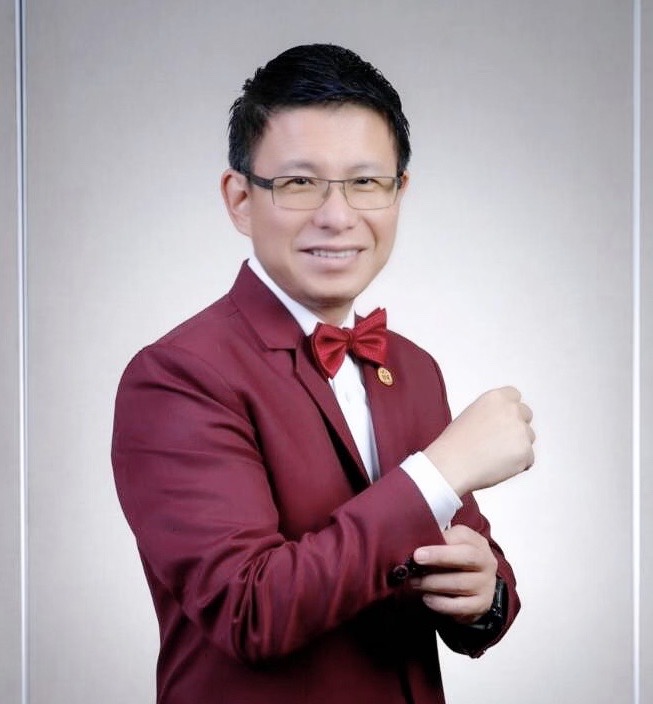 How is BNI different from other trade associations?
Let me start by saying a big part of our activities revolve around networking and referrals. Every business owner has one very valuable asset, their connections. However, many new SME owners have not yet developed their own. So, our members must not think of each other as competitors, but as fellow business owners. From this thinking, BNI developed the concept of the "Power Team", in which several SMEs in different fields join together based around a common target market. These teams will meet together each week and share referrals as well as things they have learned or experienced since the last time they saw each other. Trust is the key for this to succeed.
As far as other associations, there are the different Chambers of Commerce, but their focus is to raise the standards of all SMEs to a common accepted level. They also help members in business planning and procuring funding. Then, there are the Rotary and Lions clubs, which are involved in community and social charity development.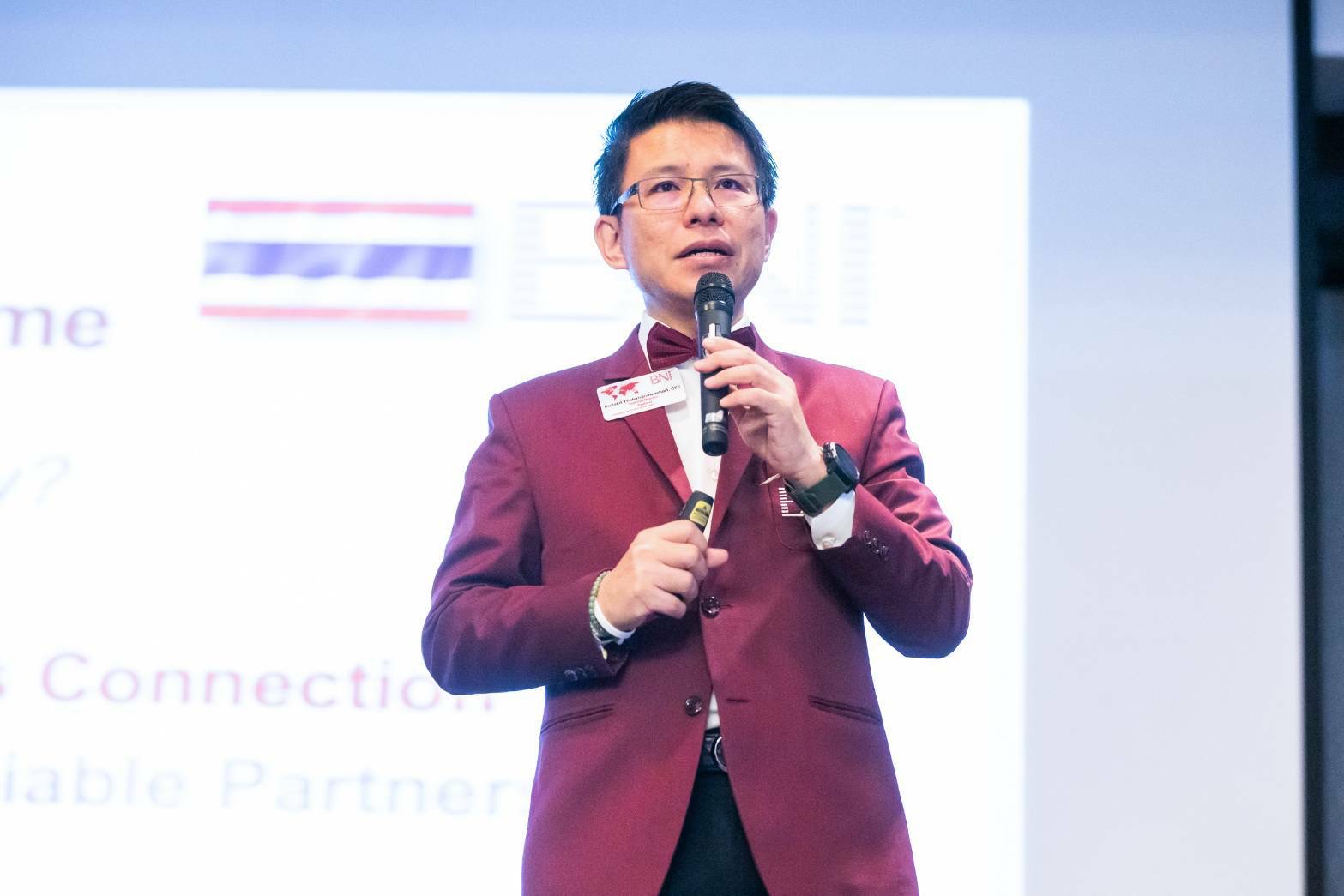 Covid-19 has affected virtually every business. How do you think companies should adapt to meet the conditions of the "New Normal" and what can BNI do to help them adapt?
When the lockdown was initiated, we organized all meetings online, and with over 2,000 members nationwide this was a challenge. Then, we focused on three key words, "learn, focus and environment". First, we instructed all our members that this is a time "to learn". This meant contacting customers to learn how they had been affected and what they could do to help. However, the reason for the inquiry was also to learn what customers' situations were like to determine how this would affect our members' businesses.
Only then, could they start "to focus" and adapt their business model and plan according to their strengths. At the same time, we advised members to focus on their employees to determine what new skills they might need to strengthen their business.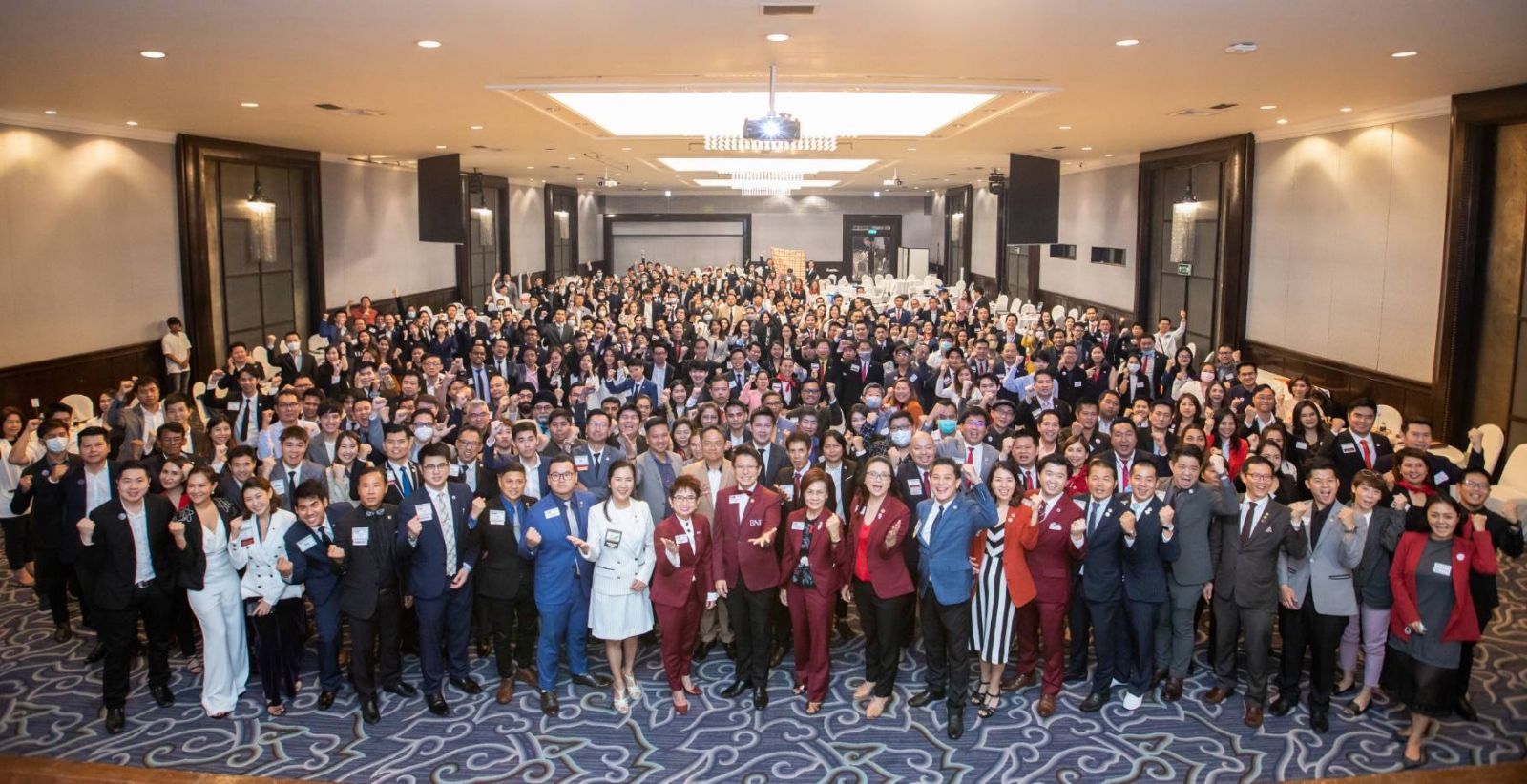 Lastly, the environment. This pandemic is causing fear and fear can block thinking. Thus, we need to provide support and encouragement to face the new challenges. We need to let all members know that they have a community they can rely on.
During the Covid-19 pandemic, BNI created the #saveSME campaign to help BNI members. Can you tell us a little about this?
Before Covid-19, we planned to promote "Change is Now" during 2020. However, due to the pandemic, we came up with the campaign #saveSME to help BNI members. We introduced measures similar to the Government's, delayed membership fees for April, May and June. Members were also given the choice to pay their fee over 10 months interest-free. If a member had to drop out due to financial difficulties, they are allowed to rejoin the same BNI chapter without having to pay the entrance fee.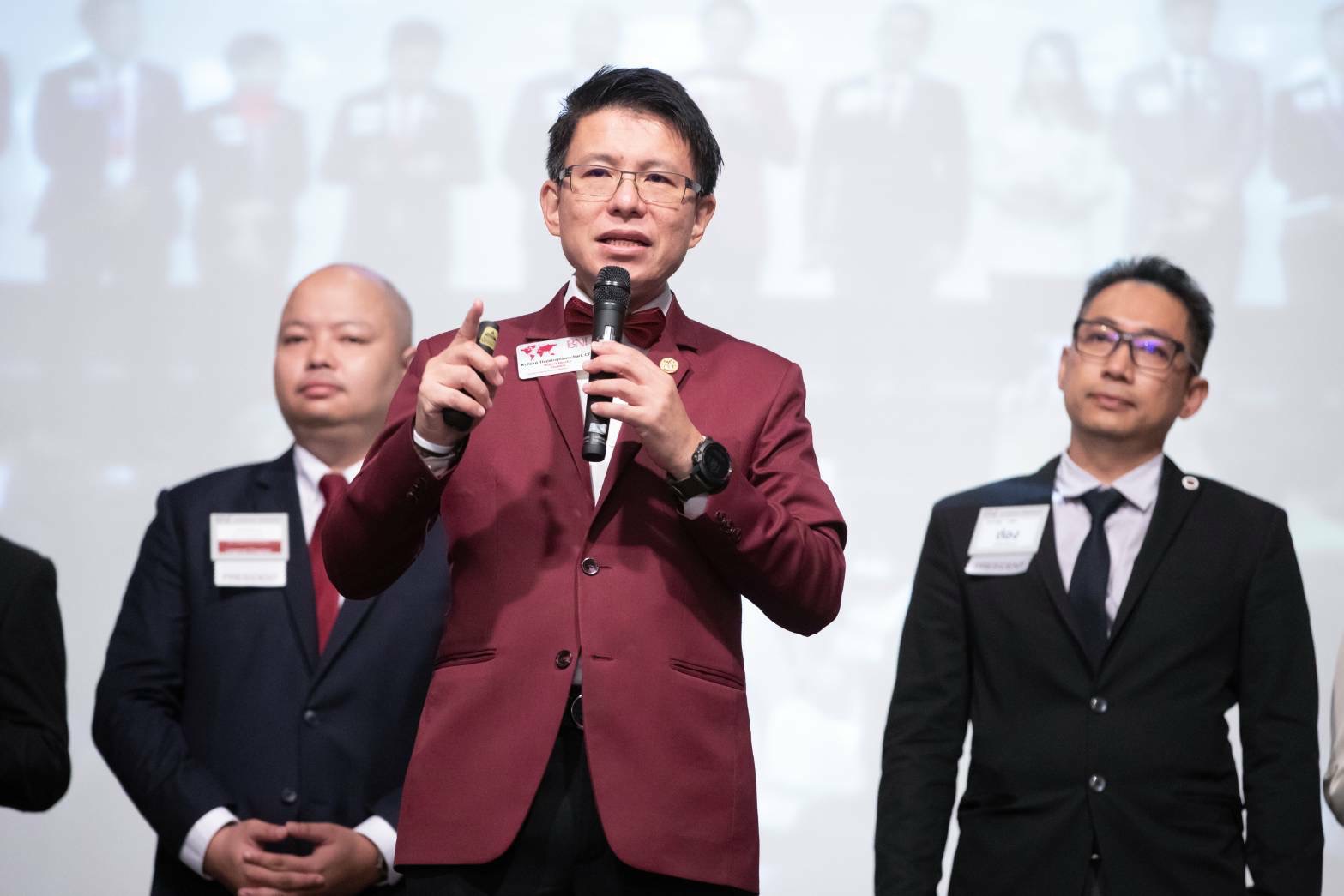 We also created a program called "Business Expert Solution" where we invited several successful business owners from Thailand and abroad to speak at Zoom conferences and Facebook Live sessions to share their knowledge on how they are coping with the pandemic. The topics were picked from a survey we gave to BNI members, and we have now completed 21 episodes for which we have received terrific feedback. At the same time, "BNI Business Booster Series", a project introduced by BNI headquarters, has held sessions with world-class gurus of business management and self-development. In addition, we encouraged our local chapters to organize Business Clinics where members could brainstorm on how to solve problems they were facing.
Finally, as we close, do you have any recommendations for members of our younger generations as well as business owners?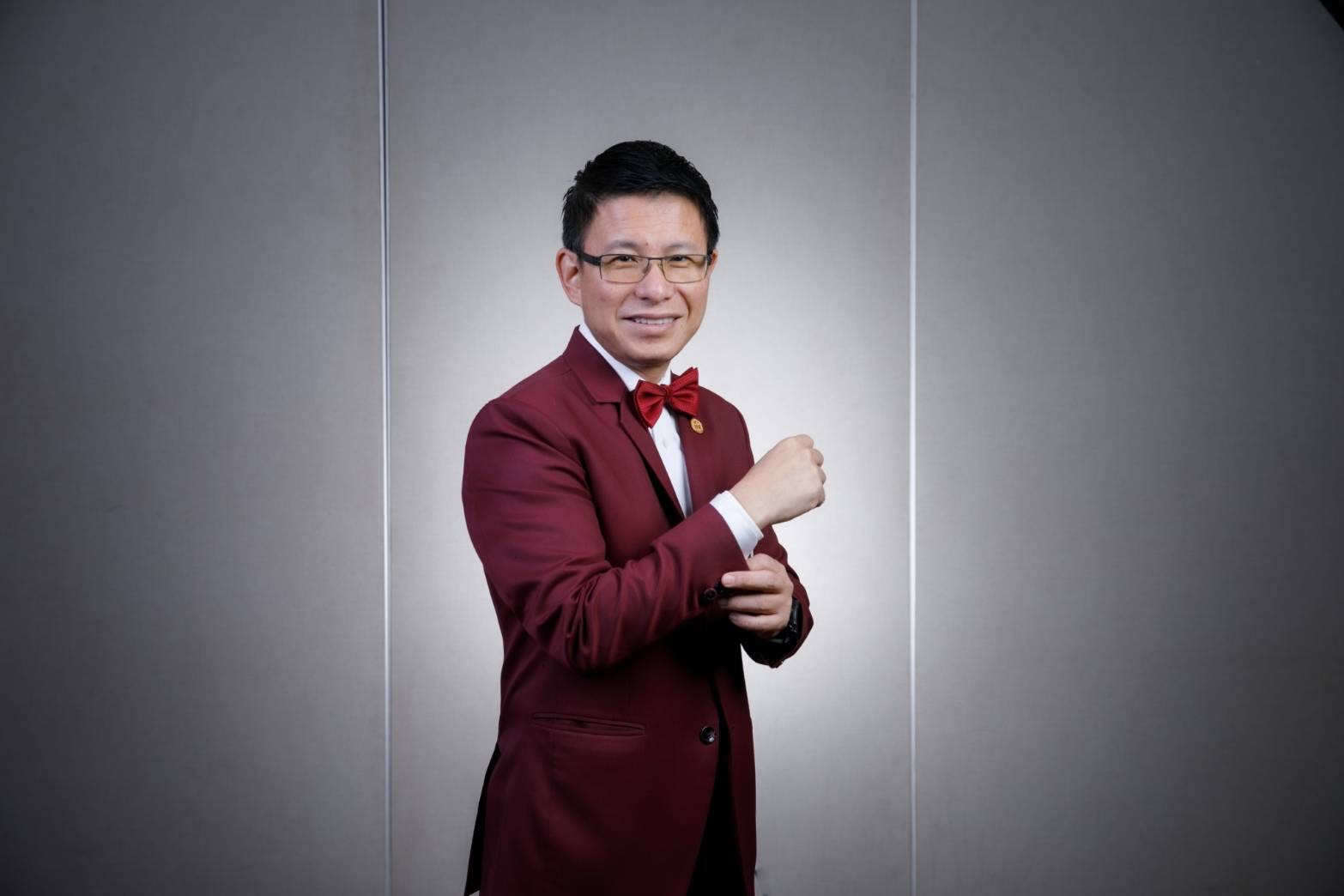 First and foremost, value education and knowledge over money because if you have the first two, wealth will follow. Secondly, don't just think, but act to gain experience. Thirdly, learn from your elders. They have the experience, which they will share with you. Get involved with people who have achieved success and learn from them.
Finally, no one knows when this pandemic will end. While Thailand appears to be doing well. We are seeing other countries that were also controlling the spread of the coronavirus, but when they let their guard down, it has come back with a vengeance. So, be vigilant, and use this time to learn and change as the world evolves. And collaborate. We cannot make it alone. Not now. But together with the right mindset, we can and will emerge even stronger. This is what I believe.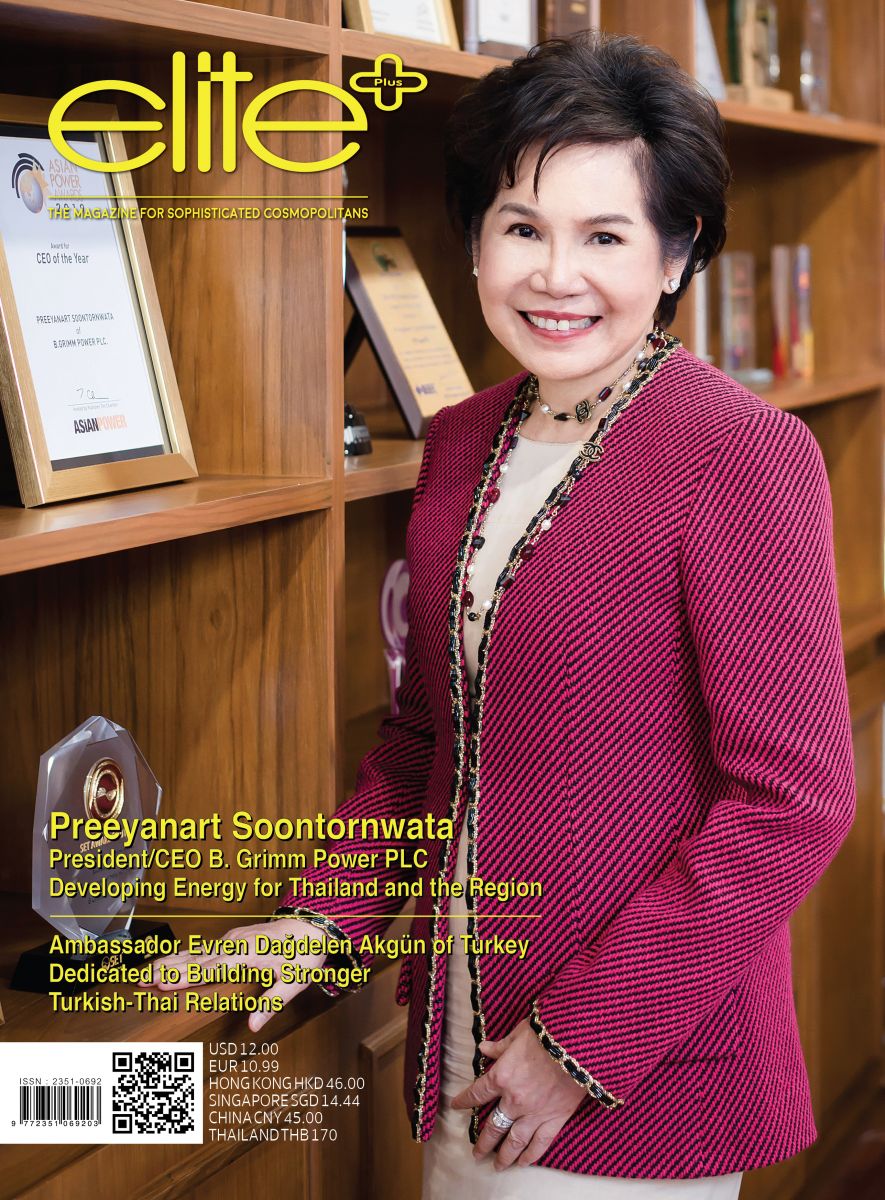 "Elite Plus Magazine" ( No. 38 - August / September 2020 Issue) Available***
- Where to get your own books:
At every branch of ***Asia book Stores***
or contacts Line: @eliteplusmagazine