My thrilling experience discovering rare and endemic plants and wildlife in Lore Lindu National Park of Central Sulawesi continued into the second day. I started the day finding a group of ant plants on the trunk of a large tree in a meadow of the park. Each ant plant had a large tuber that provided housing for ants. A close examination of one ant plant revealed several holes on the surface of the tuber that were entrances into its interior which served as the ants' living quarters. The plant welcomed the ants' presence to protect it from predators and fertilize it with the ants' waste products.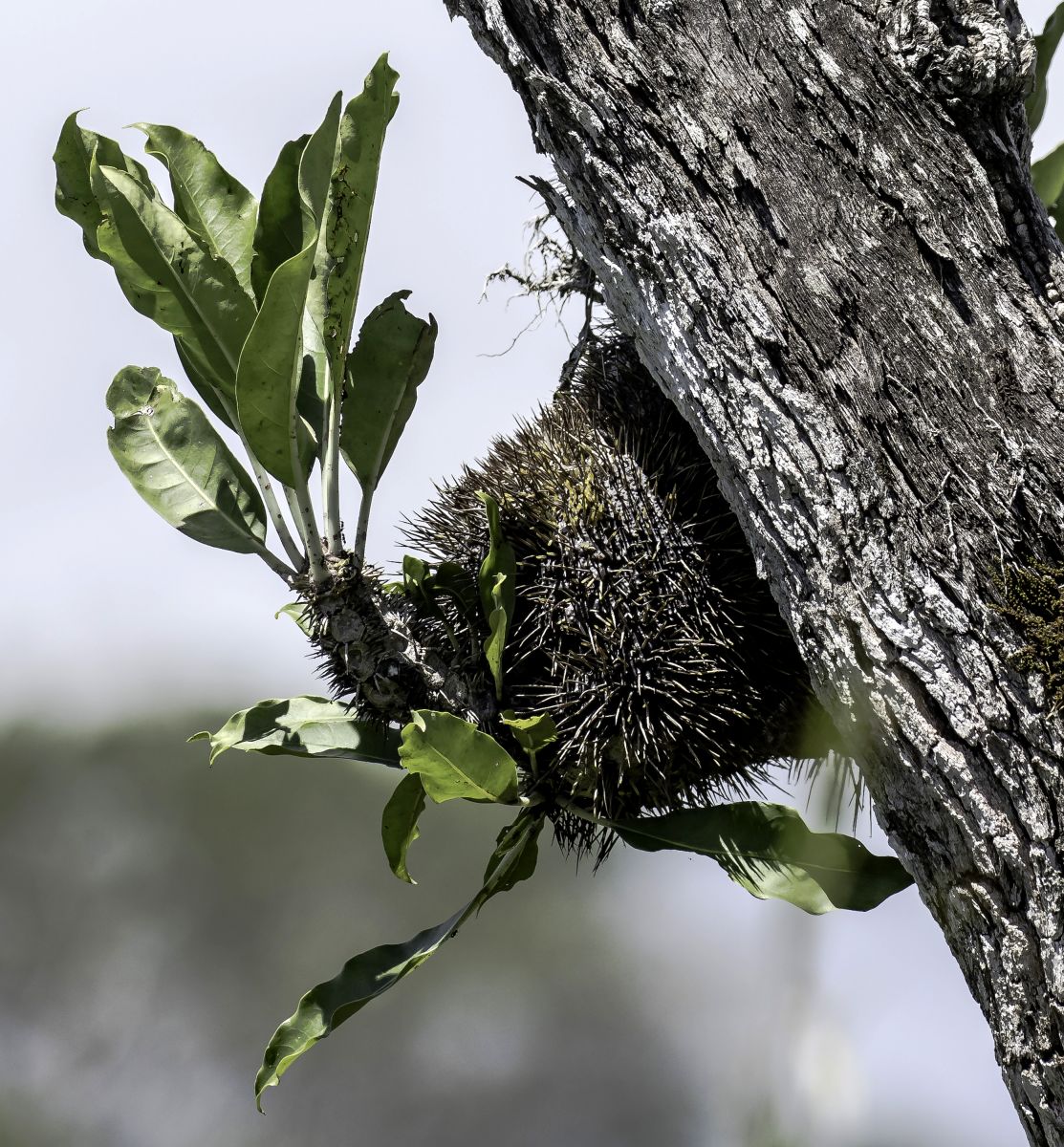 My local guide led me to another tree to introduce another kind of ant plant. Growing on the trunk was what the guide called the Celebes ant fern that also provided housing for ants. As was similar to the previous ant plant, this ant fern benefited from the nutritional feces excreted by the ants. All these ant plants are native to Southeast Asia.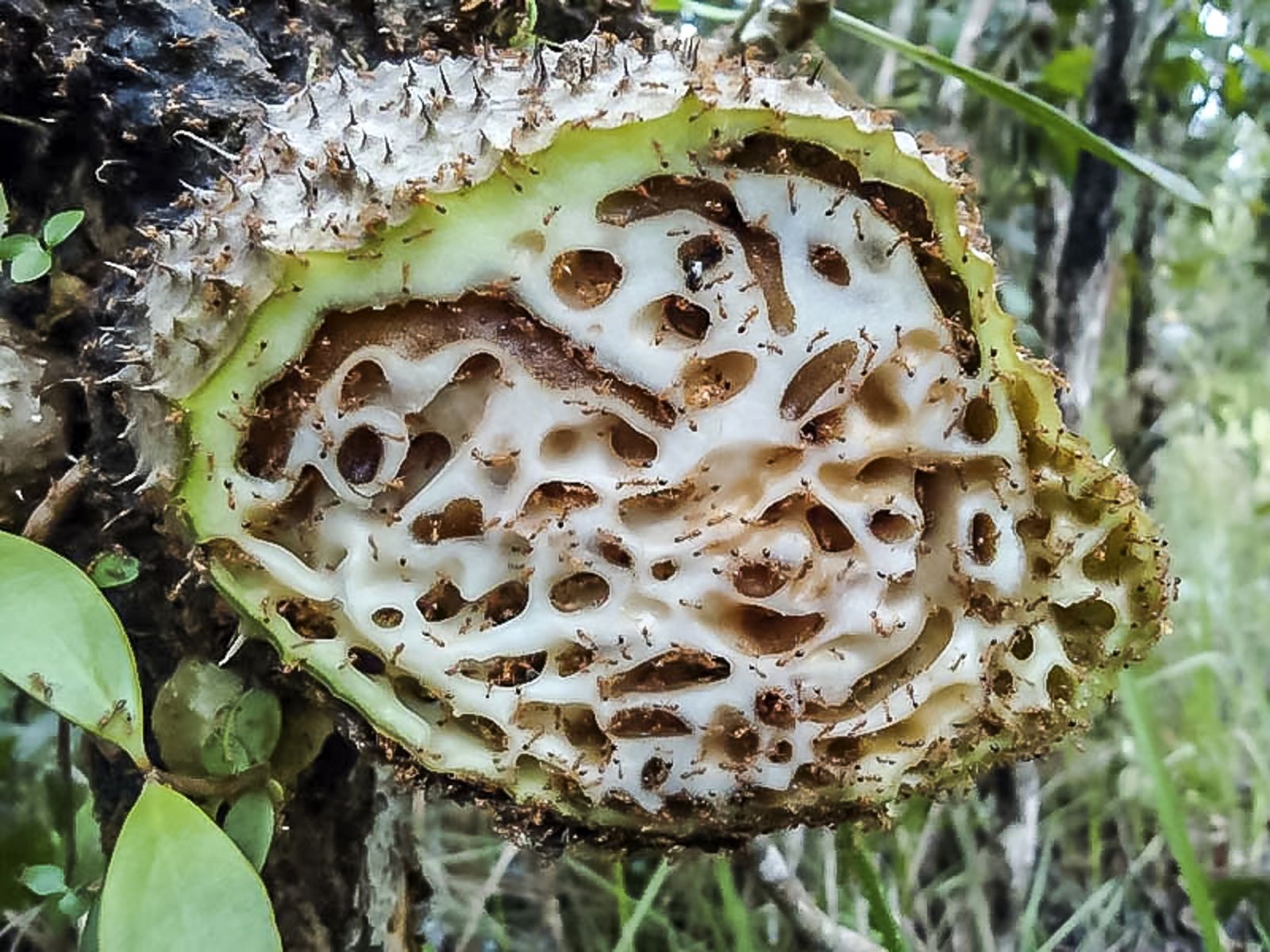 As I was walking out of that clump of trees, I spotted a bird of prey perched on a tree branch waiting for its next victim. I learned from my guide that it was a Sulawesi Serpent Eagle, endemic to Sulawesi and surrounding islands. It was a relatively small raptor with an average size of 46 to 54cm and a wingspan 105-120cm that preyed on lizards, snakes, and rodents.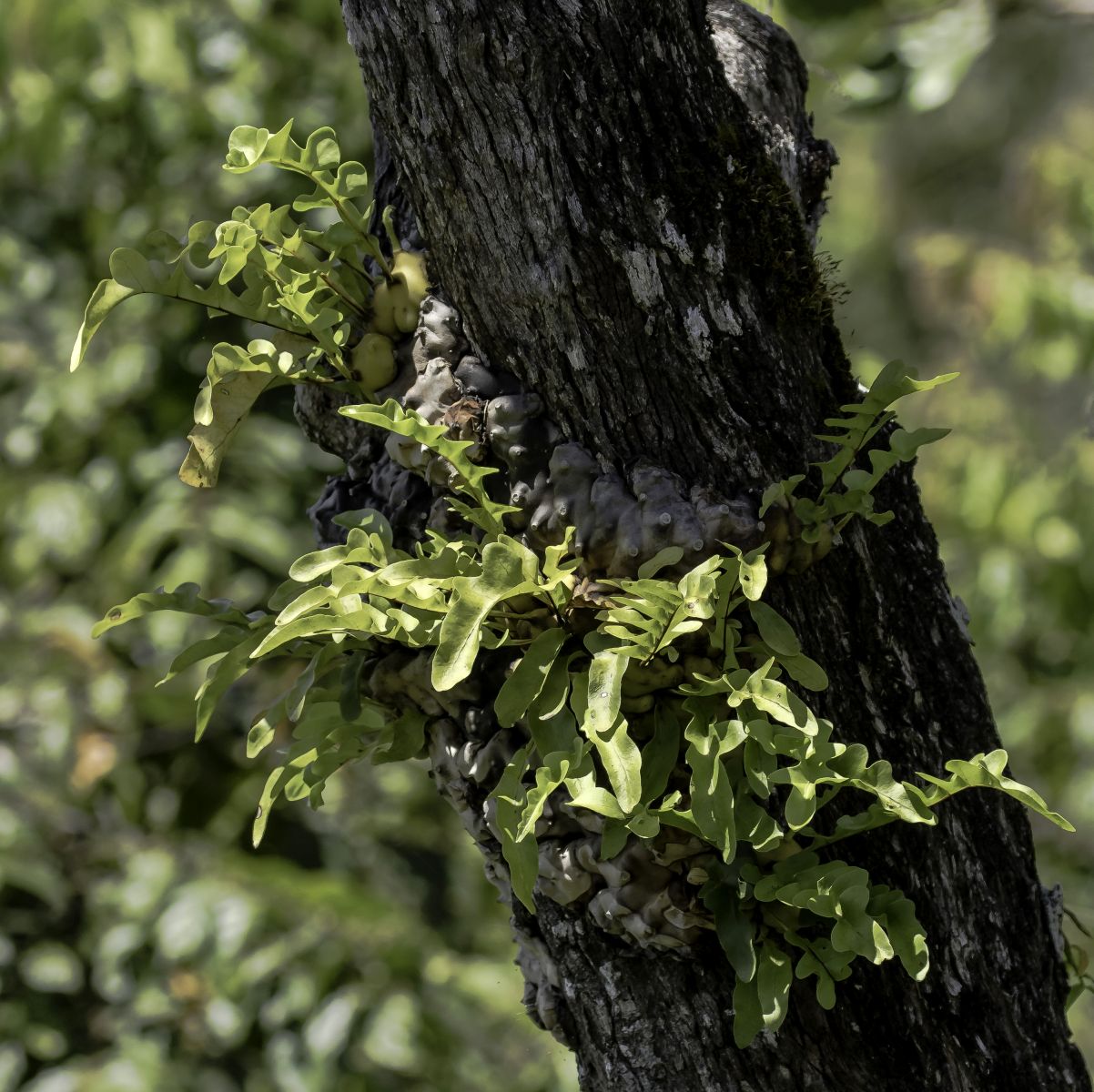 Our car was running through an open grassland when I sighted a raptor flying parallel to the car. I asked the driver to stop so I could photograph it. I was able to manage a few shots of this bird of prey called a Sulawesi Honey Buzzard, also endemic to this island from which it takes its name. It has a size of 50-58cm and a wingspan of 110-125cm, with its main diet bees and wasps.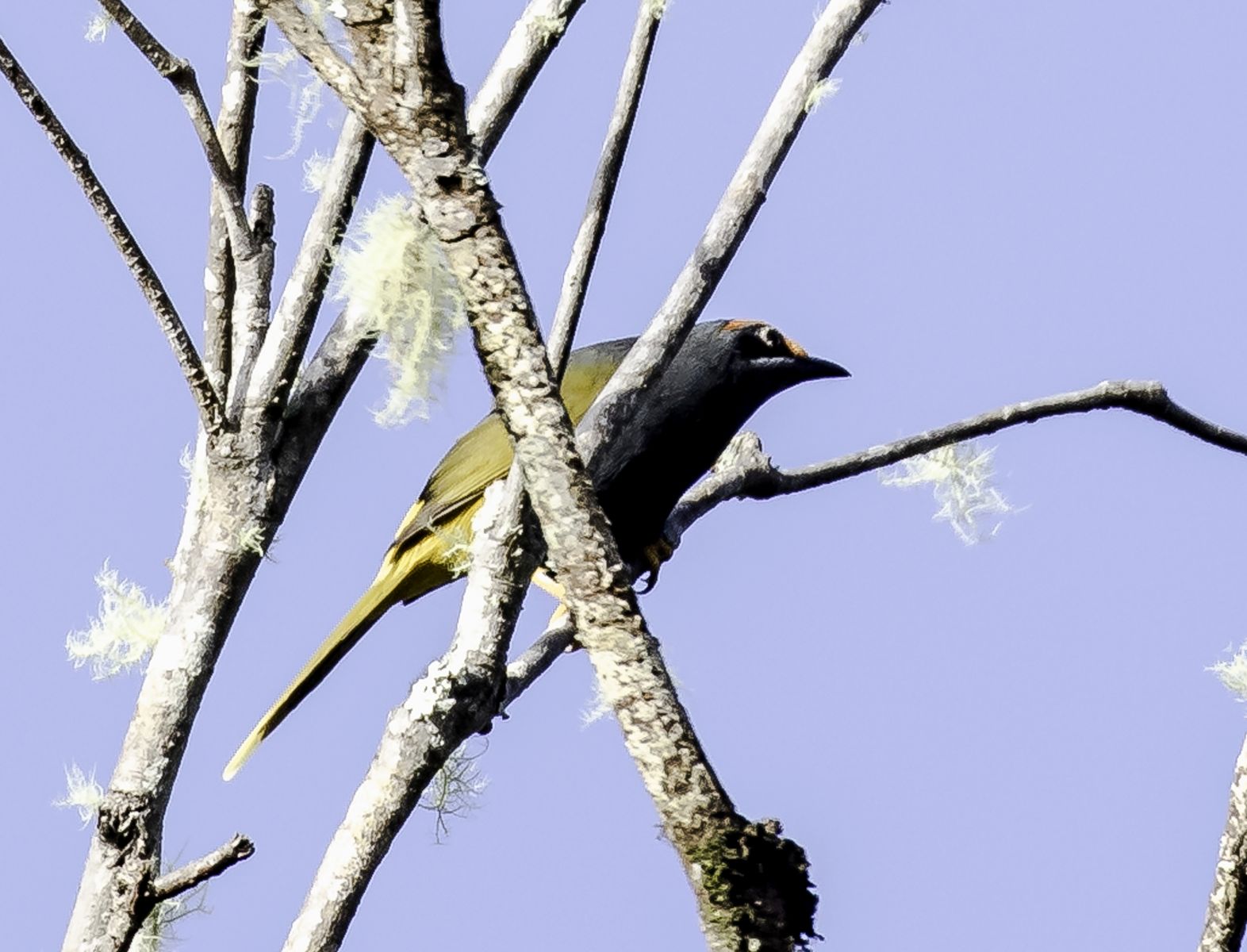 From the meadow we drove up the mountain until our guide asked him to stop near a forest. We got out of the car and walked on the road looking for birds. The first species I spotted was a white-bellied imperial pigeon, native to Sulawesi and the surrounding islands, perched on a branch near the road. It was a large pigeon, between 42.5 and 51.5cm in size that feeds on all kinds of fruit.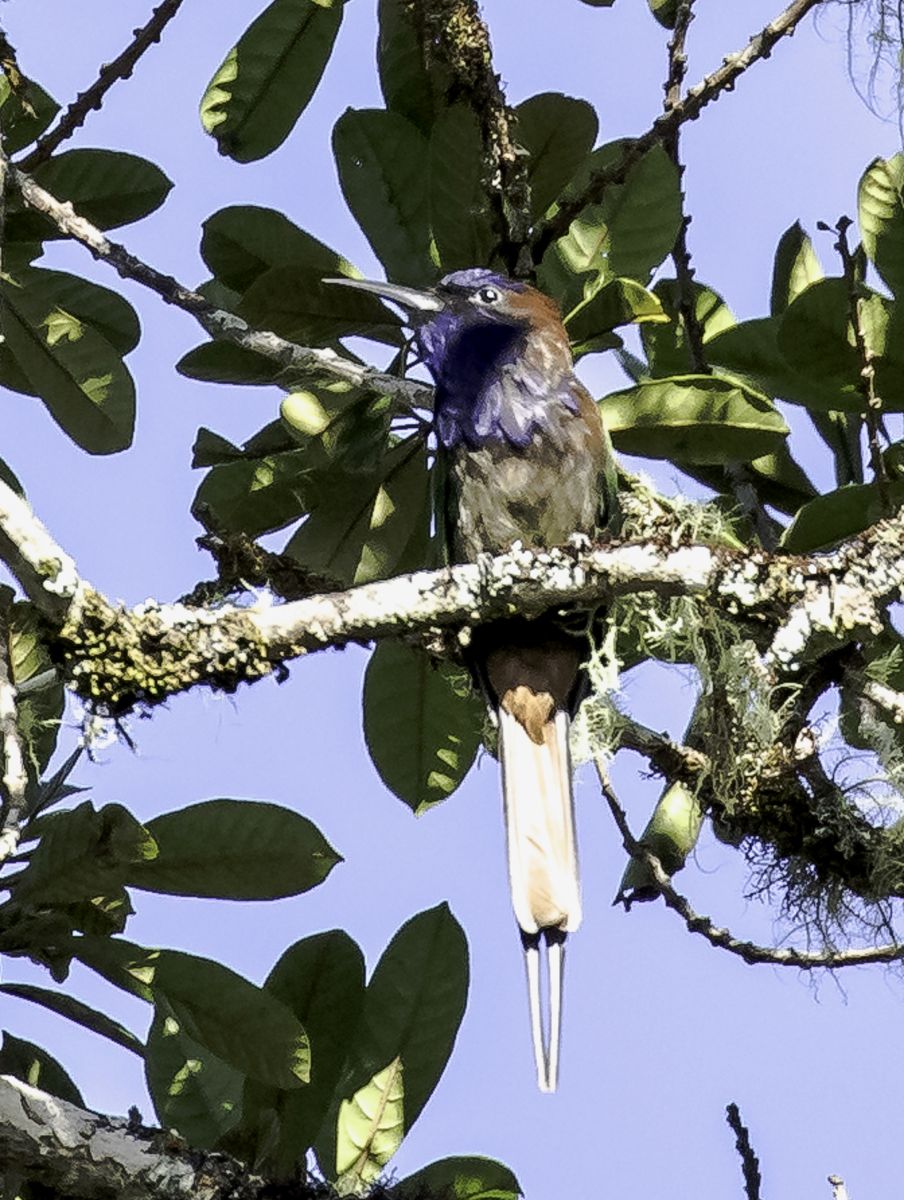 After a while, the pigeon flew away so we turned our attention to a small bird of about 14 cm jumping back and forth on the branches of a nearby tree. It was an endemic Sulawesi jungle flycatcher, which has been classified as a near-threatened species by the International Union for Conservation of Nature (IUCN). The main threat to its survival is habitat loss.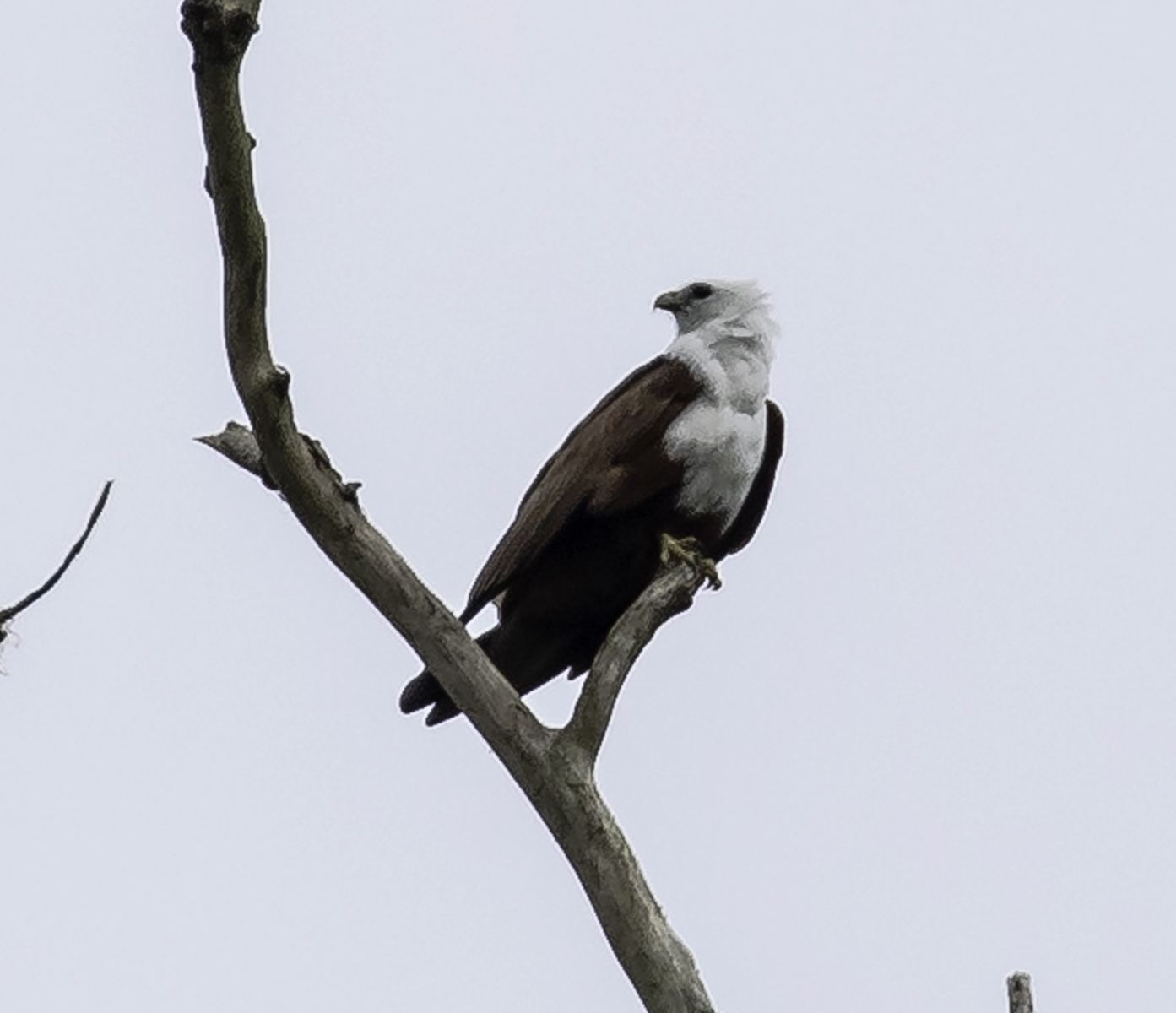 We continued our walk on the mountain road between a rain forest and stopped at a tree where a small, attractive bird was perched on a branch. I had never seen this bird before and learned from my guide that it was a purple-bearded bee-eater found only on the island of Sulawesi. Its size is 25 to 26cm and its conservation status is not much of a concern. Its diet includes bees, wasps, dragonflies and beetles.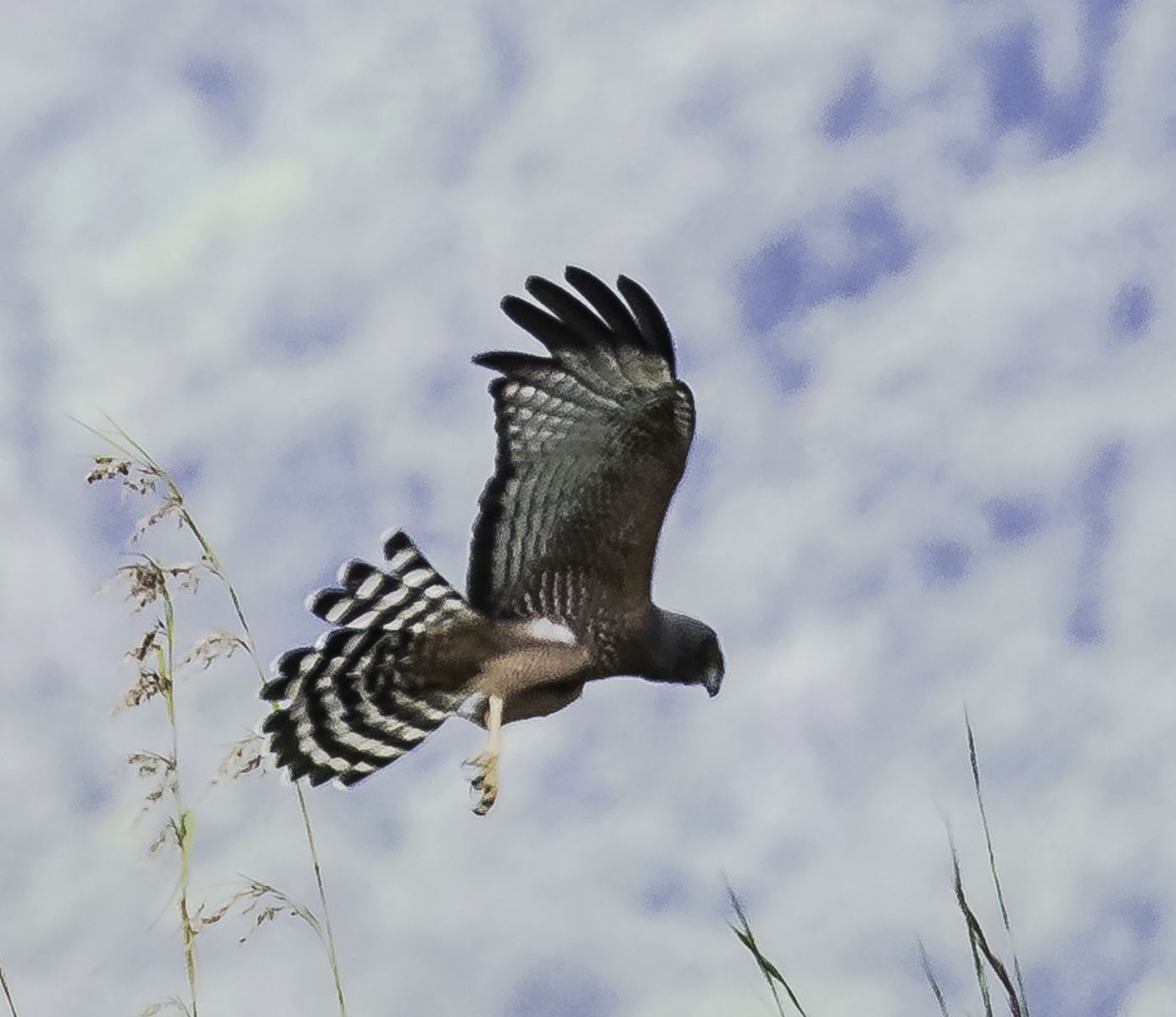 In the vicinity, two birds perching on the same tree caught my attention. As I raised my camera, one suddenly flew away. I was able to capture a few images of the remaining bird that was identified as a fiery-browed myna. It is endemic to Sulawesi and found in highland forests 500 to 2,300m above sea level. This myna has a body length of 27 to 29cm. Although its population is in decline, the IUCN has listed the fiery-browed myna as a least concern species.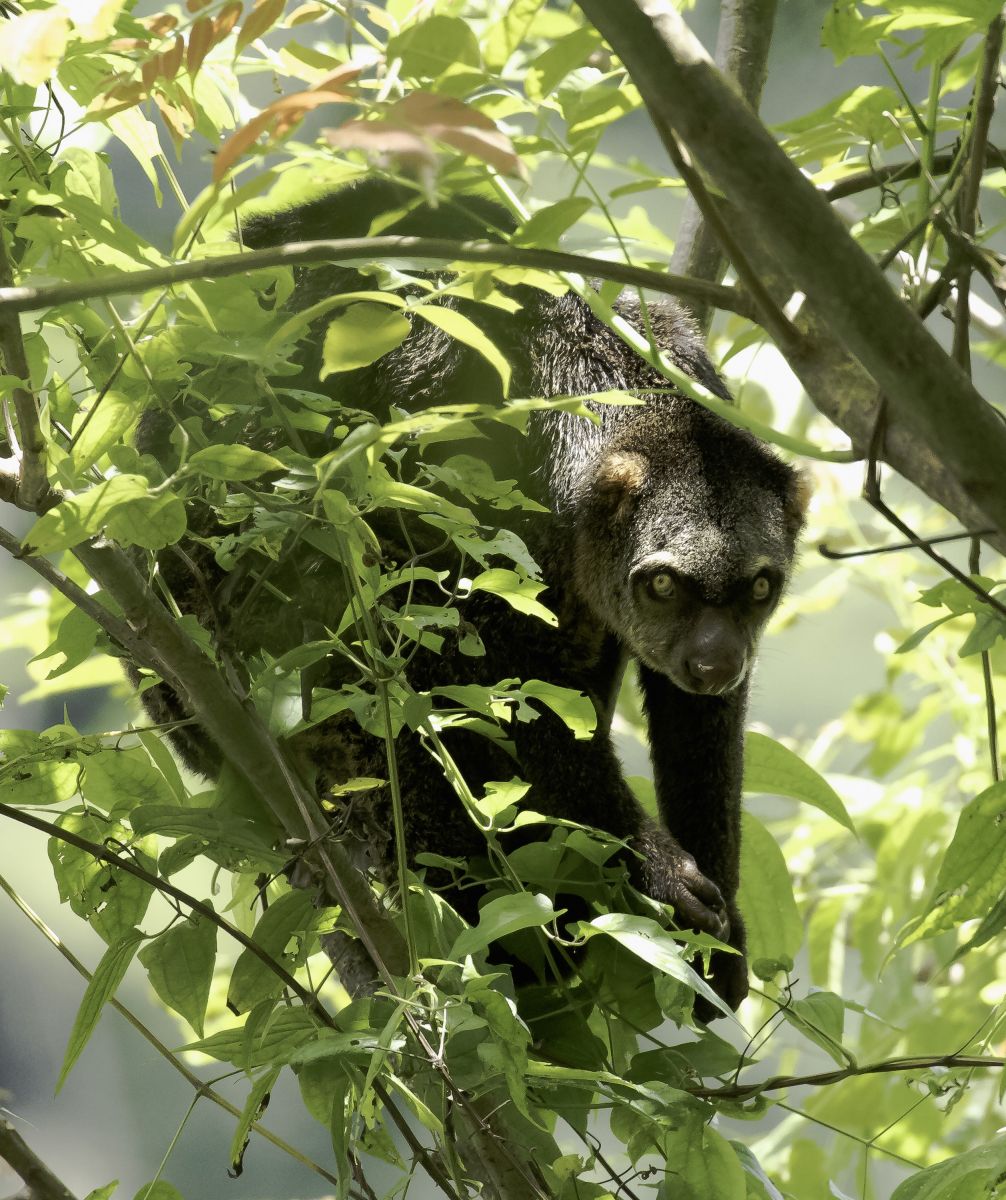 The last bird I saw in Lore Lindu National Park was a small bird of only 18cm, resting on top of a leafless tree top in the open grassland. It was a white-breasted woodswallow which is found throughout Southeast Asia, including Thailand. It is an insectivore, feeding mainly on insects and has a conservation status of least concern due to its large and stable population.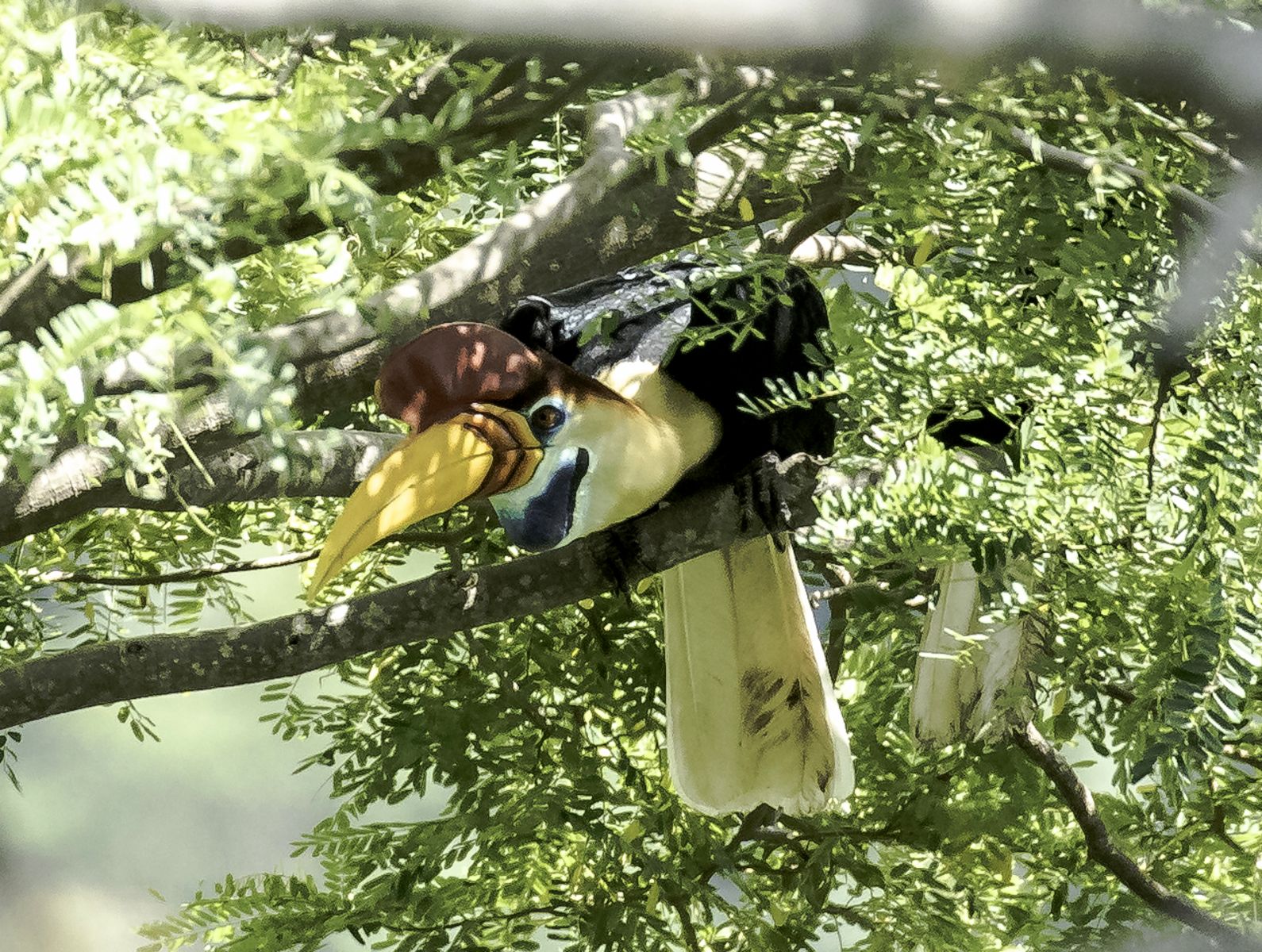 After three days in Lore Lindu National Park, I returned to Palu. The next morning, I embarked on a road trip on the Trans-Sulawesi Highway connecting South Sulawesi with North Sulawesi, covering a distance of about 2,200km. I spent two hours exploring a section that passed through several forests in Central Sulawesi expecting to sight birds and wildlife.
The first bird I spotted was a brahminy kite on a roadside tree. It is a relatively medium-sized bird of prey of between 44 to 52cm in size. It feeds on carrion of dead fish and crabs as well as preys on rabbits and bats. It's found in South Asia and Southeast Asia and appears on the IUCN's list of least concern species.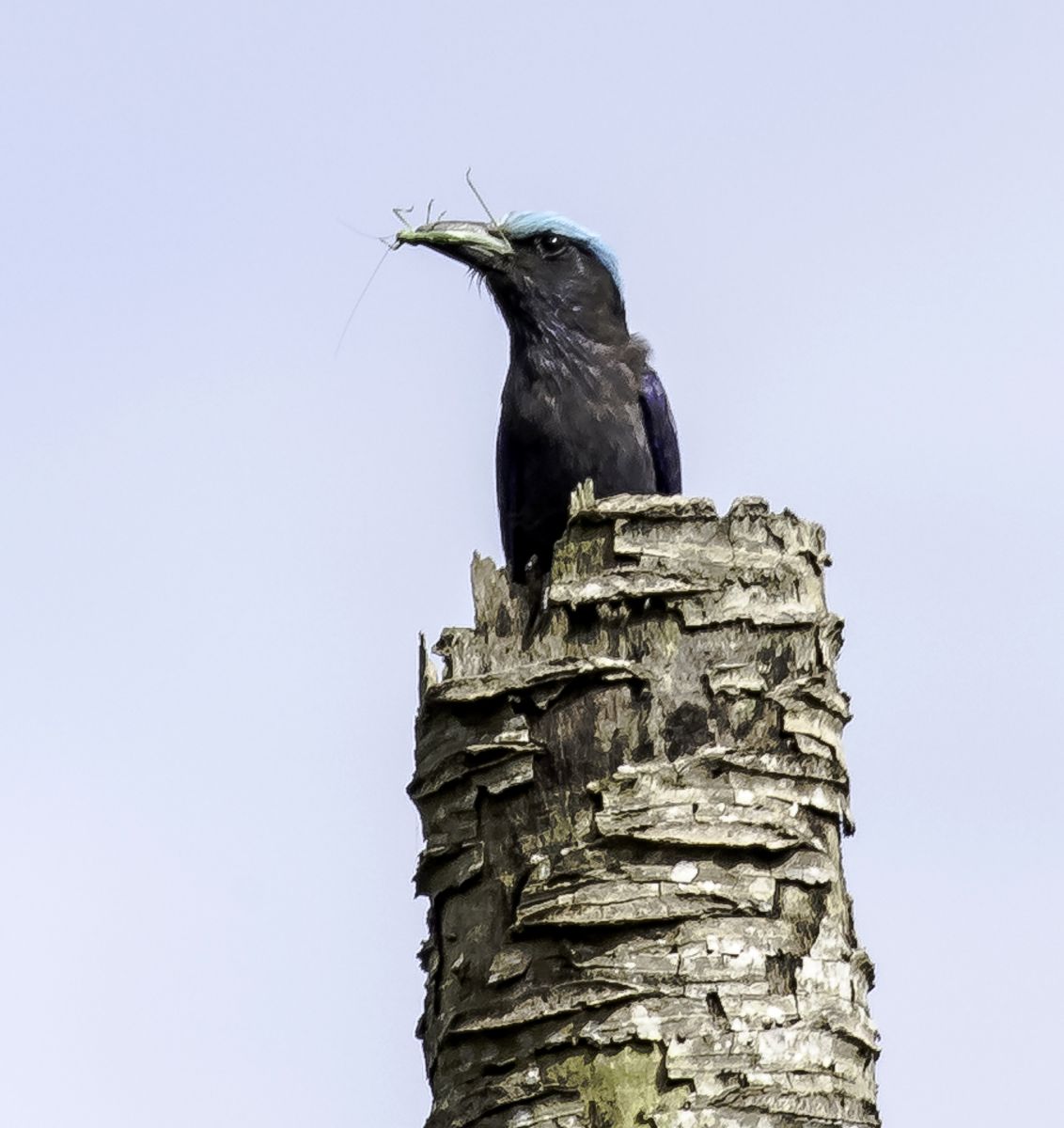 A few moments later, I sighted a Sulawesi purple-winged roller, the only endemic roller of Sulawesi, perched atop a dead palm tree. It had a large insect in its mouth ready to feed its young in the nest made from a cavity below in the same tree. This roller species preys on grasshoppers, locusts, beetles and small lizards.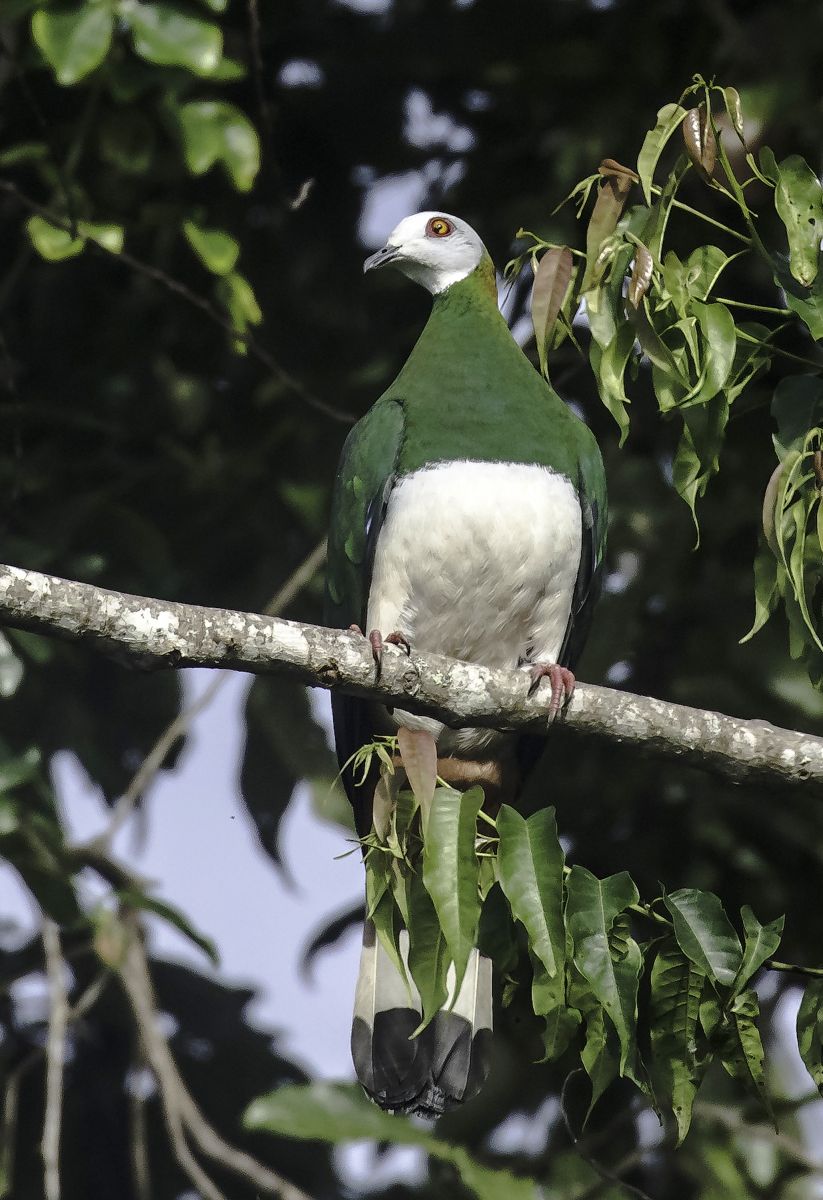 As we continued heading north on the Trans-Sulawesi Highway, our local guide who was an experienced birder, spotted a Sulawesi red-knobbed hornbill on a tree near the road and asked the driver to stop. He then led me to a spot where we could have a clear view of the hornbill, which turned out to be a pair of hornbills. The one that the guide first saw was a male with a red knob, and the other was a female with a yellow knob. I had seen a male Sulawesi red-knobbed hornbill on this trip in Tangkoko Nature Reserve in North Sulawesi, but today I was fortunate to see a female red-knobbed hornbill as well. Apparently, we found these two hornbills in their breeding season.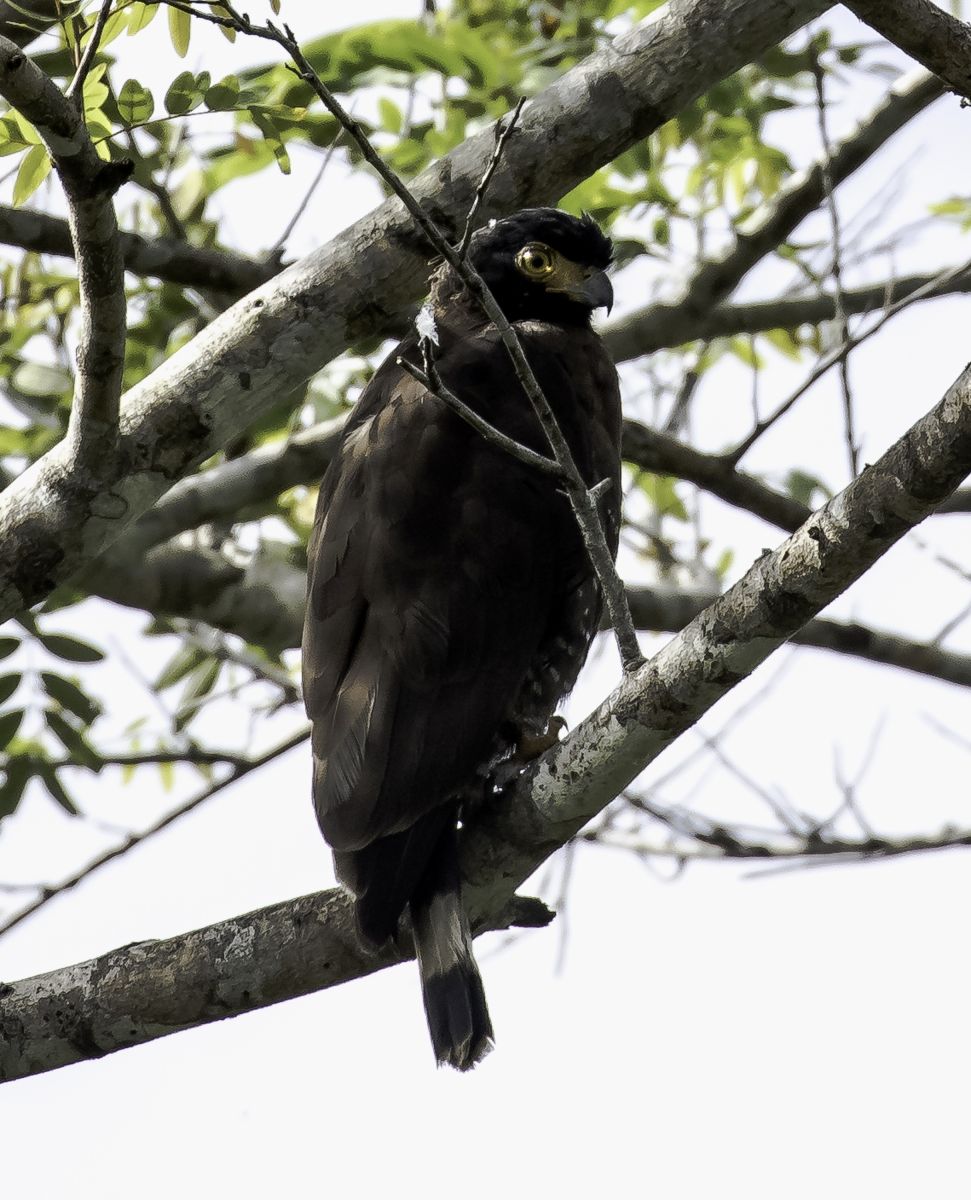 While I was photographing those two hornbills, my guide went to look around and returned shortly to tell me that he found a Sulawesi bear cuscus feeding on fruit nearby. I asked the guide to take me to see what turned out to be a male. Again, I was fortunate because the two bear cuscus I had sighted at Tangkoko Nature Reserve were both female.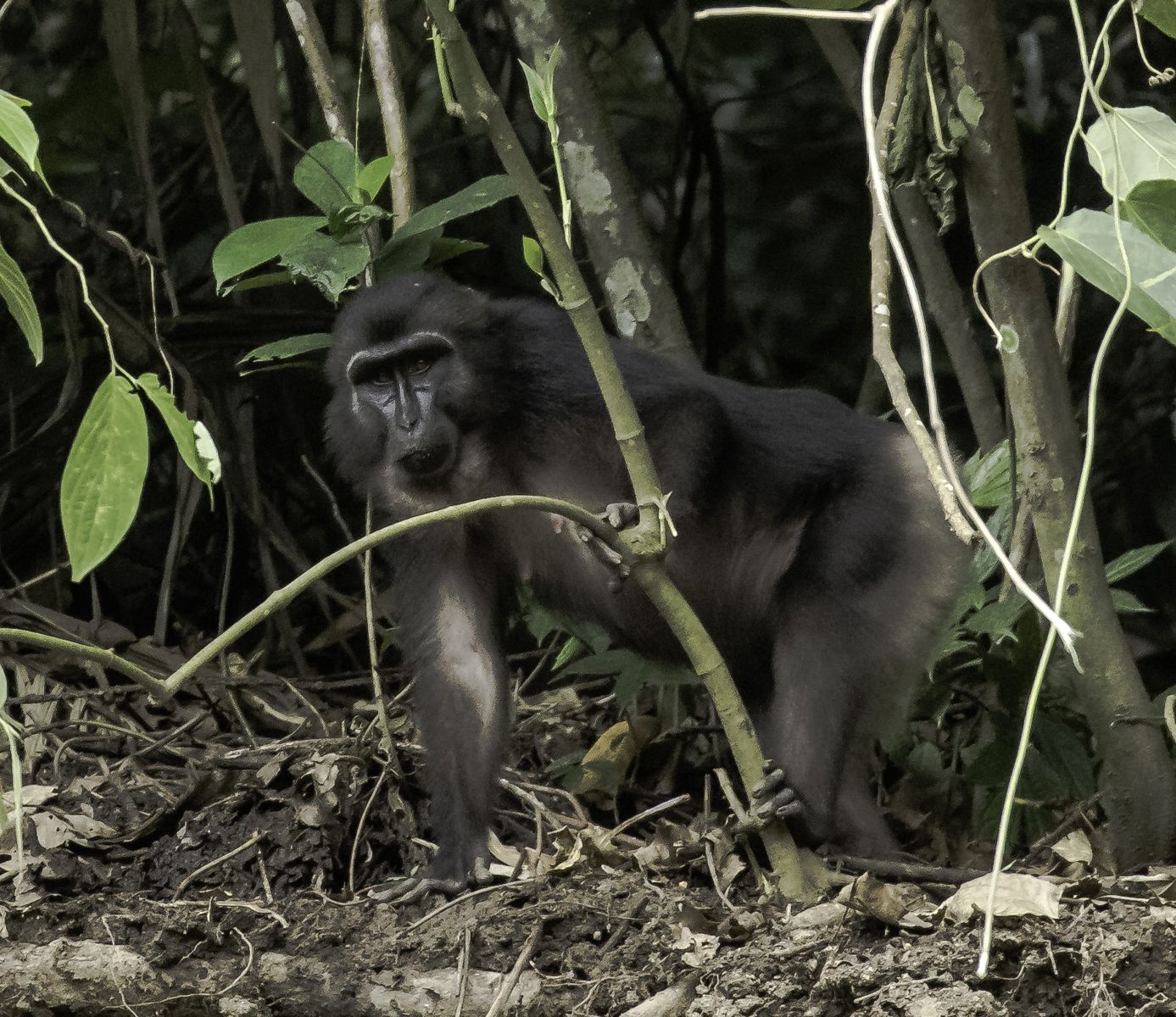 My luck with wildlife prevailed when the wildlife species I discovered next was a troop of Tonkean macaques, which I had never seen before. It was indeed an unexpected discovery. Our car came to a temporary stop at a road construction zone, and my guide who was sitting in the front seat next to the driver looked at the forest on his left and told me he saw movement of a number of monkeys. We left the car to look closer, and he identified them as Tonkean macaque. They are the largest macaque in Sulawesi with a body length of 50 to 67.5cm and weight of 8.6 to 10.5kg. They are endemic to Sulawesi and the surrounding islands and have a lifespan of 28 years in the wild. Their diet includes fruit, leaves, stems as well as insects and worms. The Tonkean macaque is listed by the IUCN as a vulnerable species as their population is decreasing continuously due to habitat loss caused by forest encroachment and illegal logging, poaching for meat and wildlife trade.
I then returned to Palu in the late afternoon, which ended my four-episode eventful and exciting exploration of North Sulawesi and Central Sulawesi. Goodbye for now, until we meet on my next adventure.