Reading is undoubtedly fundamental to transforming, enriching and enlightening different aspects of our lives. While much effort and investment has gone into encouraging the public to read more with book fairs and various initiatives, not much has been done behind the curtains regionally to stimulate the creation of quality reading materials. With that in mind, Elite Creative, led by founder Arthorn Techatada, teamed up with allies to establish Thailand's first and so far only rights fair: the International Children's Content Rights Fair, or ICCRF, in Chiang Mai last December.
Having attended local and international book fairs all his life, Arthorn realized what was lacking in Thailand and probably the region: a business-to-business gathering where publishers and exhibitors can meet and focus on content rights. "Thailand has extensive business-to-consumer fairs that connect publishers and consumers, but not much is going on between publishers on a large scale," Arthorn said. He founded Elite Creative Literary Agency, a subsidiary of Praphansarn Publishing of which he is the CEO, in 2014 to mainly sell rights of publishers and authors from Korea, India, Sweden, Germany and other countries for the Thai and Asian markets.
"In recent years there has been an attempt to organize rights fairs, but it was embedded within a B2C fair. It was at an international scale, but it was not that successful because, first of all, it was too broad and generic, and second of all, you need people in the know and those with good connections within the publishing
industry to succeed. That was one thing that inspired us to think about having a dedicated rights fair.
"Another factor behind this event is that we wanted to educate not only the public but also publishers about the importance of copyright – not just for books but film, music and software. Years back copyright was not respected and the laws concerning intellectual property were not strictly enforced. So if you wanted to translate a book in another language and publish it, you just took it without permission and made a profit from it, which is wrong. I think this is one of the reasons some underdeveloped countries were not respected and recognized in the global community. They didn't respect the rights and ignored the fact that everything has its cost, because who would want to create any good things only for them to be stolen and profited from?"
The inaugural edition of the ICCRF was held from December 6 to 9 at the Chiang Mai International Exhibition and Convention Centre with support from the Department of Intellectual Property, Bangkok Bank, Microsoft (Thailand), and a number of non-profit organizations. These included the Books for Children Foundation, or ThaiBBY, which is the Thai section of the International Board on Books for Young People; the Association of Producers and Distributors for Educational Media and Technology; the Writers Association of Thailand; Thai Media Fund; Chiang Mai Maker Club; and Bologna Fiere, organizer of the Bologna Children's Book Fair in Italy.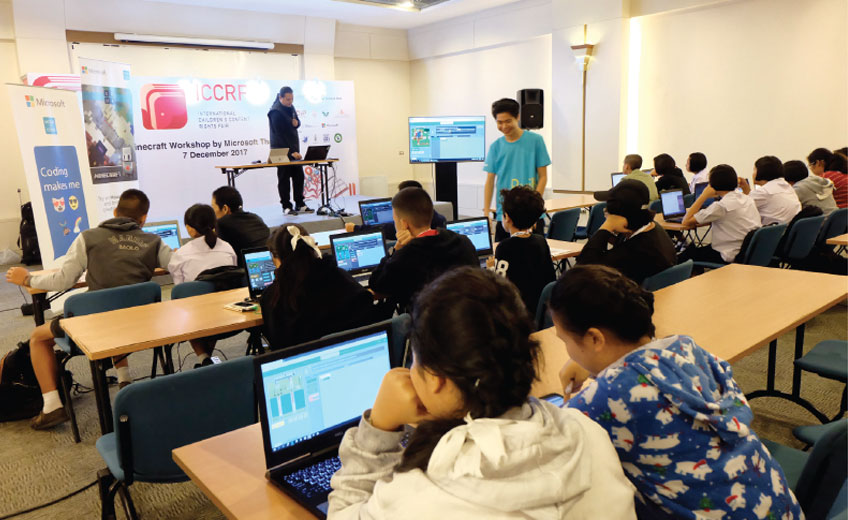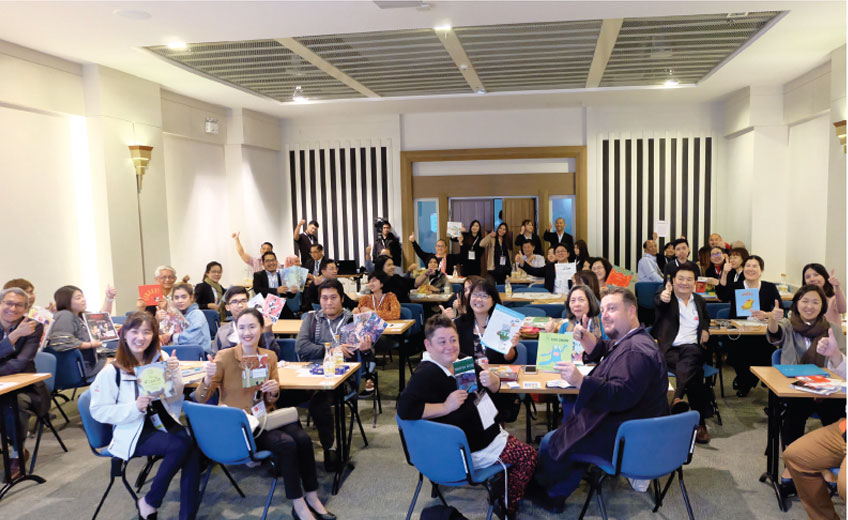 Amid the culturally rich backdrops of Chiang Mai City and Lanna flair, the first ICCRF spanned four days, and publishers from Thailand, Asia and Europe connected and forged alliances, even friendships, in a genuine and warm setting. "I was happy with how it turned out," Arthorn said. "We fulfilled our mission to connect publishers and aid them from upstream to downstream. The ICCRF, unlike other book fairs, which are normally large, is compact and friendly, and I believe it helped business talks go smoothly." Held under the concept "creativity beyond the page", the ICCRF not only presented publishers with business opportunities but also provided a platform for talents, as a creative marketplace for those printing materials for children and young adults, rights owners and illustrators in ASEAN countries and beyond.
"We want to offer well rounded creative experiences where you get inspiration from a good book and go on to create something," Arthorn said. "Books are a good source of knowledge and inspiration, but what good would they be if there is no platform for young minds to explore the possibilities and put their imagination to good use? We fully support Thailand becoming a leader in educational technology in ASEAN, one book at a time."
Highlight activities at the ICCRF included an illustration workshop by Swedish artist Anders Lindholm that took his works from paper to a digital platform, and an in-depth talk with Thomas Nung Atasana, director of Borobudur Agency-IKAPI, the leading literary agency in Indonesia. Chiang Mai Maker Club brought 60 innovators and creative minds together to host various talks and workshops about home automation, robotics, artificial intelligence and creative technology, while Microsoft (Thailand) brought out the inner inventor in participants with a creative computer coding workshop.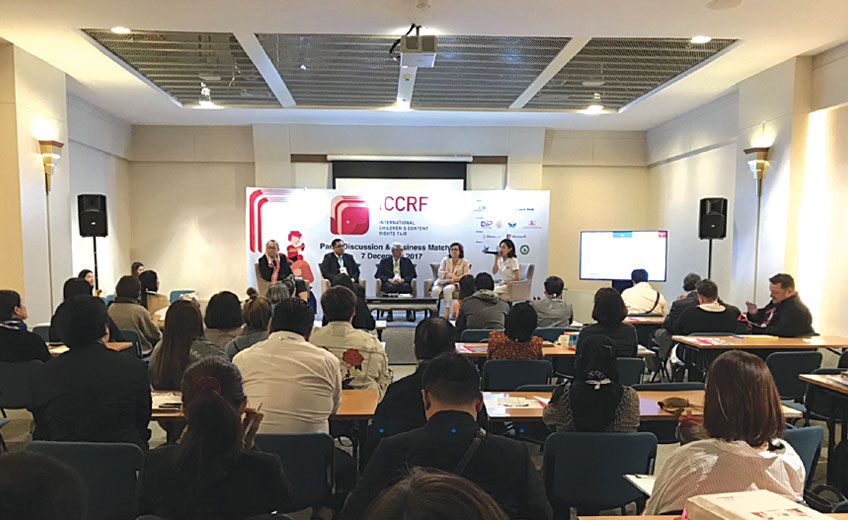 The ICCRF also showcased an illustration exhibition by 75 globally renowned children's book illustrators from Spain, France, Korea, Argentina, Hungary, Ukraine, Chile, Taiwan, the US and the UK that previously exhibited at Bologna Children's Book Fair 2017.
Furthermore, the fair organized the ASEAN Illustration Contest to acknowledge talent in the region in three categories: ASEAN Children's Book Illustrator Award of Excellence, ASEAN Children's Book Illustrator Best in Fiction and ASEAN Children's Book Illustrator Best in Non-Fiction, with prize money of up to $12,500. The award ceremony will be held at the second ICCRF between November 29 and December 2 this year at the same venue.
"This time around we will add 10 more awards especially for amateurs and rising stars," Arthorn said. "The fair at the end of this year will be a bit bigger, mainly because more exhibitors will come and join us. This time we aim to attract more visitors and encourage meetings between businesses. We want to be a platform for individual talents and small publishers to thrive and showcase their potential to the broader market.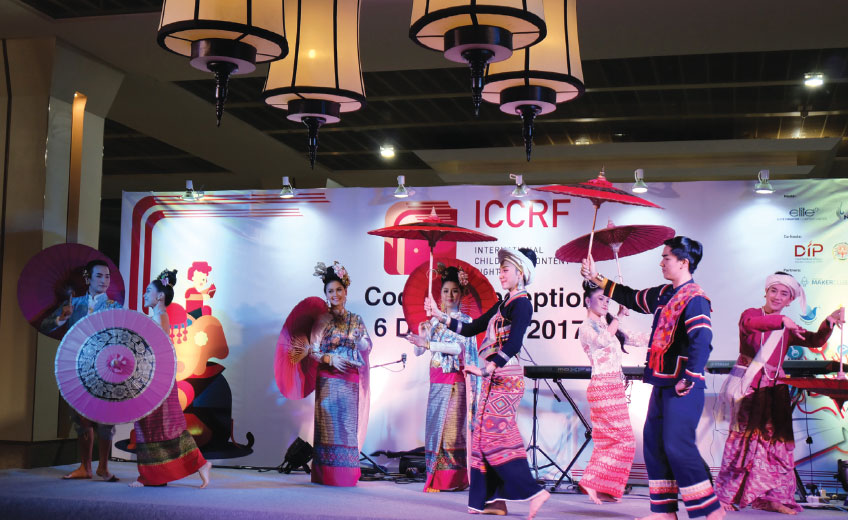 "We intend for the ICCRF to be an annual fair. So far we have established a strong connection within ASEAN countries that thus increases our negotiating power. Instead of just looking to Europe and importing from elsewhere, we can now look inward and bring the best of our talents to the world." The first ASEAN Illustration Contest, held as part of the International Children's Content Rights Fair (ICCRF), welcomed 112 contestants from Brunei, Indonesia, Malaysia, the Philippines, Singapore, Vietnam and Thailand, as well as Thailand-based French and Indian illustrators.

Sponsored by Bangkok Bank, the winners are:
Award of Excellence – Kampanart Sangsorn from Thailand for Somwang's Story
Best in Fiction – Joffrey Atienza from the Philippines for Malong, the Magic Cloth
Best in Non-Fiction – Jitsuda Bowornkij from Thailand for Thailand's Underground Animals