Bangkok – Recently, the first Elephant Boat Race & River Festival on the Chao Phraya River raised "generous" sums for elephant charities this year. organizer Anantara Hotels, Resorts & Spas has announced.
Rowers sparkle in the sunlight
Organized by Anantara Hotels, Resorts & Spas, the event drew 12 teams, each made up of 20 paddlers, a drummer and a helmsman. Following International Dragon Boat Federation (IDBF) rules, team Chang won the final, which is perhaps fitting as the event to help elephants was won by Chang, which means elephant in Thai.
Team Chang gets in position
The 200-meter-long races were held next to the Anantara Riverside Bangkok Resort."The Anantara Group has been supporting elephants in Thailand and Asia for many years," said Tim Boda, Director of F&B, Operational Excellence & Events with the Anantara Group. For 18 years Anantara Group organized elephant polo competitions to raise funds and awareness for elephants, but ended the event after 2018, replacing it with the boat races.
Team Chang winning one of the heats
"Everyone is familiar with dragon boat races. We found this is a really cool sport and we wanted to get involved," said Boda, adding, "We try to make a difference here, making a fun event, but at the same time collect as much money as possible for a good cause."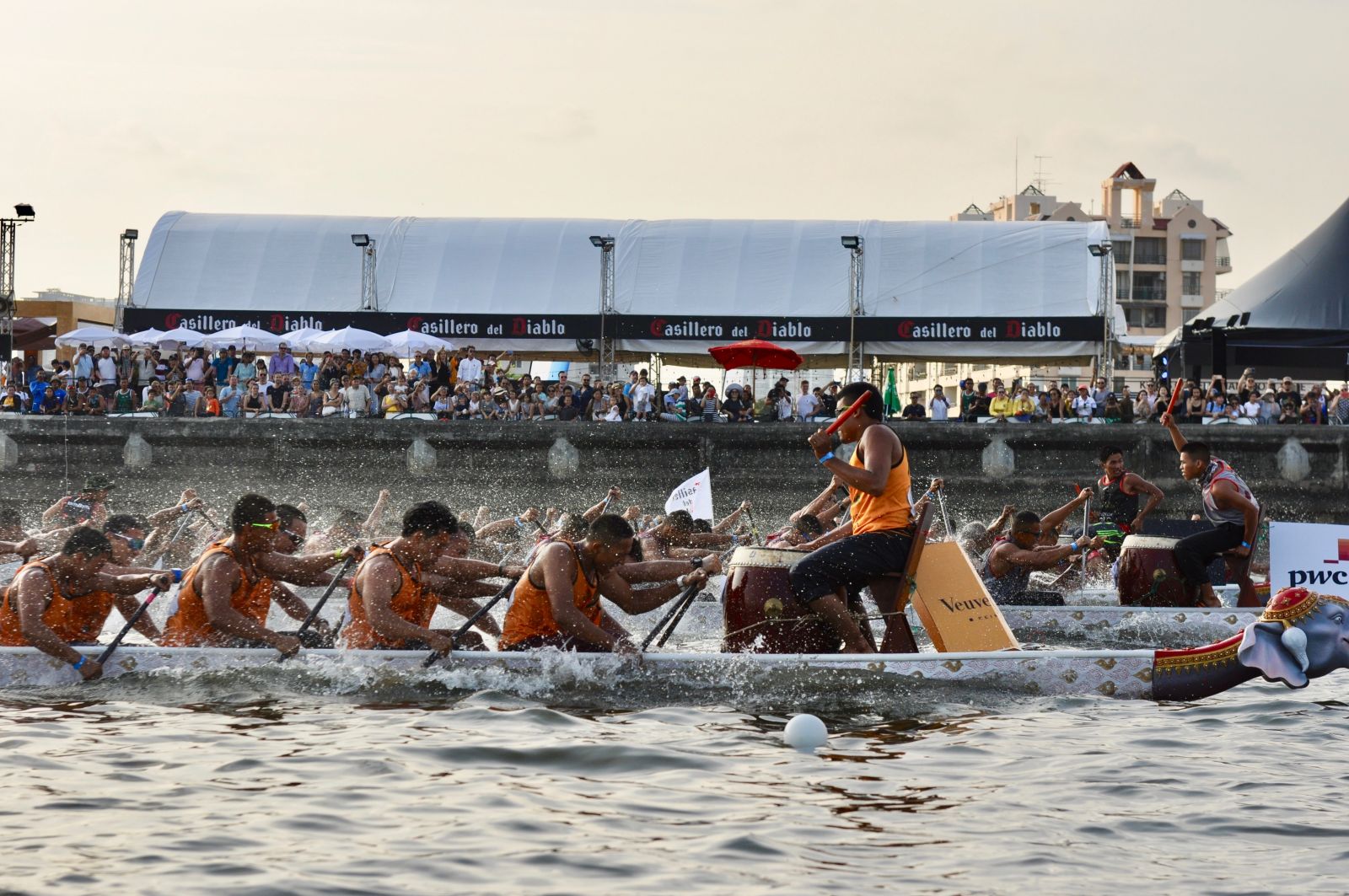 Drummers beat a rhythm to keep the paddlers moving
Funds are donated to the Golden Triangle Asian Elephant Foundation which distributes them to relevant elephant organizations and charities aiming to improve the welfare of Thai domestic elephants, but also all elephants in Southeast Asia.
These include the Zoological Parks Organisation of Thailand which supports veterinary and educational projects to improve the year-round lives of elephants and mahouts in Surin province, where domestic elephants face ongoing hardship, said Boda.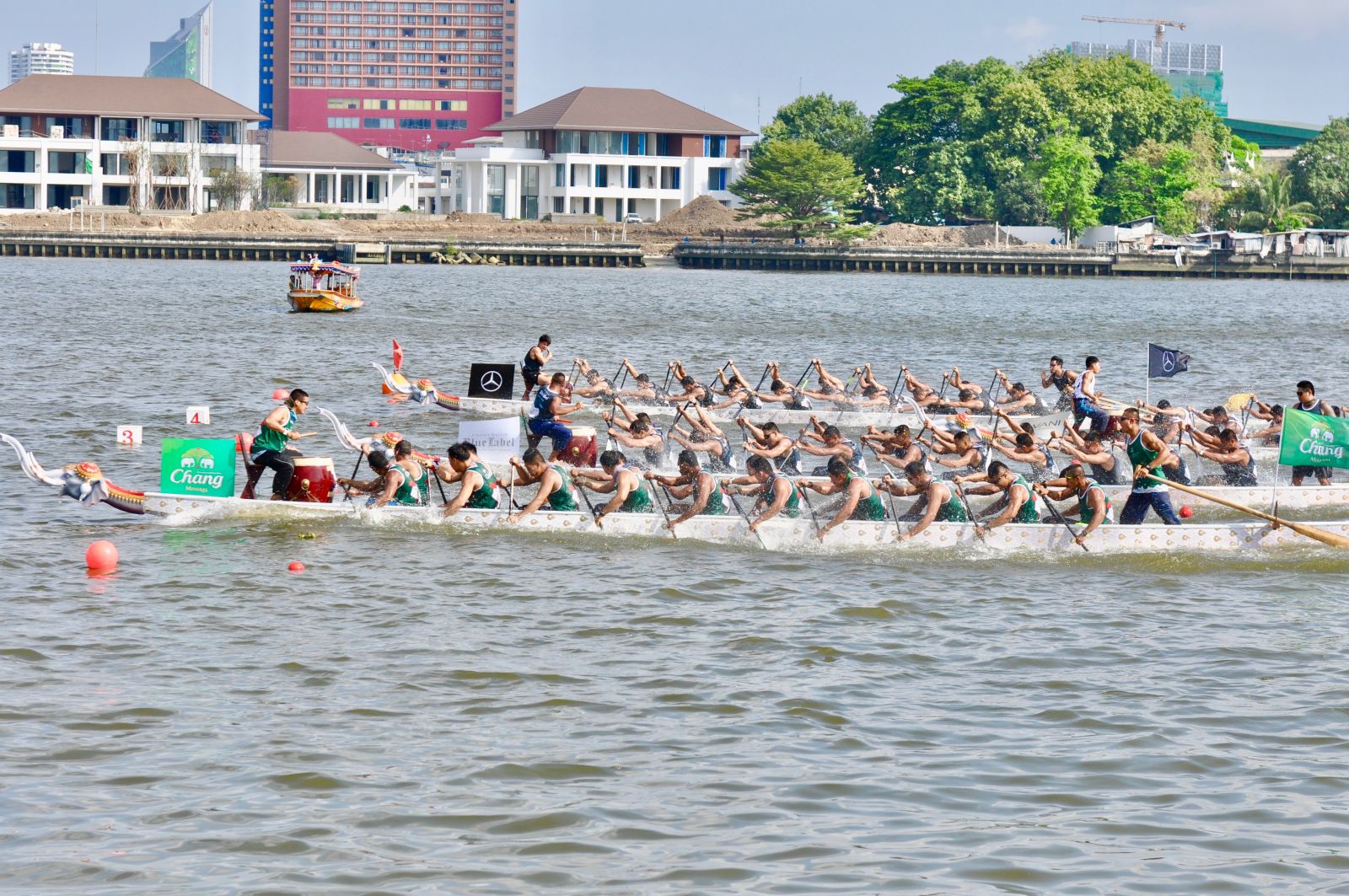 Team Chang edging out Johnnie Walker Blue Label and Mercedes Benz
While the event focuses on the boat races, there is much more, including a food village with Kuppa, Chef Iron, Biergarten and other restaurants. Games and concerts are also part of the mix. This year, Atom, Singto Numchok, New Jiew and J Jetrin performed on the outdoor stage.
The boats were all fitted with elephant heads
Jamie, a female visitor from Singapore who only gave one name, said she flew in for this specific event and returns every year to support the elephant foundation. "I just flew in for this event because I like the fact that they are raising money for elephants," she said, going on to say, "It's good to see a lot of big companies coming to support elephants." "It's really a festive feeling. I know a lot of my Thai friends are here for the concert," added Jamie.
The EGT team leading the Bangkok Bank and Anantara teams
Race participants from China, the Philippines, Taiwan, India, Iraq, Iran, Malaysia and other countries joined the Thais. Kean Tristan S. Erasmo and Aris Jacob G. Sun, from the Philippines, said it was an exciting competition and a great first time to be competing abroad. "The event is very organized and beautiful, and the people are very nice," Sun added. "For the year to come we hope the event will grow much, much bigger," said Boda.
Team Chang and Johnnie Walker Blue Label splash it up in the Chao Phraya
Next year's event is already on the calendar, scheduled for 28 February to 1 March 2020, organizer Anantara Hotels, Resorts & Spas has announced.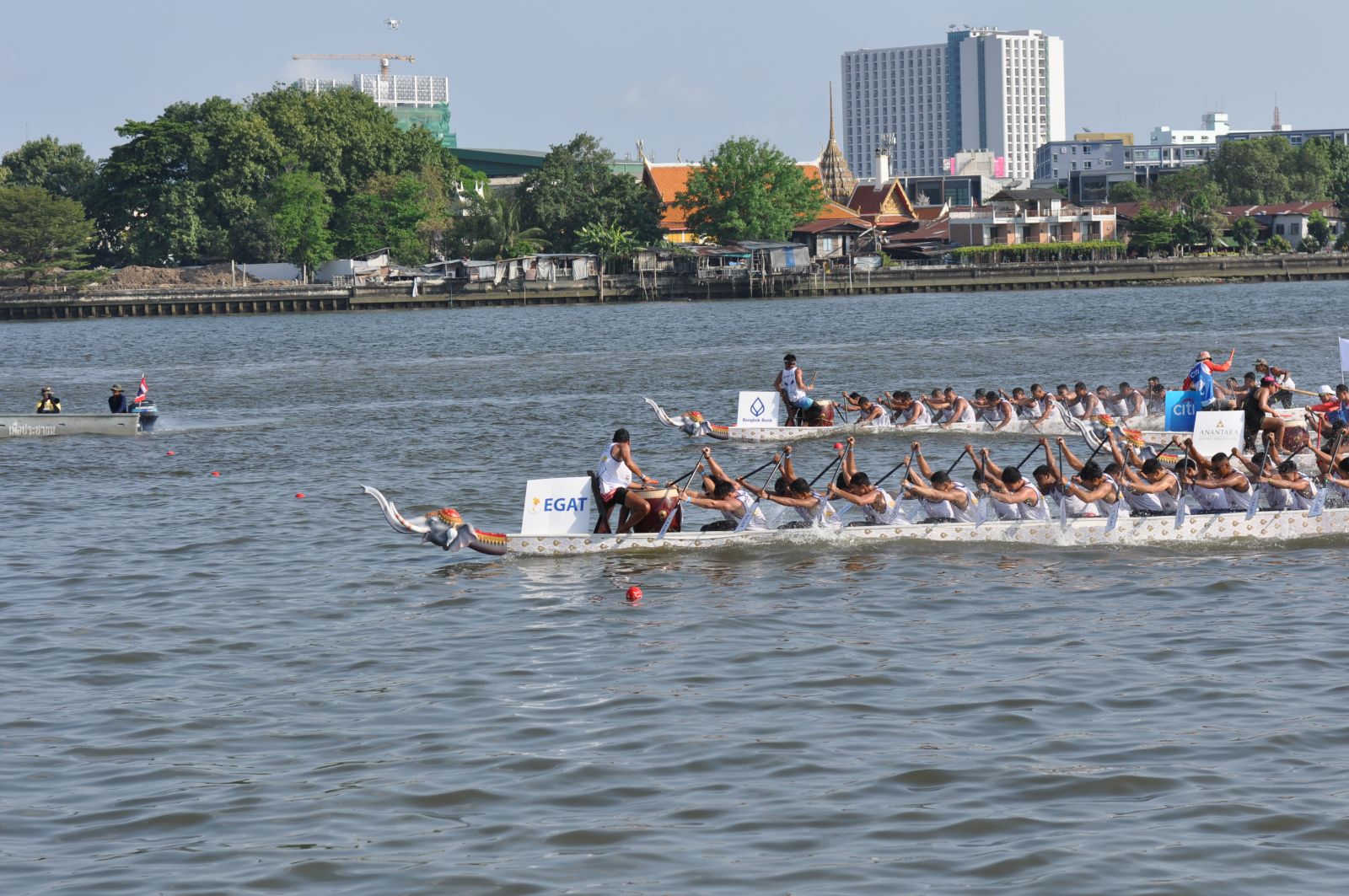 The EGT team leading the Bangkok Bank and Anantara teams
This year, tickets were 200 baht a day for adults and free for children under 12 years of age. VIP tickets, which included free beer, wine, spirits and snacks, were also available for 3,000 baht a day. Anantara operates a free shuttle boat from the Taksin bridge pier next to the Taksin BTS station. There was then a free five-minute tuk tuk ride from the hotel to the race site. Free parking was also available at the venue. Natchaya Muangdaengdee, Naragamol Voothisiri and Pornrapatsiri Akarathanasirichot contributed to this report.
A Johnnie Walker Blue Label paddler is wet after a race