From the sixth to the eleventh of December 2022, Thailand honoured Her Majesty Queen Sirikit, the Queen Mother, known as the "Queen of Silk", with the 12th Celebration of Thai Silk. After three years of the Covid 19 hiatus and the easing of travel restrictions, the event ran for an entire week and included commercial displays, individual country shows and an extraordinary nationally televised fashion show. The project named as "Celebration of Silk – Thai Silk Road to the World" has been showcasing since 2010, and 2022 was its 12th annual celebration to commemorate Her Majesty's 90th Birthday.
This year, the event showcased national costumes and fashions produced with Thai Silk designed and tailored by fashion designers from 60 countries and 46 Thai silk outfits by Thai fashion design students nationwide.
The International Designers
What follows are a series of short exposés based on interviews with fashion designers who participated in "Celebration of Silk – Thai Silk Road to the World".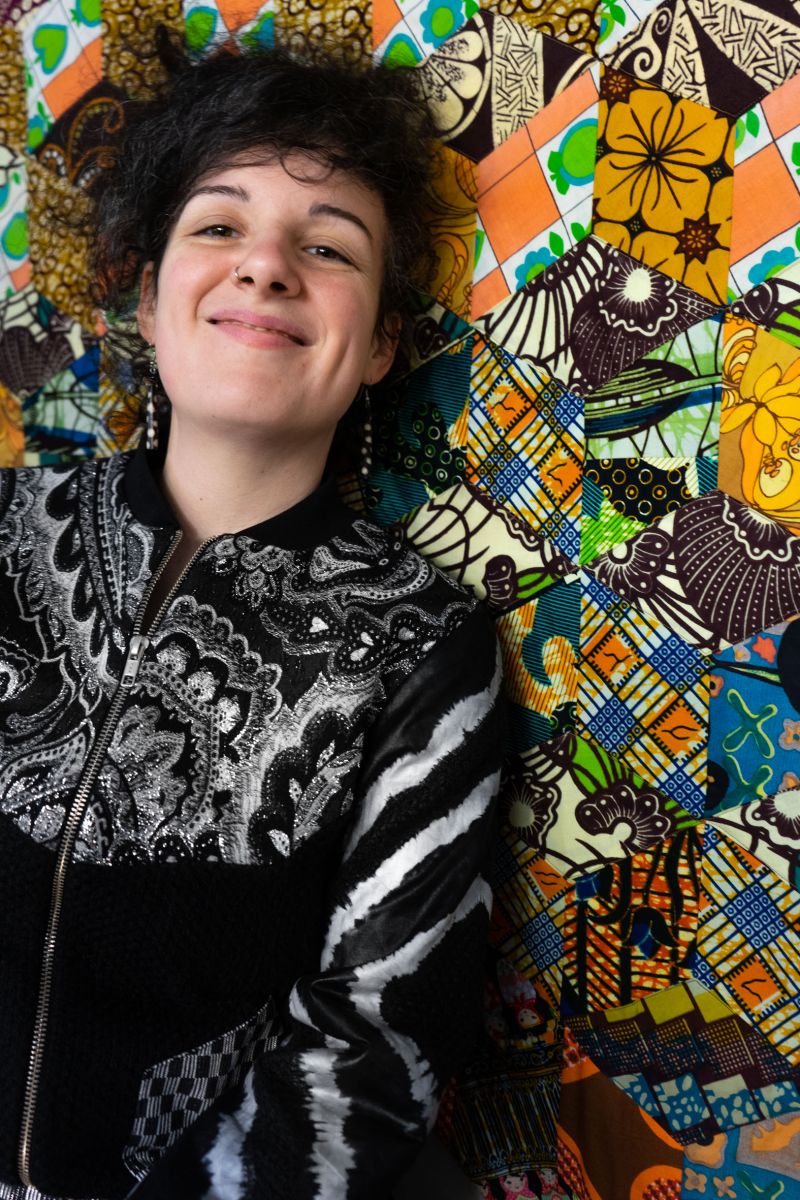 Julie Menuge (Belgium)
Julie Menuge (Belgium)
It is Julie Menuge's second time representing Belgium as a designer participating in the International Thai Silk Fashion Week. The first time was in 2019. Julie shared how she finds Thai silk as a designer. "I consider Thai silk very precious, and I have a deep respect for the entire production process behind the material. To me it represents a high skilled Thai textile craftsmanship, from the yarn and its dyeing to the handweaving that provides unique patterned designs in the fabric. I really do appreciate Thai silk."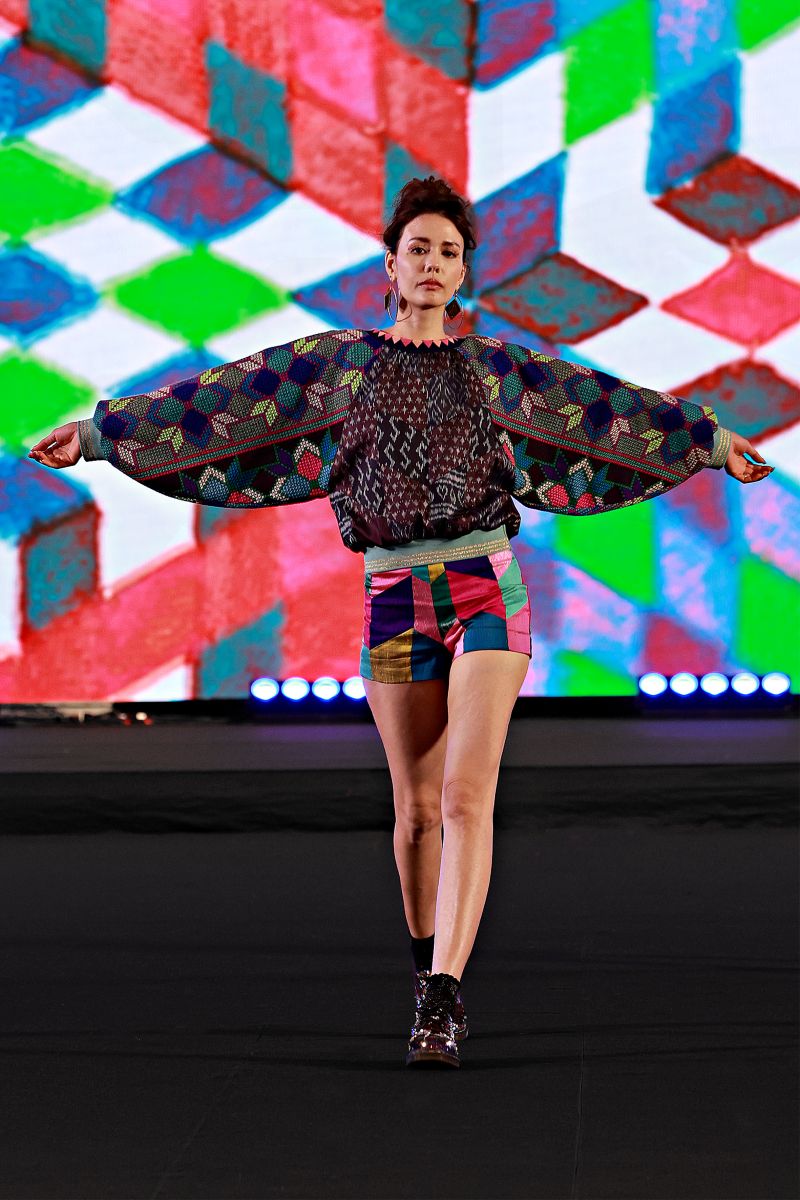 "As a designer from Brussels, I have always been inspired by our city's cultural diversity, mixed with a certain sense of humour and surrealistic state of mind. For example, I feel totally free to combine the luxury and brightness of Thai silk with upcycled and vintage funky pop bedsheets. Assembling many kinds of textures, colours and patterns is my personal way to contribute to my country's design heritage, including fabulous and beautiful Thai silk in my textile compositions."
When asked her impression of Thailand, or Bangkok, as a fashion hub, "I am very impressed by how Thai designers seem to be respected and valued here, and I wish we could take some inspiration from this in Belgium!"
Facebook: SuperMixVeritable or Instagram: julie_menuge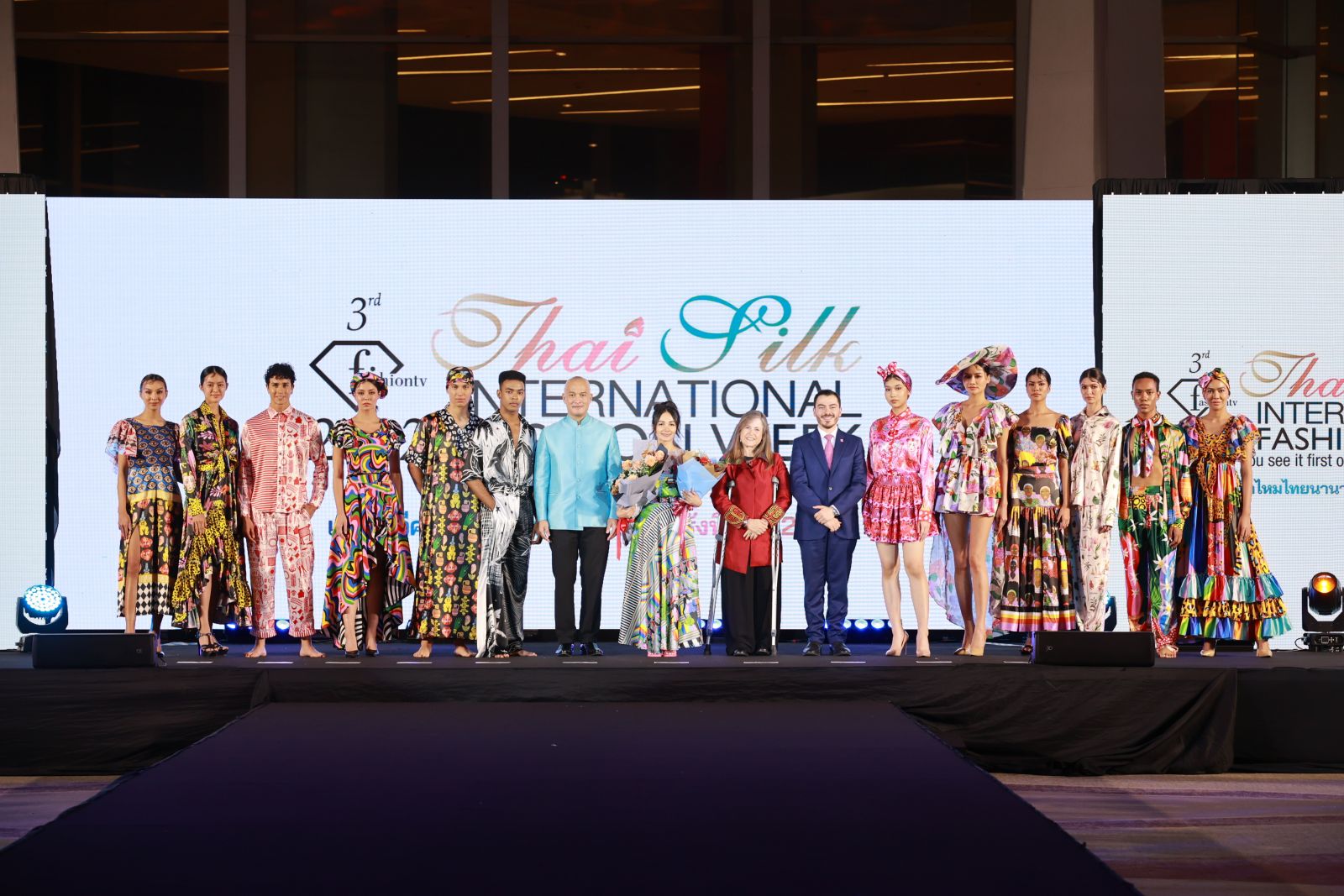 Catalina Carvajal-Monroy (Colombia)
Catalina Carvajal-Monroy (Colombia)
Catalina Carvajal-Monroy created her INFINITA brand in January 2019 in Bogotá, Colombia. This was her first time to join this event. "Working with Thai silk has been a wonderful and novel experience. It is the first time I have worked with a textile of this fineness and quality. I am impressed by its beauty and diversity of colours, brightness and shades and admire the handcrafted, artistic work in each weave. It is a resistant fabric that has all the characteristics needed to create garments with a high level of design and detail."
When asked about combining her country's design heritage with Thai silk, she said, "I found this work very challenging, and this time I decided to speak through the collection that I presented about the Wayuu community of La Guajira in Colombia, an indigenous community that stands out for its artisan work with fabrics and a powerful meaning of colour. I realized that the Wayuu aesthetic in my country was perfectly connected with Thai silk designs, so it seemed like a beautiful story to tell of these two cultures working hard to preserve their customs, manual work and history." Catalina was impressed with Thailand as a fashion hub. "Bangkok is a city with great potential to encourage fashion."
Facebook: infinitaesinfinita or Instagram: infinitaesinfinita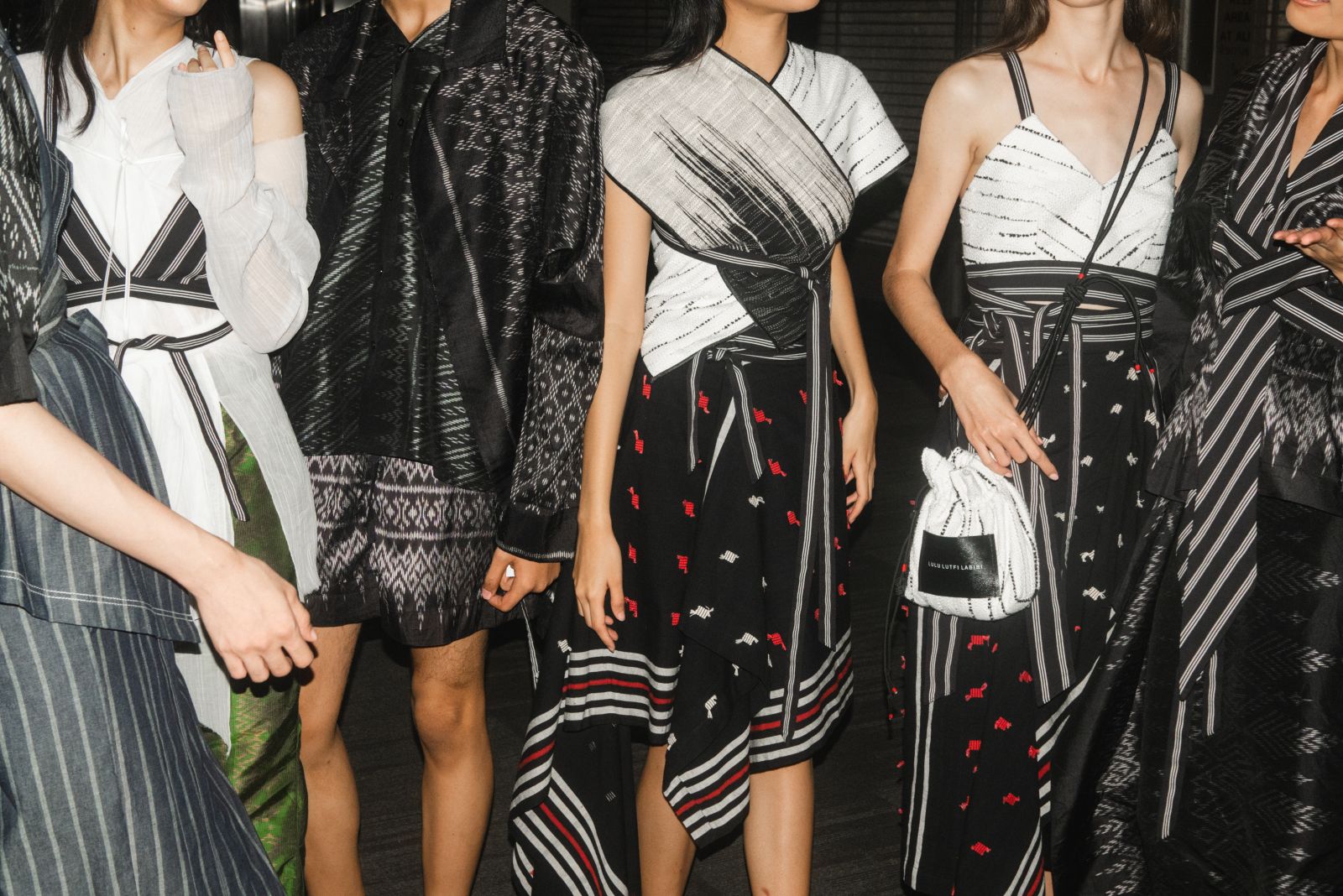 Lulu Lutfi Labibi (Indonesia)
Lulu Lutfi Labibi (Indonesia)
Lulu Lutfi Labibi started to create his brand in 2012. This was also his first time participating in the Thai Silk event. He explained, "Thai silk in my country, Indonesia, can be found in textile shops, but with limited choices. Those sold in Indonesia are mostly plain, machine-made, and not the silk with various motifs made from traditional looms."

For his show in Bangkok, he said, "I combined Thai silk geometric motifs with Lurik Classic (Yogyakarta archipelago) patterns, which have a characteristic line. Together they create a very interesting and harmonious combination because they bring the soft and elegant motifs of Thai silk with the strict Classical Lurik. I had no difficulties when I processed these two fabrics, but instead I found a balance from the different fabric characteristics."

"Many figures have used our brand creations, from political figures such as the Minister of Foreign Affairs, Mrs Retno Marsudi and the ambassador to Thailand, HE Rachmat Budiman, and his wife, as well as many celebrities."
When asked about his impression of Bangkok, he said, "Thailand is one country that values diversity, and Thai Silk Fashion Week is an important intercultural event uniting many countries."
Brand: LULU LUTFI LABIBI or Instagram: @lululutfilabibi
Adi Osterwill (Israel)
Adi Osterwill (Israel)
This was Adi Osterwill's first time participating in the Thai Silk Fashion Week. She shared, "I could not be more excited. It was very challenging to work with a new fabric, one that is so gentle, as I love to experience new fabrics and materials all the time."
Her traditional design drew inspiration from her nation's capital Jerusalem. "I combined a few silk fabrics together to make one "traditional dress" and added more specific details to make it more extravagant. Jerusalem is the city of three religions: Judaism, Islam and Christianity. They all share sacred sites within its boundaries, and I incorporate them all in my designs.
Asked about her impressions of Bangkok, she said "I like the colours and everyone always seems happy. I like that if you see a Thai design, you will know it's from Thailand. The Thai Silk event seems like a very difficult project with the designers coming from all over the world. For me, this is one of the biggest events that I have taken part in as a young fashion designer who represents my country. So, I am quite excited and very thankful."
Facebook: Adi Osterwill fashion designer or Instagram: adiosterwill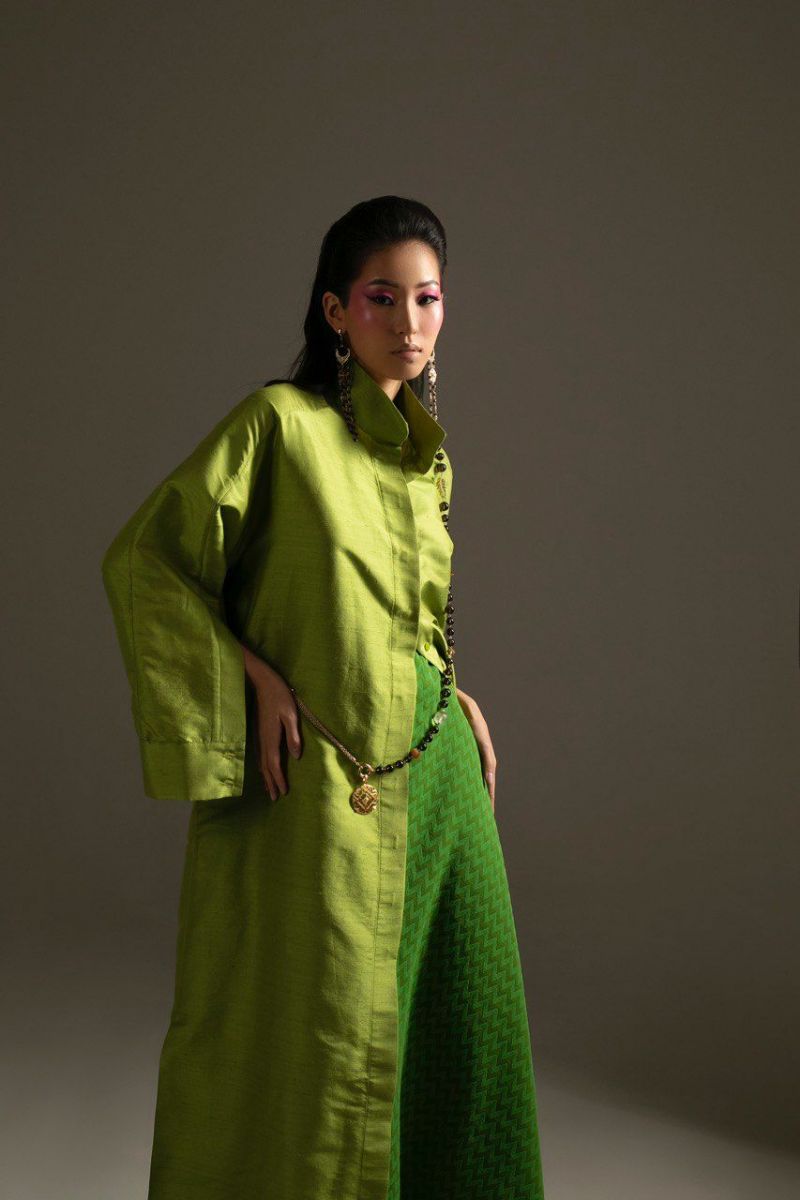 Svetlana Sokhoreva & Meruyert Shakerbayeva (Kazakhstan)
Svetlana Sokhoreva & Meruyert Shakerbayeva (Kazakhstan)
Meruyert Shakerbayeva has been a designer of fashionable clothes and accessories for women for five years, and Svetlana Sokhoreva has been a designer somewhat longer. It was their first participation in the event. On their impressions with Thai Silk, they said, "We are impressed with the various shades and textures, incredible handwork and the high quality of the silk.
"The Kazakh national costume traditionally stands out because of its bright colours. We chose to use sky-blue Thai Silk. We also produced a Saukele national headdress and complemented the outfit with traditional golden jewellery. Our clients are numerous businesses women of our country, and we are proud that such strong modern women choose our brand."
When asked about the event organization, they commented, "We are impressed by the organizers; communication has been clear and well-organized. Such production of high-quality Silk implies a focus on designers and people from the fashion industry. We are very grateful for the invitation to such a large-scale event, and we are also proud to represent our beloved Kazakhstan. The organization of the event as well as the meeting of guests from different countries have been of the highest level."
Facebook: ShakerBay or Instagram: shakerbay.design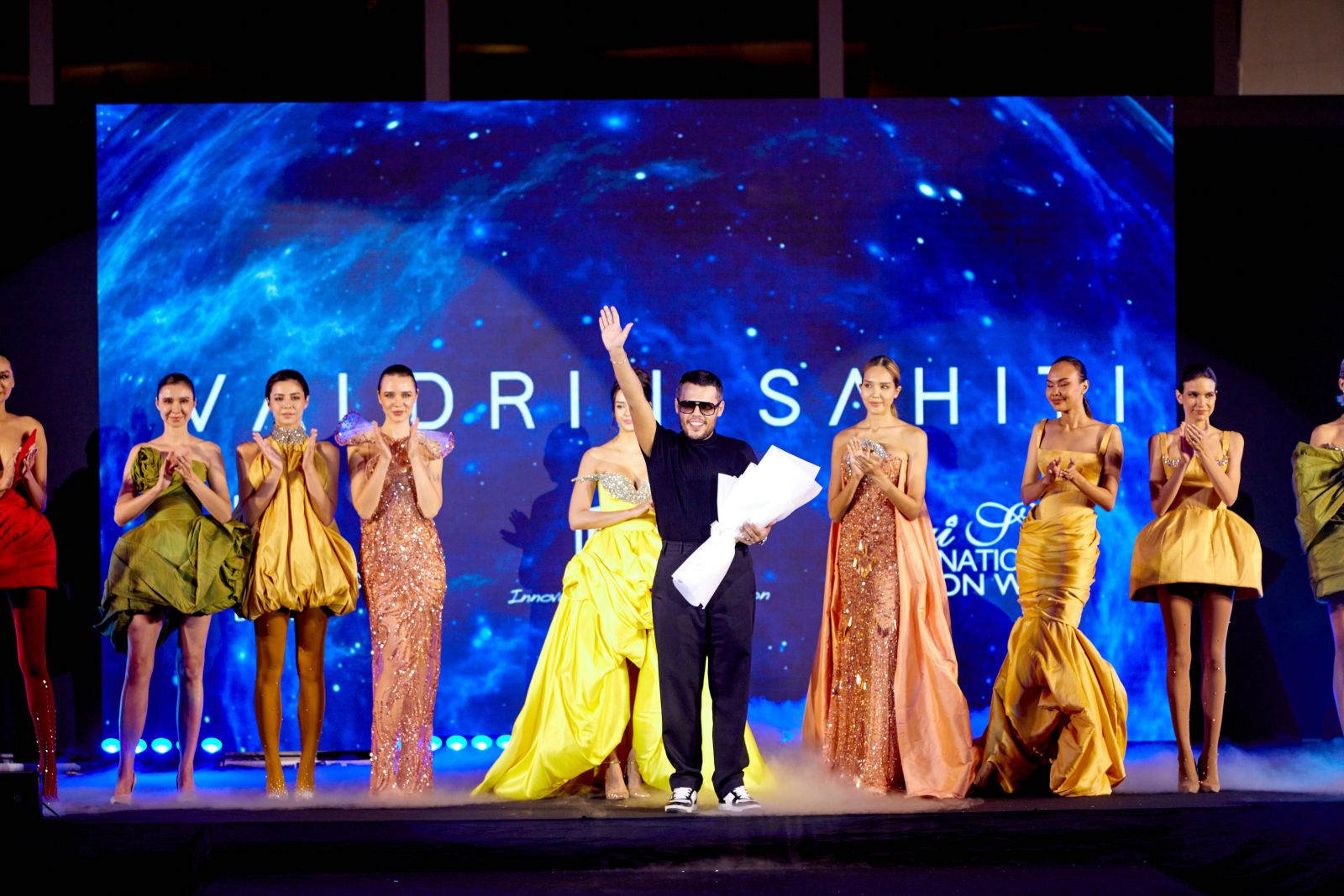 Valdrin Sahiti (Kosovo)
Valdrin Sahiti (Kosovo)
Valdrin Sahiti launched his brand in late 2000 when there was a hunger for glamour in post-war Kosovo. Step by step, the brand got international recognition. This was his first time to join the Thai Silk event. "Thai silk is gorgeous, thick and shiny, a beautiful noble material that requires a lot of attention and skill to work with. My aim was to give a new life to Thai silk, to make it look supple and sultry, to match it with my style and to come up with gowns that are modern, fresh and appealing."
He has worked with many A-list celebrities and influencers such as Beyoncé, Kosovan Rita Ora, Nicole Scherzinger, Kloe Kardiashian and Paris Hilton. Asked what he thought of Bangkok as a fashion hub, he said "I'm smitten with Bangkok. I have travelled around the world a lot, but had never been to Bangkok before. Its hecticness and peacefulness, fit like an oxymoron, but it's true. Bangkok is unique in its capacity to merge the utmost adventure, chaos and spiritual calmness. I also found a very vibrant fashion scene and beautiful people in top-notch trends and style."
Facebook: Valdrin Sahiti Official or Instagram: valdrinsahitiofficial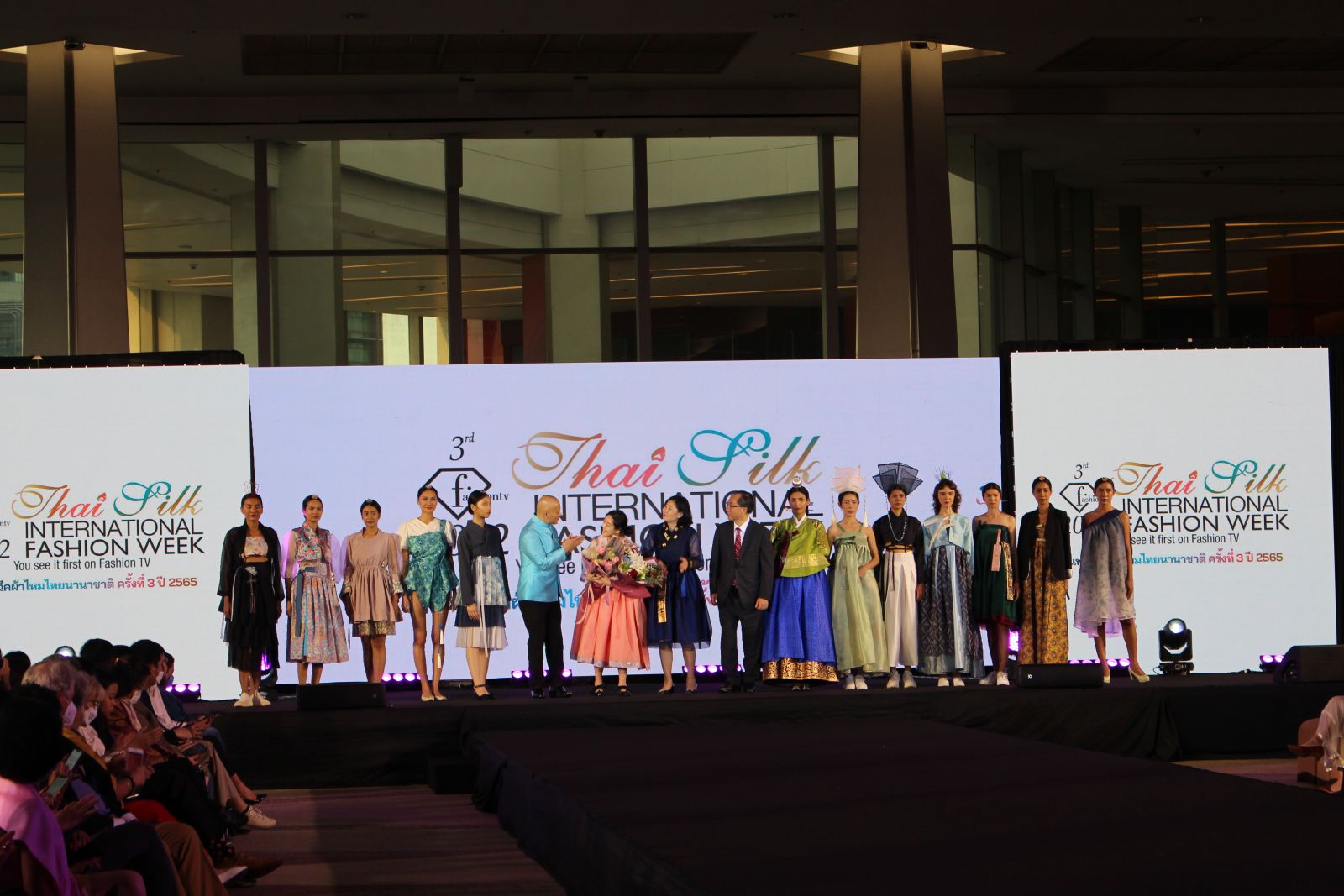 Danha Kim (Korea)
Danha Kim (Korea)
Danha Kim is the CEO of the brand, "Danha Seoul", a sustainable fashion brand based on Korean tradition. The music video for BLACK PINK's "How You Like That" featured stunning outfits from the likes of Danha Seoul. Danha Seoul is a label that modernizes traditional Korean clothing and makes it wearable on a daily basis. The label states that they use environmentally friendly materials that are harmless to people and the environment, such as organic or recycled fabric. The brand is also said to create one-of-a-kind products by up-cycling clothing waste using a traditional Korean drafting method.
Danha shared, "Thai silk had a very different texture from Korean silk. The fabric is very strong and has a subtle gloss, so it looks simple in a way, but at the same time has a colourful charm. I tried to combine the unique silhouette of Korean doubles while taking advantage of the Thai fabric. Also, Korean clothing uses colour to harmonise darkness and brightness, and the Thai silk colours matched well in the designs. As a result, I am very happy that the advantages of Thai silk and the advantages of my designs combine to create a wonderful synergy."
Asked about her thoughts of Bangkok, she explained, "The city has a clean and unique feeling as a fashion city. I want to continue to collaborate in the future. I look forward to continuous exchanges between Korea and Thailand."
Facebook: @danha_seoul or Instagram: @maison.danha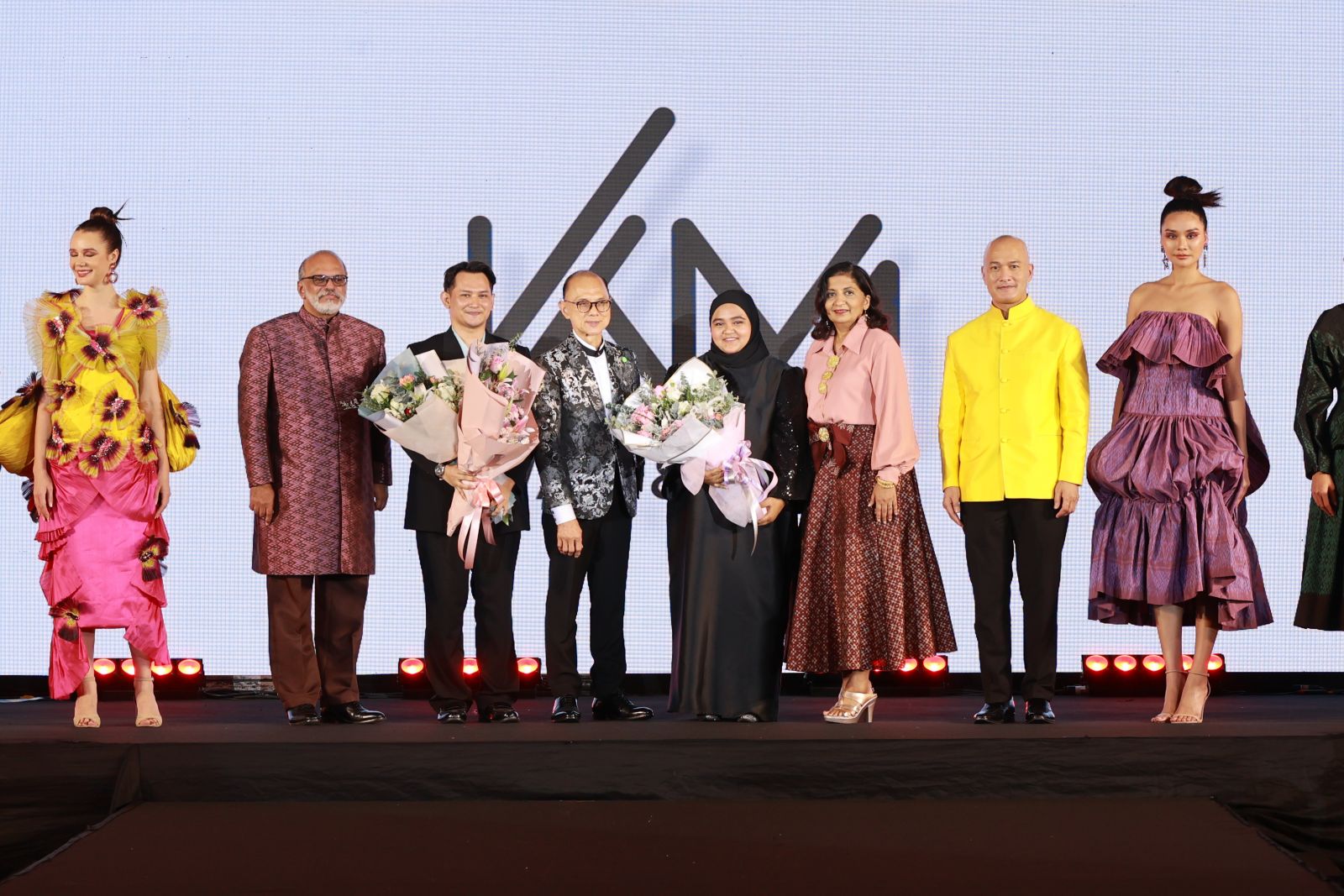 Hazzerwan Hazlee & Maryam Musa (Malaysia)
Hazzerwan Hazlee & Maryam Musa (Malaysia)
The brand Wan&Mary debuted in 2018, and this is their first time to join the Thai Silk International Fashion Week. The two designers have been familiar with Thai Silk since their university days. "We have been exposed to Thai Silk since school and have been using it in our collections frequently. We picked "Siamese Fighting Fish", known in Malaysia as "Ikan Laga", for our inspiration. They symbolise of beauty and freedom. As"Siamese Fighting Fish" are famous in Thailand and Malaysia, our earliest childhood memories have the fish we kept as pets. So, the challenge on making this collection was to elaborate this inspiration using Thai silk for our designs as we explore shape, volume and texture. We hand pleated the Thai Silk and employed a smoking technique to achieve the look we wanted."
"Thai Silk International Fashion Week is the best international fashion showcase we have been involved in. The event had the best hospitality for all the designers, and we appreciate the organizer and Royal Thai Government for hosting such a grand event."
Facebook: wan_and_mary or Instagram: wanandmaryofficial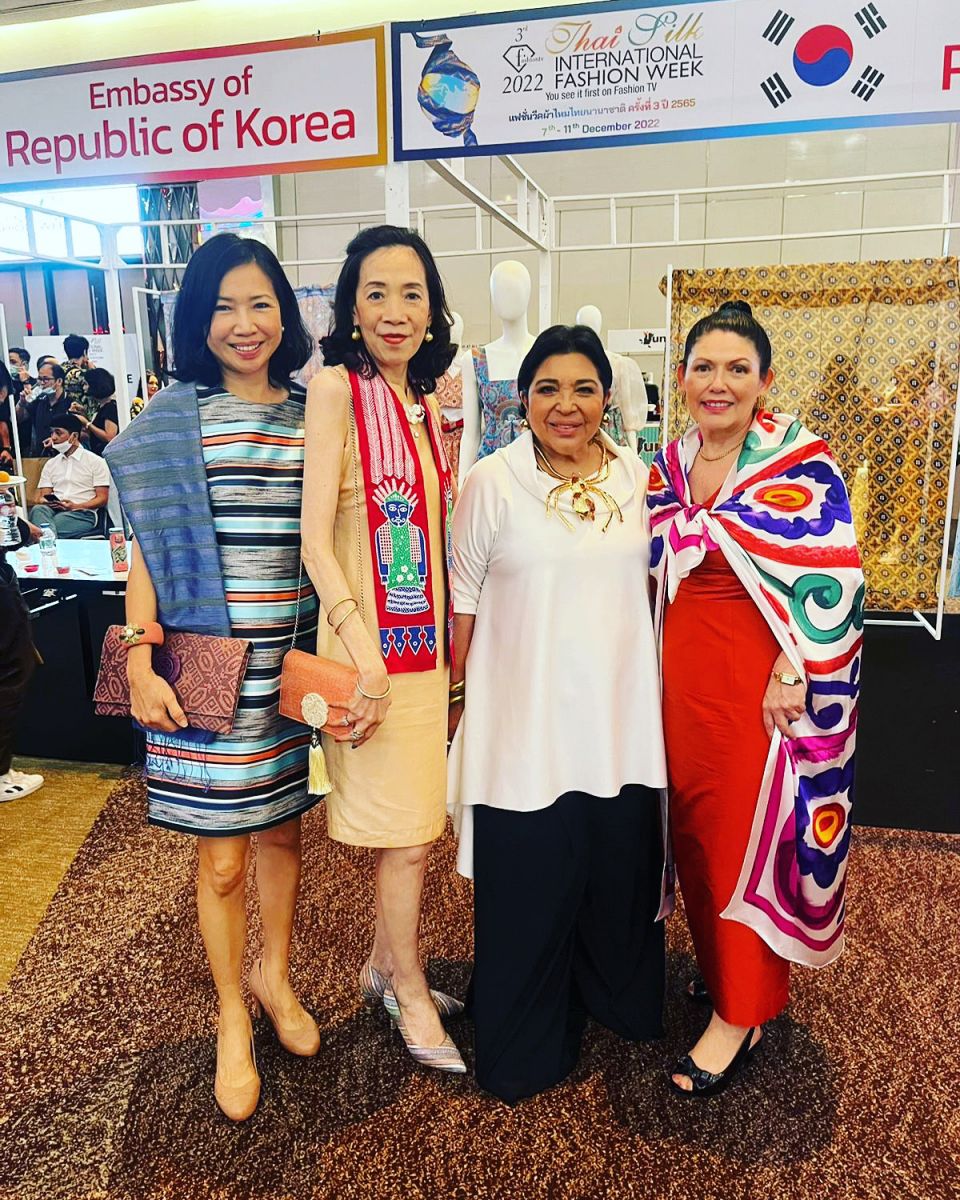 Meche Correa (Peru)
Meche Correa (Peru)
Meche Correa has been designing fashion for more than 30 years. However, this was her first time to join the event. "As a designer, Thai Silk for me is a true jewel! It is what I consider a true luxury! Each piece is 100% natural and handcrafted; therefore, each fabric is unique and special!"
When asked how she felt about combining her country's design heritage with Thai silk, she explained, "I have so many ideas because Thailand and Peru are two very important countries, with great cultures and impressive mastery in the art of design and creation of materials for fashion. I believe great wonders can be achieved together!"
She went on to say, "Thailand for me is a magical country, with striking natural attractions and even more remarkable spiritual beauty, which is a real gift to humanity. The Thai Silk International Fashion Week is a very notable event. While it shows and promotes the value and beauty of Thai silk, it also creates a camaraderie among the participating designers who come from so many different countries. It makes us stronger and capable to achieve much more."
Facebook: MecheCorreaPeru or Instagram: @mechecorreaoficial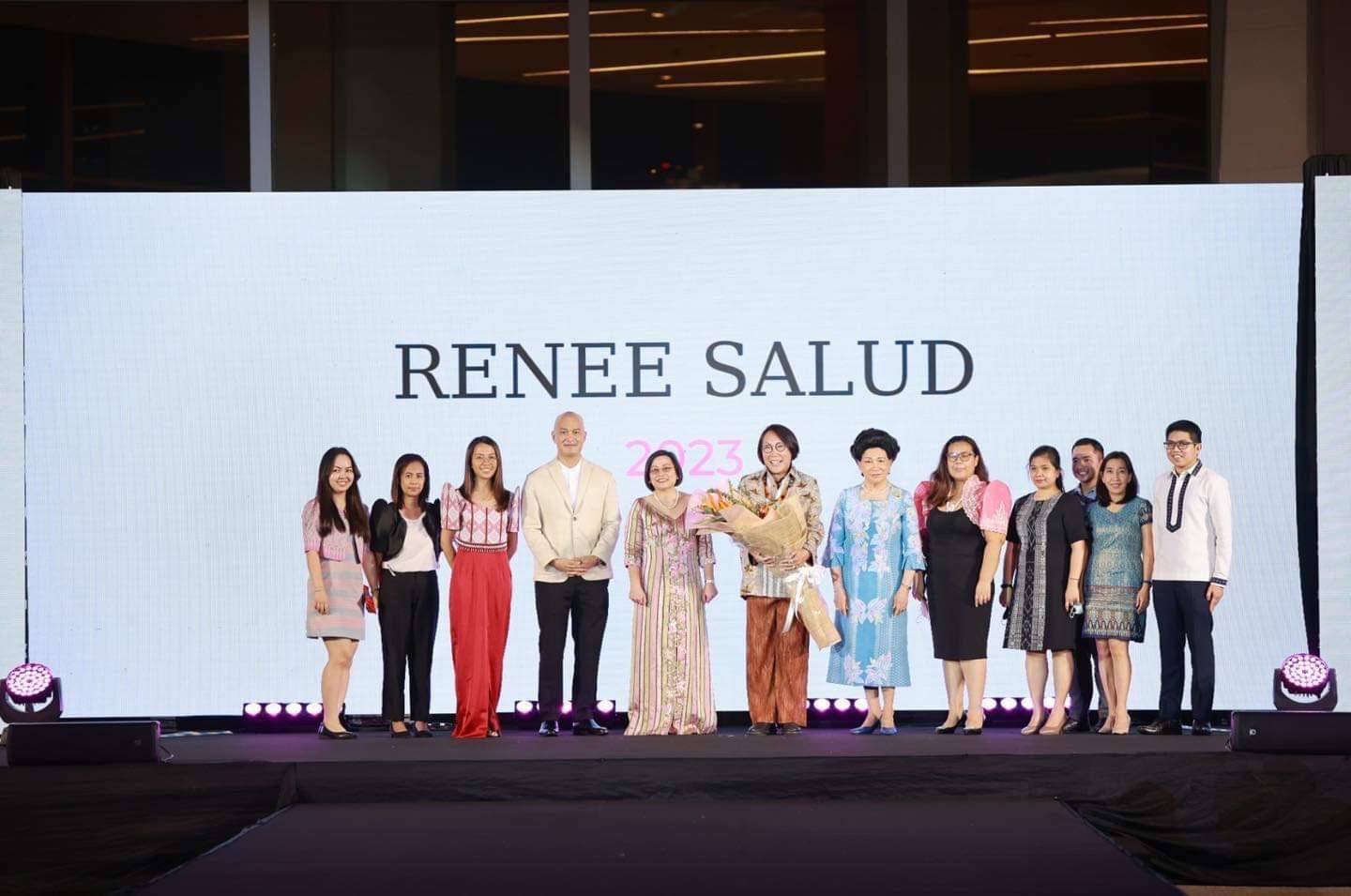 Renee Salud (Philippines)
Renee Salud (Philippines)
Renee Salud has been designing since the 1970s, or for more than four decades. Although it was his first time to be invited to this event, he is very familiar with Thai Silk. Renee explained, "Since I started designing fashion, Thai Silk has been one of my favourite fabrics. I find the silk one of most luxurious fabrics. I like the feel of the fabric. I compare Thai Silk to the petal of a rose."

On combining Filipino country design heritage with Thai Silk, Renee commented, "There is no challenge in spousing Thai Silk with our Philippine traditional and inspired outfits."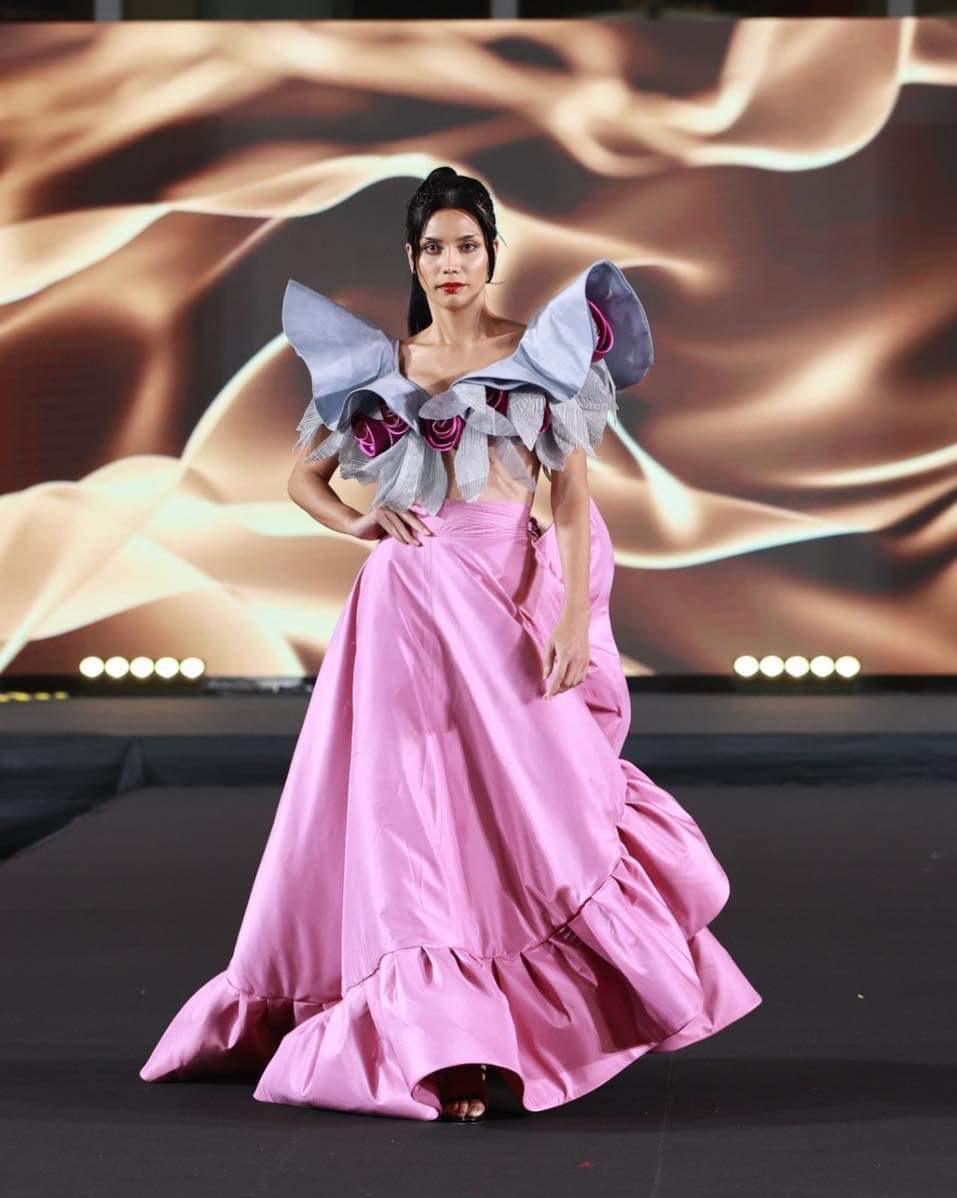 Renee is very impressed with Thailand as a Fashion Hub "Bangkok has its own character, and it is exposed to the world. So, I believe Bangkok will emerge as an important fashion capital in Asia. I would like to congratulate the organisers for mounting this event. It truly is the best venue to promote Thai Silk to the World."
Facebook: Renee Magtibay Salud