Bangkok's Old City on the Chao Phraya River is one of the best districts for dining with stunning views and a romantic atmosphere. With a variety of dishes to choose from and a glass of wine to unwind, you can watch the crepuscular sky transform into night as illuminated buildings and river cruises provide a dazzling light show. Among the many gourmet restaurants with a view, we've picked three landmarks to spice up your choices.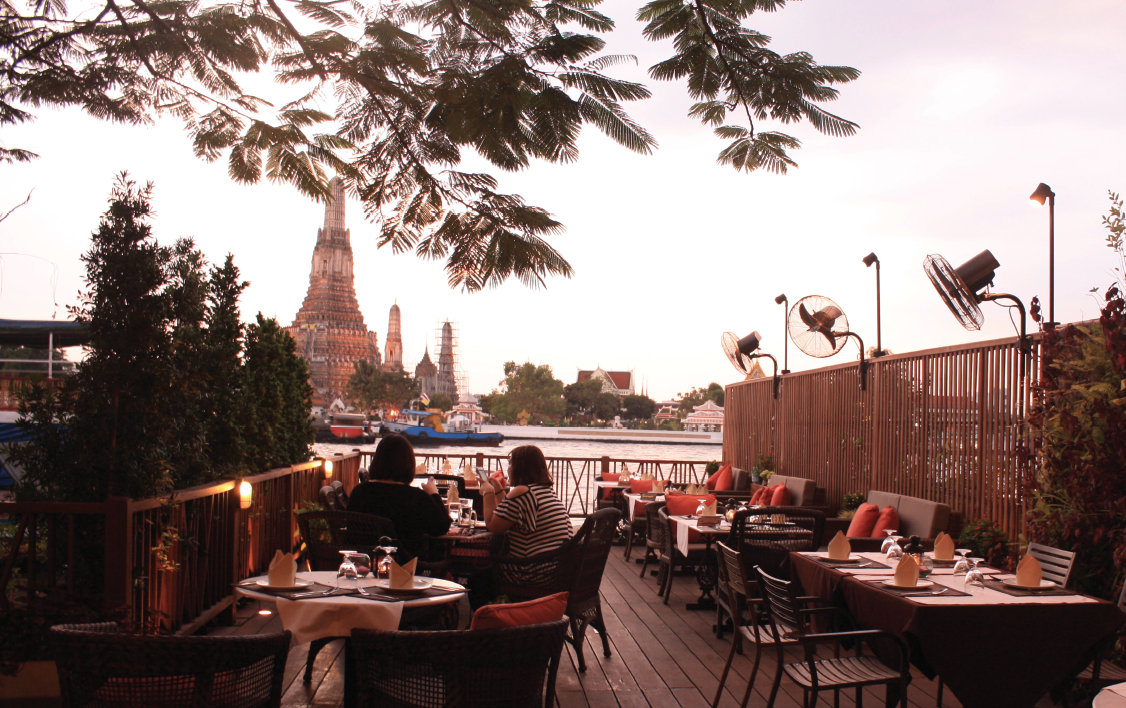 Bitter Deck
Tucked at the end of an alley across from Wat Pho, Bitter Deck at Sala Arun Hotel is one of the fine dining hotspots opposite the marvellous Temple of Dawn, or Wat Arun. The cosy place seats about 30 people. Friendly staff make it feel like dining in your friend's backyard, but with a view of the temple from anywhere you sit.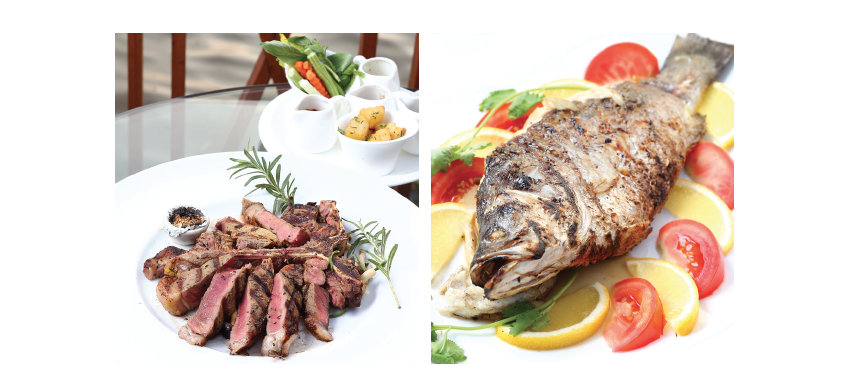 Bitter Deck serves Italian and French dishes, Thai fusion and grilled food. You can choose how your meat is cooked: charcoal barbecue grill or made into a spicy Thai salad. You can't go wrong either way but recommended is barbecue style, with beef, pork, chicken, fish or seafood marinated with Thai and Western herbs, then grilled on charcoal covered with crushed eaglewood. To preserve the aroma the meat is served under a cover; once it is removed you know the fragrant smoke is a prelude to tasteful morsels.
Favourites on the menu include Australian T-bone steak with fresh herbs, ostrich with fresh herbs, whole baby boneless seabass stuffed with ginger pickle and spicy whole squid salad. All dishes come with four types of sauce: red wine, spicy Thai, seafood and young garlic, with fried potatoes and fresh vegetables on the side. Top your meal off with chocolate fondant served with vanilla ice cream and raspberry sauce. And if the night is still young, head up to the rooftop bar, Eagle Nest (5pm-midnight, daily), for more drinks and to continue your indulgence of the view.
Sala Arun, Soi Ta-tien, across from Wat Pho;
call 02-622-2932-3. Open daily, noon-10pm
Monday-Thursday, noon-11pm Friday-Sunday; best
during sunset.
Khinlom Chomsaphan
Three kilometres north of Bitter Deck, Khinlom Chomsaphan has a panoramic view of Rama VIII Bridge. A white wooden sala shades the indoor dining area with air conditioning, but the open air deck on the river has better ambience, and the restaurant is packed almost every night. A nightly acoustic band throws in a few English-language oldies among Thai songs. Expect atmosphere but not fancy dining; the service is down to earth but you'd come here for authentic Thai cooking and the stunning view. On weekends you can also dine on a two-hour cruise that leaves the restaurant at 7pm and travels downriver as far as Asiatique.
Menus are thick, and as the restaurant is busy and orders might be slow, start with hors d'oeuvres like kratong thong, deep-fried cup-shaped rice crisps filled with savoury fillings such as minced pork and sweet corn. Or go for their signature miang kung foy, pieces of vegetable and small shrimp wrapped in leaves with sweet savoury dip.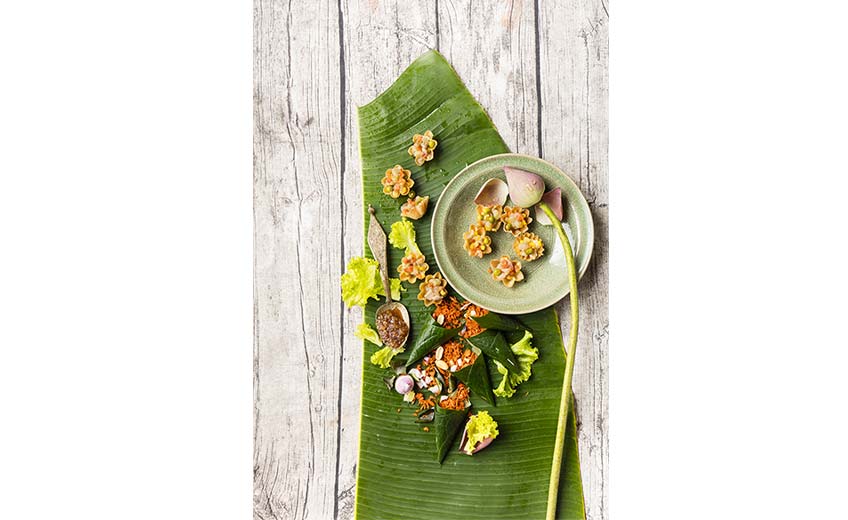 These should be followed by some seafood dishes the restaurant is famous for. Pla krapong tod nam pla, or deep-fried seabass in fish sauce, has a pleasant taste, as well as pla tab tim sam rod, or red tilapia in sweet and savoury sauce. Staff often recommend gang som pae sa (soup with tamarind paste, water mimosa and snakehead fish), but if it sounds too far from your comfort zone, tom yam kung will do. Then a vegetable dish like deep-fried morning glory or young chayote, and another rice dish to share like khao pad poo, or crab fried rice, can complete a meal for two.
You might want to ask that your dishes be mai phed (not spicy), since the chef cooks for Thais in terms of spices and chillies.
End of Samsen Soi 3 (past Sam Phraya temple);
call 02-628-8382-3. Open daily 11am-1am; band
starts at 6pm.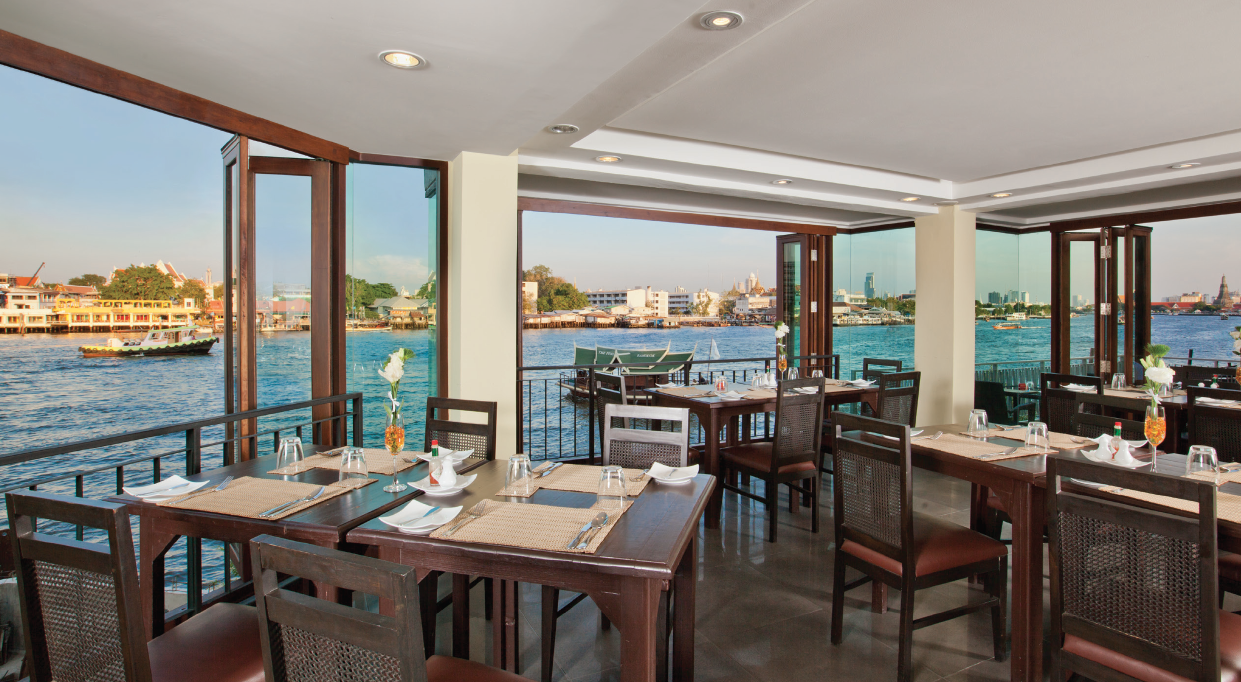 Olive Tree Bangkok
Across the river near Siriraj Hospital is one of Wang Lang neighbourhood's best kept secrets. Deep down a weaving alley in a bustling market, Olive Tree is part of the Baan Wang Lang Riverside Hotel and seats up to 60. From the open-air dining balcony, Bangkok's Old City and Grand Palace expand before your eyes.
The restaurant offers a selection of Thai dishes with masterful taste and presentation. Recommended are the spicy salmon salad, fried river prawns glazed with tamarind sauce, chicken massaman, fried seabass with herbs and grilled pork wrapped in betel leaf. Prices are nett and reasonable considering the setting.

Baan Wang Lang Riverside, 342 Soi Wat Rakang,
Prannok Rd; call 080-259-6207. Open daily
11am-10pm.