Bang & Olufsen BeoSound 35

Like most sleek offerings from B&O's Danish sound systems, the new BeoSound 35 wireless speaker a matte black aluminium pentagonshaped tube on a slim leg has a futuristic look. It is fl exible enough to sound good standing on tables or mounted to a wall, and creates a balanced sound belying its size. It packs a tidy punch, able to connect the entire house with its all-in-one multi-room music system.
The quality of the sound can be accounted for by the pentagonal tubular form, crafted to ensure clear sounds regardless of its location or as the listener moves around the space. The centre of the tube has two 4-inch front facing bass drivers to boost the sound, while details are provided by ¾-inch tweeters angled outwards on both ends to create a balanced sound with 180 degree sound dispersion. The volume is supported by each speaker driver's 80-watt class D amplifi er. The extensive use of aluminium helps dissipate heat.
This speaker has the option of uniting the B&O appliances in each room, managing everything from track selection to volume individually and collectively; you can choose to play different tracks in different rooms or make the entire house play the same music. There are many control options. The fi rst controls it directly from the BeoSound 35 music system's intuitive touch interface, or from a distance with a B&O remote, or from your mobile telephone by downloading a free BeoMusic application. Last but not least, its connectivity means it can access the popular streaming and integrated music services available in each market, and it can be used as a speaker for B&O televisions.
Master & Dynamic MH40 Headphones
This handsome retro matte and polished stainless steel and premium cowhide headphone set has interchangeable soft lambskin ear pads with removable washable memory foam padding. There are fi ve possible colour combinations, from hip brown leather and silver metal to classic black leather with blackened metal. Users have the option to purchase and switch ear pads, as the hardware is built to last.
The right ear cup has a mute button, and each ear cup has a 3.5mm jack socket to attach the tangle-free woven cable. Though the headphone is not light at 360 grams, it is comfortable due to larger hinged ear cups that can angle up to 90 degrees and fold fl at. The headband is solid and the height can be adjusted on both sides with metal stems linking from the ear cups.
Being a closed headphone, the sound cups the ear and decent sound blocking quality makes it an ideal companion in public places. Depending on your choice of music, this premium headphone prides itself on recreating a warm rich sound with its 45mm high-performance Neodymium drivers and is particularly noted for its outstanding bass. The MH40's sturdy good looks will make a day out just a touch more stylish.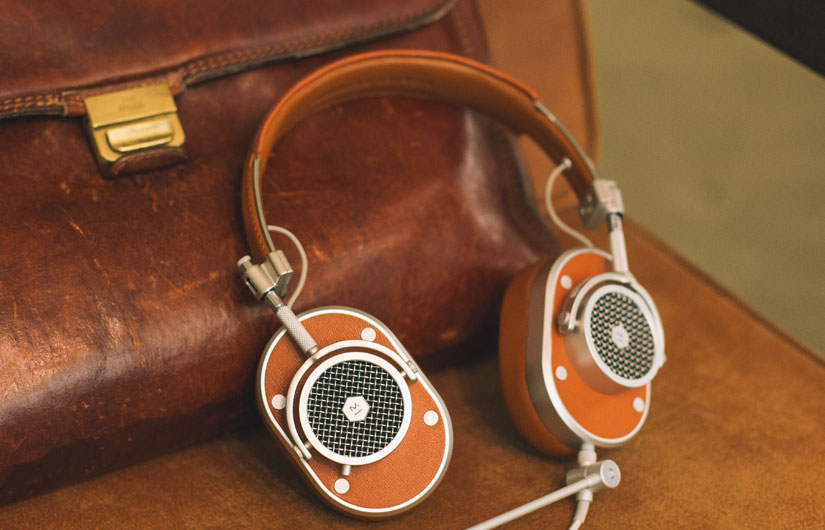 Beats BeatsX
Beats is part of Apple's audio systems, established in 2006 by music producer and rapper Dr Dre and former Interscope Geffen A&M chairman Jimmy Iovine. Their latest collaboration brings us new premium wireless Bluetooth earphones.
These earphones are light and discreet. A choice of different eartips and removable wingtip options lets users fi nd a suitably secure and comfortable fi t. When the earphones are not in use, magnetic earbuds keep them tangle-free when hung around the neck from the soft Flex-Form cable.
Technologically, BeatsX is a new line of earphones created to meet the needs of advanced audio systems. It ensures optimal connectivity with a Class 1 Bluetooth and is compatible with both iOS and Android devices.
It has an Apple W1 chip for iOS10 users and easily switches between iCloud-registered devices. The RemoteTalk audio cable with inline microphone allows users to switch between taking calls, controlling music and activating Siri by pressing a few buttons.
Battery effi ciency standards have been upgraded with Fast Fuel, which charges up with a Lightning cable. Five minutes of charging is suffi cient for two hours of playback, and 45 minutes of charging extends playback time to eight hours. The earphones store away easily in a compact case ideal for those on the go.