In Bangkok's concrete jungle, there is no better view than from the top – cocktail in hand, a plate of nibbles in front, grooving to smooth tunes from a DJ booth. All while marvelling at the showstopping landscape, from the Chao Phraya River to the hectic metropolis. Life does not get more relaxed and fabulous.
Lounging at a five-star rooftop restaurant is a must, whether you call the Land of Smiles home or are just stopping in for a visit. Thailand's capital is a pioneer of skyscraper dining. Over the years it has become home to some of the most breathtaking high-rise venues not just in Asia but the entire world. Innovative concepts, haute cuisine and those killer views are one of Bangkok's most invincible recipes for a good time – well that and the cool reprieve of the breeze are absolutely addictive. Here are a few of our favourites.
CHAR
At this sky-high grill and steakhouse, showing up with an empty stomach is crucial. Prepare to be treated to eye-bulging, indulgent feasts from premium cuts of meat to fresh seafood, spruced up with vibrant roasted vegetables and rich, savoury sides.
Char's menu is classic yet elegant, with dishes presented on rustic wood cutting boards and festooned with crisp garnishes. With French chef Lionel Vinatier at Char's helm, bistro favourites like lobster bisque and duck confit round out a long list of steaks.
Cuts from wagyu to black Angus hanger are impressive, imported from Australia, Japan and sourced locally, but they do not undermine the deep sea selection. Tuna tartare and freshly shucked oysters are great light starters. And apart from the carnivorous fare, vegetarians will also feel at ease and satiated at Char, with options from organic salads to lush soups or plates of perfectly seasoned legumes.
Like its sister restaurant of the same name in Shanghai – at the famous waterfront district The Bund – Char Bangkok's design is equal parts swank and contemporary charm. High ceilings, affable brass touches and a potpourri of different chairs create a casual, inviting space. Spread out across two floors, the upstairs is open-air dining with a rooftop bar with great views.
Char's convenient location adds to its attraction. Located on Bangkok's major downtown vein, Wireless Road, it's a short taxi ride from Bangkok's shopping district and premier malls such as Central Embassy and CentralWorld.
25th & 26th Floor, Hotel Indigo Bangkok 81 Wireless Road, Lumphini, Pathumwan
T: 02-207-4999
W: www.charbangkok.com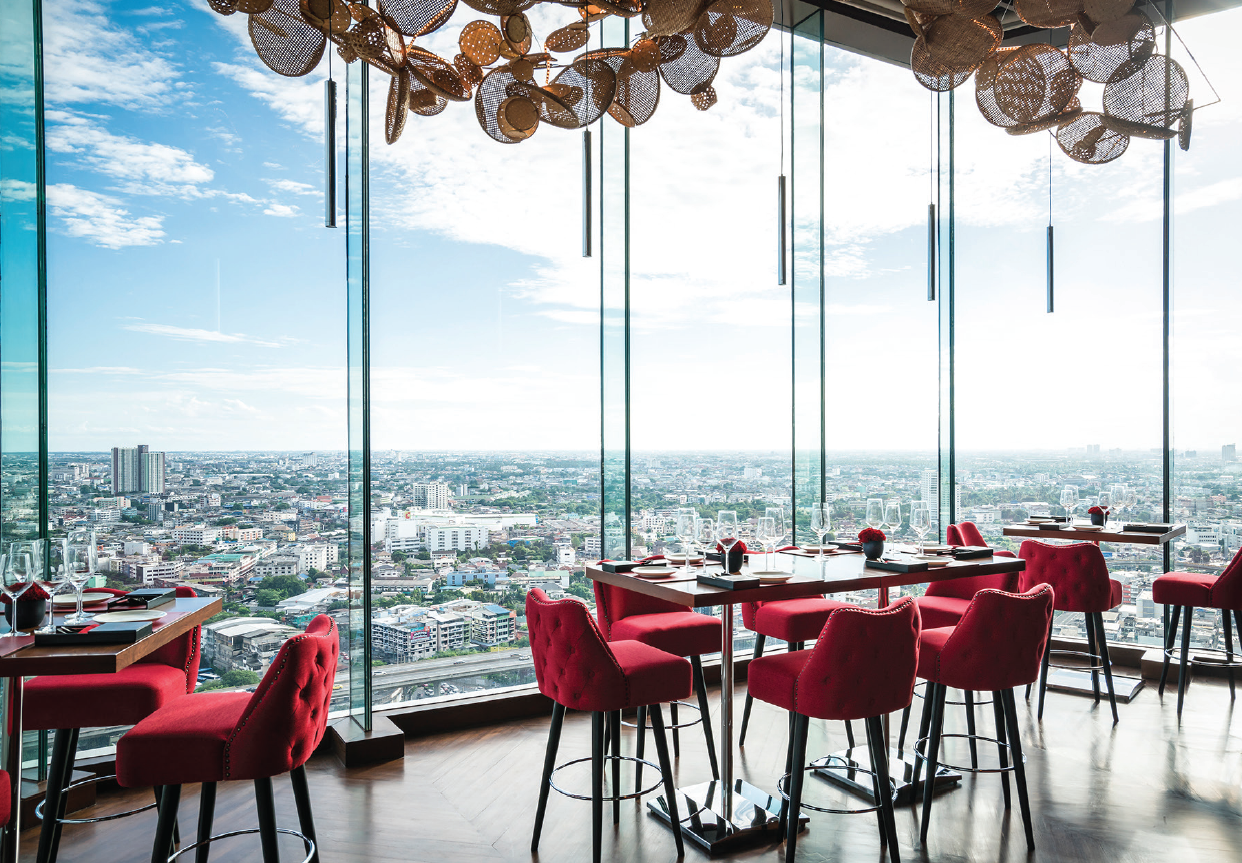 ATTITUDE
You can't beat the views from Attitude, a new rooftop venue at the Avani Riverside Hotel. On the 26th floor, this bar and restaurant offers a sweeping panoramic scape of the Chao Phraya and metropolis, which can be enjoyed al fresco or from floor-to-ceiling windows inside. With a chic yet chilled-out atmosphere, it's an excellent spot for first dates, casual drinks or pre-clubbing with the whole crew.
Sundowners easily turn into all-night affairs here, thanks to a buzzing ambience that includes live bands and DJs from 8pm and a show kitchen serving some of Bangkok's most mouthwatering fusion eats. Since sharing is caring, dishes are served tapas-style and a la carte. Signature bites include the "Funky Pig", crispy pork skin with a popping blend of crunchy onion, polenta chips and sour apple sauce. On this menu, you'll see dishes prepared with nothing but the freshest, top-quality ingredients. The juicy Galician beef rib-eye imported especially from northern Spain is a perfect example.
Attitude's fashionable cocktail list is focused on molecular mixology, and was created exclusively for the venue by a French mixologist. There are concoctions bursting with liquid nitrogen smoke, decorated with caviar spheres and other experimental wonders you have to see to believe. Try "in the air", a white Sangria exploding with fruit and flowers through a technique called suspension. Or, for a real wild night, head to the bar and order the flaming Lamborghini: a row of stiff shots on fire.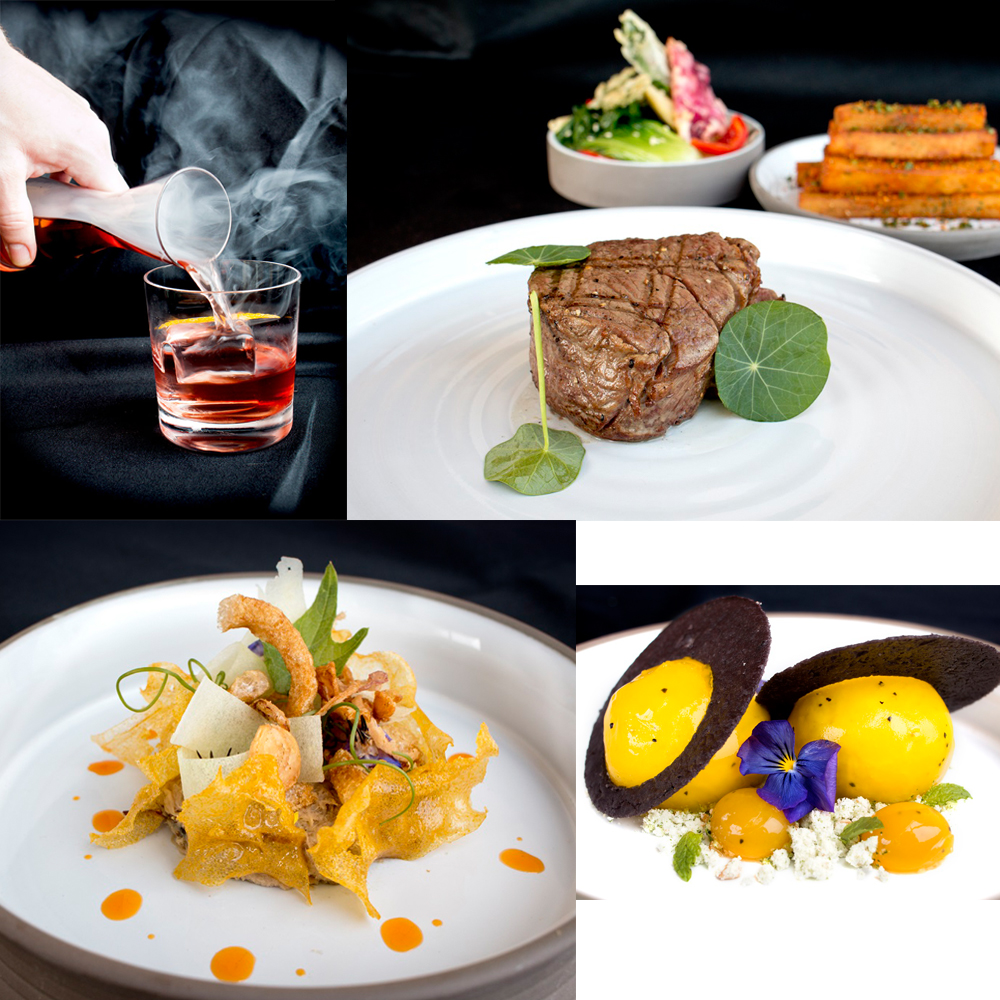 AVANI Riverside Bangkok Hotel 257 Charoen Nakhon Road, Thon buri
T: 02-431-9100
W: www.facebook.com/AvaniRiversideBangkokHotel
VERTIGO
Vertigo was one of Bangkok's first open-air restaurants poised on a skyscraper. So it's no wonder that the restaurant and its adjoining Moon Bar are among Asia's most famous soaring establishments. As the name suggests, outdoor views from the 64th floor can be stomachchurning – but thankfully Vertigo's indulgent grill menu with a bottle of Dom Perignon is the ultimate antidote.
Because of its steep prices, Vertigo is the kind of venue usually reserved for special occasions, from romantic outings to birthday pampering in a unique, once-in-a-lifetime setting. The offering is worth every penny as well as the hype: dishes are simple, high-quality and multicultural. Fall-off-the-bone racks and tender steak are standouts on the menu, but there are also plenty of surprising new flavours to try too. Depending on what's seasonal and freshly caught, set menus rotate and can be anything from lobster spring rolls to homemade pastas stuffed with wild mushrooms, local spinach and more.
Craft cocktails from Moon Bar range around 350 baht, and besides being boozy and delicious are totally Instagram-worthy. The signature "moon romance" is a muddle of melon vodka, crème de menthe, peach and lime served with a rose on a gas-diffusing bed of dry ice. For the best photo ops of yourself as well as your immaculate dinner and drinks, reserve a seat by the railing for 6pm, when Vertigo opens. You'll be able to catch the sunset, when the skies light up with heavenly bursts. After that the restaurant gets dark and sexy, with just a few whispers of candlelight.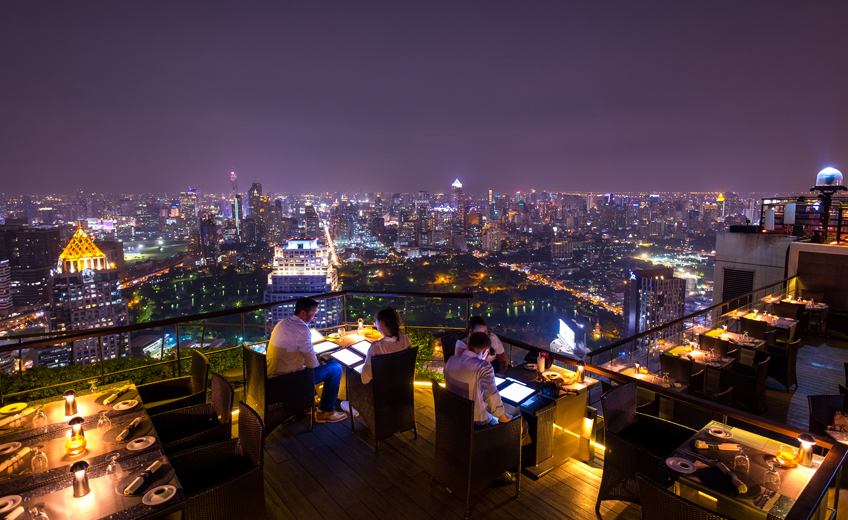 The restaurant also holds many events and invites some of the greatest chefs in the world to serve signature dishes here. Recently San Pelligrino and Vertigo co-hosted Chef Ryan Clift from Tippling Club, one of Singapore's top restaurants and number 31 on this year's Asia's 50 Best Restaurant List, to share his passion for cooking and plating with Vertigo guests. Check out Banyan Tree's website for upcoming events.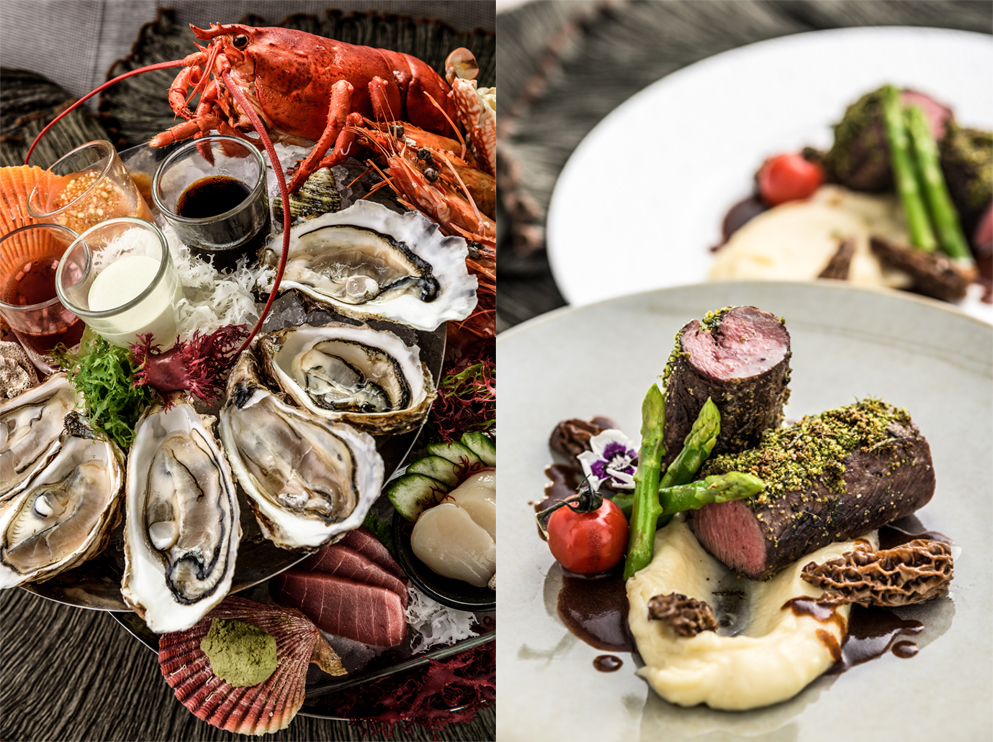 Banyan Tree Bangkok
21/100 South Sathon Road, Sathon
T: 02-679-1200
W: www.banyantree.com/en/ap-thailand-bangkok