The future of the automobile industry will be driven by connectivity, electrification and changing consumer needs, as automakers develop cleaner, safer, smarter and more energy-efficient vehicles in every market around the world.
You may have noticed that many Hollywood movies have a Toyota Prius Hybrid roaming the streets, be it in an action or drama flick. Perhaps it has something to do with the fact that Sony is heavily invested in the motion picture industry, a subliminal message sent to consumers regarding the virtues of electric hybrid cars. Tax incentives are being offered for electric vehicle purchases despite Thailand's draconian automobile taxation system.
Thailand's automotive industry really started in the 1960s, driven by influential business families such as the Phornprapha, Phanchet, Sukosol and Leenutaphong clans. Back then it was a seller's market. If you wanted a basic check-up for your imported ride then the logical choice was to go to Vikrom Garage and Pouy Key Service – because these affluent families sent their children to the UK, who brought back user and maintenance manuals that formed the foundation of their automobile service businesses. Or you could go to the local distributor and just gawk at the service bill. Shifting gears back to the future of the automobile, your petrol-fuelled car will eventually be a museum item, because vehicles will become interconnected, electronically controlled and fuelled by a range of energy sources.
Cars will be more capable and more sustainable via electrification, enabled by battery technologies to aid in the development of hybrid cars capable of fuel consumption rates of 20 kilometres per litre. Electrification also leads to advances in vehicle safety, integrating cameras, radars, sophisticated sensors and an array of intelligent technologies such as blind-spot detection, collision warning systems, adaptive cruise control and crash-imminent braking, which can stop your car automatically even when you don't. The Mercedes B-class model has an automatic parking system which should be a boon to drivers with poor parking skills. You should see some of the parking fender benders on YouTube!
In addition to the technological advances shaping today's auto industry, there are also many social changes like urbanization, sustainability and the sharing economy that are changing the way people interact with cars.
Then there is the autonomous car, a vehicle capable of sensing its environment and navigating without human input. Autonomous cars can detect their surroundings using a variety of techniques such as radar, odometry and computer vision, interpreting sensory information to identify appropriate navigation paths. They can potentially reduce traffic accidents, deaths, injuries and related costs, while allowing for significantly less traffic congestion, something Bangkok is in dire need of.
Even supercar manufacturers such as the iconic Aston Martin recently unveiled the full electric concept RapidE. Aston Martin CEO, Andy Palmer, said: "We see luxury electric vehicles as an intrinsic part of our future product portfolio. The exciting RapidE concept tangibly demonstrates the capability and ambition of Aston Martin towards developing low- and zero-emission sports cars."
Electrification aside, there is also the option of hydrogen as a transport fuel, with the potential to become important in a low-carbon future energy system. This has a fundamental long-term advantage. Hydrogen fuel cell electric vehicles (FCEVs) reduce emissions and address air pollution while offering convenience for motorists. Just like battery electric vehicles, FCEVs are powered by electricity and produce no CO2 or other harmful emissions from their tailpipe – only water vapour, helping to improve local air quality. In the longer term, hydrogen can help reduce well-to-wheel CO2 emissions from the transport sector if the electricity that creates the hydrogen is generated by renewable technologies such as wind or solar.
Shell is taking part in several initiatives to encourage the adoption of hydrogen electric energy as a transport fuel. In Germany, Shell is part of the H2 Mobility joint venture, alongside partners Air Liquide, Daimler, Linde, OMV and Total. With the support of the federal government, the joint venture is in the process of installing a nationwide network of hydrogen electric fuelling pumps.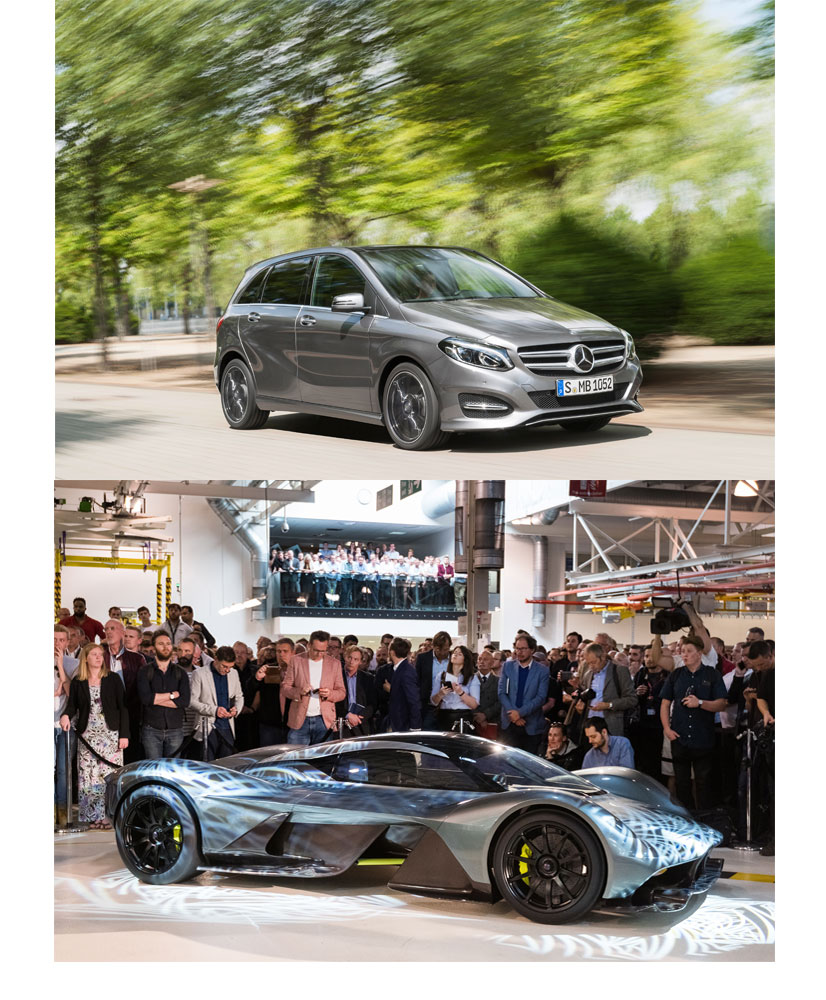 Honda will feature interactive and immersive experiences designed to showcase a future technology path towards a redefined mobility experience. From reducing traffic congestion to creating new modes of in-car connectivity, visitors will have an opportunity to explore technologies that can improve their lives. The exhibit will include the NeuV, a concept automated EV commuter vehicle equipped with artificial intelligence, a so-called "emotion engine" that creates new possibilities for human interaction.
On safety, the future looks good for motorists and insurers, as seen in advancements made by Mazda with its Proactive Safety 1 philosophy. In constant pursuit of higher levels of safety, Mazda has developed features such as adaptive LED headlights (ALH), which control the illumination range of high beams to increase visibility at night, the lane-keep assist system (LAS), which helps prevent straying from the intended lane of travel, and driver attention alert (DAA), which recommends a rest break if it detects signs of driver fatigue. Smart city brake support (SCBS), supporting the driver with a variety of technologies, reduces risks and makes for a more reassuring driving experience for all passengers.
The future of the automobile industry will see a paradigm shift to electric vehicles, enhanced safety and a more varied choice of alternative fuels.