J'aime by Jean-Michel Lorain
It is all about redefi nition at J'aime by Jean-Michel Lorain. The brainchild of Michelinstarred Chef Lorain, his outpost in Bangkok breaks through the traditions of stuffy French restaurant and materializes as a shiny, sleek and modern eatery that appeals to local palates. From its unique upside-down décor, complete with piano dangling from the ceiling and glitzy chandeliers on the fl oor, to innovative French fare served in a comfortable family-style shared Asian table fi tted with lazy Susans and chopsticks, this restaurant will surprise, impress and redefi ne what you know about French cuisine.
The kitchen is helmed by Amerigo Sesti, who has trained with Chef Lorain and some of the most renowned chefs in the world, while Jean-Michel Lorain's daughter, Marine, takes charge of the front of the house as the restaurant's maître d'. They invoke a dining experience like no other. The experience includes a special Sunday brunch – only held on the last Sunday of each month. It's an all-you-can-eat affair with an eclectic selection of the fi nest and freshest French produce made by world-class talents. Some of the dishes include Chef Lorain's famous quail and foie gras tourte, house-made pork rillettes, oyster panna cotta, warm potato and leek salad with truffl e dressing, Burgundystyle glazed beef cheek, pan-seared duck foie gras and Moroccan-style roasted half lobster, as well as an array of desserts like fruit salad, blackcurrant soufflé, lemon meringue tart and chocolate and passion fruit fi ngers.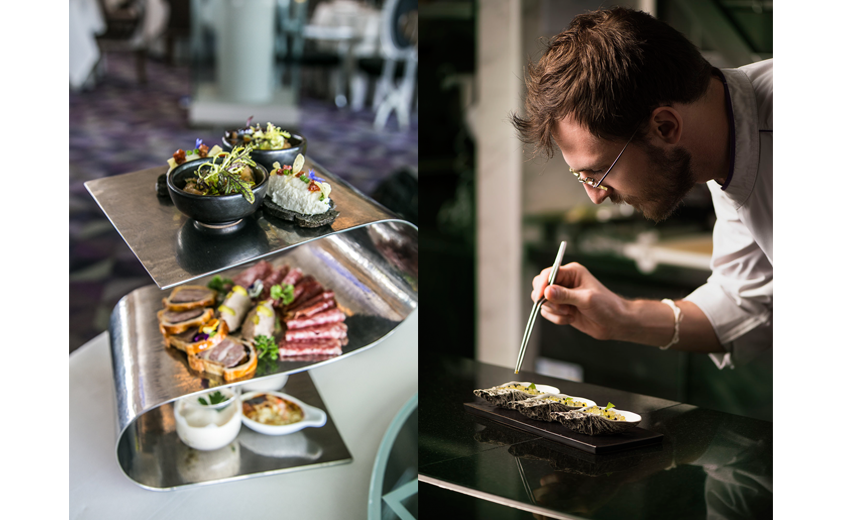 J'aime by Jean-Michel Lorain
Address: U Sathorn Bangkok, 105, 105/1 Soi Ngam Duphli, Thung Maha Mek, Sathorn, Bangkok 10120
Tel: 0-2119-4899
Website: www.jaime-bangkok.com
Opening hours: Lunch: noon-2:30pm, dinner: 6pm-10:30pm; Sunday brunch (available last Sunday of each month): noon-3pm