Mango Tree on the River
Bangkok's masters of casual fine dining have done it again. Mango Tree, one of the capital's best known, long-standing venues specializing in authentic Thai cuisine, has reinvented itself with a new restaurant on a dreamy stretch of the River of Kings.
Mango Tree on the River serves up casual sophistication off a charming pier in historic Krung Thon Buri. From Tuesday through Sunday, the restaurant offers speedboat pick-up and drop-off from riverfront hotels or Bangkok's transit piers, ensuring a romantic, otherworldly experience every time. Coasting from central Bangkok to a quieter strand of the Chao Phraya, it's easy to feel swept away by European vibes. The building blends facets of colonial style with modern design, especially with a wealth of outdoor seating, from terrace to balcony, swept by cool gentle breezes and magical panoramic views.
The restaurant offers up a well rounded experience in terms of location, genuine Thai hospitality and, most importantly, the food. Dishes are a balanced blend of traditional and contemporary Thai cuisine, ensuring there is something to pique all palates and imaginations. Local herbs and spices star in upcycled versions of traditional favourites, such as the tom yum scampi or lobster pad thai, but you'll also find coveted imports such as Australian beef mingling in fresh salads and spicy curries.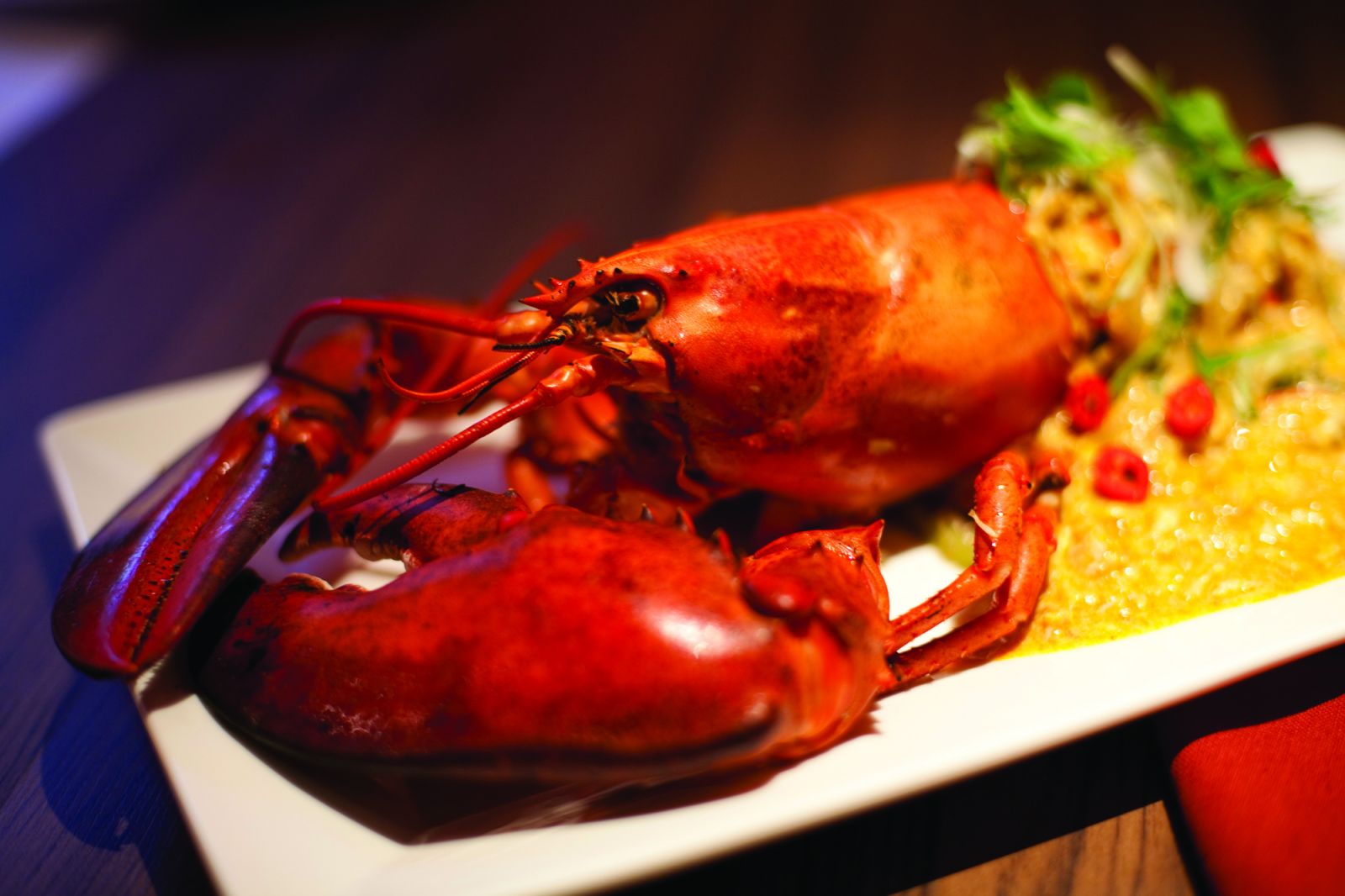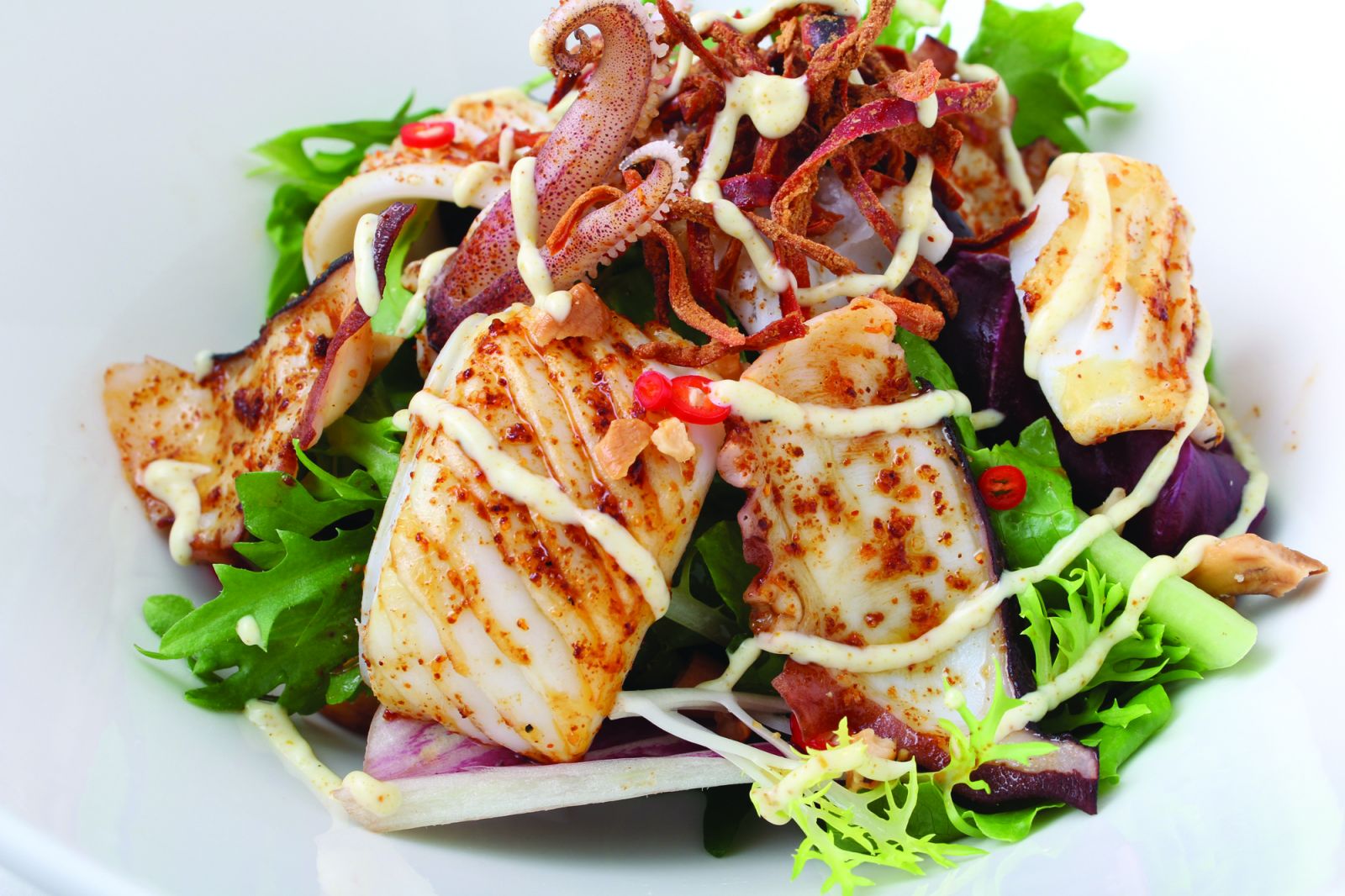 Mango Tree on the River is the brand's flagship and the first of many restaurants being opened by Mango Tree around the world in the coming months. Mango Tree, which first opened its doors in the capital in 1994, is planning similar concepts in destinations as far-flung as Washington, Copenhagen and Mumbai, in what is sure to be an exciting era of expansion for the home-grown Bangkok-based brand.
Location : 240 Yodpiman River Walk Shopping Paradise, Building D5 Atsadang Road, Wang Burapha Phirom, Bangkok 10200
Jim Thompson's Bombyx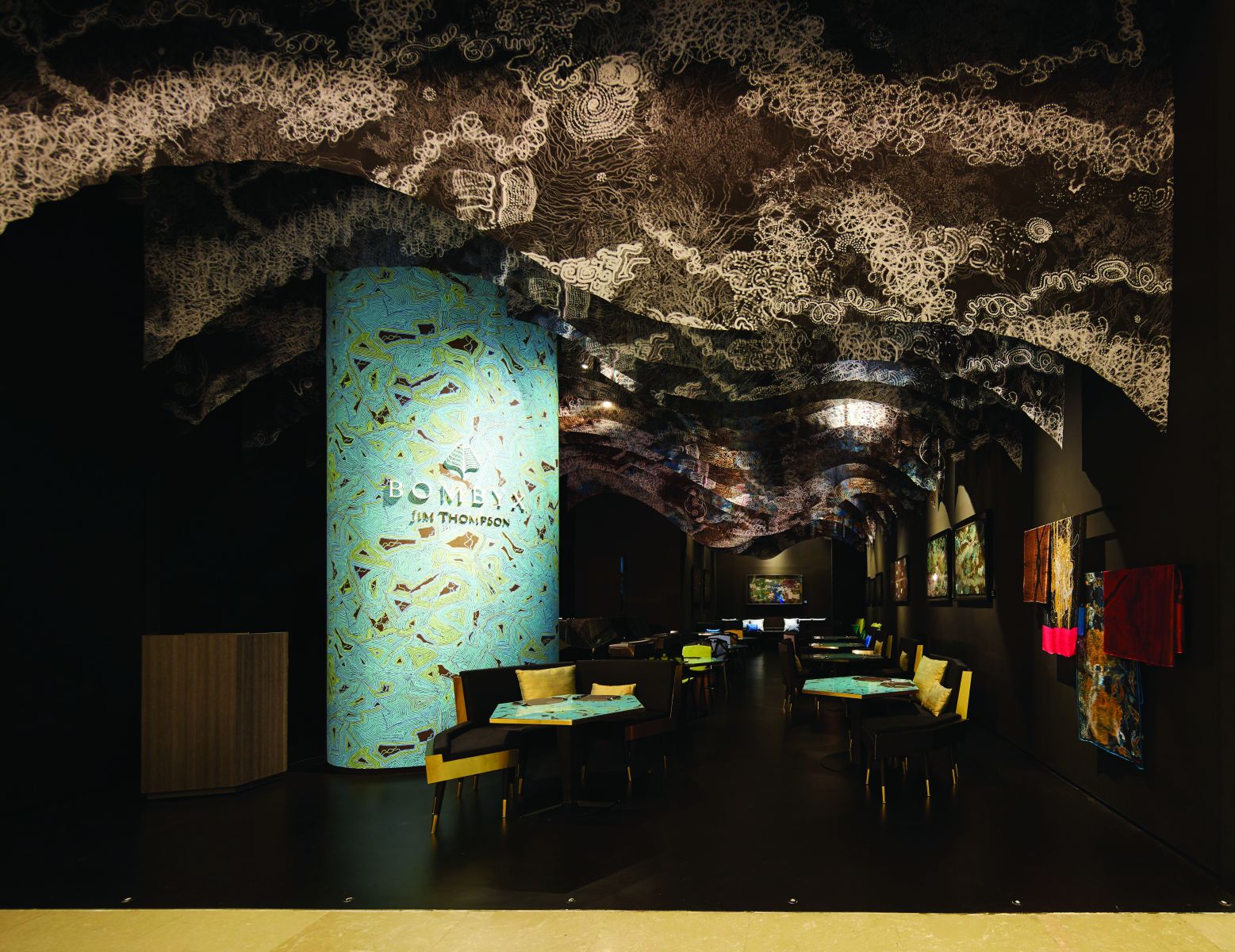 Jim Thompson's Bombyx, the cafe incarnation of Thailand's most beloved luxury silk brand, prides itself on being the epitome of surrealism – from broody jet black walls cocooning abstract furnishings to its name, which means the final metamorphosis of a silkworm before it becomes a butterfly.
Romantic extravagance is played up in a more contemporary, offbeat manner than those who've visited the traditional, colonial-style Jim Thompson House might expect. But it's fitting when you consider the American silk magnate was an insatiable dreamer who helped usher Thailand into a sumptuous era of material abundance.
And the move into hyper design at Bombyx is a risk that has certainly paid off. Plush silk pillows mesh with daintily upholstered furnishings and funky 3D geometric waves spanning the ceiling. The restaurant will shed its swaddle regularly to emerge with changing contemporary art exhibitions. Its inaugural showing is from versatile Thai multimedia artist Ithipol Thangchalok, who has collaborated with Jim Thompson before (wall-hangings are reproductions of his images printed on silk scarves, and are also on offer at the silk brand's adjacent shop).
But don't let Bombyx's dreamy, over-the-top trappings, or its tucked-away location on the posh side of Siam Paragon's ground floor, fool you: the food is honestly quite good. Contemporary Thai cuisine is given the same Secret Garden treatment as the interior, with dishes encompassing kaleidoscopic hues of fresh floral ingredients,
bringing to life Jim Thompson's famous silk prints.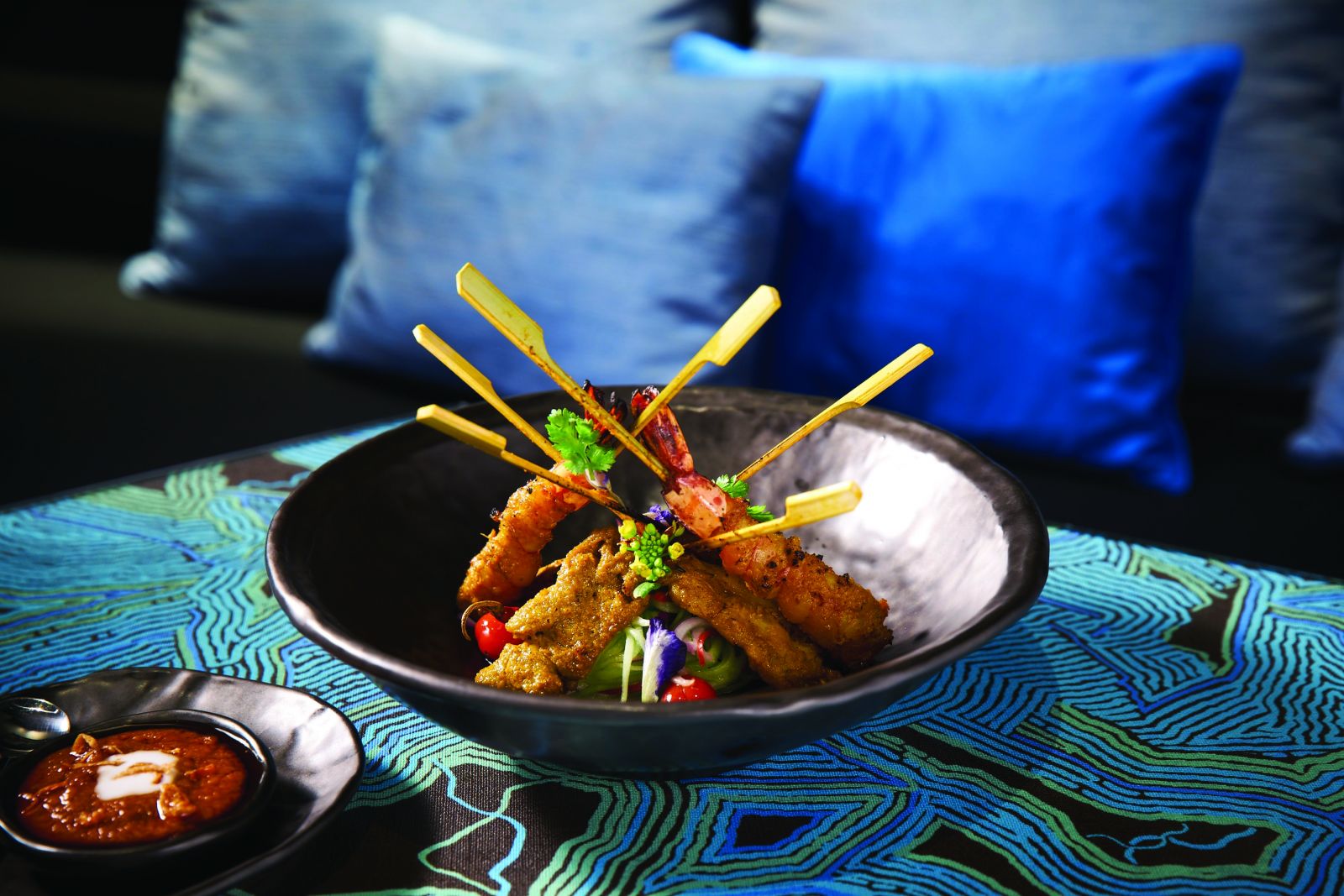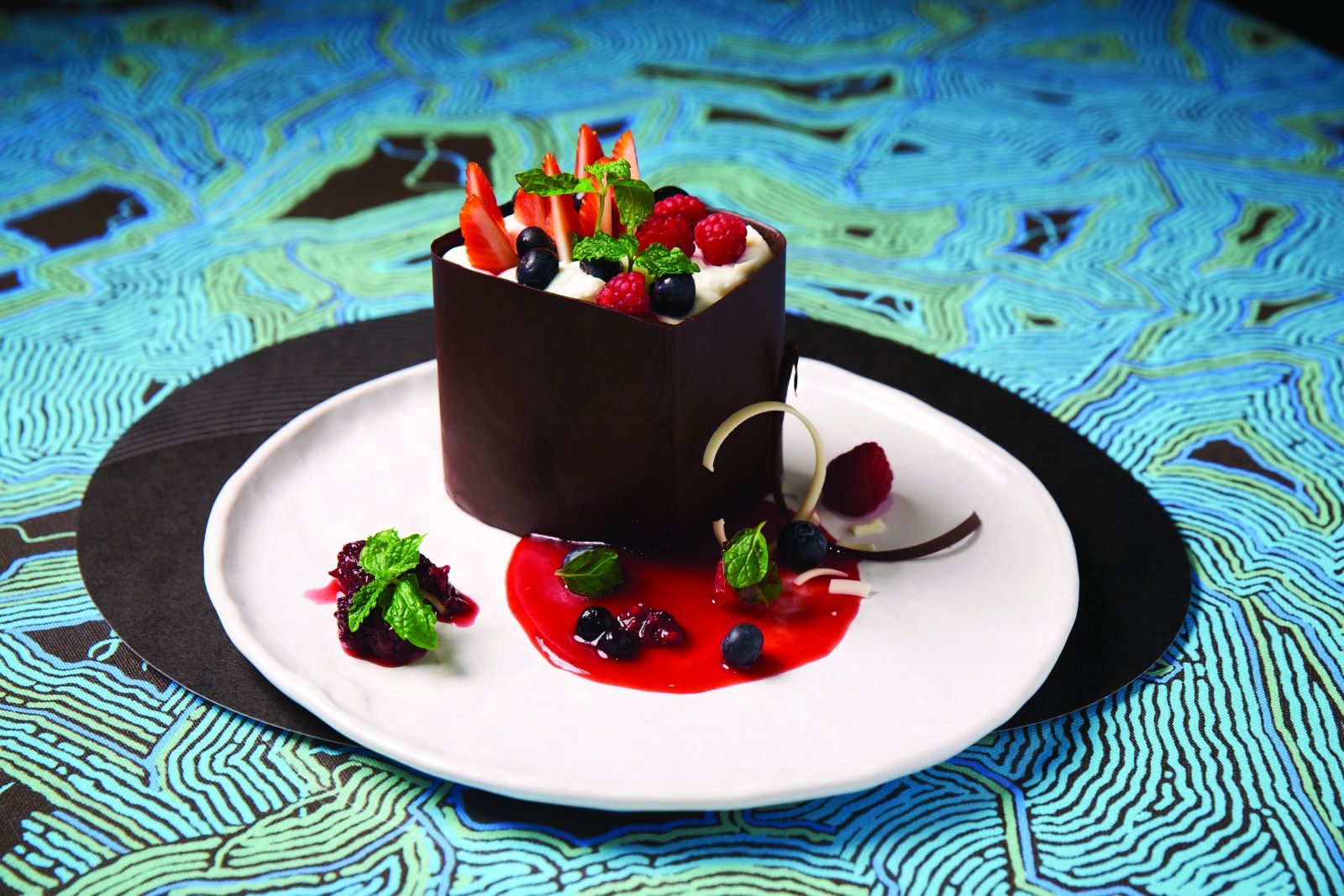 The southern Thai salad dances on its plate in dozens of colours, from round piles of roasted sesame to chilli and herbs, with a central medallion of white, brown and blue butterfly pea rice. The prawn and lemongrass salad is adorned with blue and yellow edible flowers, and the purple-hued cocktail Bombyx elixir mixes mulberry shrub with vodka and lavender in an enchanting wash. Dishes are playful yet satisfying, especially the crab curry, to which Chef Phongsak Mikhunthong adds seepweed leaves for the perfect exotic salty taste and texture.
Location : Main Floor (M34 B) 991 Siam Paragon Shopping Center,Rama 1 Road, Pathumwan, Bangkok 10330