Back in the 1980s, a 19-year-old from Pasadena, California, flew across the Pacific to Bangkok and her long-lost homeland, with the dream of winning the Miss Thailand crown. When asked by local press how she was feeling about competing in the prestigious national beauty pageant and if she believed she could beat the other contestants, the woman with immaculately permed hair and passionate yet gentle brown eyes said with a smile, "Well, if I was not confident and hopeful, I wouldn't be here."
The night of the gala round of the competition, Porntip Nakhirunkanok – whom family call "Bui" because of her childhood ability to sleep like a baby – was declared Miss Thailand. The Miss Thailand crown, Porntip revealed years later, was partially broken during her reign but was a ticket that led her to become a vocal advocate for improved education in Thailand.
Representing Thailand on centre stage at the Miss Universe pageant in 1988, held in Taipei, Taiwan, Porntip was asked in the final interview about her charity project for Thai children. In the flawless English that grew up on Big Bird, Porntip mentioned a heartbreaking situation in which around 10,000 local children had died from malnutrition in previous years, and as Miss Thailand she would like to make a difference. And that was how the Miss Thailand crown was replaced by the bigger one of Miss Universe in 1988.
While enjoying her first walk as Miss Universe, Porntip might not have been sure of what would lie ahead, but her intention had been clearly stated, and that was to come home to Thailand to extend her hand and heart to Thai children in need.
Those who are not die-hard fans of beauty pageants might have only faded memories of the "Bui mania" phenomenon that brought a crowd to welcome the new Miss Universe at Don Muang International Airport in 1988. But "Bui rak dek" (I love kids) was heard nationwide and is still near the tip of the tongue for many. After passing her crown on to her successor, Porntip's big smile and kind heart would still accompany her to many child centres in Bangkok and surroundings, such as the Rajavithi Home for Girls, Phaya Thai Babies' Home and others upcountry.
Regardless of where Porntip lives, she feels she is a Thai person, as in the answer she delivered in her Miss Universe interview: "You don't have to live in Thailand to be a Thai person and I hope to set a good example for the Thai people in my country. Yes, I did grow up in Los Angeles but I am a Thai person throughout and I live the Thai culture, I speak the Thai language and I just want everyone to know that I am proud to be a Thai woman." It was obvious that she did care then, and still cares very much now, about Thai children, who represent the hope and future of the country.
Elite+ had the honour of spending a Friday afternoon with the Miss Universe turned veteran philanthropist currently at the helm of the Angels Wings Foundation, working hand in hand with local public schools and private organizations to promote a better quality of Thai education, such as through the "Teach for Thailand" programme. At a school chosen by the foundation, a humble and warm reception ceremony included performances by schoolchildren. Pornthip, or Phi Bui (Sister Bui) as the children call her, assisted with basic English teaching activities while also taking some time out for selfies with the children. Part of the teachers' salaries and some IT and classroom equipment at the school were donated out of funds raised by the foundation.
Elite+ sat down to talk to the beauty queen and kind-hearted philanthropist about how she has supported Thai children over the past three decades.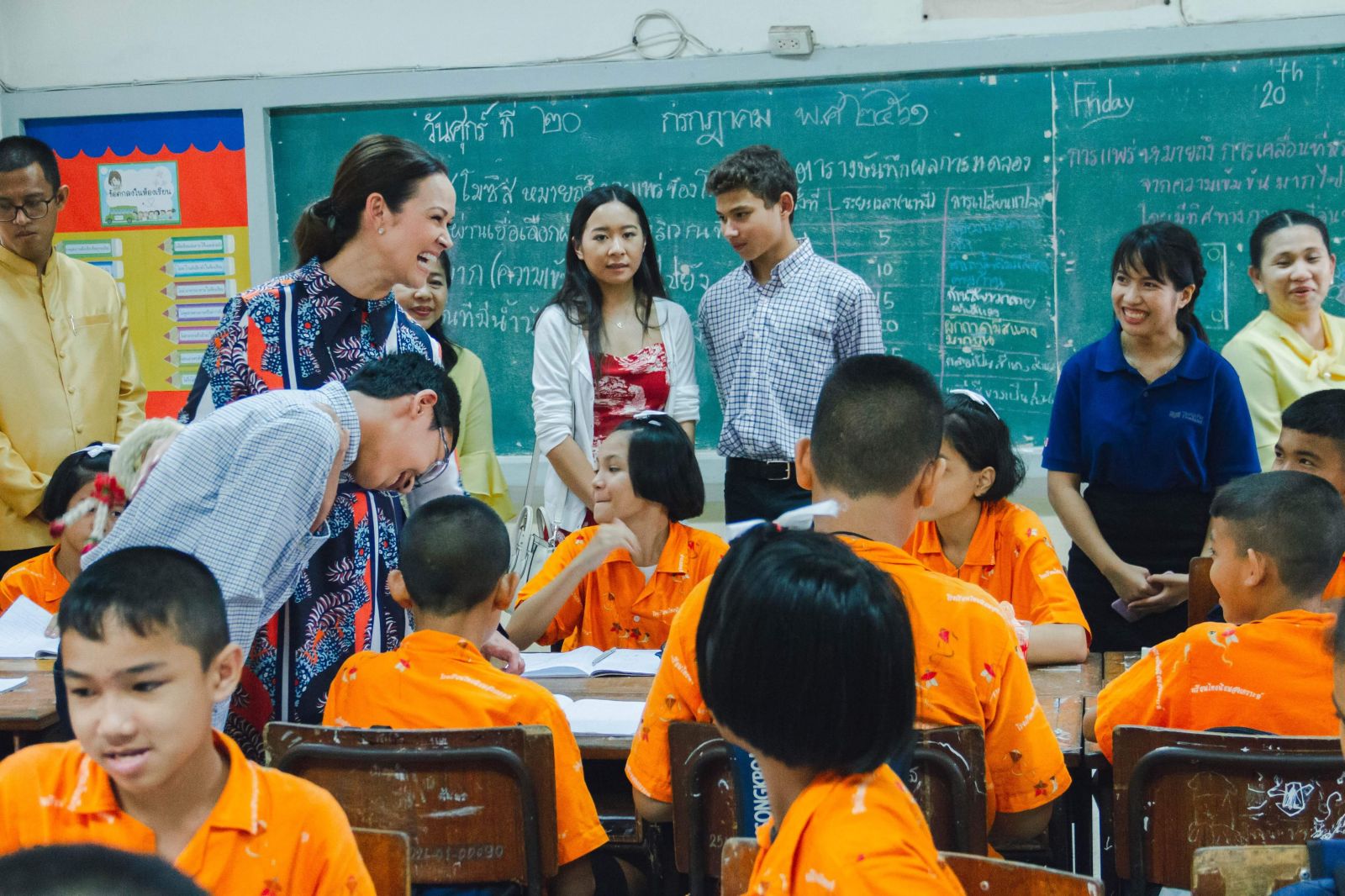 What made you passionate about helping children, especially when it comes to education both in Thailand and in America?
I think it started with my pride for Thailand. If you really are concerned about and proud of your country, you are going to worry about its future. There is no more obvious resource for Thailand's future than its youth, right?
What is at the root of your philanthropy?
The children. I think it's everyone's responsibility to take care of them, whether it's your family, your community, and in my case when I went to different orphanages and foundations I saw how … even though the children were without resources, they were happy. They were happy and great children. They always found a reason to smile. And when I saw that, I said there's no way I cannot help them. I have to find a way to make their lives better. That's where my foundation started about 30 years ago.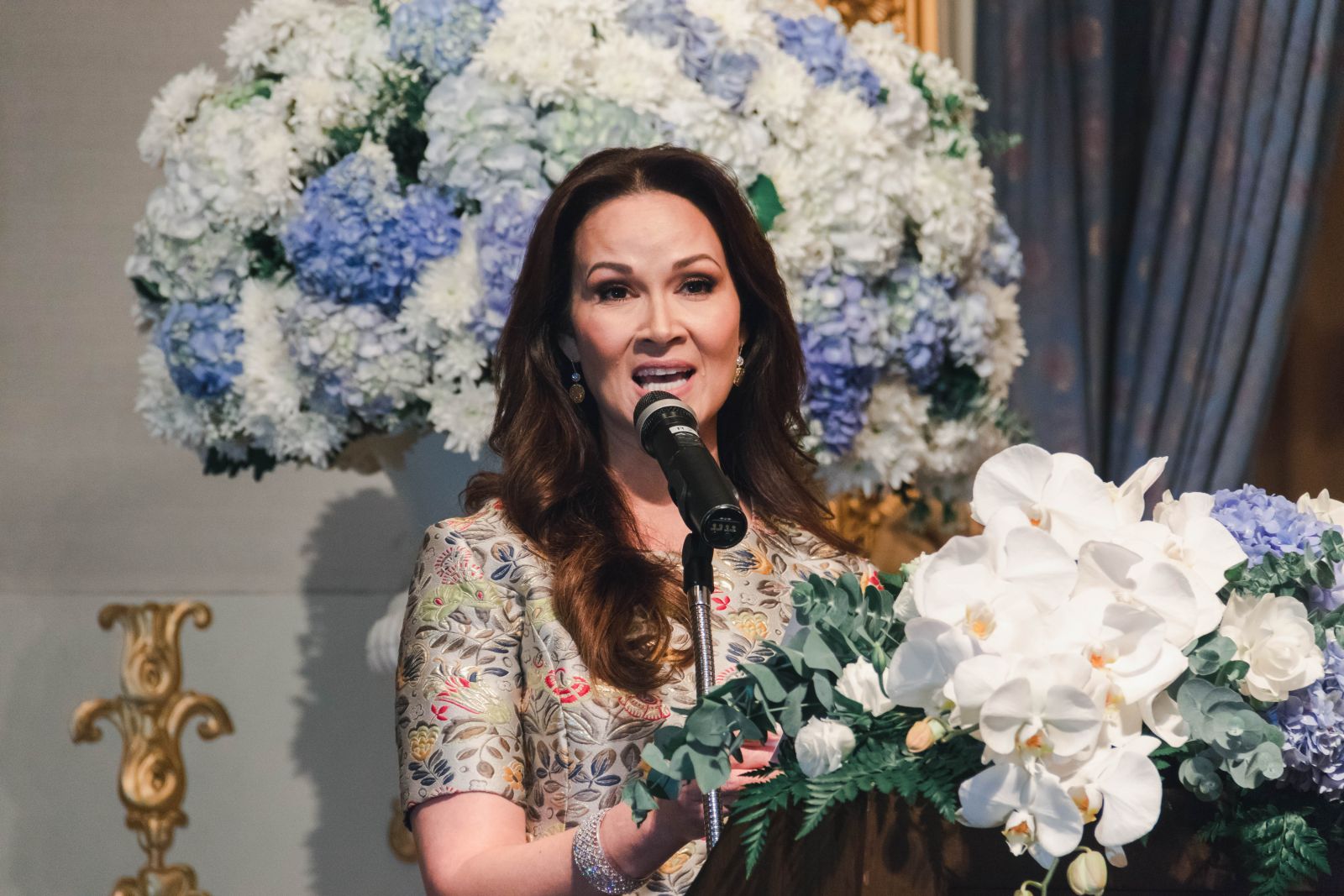 How has the Angels Wings Foundation grown since its inception?
Initially, it was just a small fund where I would collect things to donate to orphanages and so forth, and it has kind of grown over time. Angels Wings Foundation was born in 2002. After I married my husband, I wanted to continue to focus on and help Thai youth. So I made it more like an educational programme so we could help future children have opportunities and resources for higher education. This is how they can become role models and leaders in their community.
What do you think is still lacking if we want to improve children's access to education?
Will you keep contributing to Thailand's education? Scholarships. More and more scholarships and each year I try to grow the initiative so the kids who really need it for higher learning have it. I am happy for the support of people like you, the Thai press, who have supported and encouraged me to do more, because when you talk about it then people who really need help know about it, and so rather than me going and looking to help people, they can come to me and ask for help. I think that will make it more meaningful for both of us, because I really want to find people who have aptitude and passion for learning and helping others. If I can help them achieve their goals and purpose in their lives, that would make me incredibly happy and be a great experience for my children as well. I am proud to have my children join me today and meet the elementary school students of Bangkok and not a private school but a real public school where they really need our love and care and attention.
How does your advocacy fulfil you as a person?
I do tell everybody that it is a kind of tiredness that makes you happy. You get fatigued and that's normal, but you get so much love and inspiration in return. Coming to places like this, seeing directors and teachers including people that just pour their hearts out with so much love and concern for these children that are not theirs. They are children that come year after year for hope, food and care and they are here with their arms open to help every child that comes through that door. That was what inspired me. That's what encouraged me to do more. When I heard of this school and what they were doing, I said no way … even with my busy schedule, I have to find time to come and say thank you to all these wonderful teachers for really caring about the future of Thailand, for really caring about these innocent children. You can see they are really smart, so delightful, so charming. You see these smiles and you really want to hug everyone.