Movers, Shakers and Milestones Notable events on the corporate and social scenes
1. Praphansarn Publishing Celebrates Its 60th Anniversary Hosting the First Bangkok International Rights Fair 27-31 March 2022
On Sunday, 27 March 2022, Praphansarn Publishing Co, Ltd inaugurated the Bangkok International Rights Fair, held in conjunction with the 50th National Book Fair and 20th Bangkok International Book Fair at the recently opened Bang Sue Grand Station, the largest railway station in Southeast Asia. This fair, which had as its theme, "Moving Forward Sustainability" was conducted as a hybrid - onsite, online – event that included speeches, presentations and panel discussions, to include book publishers and agents both local and foreign, particularly from around the Southeast Asian region. During the opening ceremonies a number of important dignitaries and Praphansarn published writers, including the former Deputy Prime Minister and Minister of Education, Pongpol Adireksarn and Bangkok Bank Executive Vice President Dr Thaweelap Rittapirom, congratulated Praphansarn Publishing and its managing director, Arthorn Techatada, on their achievements and contributions to the Thai literary scene.
2. Gala Dinner to Celebrate Elite+ Magazine's 8th Anniversary
On Friday, 1 April 2022, Elite+ magazine hosted a gala dinner for members of the Bangkok diplomatic corps, government dignitaries, corporate leaders, important members of Thai society and members of the media to thank them for their invaluable support. The guests were first welcomed by Dr Pisuth Lertvilai, MD, one of the directors of Elite+ magazine. He was followed by Dr Thaweelap Rittapirom, Bangkok Bank Executive Vice President, who opened the event as representative of the magazine's major sponsors. The keynote speech, entitled "From Good Health by Yourself to 'Health Town', a journey to sustainable health and peace" was presented by Dr Sant Chaiyodsilp, MD, Chief Wellness Officer and Director of Wellness We Care Center. Dr Sant was also presented with the inaugural "Elite+ Award" for his outstanding dedication and contributions to Thai society by the Director of UNESCO Bangkok, Shigeru Aoyagi.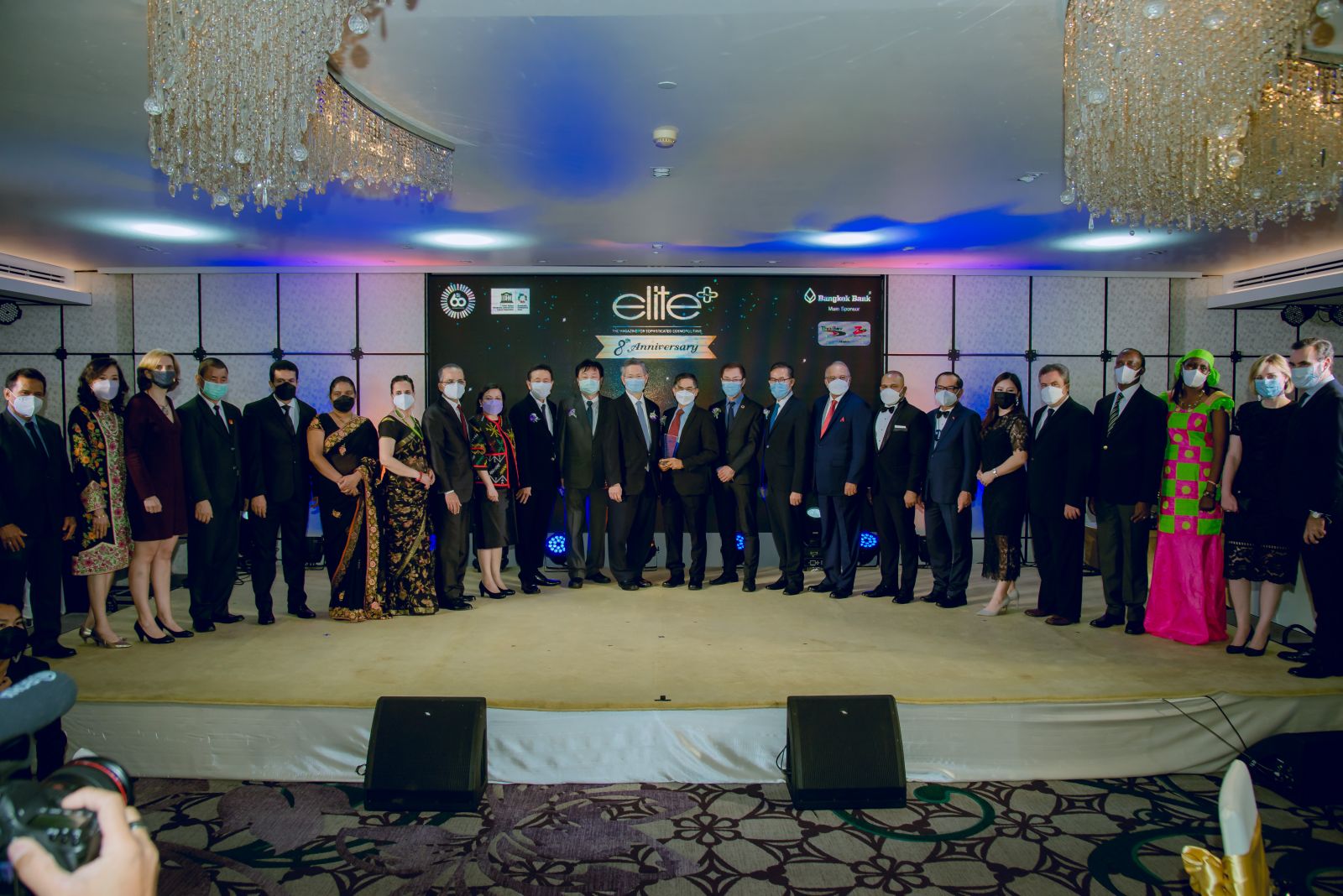 3. Bangkok Bank: Creating Value for a Sustainable Future
At the Praphansarn Publishing's Bangkok International Rights Fair held to celebrate the company's 60th anniversary, Bangkok Bank PCL organised an exhibition, entitled "Environment, Social Governance" under the theme "Creating Value for a Sustainable Future". The exhibition that was introduced by Dr Thaweelap Rittapirom, Bangkok Bank Executive Vice President, provided information about what the bank has been doing over the past seven decades to promote its mission to advance sustainable development under the concept "Partners in Development". The exhibits explained how Bangkok Bank has been partnering with Praphansarn Publishing for many years now to contribute to Thailand's social development through the sponsorship of the Chommanard Book Prize awarded annually to the best book authored by a Thai female writer, the donation of books to school libraries nationwide to expand their collections and encourage students to read as well as supporting other activities that promote "sustainable development and doing business with social responsibility".