As the Covid-19 pandemic recedes and the Government once more focuses on attracting visitors to return to the Kingdom, Dr Yupha Taweewattanakitborvon, Permanent Secretary for Culture, Ministry of Culture, was kind enough to discuss with Elite+ what her ministry has been doing to support these endeavours.
Dr Yupha Taweewattanakitborvon first studied photography and film production at Bangkok Technical College before she earned a Bachelor degree in Educational Technology from Srinakharinwirot University, Prasarnmit Campus. She then continued her studies at Chulalongkorn University where she earned an MBA and then a Doctorate in Business Technology and Innovation.
While a student, Dr Yupha interned at a leading advertising agency which gave her insight into how the private sector operates, but then she chose to join the civil service working at the Thailand Cultural Centre, when it was still under the Ministry of Education. When the Government restructured the ministries and established the Ministry of Culture, Dr Yupha was assigned to the new ministry where she continually rose in the ranks, being named an Outstanding Civil Servant in 2016 and more recently appointed the Permanent Secretary in 2020 at the start of the Covid pandemic, which is where we began our interview.
"When I assumed my position, the Government was just instituting a strict lockdown to curb the quick rise in infections. This made it challenging for the Ministry to move forward in all its many cultural activities. However, I also saw this as an opportunity to restructure and advance our management and administrative policies. We were thus able to introduce and train our people in new technologies to improve our operations."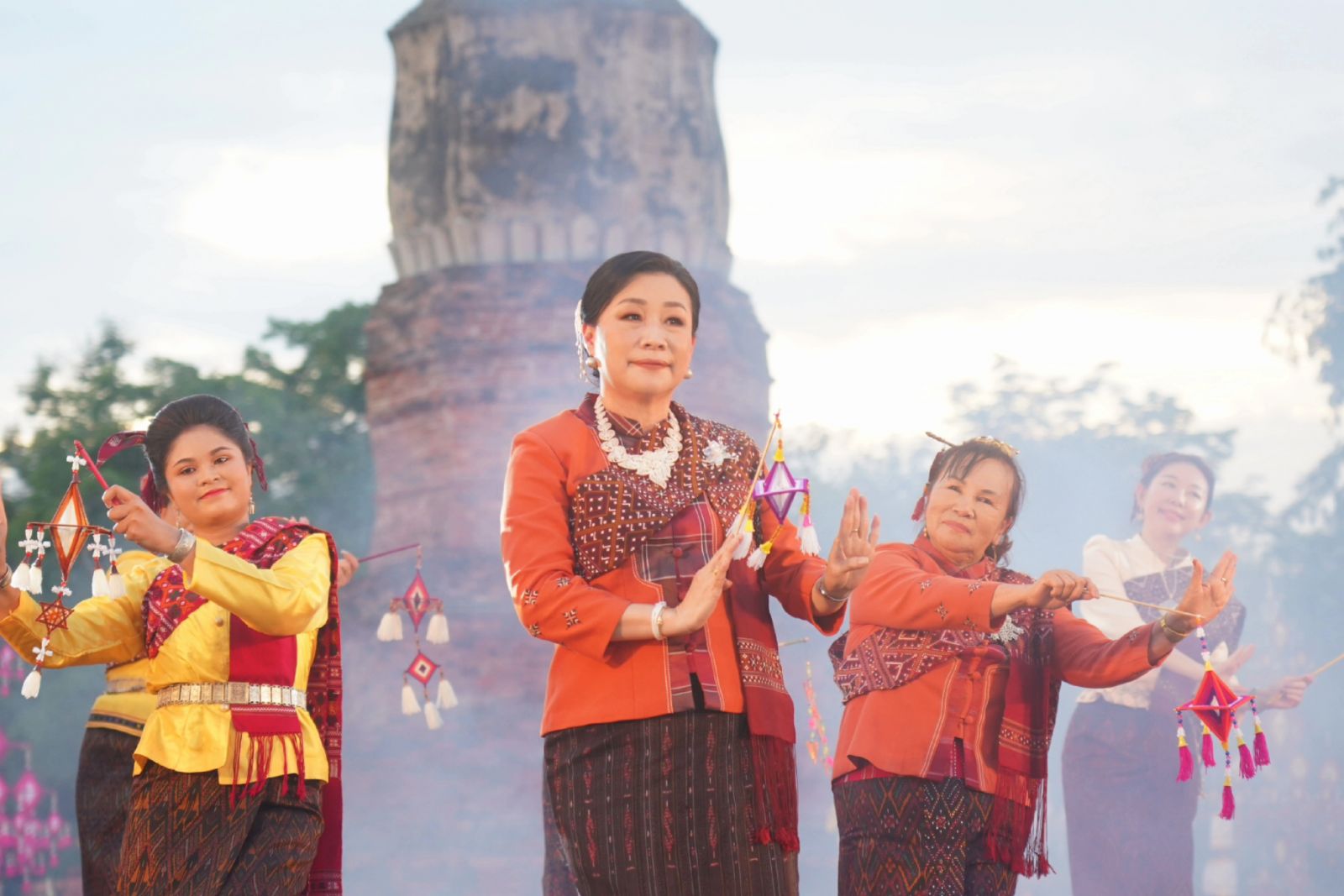 "During this period, the Ministry worked to raise public awareness of what was required for "New Normal" lifestyles. Secondly, we focused on upgrading community-based cultural tourism under a project called "เที่ยวชุมชนยลวิถี" (Discover Local Lifestyles) which involved as many as 228 communities around the country, as well as developed and introduced a new application to promote cultural tourism called เที่ยวเท่ๆ เสน่ห์เมืองไทย (Enchanting Thailand). And third, we encouraged the development of commercializing the Cultural Products of Thailand (CPOT) through various social media platforms, like Facebook and YouTube."
Our discussion next turned to what the Ministry is doing now as the country reopens and is welcoming visitors back from around the globe. Dr Yupha said, "This year, the Ministry has introduced a new Bio-Circular-Green economic model, or "BCG", that capitalises on cultural richness and employs technology and innovation to transform Thailand to a value-based and innovation-driven economy. We are also promoting Thai specific 'Soft Power' in line with the government policy that also covers preserving Thai culture in a sustainable way, under the new vision, 'culture and creativity play a leading role in Thai economic and social development.' The community-based cultural tourism "เที่ยวชุมชนยลวิถี" (Discover Local Lifestyles) I mentioned earlier is very much a part of these efforts. Lastly, to support the sales of the CPOT products, earlier this year we organised the Community Cultural Product of Thailand - CCPOT Grand Exposition which we held at the Royal Paragon Hall, Siam Paragon where we had members of over 5,000 communities from around the country selling over 1,000 cultural products, thus, providing an excellent marketing opportunity for both the venders and shoppers."
Becoming even more specific, we asked Dr Yupha about their policies for promoting 'Soft Power'. She began, "The Ministry of Culture has been promoting the creative economy under the '5F model", Food, Fashion, Film, Fighting and Festivals. As part of these efforts, we established the Office of Thai Media Fund, a public organization under the supervision of the Minister of Culture to support safe and creative media production. We also named 2022 as the 'Creative Year' and have allocated funds from a budget of 40 million baht to support 'Soft Power' cultural affairs and create quality feature films and documentaries. Our hope is to inspire young Thais to pursue a career in the arts and culture that can generate more income for themselves and the country as a whole."
When asked what type of funding the Ministry plans to allocate towards the production and promotion of Thai dramas for the coming years, Dr Yupha explained, "The Government had assigned the Ministry and related agencies to complete the third phase of the 'Film & Video Promotion Strategy for 2017 to 2021 of the National Film and Video Board, which required finding sources of funding, including Crowdfunding, and introducing incentives, like cash rebates that will attract foreign filmmakers to Thailand to shoot and employ local post production companies. Now, the Ministry continues to support the production of Thai dramas and films that can earn as much as 200,000 million Thai baht annually, which is the first among all ASEAN members. At the same time, we are supporting the education and training of youth interested in media production to fill expanding needs and right now, I would say we are producing as many as 400 new graduates each year to serve the media industry and its various sectors. Currently, we are producing no less than 50 films and dramas annually, some of these animations with characters being registered as Thai intellectual property that can then earn further foreign revenue. Through our efforts, Thai actors, artists and creators can attract many audiences in the news and receive recognition today worldwide. Meanwhile, we are providing support for at least 10 Thai creators to participate in training programs and seminars as well as international film festivals. This includes entering as many as 10 productions to international film festivals each year. Two of these award winners are 'Kraben Rahu' and 'Malila'."
As we came to the end of our interview, we asked Dr Yupha what plans the Ministry of Culture has for furthering UNESCO World Heritage recognition. Dr Yupha said, "Cultural heritage is something passed down from generation to generation. UNESCO promotes both Tangible Cultural Heritage such as ancient ruins and Intangible Cultural Heritage, or what Thais call the legacy of cultural wisdom, including language, performing arts, artistry and craftsmanship. In addition to Ban Chiang Archaeological Site, Historic City of Ayutthaya and Historic Town of Sukhothai and Associated Historic Towns, which are the current UNESCO World Heritage Sites in Thailand, the Ministry of Culture is in the process of proposing for inscription six additional cultural heritage sites. The tentative list includes (1) Phuphrabat Historical Park; (2) Wat Phra Mahathat Woramahawihan, Nakhon Si Thammarat; (3) Monuments, Sites and Cultural Landscape of Chiang Mai, Capital of Lanna; (4) Phra That Phanom, its related historic buildings and associated landscape; (5) Ensemble of Phanom Rung, Muang Tam and Plai Bat Sanctuaries; and (6) the Ancient Town of Si Thep. When it comes to Intangible Cultural Heritage, we received recognition for Khon masked dance drama, Nuad Thai, traditional Thai massage, and Nora, a dance drama in southern Thailand, as well as listings on the d Creative Cities Network, including Bangkok as a City of Design, Phuket and Petchaburi for gastronomy and Chiang Mai and Sukhothai for crafts and folk art."
At the end of the interview, Dr Yupha delivered her final thoughts to our readers, "One must never forget that culture is never-ending. It's not usually something produced in a day or a week or even a year. Our Thai culture has been evolving for centuries, over a millennium actually, and as we continue to create tangible and intangible artistry and wisdom, we must remember to preserve all we have achieved that is uniquely Thai."