Opened in 1966, the Asia Hotel Bangkok is today the flagship of the Asia Hotel Group and an important landmark for this cosmopolitan capital. Recently, Mr Surapong Techaruvichit, the group's Managing Director, sat down with a team from Elite+ to discuss the evolution of the Asia Hotel and associated brands as well as the current situation and his outlook for the future of the Thai hospitality and tourism industries.
A family business that is now also listed on the Stock Exchange of Thailand (SET), Asia Hotel Group PCL began very humbly after Mr Surapong's grandfather emigrated to Thailand and in 1953 opened the Tai Huat factory which constructed snooker tables. Thirteen years later, he decided to enter the hospitality sector opening the first Asia Hotel with slightly more than 100 rooms on its present site in the heart of the city at 296 Phayathai Rd, Ratchathewi. After his grandfather's passing, Mr Surapong's father took over the business. At the same time, Mr Surapong completed his high school studies at Assumption College and then earned a Bachelor of Economics at Chulalongkorn University after which he was awarded a Master of Business Administration (MBA) by the National Institute of Development Administration (NIDA).
Because his father became ill, Mr Surapong joined the family business earlier than he had planned or expected, but he took to it like a fish to water. As he explained, "I love to serve others and make their lives as comfortable and convenient as possible. This is first and foremost for anyone who wants to work in the hospitality industry. I was also fortunate to have chosen economics as my first field of study because I learned a lot about supply and demand and how to manage money in a way that built a firm foundation for our businesses upon which we could borrow and grow."
Today, the 4-star Asia Hotel Bangkok has as many as 601 accommodations that offer a selection of one- and two-bedroom suites and premier, executive and superior rooms that all feature the latest amenities to cater to guests' every need. It is an easy 30 minutes from either of Bangkok's international airports and has a pedestrian bridge linking it directly to the BTS Ratchathewi station, meaning its just moments from Bangkok's premier shopping malls and dining and entertainment venues as well as important tourist attractions. Mr Surapong was also instrumental in initiating a number of co-promotions for his and other hotels with the BTS system.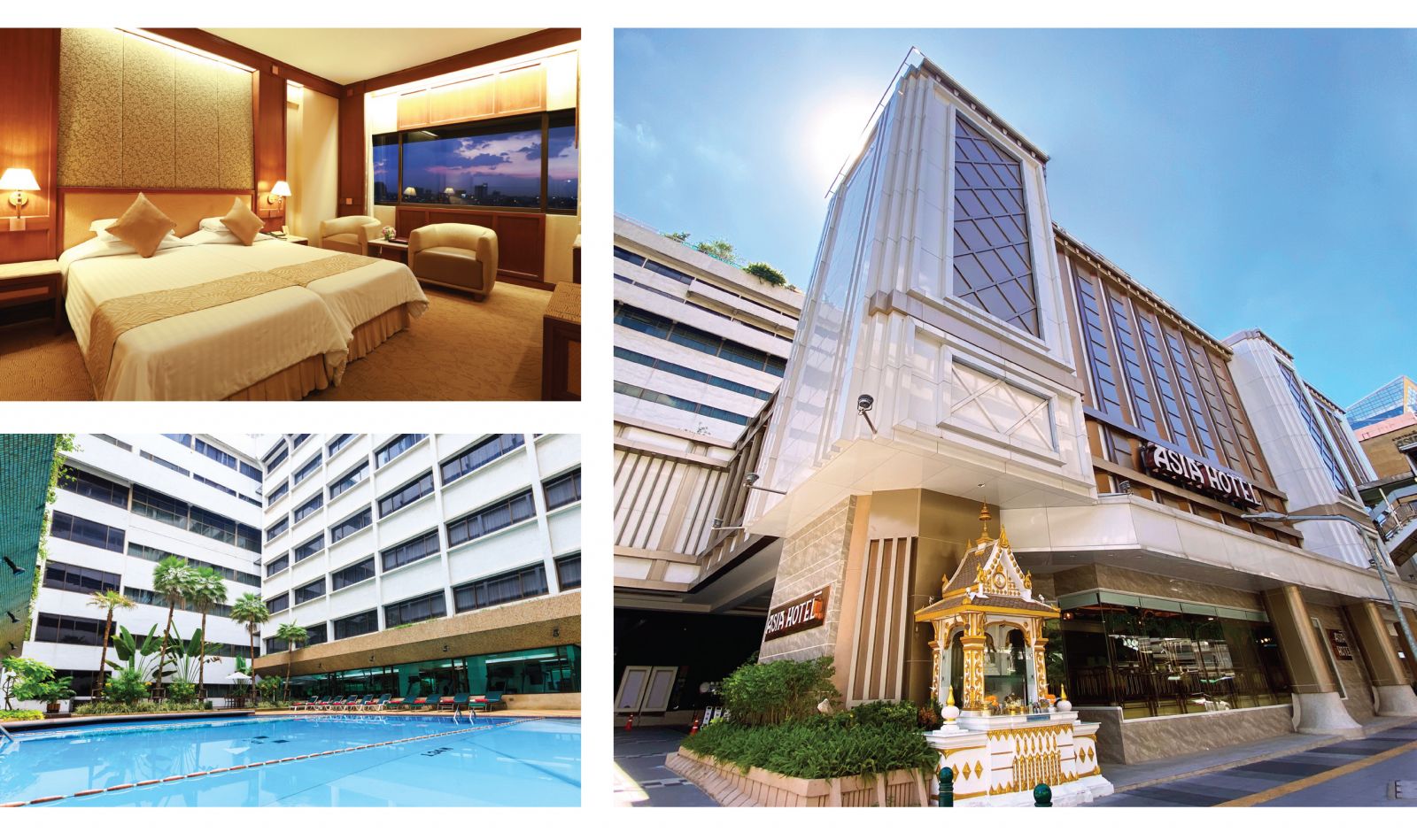 In addition, the group today also comprises Asia Airport Hotel close the Don Mueang International Airport, the Asia Pattaya Hotel in one of Thailand's premier resorts, and Asia Cha-Am Hotel in the quaint seaside town from which it takes its name. It also has two properties, the Darley Hotel Chiang Mai and Ratchapruek Lanna Boutique hotel, to serve those who want to experience Chiang Mai, Thailand's northern capital.
When asked what are the important issues Mr Surapong had to consider particularly during the Covid-19 pandemic that has been taking its toll on the hospitality and tourist sectors during the past two and a half years, he answered, "What you must understand is our most important resource is our people, and we employ over 1,000 persons. Of course, we must keep up our properties, which means continuous renovations and improvements. But we are a service industry, and our staff must be kept happy if they are going to serve our guests with a sincere and dedicated smile.
"I also realise that many of the jobs are staff have to do can be more tiring than my own tasks. So, when assigning responsibilities, I must consider how much physical and mental efforts these entail. During the pandemic, I tried to employ as many of our people as I could. However, this meant cutting salaries, but providing at least enough for both them and our hotels to survive. Many, especially those working at our city properties, chose to go home, and we agreed that when guests began to return they could as well. More of those who worked at our provincial properties decided to stay on as at these hotels we continued to provide them with housing."
"When we were barred from providing accommodation, at the Asia Hotel Bangkok we had to adapt and so still operated our food and beverage services, even expanding into food delivery. Meanwhile, we have been conducting major renovations. We transformed our front parking lot into a modern café. We also rent out this space when people want to hold smaller functions. Now, we are in the process of redesigning our main lobby, moving our reception counter from one side to the other in lobby and installing a sales outlet at the north end."
Currently, hotel occupancy in Bangkok Mr Surapong explained is averaging at around 30% while in the provinces it is slightly less, except for Phuket and Koh Samui. He said as the pandemic recedes and is declared endemic, the number of tourists should rise, but it won't be until the Chinese are allowed to travel once again and return to Thailand that the numbers will really rise as they accounted for over 30% of the total of travellers pre-Covid pandemic. Furthermore, as the government reduces restrictions and makes travel to Thailand easier, more visitors are certain to come.
In addition to overseeing the Asia Hotel Group PCL and its member properties, Mr Surapong is very active in the operations of a number of associations.
He is the former president and now current advisor of the Thai Hotels Association. He is a board member and deputy secretary general of the Poh Teck Tung Foundation. Originally founded as a road accident rescue service, it has evolved into a much broader social welfare assistance organisation. Between 2007 and 2015, Mr Surapong was a board member of The Thailand Convention and Exhibition Bureau (TCEB) In addition, Between 2017 and 2019, Mr Surapong was a board member of the Ministry of Tourism & Sport's Tourism Policy Board and currently, he is a board member of a number of companies, including Zeer Property PCL, Pamatoy Co, Ltd and ABK Enterprise Co, Ltd.
When asked if he had any free time to pursue some of his passions, Mr Surapong answered, "I have a lot of free time. I enjoy my work, so it doesn't ever feel like work. It's never a burden. And since I was young, I have loved to play sports. I was a football player when I was in school and today, I play golf at least once a week. Plus, you must remember that my family began as a snooker table manufacturer. After that we have owned many snooker halls. I, in fact, have a table in my home on the rooftop of the hotel, where I continue to hone my skills every day. In the past, I was also an active member of the Billiards Association of Thailand. Snooker remains one of my greatest passions. I also have a garden I'm quite proud of on the roof with mango trees which are now producing the sweetest fruit. And while I'm just a few steps away from work, I can totally forget about it and indulge in my family and other passions when at home."
To close the interview, we asked Mr Surapong if he had any advice for those considering a career in hospitality. His answer, "That's easy. Like I said before, you have to love to be around people and want to help them enjoy all that life has to offer.