Thai Wacoal turned to COACH A when they needed a new approach in the development and a partner in their pursuit for sustainable growth and next generation leadership. Thai Wacoal was established in 1970 as a joint venture between Saha Group and Wacoal Japan. Boondee Amnuayskul joined Thai Wacoal in 1978 and over the next 45 years, he has advanced along with the company now listed on the Stock Exchange of Thailand (SET), rising to become CEO and managing director.
A friend of his introduced COACH A (Thailand) Co, Ltd, a subsidiary of COACH A Co., Ltd. (Japan), newly listed on the Tokyo Stock Exchange (Tosho). COACH A (Thailand), which today operates throughout ASEAN and India, offers a refined "Systemic CoachingTM" model to help their partnering companies accelerate transformative change in an organisation and its people. Recently, Elite+ talked to Mr Boondee and Ms Potjamon (Tarta) Piampanya, his COACH A (Thailand) executive coach, to learn about their partnership to adopt organisational transformation to achieve and maintain sustainable growth for Thai Wacoal PCL.
To begin, Mr Boondee, could you explain what attracted you to partnering with COACH A (Thailand)?
I myself, as well as most of my board of directors and many of our top management, have been with Thai Wacoal for nearly the entire life of the company We all felt we now needed to develop a new generation of executives to take the reins of the company to lead it into the future. We knew we had to find a new direction for our human resources development. We had for years been conducting regular training seminars and workshops, but something new was needed as we continued to operate in the same manner. In 2020, the Covid pandemic began to take its toll on our company operations and revenue. I saw the need to set new goals if we were to attain sustainable growth. A friend told me about COACH A (Thailand) and its innovative "Systemic CoachingTM", which was and is a completely new approach, or concept for me, for organisational development, and I must say the success we have achieved with COACH A (Thailand) up to now is far beyond my expectations.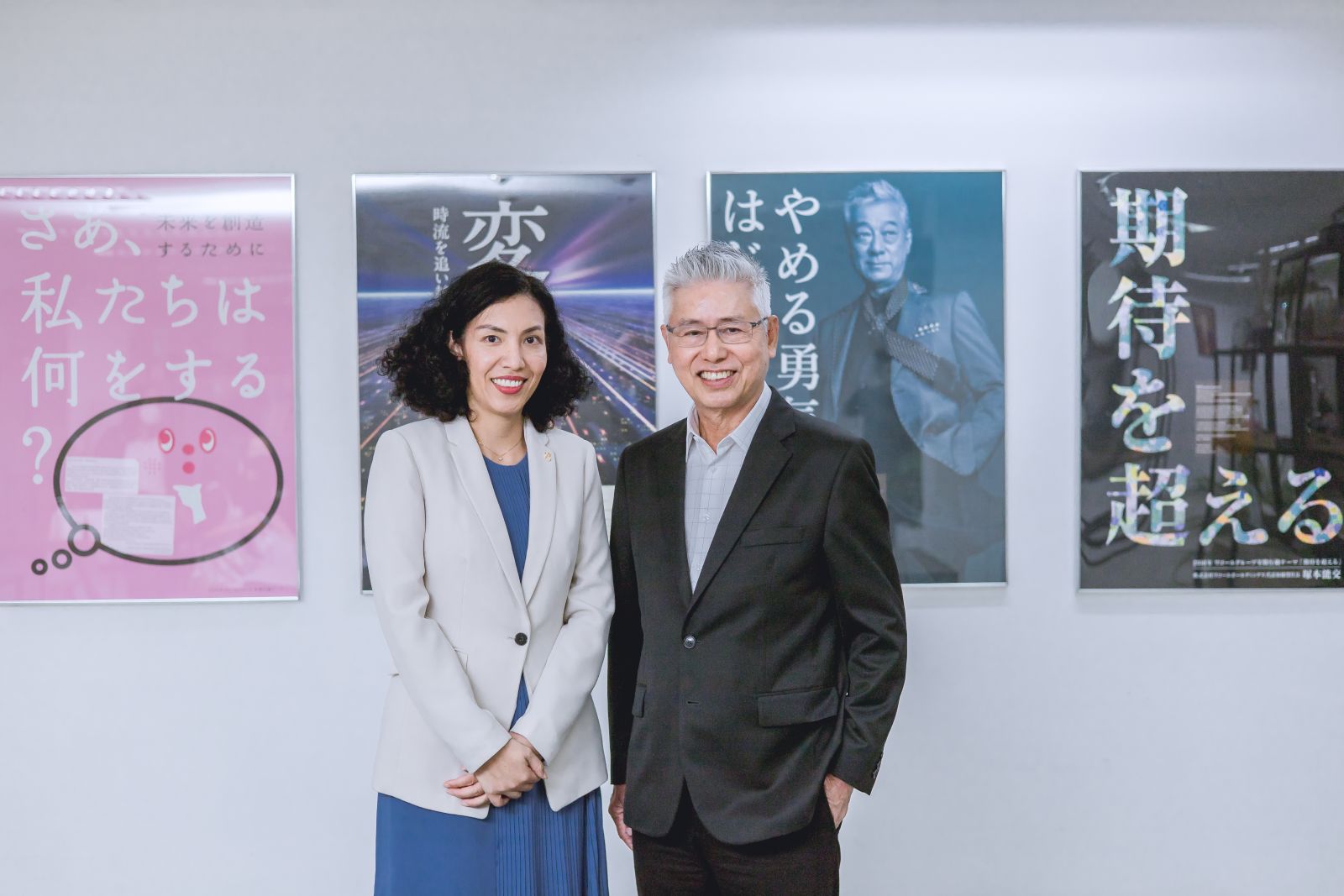 Potjamon Piampanya (Executive Coach) and Boondee Amnuayskul (Thai Wacoal CEO) with Wacoal's Value.
Could you, Ms Tarta, explain what "Systemic CoachingTM" entails?
"Systemic CoachingTM" emphasises dialogue to maximise each person's potential. Different than common coaching, we don't focus on developing an individual's potential, but on creating an equal and rapport, that is dialogue, because we believe the best leaders come from those around us as together, everyone rises in their capabilities. At Thai Wacoal, like with our other partner organisations, we began by establishing a core group of internal stakeholders. This group comprises Mr Boondee and five of his top management responsible for different company departments. Acting as their executive coach, I help to guide them is this endeavour. Together, we sit down regularly to discuss what each is doing and how their work interacts with each other's. I encourage them to ask questions so they gain a firm understanding of each other's tasks and concerns. Through this dialogue, all become equal partners as everyone gains an overall picture of the company's operations. They can then help each other to solve problems and make adjustments that will improve their departments' and thus the company's overall operation.
At the same time, each of these individuals organises a coaching group with some of their Colleagues together with those from other departments to discuss their work, ask for assistance and offer suggestions to solve internal problems. It's here that we begin to develop and recognise those who will become the company's next generation of leaders. Through these regular get togethers, a harmonious relationship develops. Rather than the participants feeling they need to compete with each other for promotion, they learn that through understanding and cooperation, all will benefit as the company reaches higher achievements. The overall integration of the company will become stronger. A sense of belonging and then commitment matures with sustainable growth the outcome.
To help visualise this concept, you can think of a large starfish at the core with smaller starfish surrounding it and touching one of the core's five arms with one of its own. This reflects how our "Systemic CoachingTM" maintains a unified approach to company and personnel transformation and thus sustainable advancement through dialogue and closer, integrated relations.
Mr Boondee, could you explain how and why partnering with COACH A (Thailand) has had such a positive impact on Thai Wacoal?
As I said earlier, I was looking for something new that would get us out of what I felt was almost a lethargy in our operations. We were still operating in the black, but I felt we needed a new impetus to take us to the next level to keep advancing in a sustainable manner.
COACH A has taught not just me, but many at Thai Wacoal the importance of dialogue through "Systemic CoachingTM". I no longer just give orders like the captain of a ship. I've learned, as I think all of us involved have learned, to listen and then offer and receive suggestions on how best to proceed. Everyone now has a much broader view of the company's operations and can see how everything is linked together.
I also know that I have a strong partner in COACH A (Thailand). They are always available when any of us have a query and provide the direction we need to stay on track. As I said, I saw this need even before Covid, and then because of the pandemic and lockdowns, we had to wait some time to begin to implement the program. After 1.5 year we have now set up groups with 72 top personnels leading this change. But, you must remember, we have as many as 5,000 employees and ultimately, we want all to be involved.
At the same time, we continue with our other training activities to be sure all our employees are familiar with the latest production technologies and methods. But, we also need to expand internal dialogue so each and every one of our employees feels they are being listened to and are contributing to company development. This is vital to motivate them, to help them feel they are valued and to know without them, we cannot be the company we are and will become.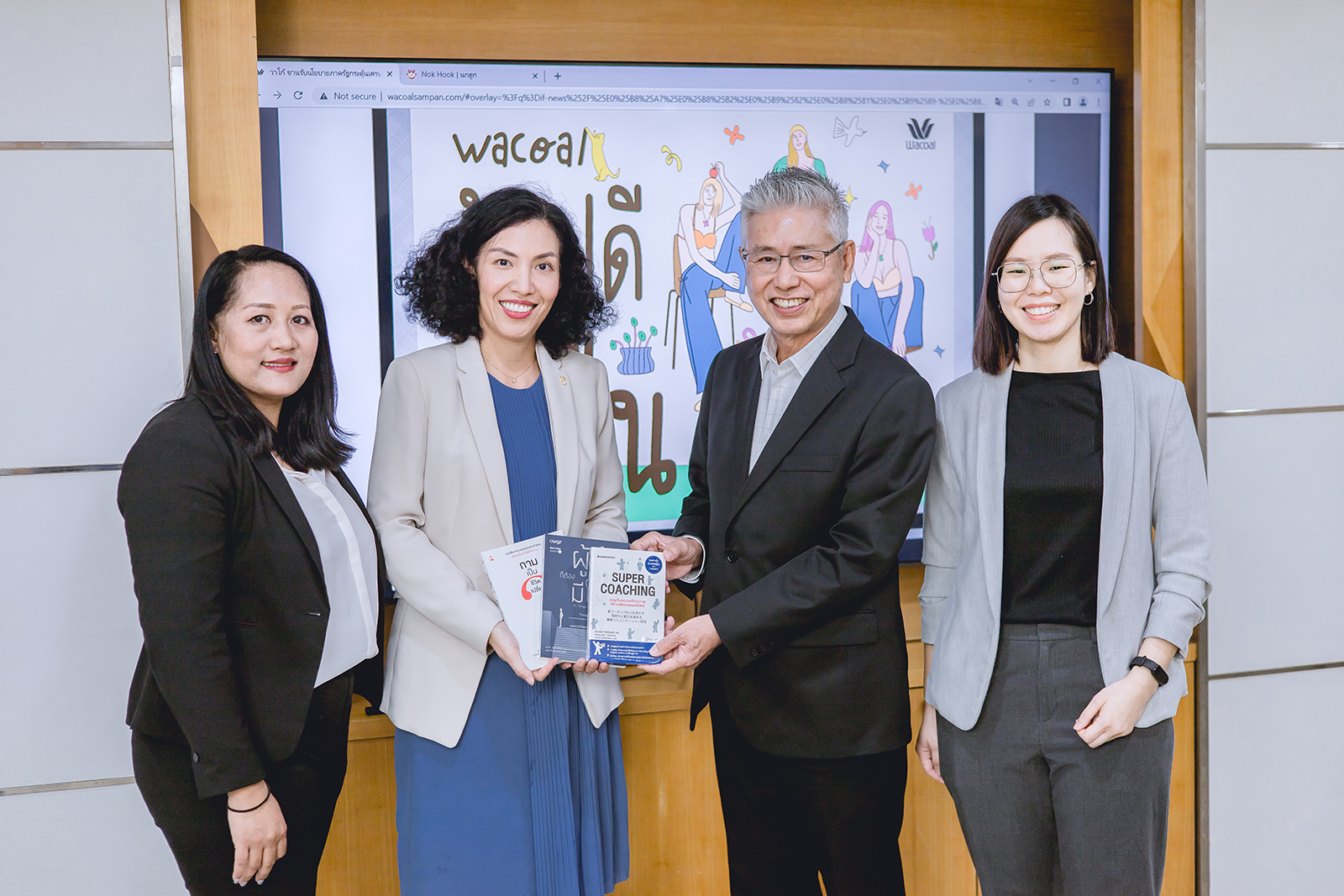 From left to right , Samanjit Seely (COACH A), Potjamon Piampanya (COACH A), Boondee Amnuayskul (WACOAL), Prae Pathanasethpong (COACH A).
Through this kind of partner engagement, we are already seeing a rise in the quality of personnel performance. I am seeing new leaders develop and am now confident we will have the next generation of quality management to take over. As our partner, COACH A (Thailand) has helped in this achievement, which is being realised much faster than I had ever hoped was possible. I believe that with COACH A guiding us through "Systemic CoachingTM", all our people can reach and actually surpass their full potential, which can only contribute to Thai Wacoal's continued sustainable growth, and I know I have to thank COACH A (Thailand), as a very dependable partner, for all we have accomplished in such a short time. I also know by continuing this relationship, Thai Wacoal is on the right path to ever greater and sustainable success.