Ireland has become well known for its stunning natural landscapes after so many famous movies have been filmed there. The country is often voted as the friendliest country in Europe. To coincide with the annual Irish National Day which falls on March 17th, St Patrick's Day, I sat down with HE Ambassador Pat Bourne to discuss another aspect of his beautiful country, its cuisine.
Ambassador Pat enthusiastically shared, "Irish food is one of the world's best kept culinary secrets and tastiest surprises. While uninformed outsiders may think in terms of clichés like 'meat and two veg' and 'potatoes, potatoes and more potatoes', the reality is very different, with Ireland now recognised worldwide as a source of quality and sustainable food and drink and dynamic, creative, modern cuisine."
He explained further, "The Irish never take food for granted, and part of the reason for this is that, as a nation, we have endured unimaginable poverty and hunger. In the 1840s, the population of the island of Ireland was essentially cut in half as a result of a famine caused by the potato blight. More than a million people died of starvation, and millions more emigrated to America, Britain, Australia and elsewhere. When Ireland gained its independence, the famine experience led to a culture in the agri-food industry that promoted diversity, quality and sustainability.
"Today, Ireland is not only self-sufficient, it actually produces ten times more food than the population can consume, making it one of the world's leading international suppliers of meat, seafood, dairy, fruits and vegetables. Across Europe and beyond, Ireland is synonymous with freshness, flavour and sustainability."
According to Ambassador Pat, the key Unique Selling Points (USPs) of Irish food relate to the fact that it is an island with an exceptionally clean, natural environment, its air and waterways unpolluted by heavy industries and crowded cities. It also enjoys a moderate climate which makes it for ideal farming, and these benefits can literally be tasted.

Amongst the stars of the Irish food portfolio are its legendary grass-fed beef, so much tastier than grain-fed rivals. The country's dairy produce is second to none, including the creamiest, yellowest butter found anywhere in the world and a range of cheeses that are becoming so popular that the artisan producers across Ireland cannot keep up with the demand. Ireland's seafood from the beautiful 'wild Atlantic way' coast, such as Ireland's famous salmon and oysters, is truly exceptional.

To complement the delicious dishes, there are plenty of options for drinks. These include Guinness, one of the world's most recognisable stout brands, which has been brewed in Dublin continuously since the 1750s. In addition, many of the world's top whiskies and, of course, Irish cream liqueurs such as Baileys are produced here, and there is always the distinctive Irish coffee to round off any meal with class.
Ambassador Pat highlighted, "While lots of Irish food ingredients are exported and appreciated around the world, the delights of how great Irish cooks and chefs combine and serve these ingredients can really only be fully enjoyed if you go to the source itself. Thus, I strongly recommend a visit to the Emerald Isle, as Ireland is poetically known, to savour our food and drink first-hand."

"Your day will start with breakfast. Favourites include excellent Irish oat porridge ,such as Flahavans, which is available widely in Thailand, or, for the heartier eater, maybe a 'Full Irish', a brimming plate of eggs, bacon, black and white puddings, pork sausages, mushrooms and tomatoes. Whichever of these you opt for, you should accompany it with a 'side' of Irish soda bread and Ireland's world famous butter."

Between meals, Ireland is packed with beautiful and diverse scenic beauty and manmade wonders offering dramatic coastal cliffs, white beaches, brooding mountains, picture postcard lakes, salmon and trout crammed rivers, cascading waterfalls, fairy-tale castles, championship golf courses and so much more. This abundance of sites to see and great activities mean that there is no shortage of opportunity to work up an appetite before lunch or dinner.

"A great option for lunch would be one of Ireland's innumerable top-of-the-range 'Gastro-Pubs', or hipster artisan cafés. You might choose from a menu that offers such tempting options as a gourmet salad with beetroot smoked salmon; grilled Dublin Bay prawns; Irish duck confit; 'boxty' potato cakes or pasta with locally farmed or foraged ingredients such as organic free-range chicken, wild garlic, black truffle and cherry tomatoes.

"Later, when the sun has set and your sightseeing for the day is done, you could decide to try one of Ireland's many great restaurants. Even those with Michelin stars and other stamps of prestige still retain an air of friendly, casual hospitality. You will encounter no 'continental' snobbery or elitism in Ireland – saints and scholars, sinners and scoundrels can all enjoy great meals together. The styles of building, décor and service can range from traditional to modern and chic, but the hungry travellers will always be greeted by a 'céad míle failte' – hundred thousand welcomes.
Typical dinner time options will include hearty stews - the iconic 'Irish stew' is made with lamb, potatoes, onions and vegetables, soups and seafood chowders; mouth-watering beef, tender pork and an incredible variety of potato dishes, breads, vegetables, herbs and condiments. For dessert, the choices are equally wide and delicious, including fresh fruits, great cakes and amazing cheeses."
For a relatively small country, Ireland offers a great variety and diversity depending on where visitors happen to find themselves sitting down to dine. In Cork, in the southwest, home to the must visit English Market, you can find some of the best pork sausages, cheeses and seafood.
Galway, further up the west coast, is proud of its oysters. Dublin is home to the traditional 'coddle', a unique slow food mix of bacon, sausage and potatoes. Waterford, in the south, where the famous crystal originates, is home to 'blaa' bread, a specialty you will not find anywhere else.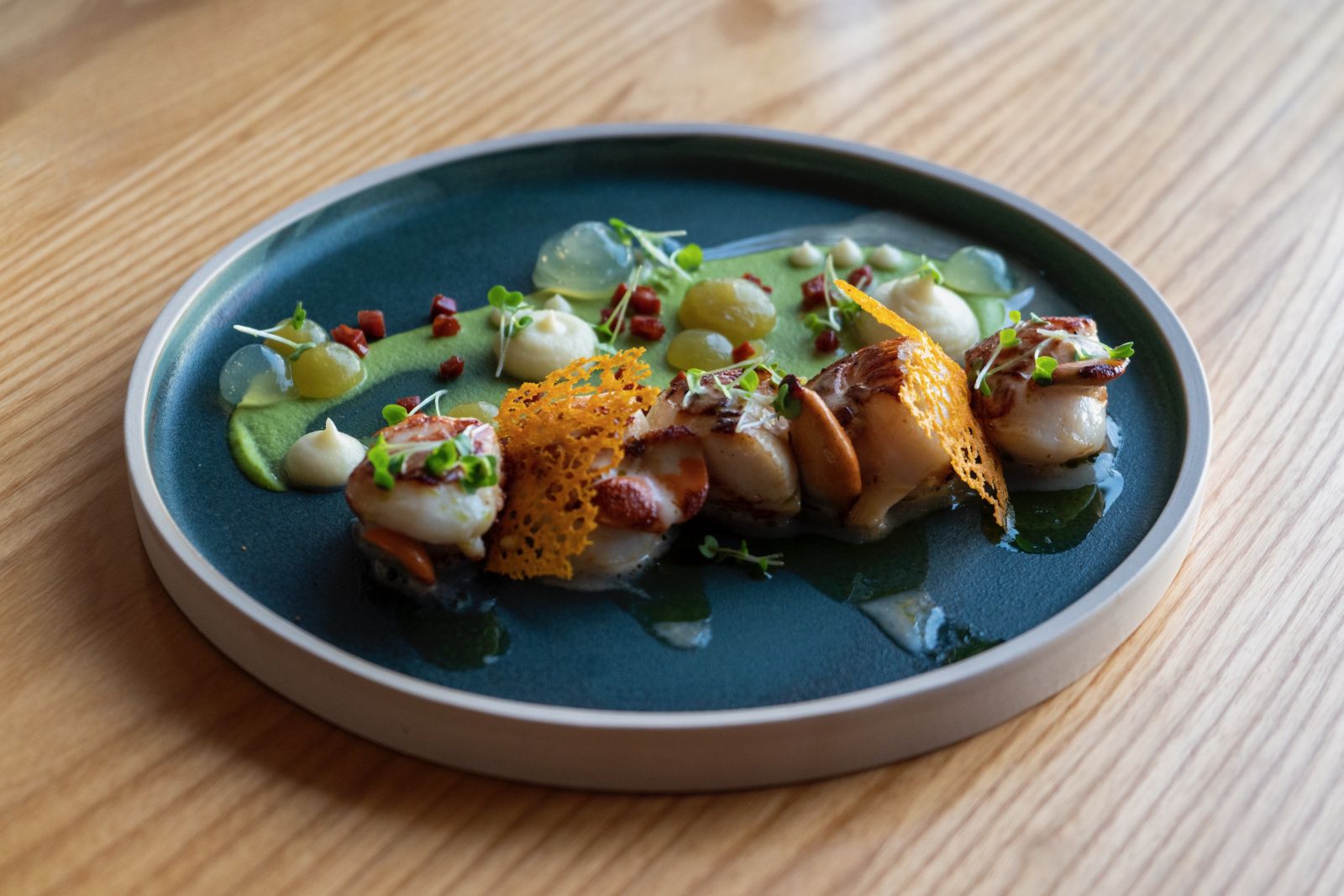 All visiting foodies will also be amazed at the way in which Irish chefs have embraced the influences of the outside world to make Irish eateries places of fusion, fun and flavour.

Since the time of the famine, the Irish have emigrated all over the world, and returning Irish have brought with them ingredients, recipes and preparation techniques that have led to a blending of great Irish homegrown produce with the boldness and imagination of the kitchens of London, Paris, Rome, New York, Sydney and Hong Kong.

More recently, following an economic and social boom since the 1980s, waves of immigrants have come to Ireland from the Mediterranean and Middle East, India and Brazil, Southeast Asia and Japan, China and Africa – from all over the world indeed, and the Emerald Isle, on the western fringe of Europe, has embraced their spice, tang, zest and zing, adding extra layers of potential and possibility to the great modern Irish culinary melting pot.

As our interview drew to a close, Ambassador Pat offered a question to our readers, "Is your appetite whetted?" He goes on to say, "Ireland is waiting for you. The Irish Tourism Agency 'tagline' is 'Fill your Heart with Ireland'. It could just as easily be 'Fill your belly with Ireland!' It is an ideal 'foodie' holiday destination, and you can get there so easily from Thailand and the region, with daily flight connections via many hubs, including Istanbul, Dubai, Doha and many European capitals. Oh, and by the way, the Irish do not have an equivalent for 'Bon Appetit' as we do not believe in wasting time talking when there is good food on the table!

"So, Enjoy!"