German Riesling wine has been enjoying a revival. Recently, at the German wine tasting hosted at the residence of Germany's ambassador to Thailand, HE Georg Schmidt, I caught up with Dr Ernst Loosen to find out how Riesling wine has changed over the years and once again be appreciated by wine connoisseurs.
When Ernst Loosen took over his family's 200-year-old wine estate in 1988, he focused his efforts on producing intensely flavoured, classic-style Mosel Rieslings. 20 years later, in 2008, he embarked on a quest to rediscover how his paternal great-grandfather had produced full-bodied, well-balanced dry Rieslings.
Today, Dr Loosen is recognized the world over as the greatest ambassador for the Mosel Valley and Riesling. Through tireless travel and numerous global winemaking collaborations, his relentless efforts have been able to spread the great joys of Riesling to wine lovers everywhere.
Dr Loosen explained, "Organized winegrowing was introduced to Germany by the Romans over 2,000 years ago, and has been an important part of the culture ever since. Emperor Charlemagne actively promoted winegrowing throughout Europe in the 8th century. He donated lands to the Catholic monastic orders who took viticulture to new levels through their meticulous work and detailed record-keeping.
"Riesling was first documented in 1435 in an invoice for vines in the Rheingau. In 1786, the Archbishop of Trier, Clemens Wenceslaus, decreed that all inferior grape varieties in the Mosel be replaced with Riesling. In the early 1800s, Napoleon Bonaparte, secularized many church-owned vineyards, giving regular farmers, including my ancestor Loosen family, the opportunity to establish their own wine estates."
Dr Loosen proudly shared, "Today, German winegrowing accounts for only 1.5% of all vineyards globally, but it is the number one grower of Riesling and Pinot Blanc, as well as the number two grower of Pinot Gris and number three of Pinot Noir. German wine quality is better than ever, and the wines are revered all around the world."
On the exceptional qualities of Riesling wine, Dr Loosen stated, "Riesling is the greatest of white wines, with the ability to capture the unique character of where it is grown and who produces it. It is just simply delicious! It can be enjoyed when it is young and bursting with fresh fruit aromas and flavours or as an older, matured wine with a more earthy and complex depth to it. Riesling is also unique in that it can be produced in a spectrum of styles, from very dry to very sweet, and everything in between. There is a Riesling for every occasion!"
When asked about food pairings, Dr Loosen said, "Dry Rieslings are less flamboyantly aromatic and fruity than those with sweetness, and their higher alcohol content gives them a big, full-bodied structure. This makes them well-suited for traditional European-style cuisine such as seafood dishes, creamy and buttery sauces, sauteed mushrooms and roasted meat or sausages.
"Off-Dry Rieslings are distinguished by their delicacy and a mineral-inflected fruitiness. Their elegant style and absolute purity of flavour make them excellent partners for modern cooking that emphasizes high-quality and fresh ingredients. Spicy Asian fusion cuisine, smoked fish and salty cheeses are excellent matchups for this style of Riesling.
"Sweeter Rieslings such as Auslese work well on their own as a refreshing "sorbet" between courses. They can also pair well with rich, spicy Indian dishes or moderately sweet dishes featuring fresh fruits. When they are mature, 10 to 20 years old, Auslese-style Rieslings become earthier and drier to the taste, making them classic partners for braised or roasted game dishes such as fowl, wild boar and venison.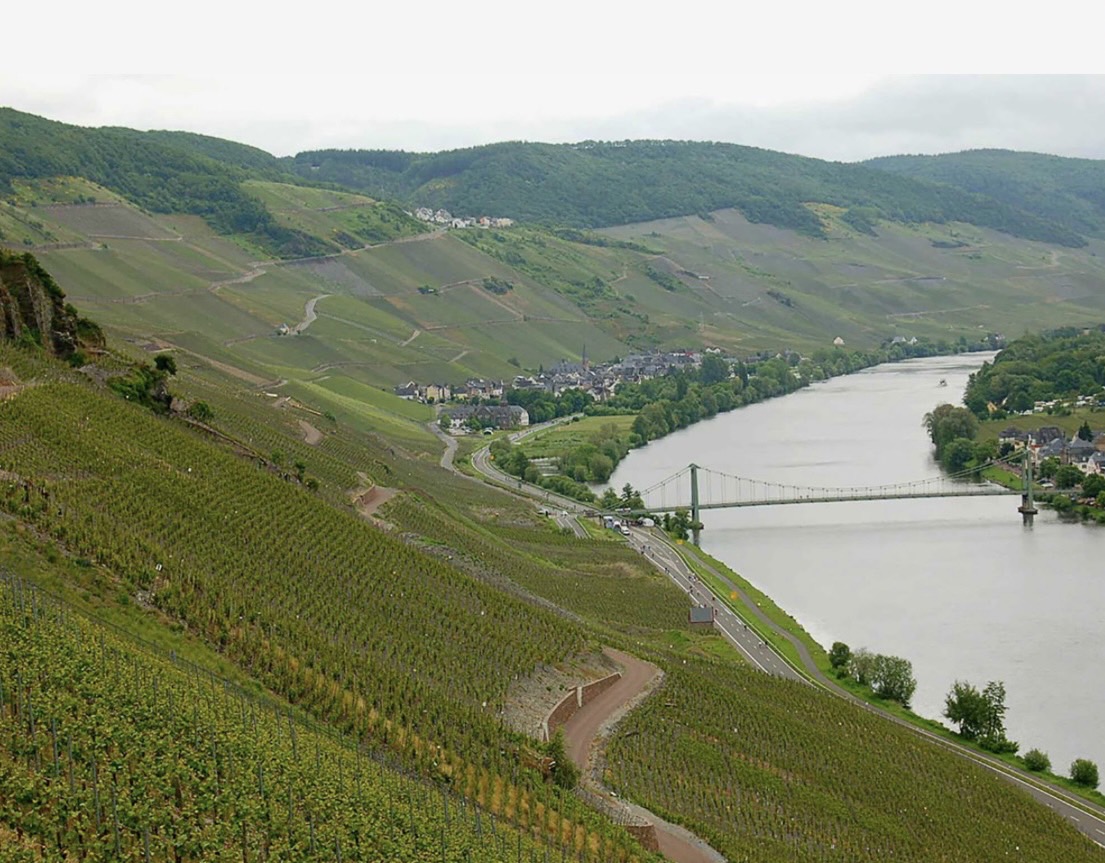 "Very sweet, dessert-style Rieslings, Eiswein, Beerenauslese and Trockenbeerenauslese, are extremely intense, concentrated wines, best enjoyed on their own. Their richness also matches very well with strong, salty blue cheeses, fruit desserts and foie gras."
Each wine region in Germany has its own distinctive character that comes from the regional climate, differences in soil and topography and varied cultural history. Dr Loosen clarified, "The Mosel region, including the side valleys of the Saar and Ruwer rivers, is known for its cool climate, with a predominance of slate soil. The Rieslings there are the most vibrant and delicate in Germany, with intense fruit concentration and a fine mineral structure. The region is renowned for its exceptionally elegant off-dry and lightly sweet wines with low alcohol levels, 7.5 – 8.5%, but outstanding dry Rieslings with great aging potential are also made here. On the other hand, the warmer and drier Rhine regions produce Rieslings that are typically more full-bodied and rounded. The heavier soils in these regions give the wines more weight and power, but the best wines retain the elegance and mineral focus that are defining characteristics of Riesling."
As our interview drew to a close, Dr Loosen emphasized, "Dry style Rieslings are gaining in popularity around the world as today's consumers discover how versatile, full-flavoured and food-friendly they are. While modern palates tend to prefer dry wines overall, there is still a larger quantity of off-dry Rieslings sold around the world. No matter the style, Riesling is deeply satisfying for wine lovers who prefer intensely aromatic wines with energy, pure flavours and a crisp, refreshing finish. I encourage and welcome everyone to enjoy the many different Rieslings!"
Enable Ginger
Cannot connect to Ginger Check your internet connection
or reload the browserDisable in this text fieldRephraseRephrase current sentenceEdit in Ginger×
Enable GingerCannot connect to Ginger Check your internet connection
or reload the browserDisable in this text fieldRephraseRephrase current sentenceEdit in Ginger×
Enable GingerCannot connect to Ginger Check your internet connection
or reload the browserDisable in this text fieldRephraseRephrase current sentenceEdit in Ginger×
Enable GingerCannot connect to Ginger Check your internet connection
or reload the browserDisable in this text fieldRephraseRephrase current sentenceEdit in Ginger×
Enable GingerCannot connect to Ginger Check your internet connection
or reload the browserDisable in this text fieldRephraseRephrase current sentenceEdit in Ginger×