Immersed in the rich history and culture of Italy, Madame Francesca Andreini is a published author and very active in cultural events. Following the various postings of HE Lorenzo Galanti, the ambassador of Italy to Thailand, Madame Francesca, as a diplomatic spouse, shared with Elite+ magazine glimpses of her interesting and exciting life. Madame Francesca was born and educated in Florence, a city famous for its art and culture, where she earned a degree in modern foreign languages and literature. It is also where she met her husband as they shared many common friends during their college years.
"I love Florence for the richness of its history and culture and for the harmony of shapes and colours expressed by its architecture. The same harmony is also present in the gentle hills which surround the city and in its countryside, where fields, vineyards and olive groves alternate, creating an extremely graceful landscape."
Madame Francesca further added, "I was very attached to Florence although I was ready to move to Rome when Lorenzo embarked on his diplomatic career. My brother who moved there years before introduced me to this ancient capital. Here, I experienced the collective remains of a millennial civilization, yet discovered a lively, chaotic and intoxicating atmosphere filled with light and colour." During her stay in Rome, Madame Francesca worked as a production assistant for TV programs, which she thoroughly enjoyed. Their first daughter, Ilaria, was born there.
The first overseas posting for the diplomatic couple was Syria. Madame Francesca explained, "I loved travelling and exploring its archaeological sites - still almost unexploited by mass tourism. I enjoyed the hospitality of the local people and discovering their ancient traditions, so different from ours. I admired the country's millennial history and loved its extremely melodic version of the Arabic language. During our fourth and last year in Damascus, our second child, Erica, was born." Their second posting was in Senegal. Madame Francesca recalled the period with great affection. They loved the intense colours and music of this country and travelling through the sub-Saharan landscape. In Dakar, they were part of a very large, active and friendly international community. It is here that their youngest son, Federico, was born.
Writing is one of Madame Francesca's joys since childhood, and it was during her time in Senegal that she took the opportunity to rekindle this passion. "I started collaborating with an online literary magazine, Zibaldoni (https://www.zibaldoni.it), which publishes stories and essays united by a particular slant: linguistic research, novelty and independence from market logic. I am still very attached to this magazine and continue to contribute to it with a column. A long story I wrote which was set in Senegal and published in Zibaldoni, Il mercato di Awa (Awa's Market), was a finalist for the Teramo Prize in 2005."
The talented Madame Francesca has also tried her hand at playwriting. In 2007, her comedy on the precariat, Impara l'Arte (Learn the trade), was a finalist in the XIII edition of the Enrico Maria Salerno Award for European dramaturgy. After this, she turned once more to fiction, and her first novel, Nessuno ti può costringere (No one can force you) was published in 2009. It tells the story of a boy who runs away from home in Florence in the years before the Second World War and his many adventures during the conflict and just after. In addition, she wrote some screenplays and collaborated on Senza Me (Without Me), which in 2010 was recognized as a project of cultural interest and selected for government co-funding by the Italian Ministry for Cultural Heritage and Activities.
In 2010, the diplomatic couple moved to the United States for their third posting. In Washington, DC, Madame Francesca worked for a professional networking association called "Italians in DC'' as a co-founder of its "ParoLab'', a club which promotes Italian literature in the United States through a reading club and various cultural initiatives.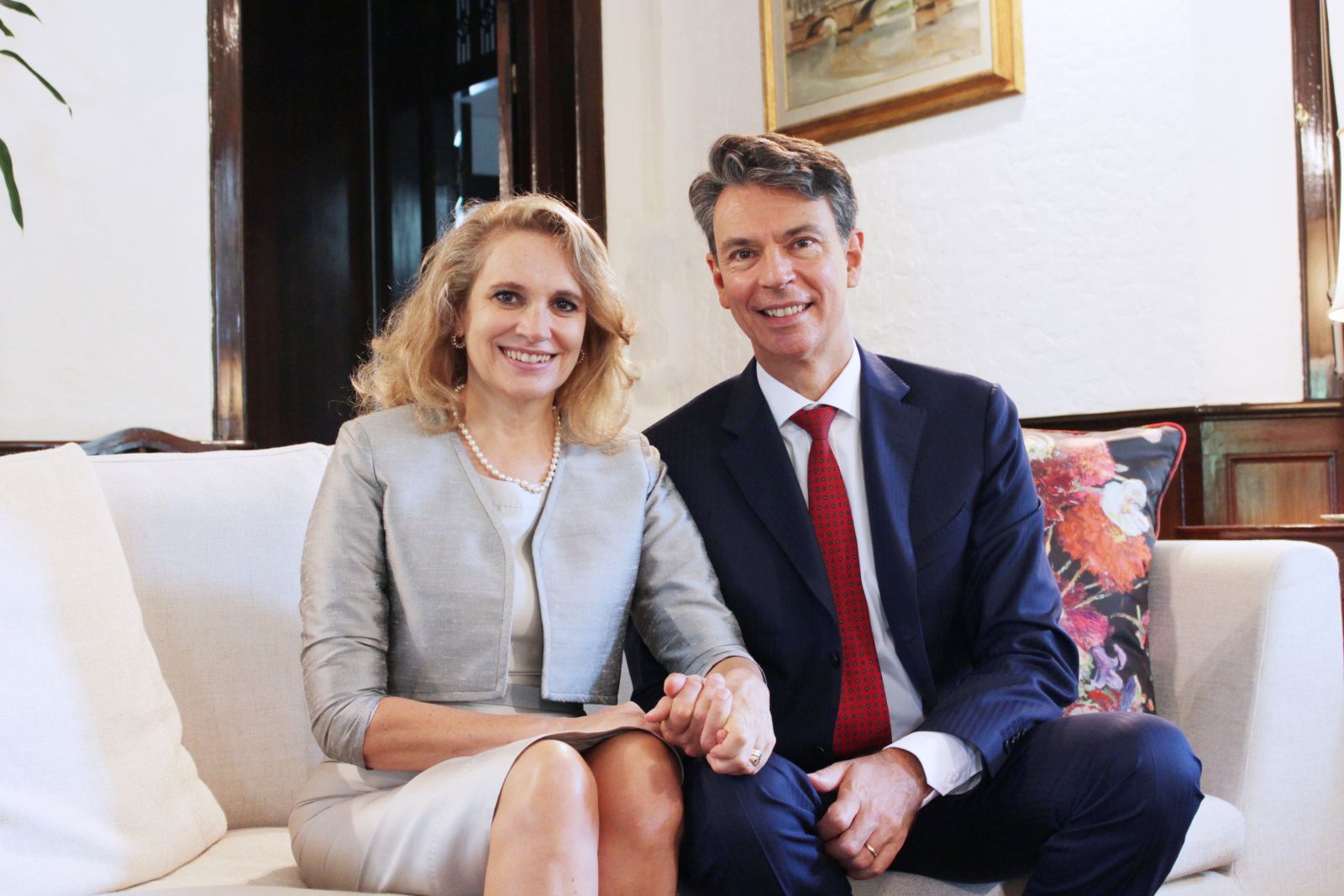 Drawn from their experiences in the capital and their extensive travels across many American states, her second novel, Primi anni a WDC (First Years in WDC) shared their experiences in the US. Madame Francesca explained, "It tells of a family who moves to Washington, DC and awakes to the reality of a country they have long idealized and that, seen up close, is different from the image they had of it. At the same time, the characters are able to take advantage of unexpected opportunities for their personal growth. Samantha Traxler has beautifully translated this book into English, which will be released in the spring under the title Under American Skies."
After the US, the couple returned to Rome where Madame Francesca dedicated herself to the intense activities of a literary circle, called Bel-Ami, organising cultural events, literary readings and book presentations. She held two very successful workshops on creative writing. As Madame Francesca looked back, she said, "This experience led me to create a series of video tutorials, "Come superare il blocco dello scrittore" (How to overcome writer's block), which are available on YouTube, with English subtitles (https://www.youtube.com/channel/UCgnXWqRkaEEtAn4sU0UjMZw)."
In July 2018, the couple arrived in Bangkok with their son and immediately felt at home with the kind welcome wherever they went, surrounded by the intense scents and colours of Thailand. Madame Francesca frankly admitted, "Such a lively and vibrant metropolis as Bangkok never allows us to get bored; it encourages us to discover new places and meet many interesting people. Spouses of Heads of Missions (SHOM) was also a nice discovery. Through this association, I met very nice people, willing to share their knowledge about the country. SHOM is a very active association, organising interesting initiatives in so many different fields, from culture to climate change, art and charity."
Focusing on her experiences in Bangkok, Madame Francesca candidly declared, "Teaching has offered me one of the best experiences. As a guest lecturer at the Italian department of Chulalongkorn University's Faculty of Arts, it has been exciting to meet young people and encounter their curiosity, enthusiasm and seriousness in their studies."
Madame Francesca also finds it fulfilling to organise and promote cultural events. In 2019, together with Prof Paolo Euron, she organised a literary competition for Italian and Thai authors about cultural encounters. The selected micro-stories were published both in English and Italian in the anthology Storie dell'Oriente, Storie dell'Occidente/Stories of the East, Stories of the West, edited by the Italian embassy. The conference organised for the book's release was a success, with over two hundred people attending. The success of this initiative then encouraged further promotion of the project by creating short videos based on some of the micro-stories. The presentation of the videos will take place in an event that will be organised this spring and include live performances of Italian music and traditional Thai dance.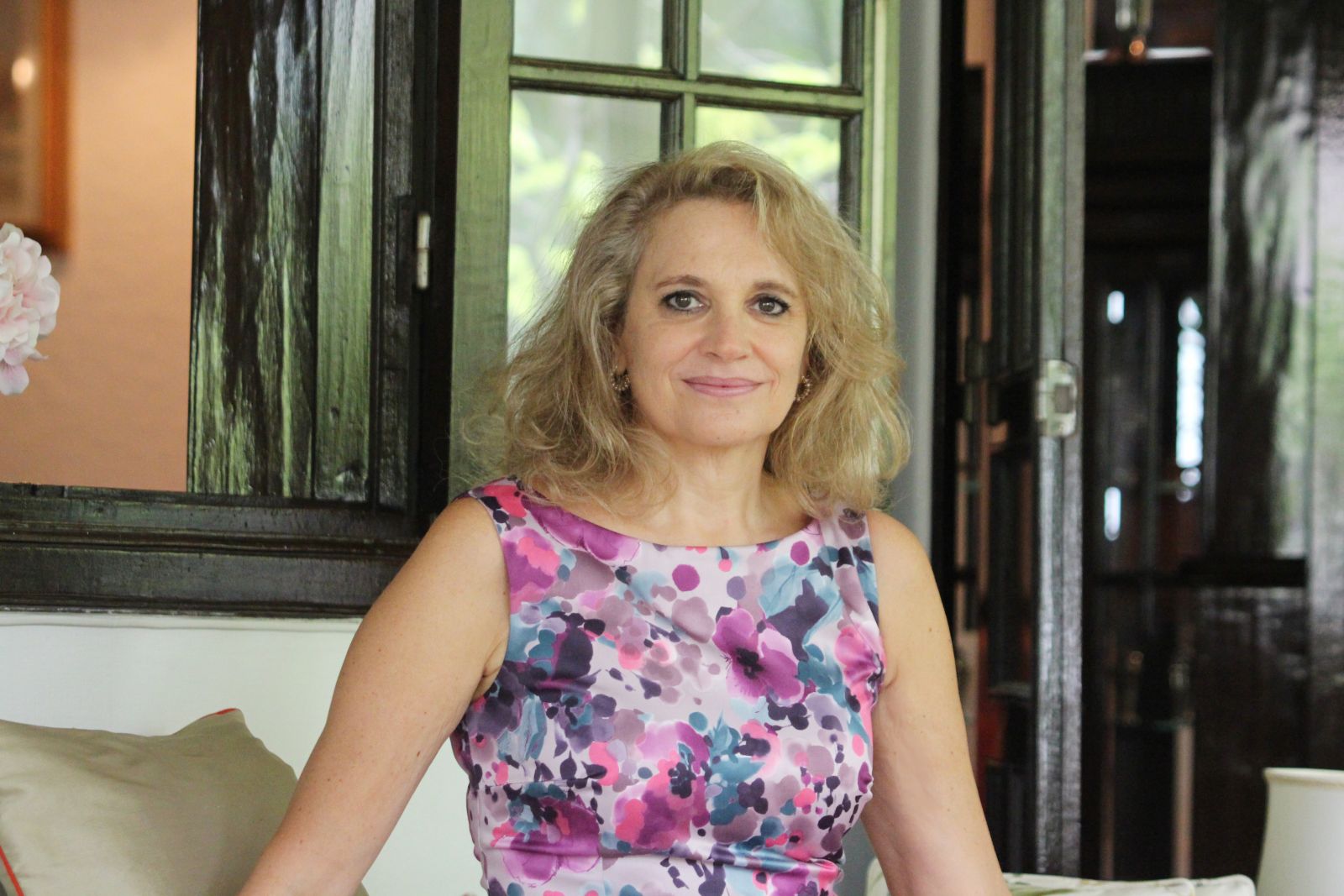 Another exciting experience Madame Francesca shared with Elite+ magazine was her participation in the "Thai Silk Road to the World Exhibition", which celebrated its tenth edition in 2020. "The story of my love for Thai silk is told by my many dresses of all styles and colours created with this unique material. Participating in the festival, parading on the catwalk in front of thousands of guests while sporting a dress made especially for me in this fabric gave me a wonderful thrill."
She was also delighted to be part of the organising committee contributing to the success of the event, despite the limitations imposed by the Covid-19 restrictions. Instead of inviting overseas designers, last year saw the involvement of Thai vocational schools and technical institutes. Madame Francesca was elated that Ambassador Lorenzo accompanied her on the catwalk for the first-time last year.
To conclude the list of her beautiful Thai experiences, Madame Francesca talked about her involvement in the YWCA Diplomatic Charity Bazaar and Diplomatic Red Cross Bazaar. She took part in both and was a member of the organising committee of the latter. "I am honoured to contribute to these initiatives helping to raise funds every year during the bazaars. I had the opportunity to visit some of the organisations supported by the Thai Red Cross Society and seeing their commitment to help the most vulnerable and disadvantaged people ignited an even stronger desire in me to help."
As our interview drew to a close, Madame Francesca happily wrapped up by saying, "These years in Thailand have been inspiring and full of emotions for us. We still have more than one year before we leave, and I'm curious and happy to see what will come next."