Madame Pamela Jebichii Kiptiness arrived in Bangkok with her spouse, HE Lindsay Kimwole Kiptiness, ambassador of the Republic of Kenya to Thailand, in 2021. At their tranquil residence away from the bustling business district of Bangkok, Elite+ sat down with Madame Pamela to talk about her vast experience as a teacher and working mother who has devoted her life to promoting educational issues.

Born in Eldama Ravine, a small town in Baringo County, Kenya, Madame Pamela is one of six daughters. She jokingly referred to herself as occupying the centre position in her family according to when she was born. She feels quite fortunate that she and all her siblings, like her parents, are well educated. As her entire family understands the importance of education, even when it was difficult to afford tuition for every child, her father managed through careful planning and supplementary income in addition to farming.
Madame Pamela said, "I am a teacher by profession and have taught Physical Education, Geography and History. In addition to holding a Bachelor of Arts, I have earned two diplomas, one of these in education, that have helped me to be a well-rounded teacher. I have taught in a teacher training college, high school, middle school and, at one time, kindergarten, which I enjoyed the most."
Madame Pamela recalled, "I have been privileged to have accompanied my spouse to many postings where I was asked to teach and gained new experiences."
Talking about the highlights of her teaching career, she began by telling how she went to teach in one of the areas of Nairobi where most of the residents were economically challenged. "The people there survived on one dollar a day. Most students came to school without having eaten. Good Samaritans, Non-Governmental Organizations and Churches sponsored school fees. I wanted to contribute in my own small way, so I devised a program to use sports to uplift these less privileged youth. I looked for sponsors to donate equipment and sports uniforms to my young learners, beginning with football, or soccer, for both boys and girls, and rugby for girls."
"Apart from teaching, I coached students on weekends even though my sons were young at the time and needed my attention. I was grateful that several companies, like Phillips Africa, assisted. This helped keep the children away from drugs and crime. Secondly, it gave hope to those with sports talent who were chosen to join teams that paid so they could help their families. I am very proud to have been a mentor to these girls and boys.
"In 2015, I went to a school in Cherangany, Kenya. Here, I was told that students drop out because of cultural practices. Girls and boys are married soon after puberty and circumcision. I gave a motivational talk and the following year we had over three-quarters of the class going to high school and eventually to university, where many of them graduated recently. For the girls, with the help of friends, they received free sanitary napkins and free computers to do their school work. Now, the Government is supplying sanitary napkins to every school."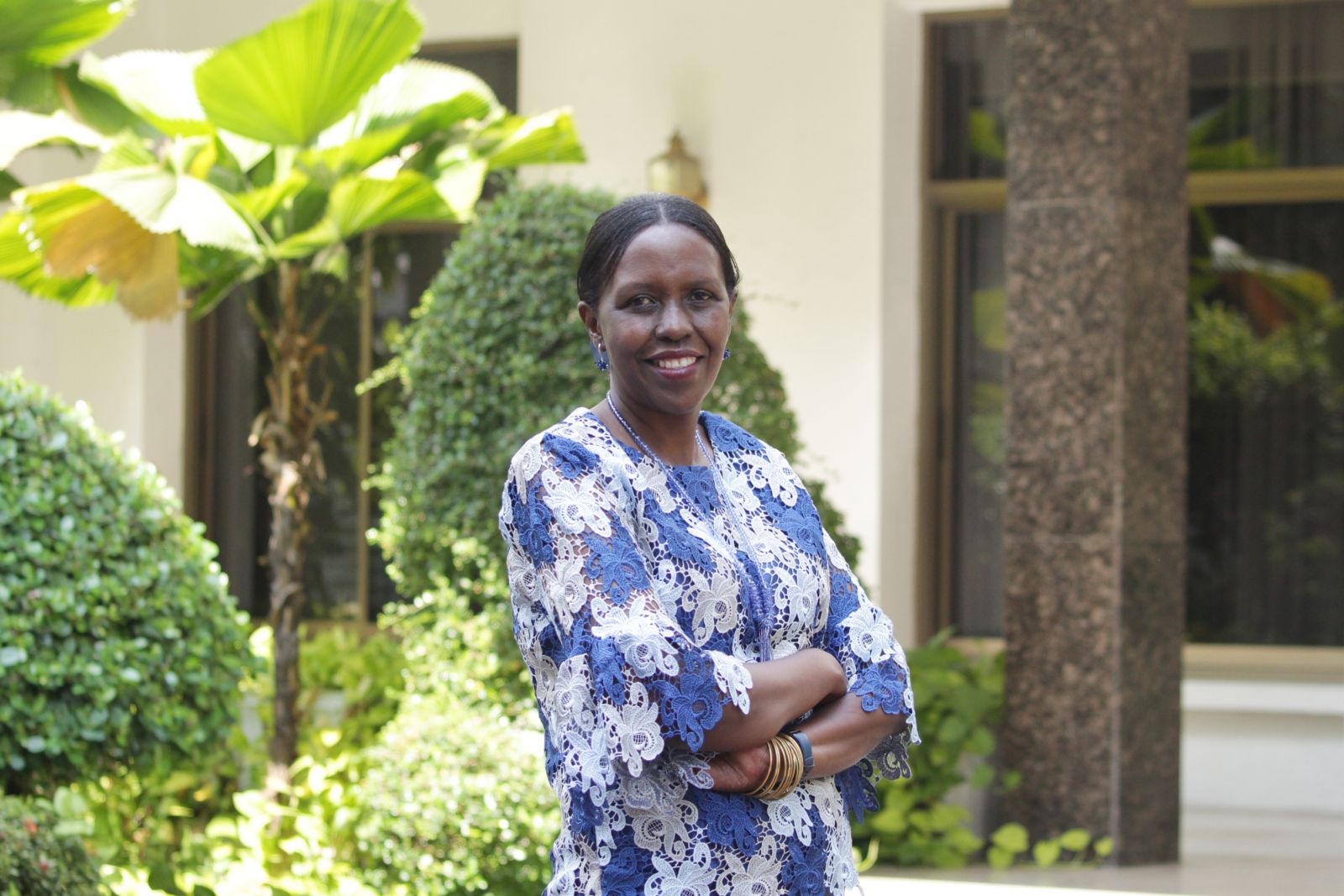 Madame Pamela stated quite strongly, "My passion is education; I do not seem to get enough of it. I only wish my fellow Kenyans would all be exposed to it early. Kenya has the most resilient workforce. In technological know-how, we are a leader in Africa. My hope is that every child will receive proper education because it is the key to future opportunities."
"My other passion is sports. I sleep, walk and talk sports. I stay up late to watch my football team. I do not want to mention which one now because my sons know they are currently not doing very well. I play volleyball and coach athletes and high school teams. I also play football and have coached boys to reach the national level in Kenya. I also coached middle school basketball."
"I also love to cook and have already taken Thai cooking classes. I have learned to use what is available here to cook Kenyan cuisine. In our culture, a lady must know how to cook and, as they say, a quick way to a man's heart is through his stomach."
Elite+ asked Madame Pamela about her charity work. "We came to Thailand during heavy Covid restrictions. Now, I am looking forward to participating in more charities here as the situation allows.
"While still in Kenya, I realized girls were missing school because they could not afford sanitary napkins, and these are personal hygiene items needed for girls to succeed in school. Then, when I went to Turkey, I was one of the founding members of the African Spouses of Heads of Mission (ASHOM) and worked with LOSEV, a foundation that cares for children living or undergoing treatment for leukaemia. We offered to visit, donate and spend time with children to allow their parents time to rest and do other tasks."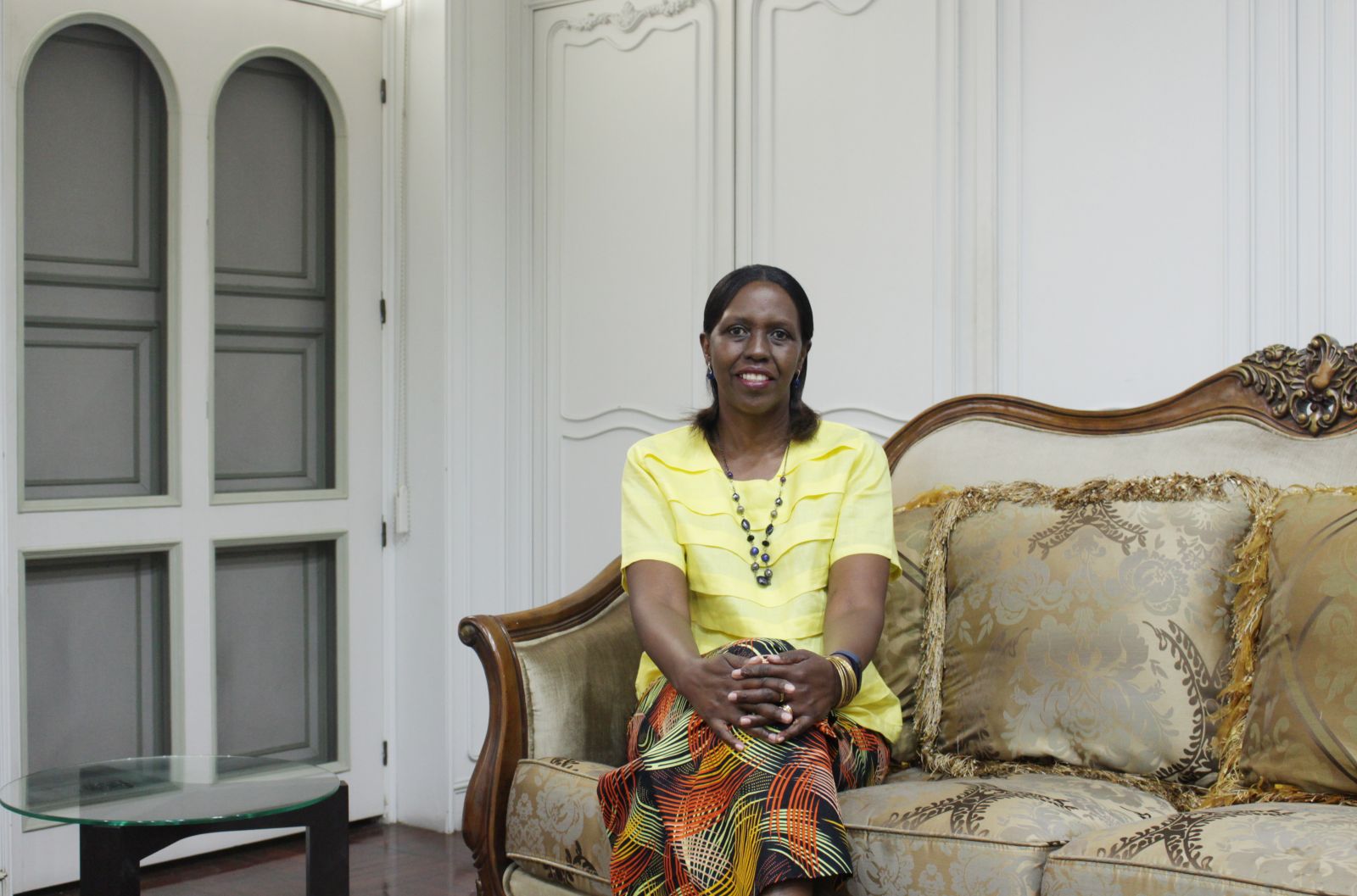 In discussing her views on women's roles, Madame Pamela said, "I grew up in a family where there were no fixed roles for women or men. My brothers did most of what we as girls did. Then, things changed when I went to live with my grandmother during high school holidays. I was made to know there were roles for women and men. The Kalenjin tribe, of which I am a member, is very patriarchal, and the issue of roles is well spelled out. I am fortunate because I married someone who is not so bothered by roles. The community will judge you though. I know my role as a wife, mother, spouse and teacher. Each time, I must know which role to assume. This is for harmony and to reduce conflict."
After arriving in Thailand during the lockdown, Madame Pamela admitted, "There was no real opportunity to travel to the provinces, but I now look forward to exploring the country. At a few places I have been to, though, I have experienced mixed reactions. I think this is partly because when people read fake news about how the pandemic is spreading in Africa without realizing that Covid knows no race, boundary, colour or religion, they appear nervous when they meet me. Most Thai people, however, are very kind and are very family-oriented, like in Kenya. My motto is to go to places, live like the people, eat what they eat, respect them, make friends and leave it a better place, and this is what I always try to do."
As our interview drew to a close, Madame Pamela explained, "The pandemic has been a challenge, but my mandate as the spouse of the ambassador is to promote sports and cultural diplomacy. I will achieve this by working closely with relevant Thai agencies. I am particularly looking into issues on education, sports, gender, tourism and trade. I hope to promote more educational exchange programs and bring cultural groups from Kenya. We are looking forward to celebrating Africa Day with other African embassies to showcase our food, cultural activities and fashion. I invite Thais to visit Kenya. We are also ready to help investors as we have tremendous resources and are a peace-loving nation. KARIBUNI (WELCOME)!"