Mr Benoît van de Capelle arrived in Bangkok with his wife, HE Ms Sibille de Cartier d'Yves, ambassador of HM the King of the Belgians to the Kingdom of Thailand, in September 2020. At their residence surrounded by an incredibly lush and beautiful garden in the bustling business district, Elite+ sat down with Mr Benoit to discuss his passion for the arts, anthropology, horticulture and his international philanthropic associations and efforts, throughout the years.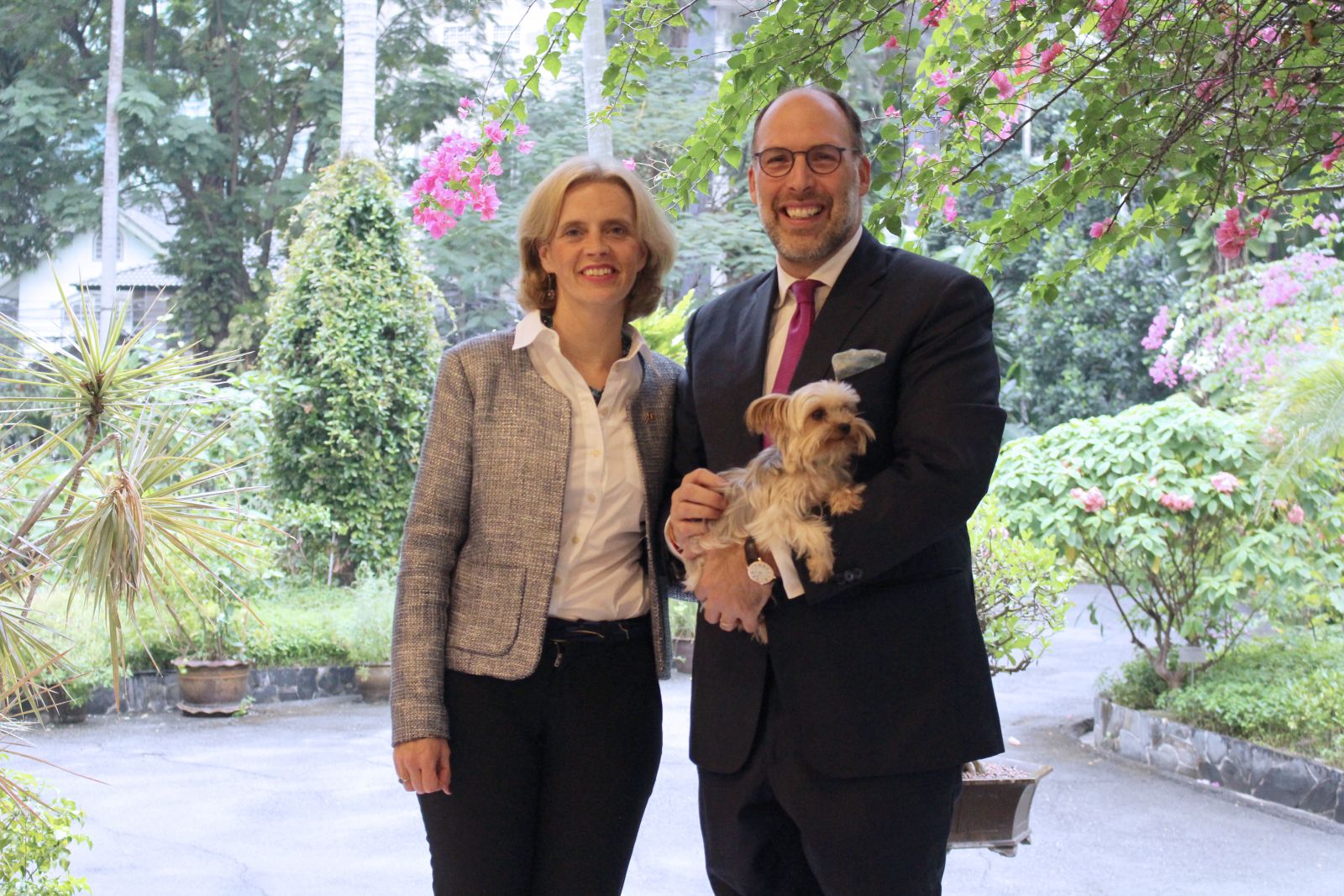 Mr Benoit enjoyed most studying Art History at the University of Ghent in Belgium. He explained, "I have always been interested in anthropology, Egyptology, archaeology and ancient civilizations. Art brings you light, light shows you colour, colour opens your heart and, once your heart is opened, you can feel and realize vision! For as long as I can remember, I have had this fascination for the mysteries of the world and humanity and its huge potential for destruction as well as its love for creation. I enjoy reading on diverse topics ranging from ideas stemming from the big bang to the lost civilizations of our planet. My research never feels enough, our discoveries are endless."
On his philosophy of life, Mr Benoit openly shared, "I keep saying a background means nothing without good structure and the ability to learn more. It is important to 'love yourself' properly, to respect the people that you meet in return and love them in tandem. Success may vanish, but beauty comes in the harmony you have created. At least this is what I believe, a path I try to abide by."
The diplomatic couple arrived in Thailand after a posting in Egypt. Mr Benoit has found warmth in the evolution of ancient Thai culture somewhat in contrast to the ancient civilizations of China, Egypt and India and their perceptions of the secrets of the universe. "As soon as I arrived, I was quickly introduced to art historians, archaeologists, antique dealers, artists and collectors of all kinds in Thailand. Apart from the ancient Siamese art, I was excited to meet contemporary artists as well and share in this new cultural knowledge with all our friends around the world.
"Thailand has a rich and ancestral civilization. Our two countries have a long and historical relationship. I learned recently from a Belgian friend that her family welcomed Thai Royals to Belgium at the beginning of the 20th century. I also learned, through my genealogist cousin, that even my family was involved with the Thailand monarchy in the 19th century. Together with my wife, we aim to promote the art and culture of our two nations. My wife has recently launched, together with the Thai Minister of Culture, the first step of an international art exhibition tour. The quality of the art pieces you could have experienced at River City were outstanding. All had been commissioned to follow the « Ten Principles of the Universe » inspired by Michael S. Schneider. My wife, as he Belgian ambassador, has planned several more projects that will be unveiled in the coming months to the Thai public.
Mr Benoit at one time was involved in the insurance world, specializing in fine art which is where he fostered his passion and his interest in collecting and curating. "I am also a lover of horticulture, landscape architecture and all things green. I take much pride in the gardens which I work on that bring me peace of mind and great happiness. I do my best so that each piece of land entrusted to me is in harmony with its environment and ecosystem and can flourish through time. I am a great advocate for green education, and my children actually teach me everyday how to work towards being more conscious of our planet."
"My utmost pride is my family. I am very blessed to have a brilliant wife with whom I can share the most interesting conversations about all subjects you can imagine since the day we met! And we are blessed with the most amazing children who are the apple of my eye. They are my greatest achievement."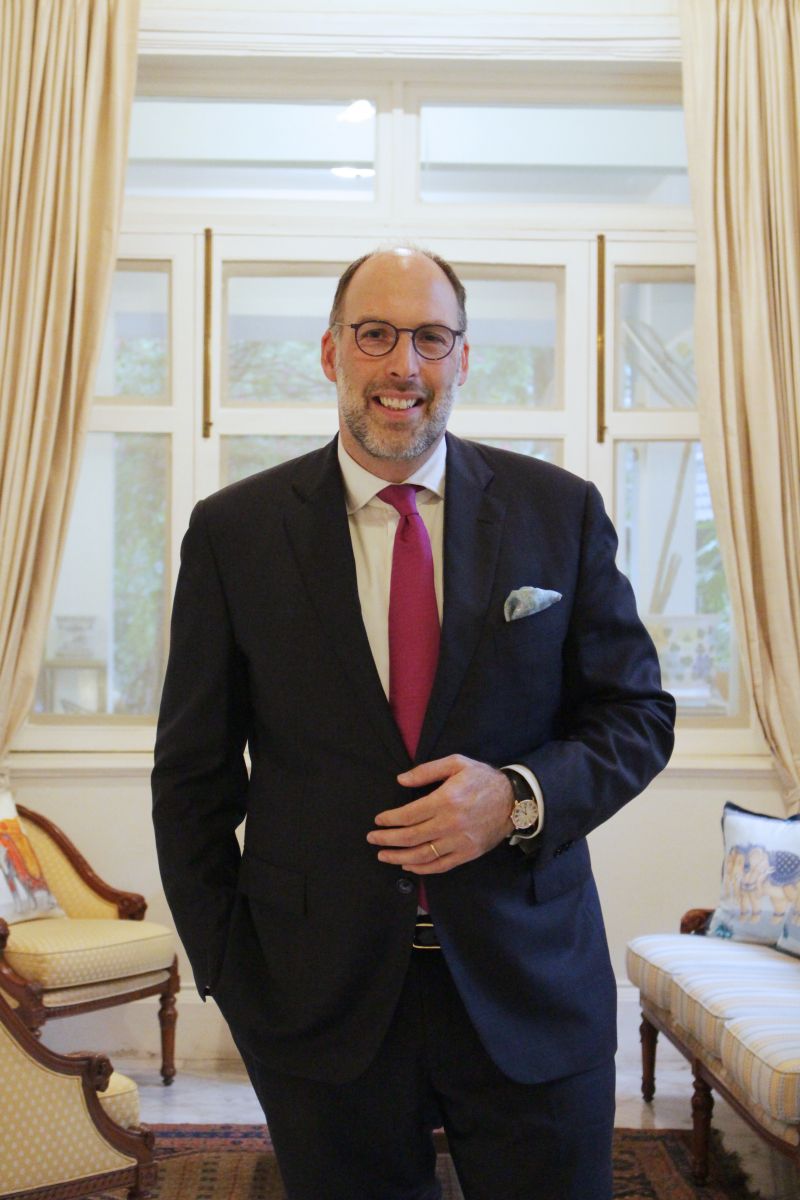 Mr Benoit's passion for the earth is deep. He elaborated, "We need to care of our amazingly beautiful planet. The earth provides us with the energy that keeps us alive. There have always been two places I like to visit to feel this energy, the desert and the forest. In those places, I like to go on my own and let go, let myself be surrounded and visited by creative energy. In Bangkok, we are very fortunate to have this large garden of flora and fauna treasures, and I spend a lot of time nurturing, developing, planting and experimenting with sustainability. From the various species of trees to the pools of different carp and the diverse amphibian life, I find joy; 'Nature is magical!'"
"I started helping charities and non-profitable organizations right out of university and when we moved to Kenya, I helped in financing small projects in the slums of Kibera in Nairobi. I continued while in Rwanda with several projects as well. In Egypt, I was the president of the EU Bazaar and involved in a variety of NGO's. We helped many vulnerable women and children all over the country. I am blessed to have good friends who are always generous to sponsor orphanages and other projects for women and children in need. Together, we are stronger."
In Thailand, Mr Benoit has taken the role of chairperson for this year's YWCA Diplomatic Bazaar. He has been asked to stay on as chairman for next year's as well. "After Egypt, my plan was to not be involved in any more associations. However, after making an acquaintance with Khun Lantip Dvadasin and Khun Noreerat Noparatanaraporn from YWCA Bangkok, their commitment to building a better world convinced me to serve this noble cause. Due to the Covid situation for the past two years, YWCA activities were reduced. It was important to arrange the Bazaar to raise funds to improve the situation of all in need."
As our interview drew to a close, Mr Benoit shared some final thoughts with our Elite+ readers. "We, Sibille and I, often tell our children that success is not the most important. What is imperative is to get up after each fall and value your failures as much as your successes. Let us open our hearts and feel the magic of life, to reach out and build together the world we all feel deep in our souls."